Fluorocarbon fishing line has evolved into an essential tool for anglers of all skill levels. While it's a little more expensive, it provides many advantages to the discerning angler. It's easy to get carried away while you're making a purchase decision with fluorocarbon line; the market has been flooded in recent years and there are countless types from which to choose. I've been fishing with fluorocarbon since my college years and I'm fairly certain I've tried just about every one on the market. Some have been great while others have been nothing but a headache.
Stick with me for a few minutes and we'll go through the uses of fluorocarbon and suggested pound-tests and brands. Before we get too thick into the weeds, however, the following is the criteria by which I tend to judge my fluorocarbon when I put it through the testing process.
Castability
Knot strength
Memory
Price
Application
First, let's look at what fluorocarbon is and how it differs from other fishing line types.
OUR TOP PICKS
What is fluorocarbon fishing line and why do I need it?
Fluorocarbon fishing line is a polymer fishing line that tends to be stiffer and contain less stretch than your typical monofilament lines. It doesn't absorb water which allows the molecules to transmit more vibration throughout your retrieve. This might sound a little too fancy for your liking and I can understand that. But essentially, when you break it down to the basics, there are three important things you need to know about fluorocarbon: It has less stretch, it's largely invisible underwater and it's very abrasion resistant. This helps in a myriad of different bass-fishing situations and is also advantageous for saltwater angling and fly fishing. The entire fishing world has quickly caught onto this type of fishing line and for good reason.
So is it really worth the money? I absolutely think so. It's very important that you take advantage of the low-stretch qualities of fluorocarbon line. There are a lot of situations when bass and other sport fish may not bite very aggressively, so the added sensitivity of fluorocarbon fishing line allows you to easily detect those subtle, hard-to-feel bites.
Fluorocarbon excels in clear-water situations. A lot of fisheries, whether they're lakes, creeks, oceans or streams, have very clear water and the fish living in these waters become spooky and wary of our offerings. It can be tough to fool them with an artificial lure, but when they can see your line, it's nearly impossible to trick them into biting. Because fluorocarbon has almost the same refractive index as water, the fish struggle to detect it which further assists our quest for more bites.
Fluorocarbon fishing line sizes and suggested applications
A lot of this comes down to personal preference, and of course, that varies from angler to angler. Some folks like heavier lines while others prefer smaller-diameter options. There are, however, some basic guidelines to remember when you're choosing your next spool of fluorocarbon. Again, as you read through these, don't think you can't deviate from these suggestions and try something different. This is simply a rough outline of what has worked best for us over the years.
Now that we've gotten through the minutia of it all, let's get into the fun stuff. When you are in the aisle of your favorite tackle shop, what in the world should you choose? As I previously mentioned, I have extensive experience with each of the following lines and I'm absolutely certain you'll be pleased with them.
(1 of 10)
Seaguar Tatsu Fluorocarbon
BEST ALL-AROUND FLUOROCARBON
You might have to hold your breath a little bit when you see the price of this line but I'm telling you from personal experience, it's worth every dime. Whether you're using it for finesse fishing on spinning gear or heavier applications on casting gear, you'll be thoroughly impressed by this fluorocarbon fishing line.
It's soft and incredibly limp for a fluorocarbon line which means it plays nice when used as a main line on spinning gear and it also handles casting gear beautifully, even when casting lightweight lures into a stiff wind. I also have a bunch of confidence taking this stuff into the thickest cover I can possibly find and wrenching out big bass. I've been fishing with this stuff for years and I honestly can't recall a single time when I've broken off. I'll pay a few extra bucks for that peace of mind all day long.
Read our full review here: Seaguar Tatsu Fluorocarbon Review
(2 of 10)
Sunline Shooter Fluorocarbon
BEST FINESSE FLUOROCARBON
While I might not want to pitch and flip this fluorocarbon fishing line into the thickest stuff on the lake, I've found it to be a really great option for light-line finesse options in open water. It can handle lighter-cover situations such as wacky rig skipping around the outside corner of docks, on the edges of grass lines and stuff like that but I have found better options for the super heavy-cover situations.
I've been really impressed by this line in finesse applications because it works wonderfully on spinning gear. If you don't like to use a leader and would prefer to tie your fluorocarbon straight to your spinning reel, I highly suggest using this line. It's not going to tangle and it avoids annoying wind knots really well.
Excellent castability, low memory and super-low underwater visibility make this an outstanding choice for your lighter-cover finesse techniques.
(3 of 10)
Daiwa J-Fluoro Samurai Fluorocarbon
BEST FLUOROCARBON FOR TREBLE HOOKS
People often make the mistake of thinking Daiwa only makes super high-quality fishing reels and fishing rods but I'm here to tell you that they also manufacture some incredible fishing lines for anglers of all types. I have high expectations for this brand because it seems like everything they make it above high quality, so as I've been using this line I have been pretty picky throughout my testing.
This line is an excellent all-around choice but it really stands out for treble-hooked lures such as crankbaits and jerkbaits. It has just a bit more stretch than most of these other lines which, in my opinion, really helps in regards to your hookup ratio. That little bit of added stretch allows the bass to eat your bait for a split-second longer before the energy is transmitted to your bass fishing rod, which results in more solid hooksets and more fish in the boat. If you're someone who likes to fish jerkbaits or shallow- to deep-diving crankbaits, I absolutely recommend grabbing a spool of this to test for yourself. You will love it.
(4 of 10)
Vicious Pro Elite Fluorocarbon
BEST VALUE FLUOROCARBON
When I was a broke college kid, I would use this stuff every single time I went fishing. Starting at $17.99 per 200-yard spool, it was a low-stretch fluorocarbon I could somewhat afford and man, it seemed like you could tow a boat with it if you wanted to. It was just super strong and very reliable no matter what I put it through.
Since those days and now that I test fishing gear for a large part of my living, I've discovered that this is still the best-value fluorocarbon on the market. I guess everyone probably has different opinions on stuff like this but I actually jokingly refer to this stuff as "whale rope" because it's almost impossible to break. You can hang up a jig in a brush pile and purposely try to break your line but instead you'll either drag the brush pile towards you or tug your boat towards the brush pile. It's a very impressive line, especially for shallow-water pitching and flipping.
It has a little bit of memory but it's really nothing that should scare you away from using it. So if you're someone who likes to get in the thick stuff, try this line and you won't be disappointed.
Read our full review here: Vicious Pro Elite Fluorocarbon Review
(5 of 10)
Gamma Edge Fluorocarbon
BEST ABRASION-RESISTANT FLUOROCARBON
I've always thought of this line as a working man's-type of fluorocarbon. That might sound weird but it's not too expensive, it doesn't have a bunch of marketing hype surrounding it and the logo and packaging is just about as plain as you could possibly get. They don't have to do all the fancy stuff because they know their product is good. In a world full of hype these days, it's honestly a little refreshing to me.
I've been using Gamma Edge for years and it's very, very strong line. I tend to use this fluorocarbon the most when I'm fishing around rocks and other types of hard cover such as dock posts. Whether it rubs against the sharp edge of a rock or a nail protruding from a wooden dock post, it's probably going to be just fine and keep both your rig and hooked fish intact.
This line is a little stiff, so I tend to use the 16- to 25-pound tests because as we discussed earlier, I'm not going to be making long casts with these larger diameters. If you'd like to use it for lighter applications I certainly wouldn't shy away from it because it does react very well to non-aerosal line conditions from what I've learned using it over the years.
OTHER GREAT OPTIONS FOR THE MONEY:
(6 of 10)
Seaguar Red Label Fluorocarbon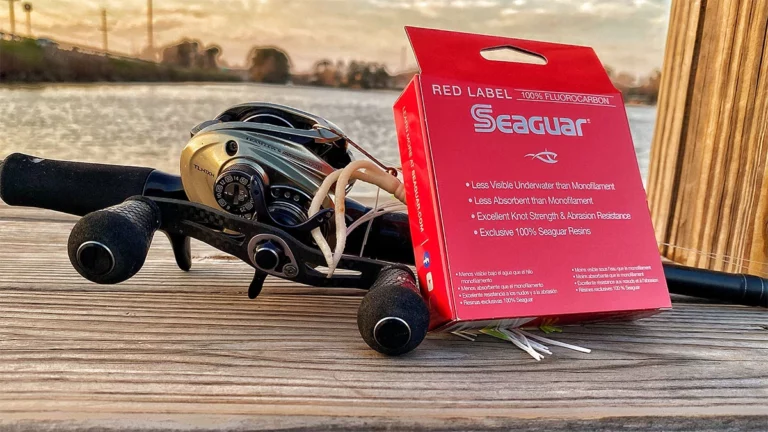 If you're new to the fluorocarbon fishing line scene, this is one I would certainly recommend starting with. I do not really like to use it as main line on spinning gear but it makes for an excellent choice on casting gear. It is going to be a little stiffer than some other lines but it is nothing that scares me away from using it.
I used to think of this stuff as a strictly beginner-only line but the more I've asked around over the years, the more local hammers I have found out actually use this on a daily basis. I have a buddy who seems to win just about every fishing tournament around here and he swears by this stuff and said he has never had it break on him. Grab a bottle of your favorite line conditioner with a spool of this line and I think you are going to have a really satisfactory experience with it.
Read our full review here: Seaguar Red Label Fluorocarbon Review
(7 of 10)
Yo-Zuri T-7 Premium Fluorocarbon
My Wired2fish colleague Terry Brown and I have both been using this line quite a bit this year and we have really liked it thus far. While I do not have quite as much experience with this line as I do with everything else on this list, I still feel totally comfortable adding it to this list. It is a solid line that is not going to empty your bank account every time you need to re-stock.
It is incredibly strong and I have absolutely no worries about flipping and pitching the thickest stuff I can find when I am using it. The 20- and 25-pound tests are ridiculously strong. It also holds up really well around rocks which is a great and at times, rare, characteristic of fluorocarbon fishing line.
It's manageable, strong and resists knicks and cuts very well. I have always thought of Yo-Zuri as a bait company but they have made some really good fluorocarbon fishing line with this stuff.
Read our full review here: Yo-Zuri T-7 Premium Fluorocarbon Review
(8 of 10)
Sunline Super FC Sniper Fluorocarbon
This is another great option if you're someone who likes to fish with treble-hooked reaction baits such as crankbaits and jerkbaits. From what I can tell after many years of fishing with it, this fluorocarbon does have a bit more stretch than many others so I don't really use it for pitching and flipping. When I want that small delay, however, when I'm fishing treble-hooked lures, this stuff is definitely something I'd consider.
The abrasion resistance has been really good in my experience so I like to use it especially when I'm cranking around riprap which is a major pattern in my area throughout much of the year; it doesn't get shredded like a lot of the other fluorocarbon lines on the market. The knot strength is also good and most of the sizes are very small diameter compared to many other types of fluorocarbon out there.
(9 of 10)
Seaguar Gold Label Fluorocarbon Leader Line
This fluorocarbon line is not mean to tie directly to your fishing reel, so it's much stiffer than a lot of other main line options on the market. That's because, however, it's specifically designed to act as a leader that you can connect to your braided main line when finesse fishing. When I'm fishing finesse bottom-contact presentations like a shaky head or Neko rig, I want all of the sensitivity I can get, so I'll often opt for a braided main line due to the zero stretch it has. I can feel every little thing with this set up.
I still want invisibility and stealth, however, so I'll tie a 6- or 7-foot fluorocarbon leader to my braided line to achieve the best of both worlds—absolutely zero stretch and all the stealth you can ask for. I've found that this particular leader line is the best one I've tested so far. It's super strong, its knot strength is spectacular and you can drag it on just about anything in the lake and expect absolutely zero line failure. I highly recommend this for use as leader line.
Read our full review here: Seaguar Gold Label Fluorocarbon Leader Line Review
(10 of 10)
The bottom line
Like most things in fishing, fluorocarbon line choice has a lot to do with one's personal preference. What fits my fishing best won't always fit yours but I believe the suggestions above are great places to start when you're choosing new fluorocarbon fishing line.
So the next time you're overwhelmed at the checkout line or have a virtual shopping cart full of fluorocarbons that cost a bunch of money, I encourage you to look back at this article and try to keep your selections as simple as possible. I've tested all of these lines so you don't have to, so it's hard to go wrong with this list.