As the holidays approach we thought we'd help out anglers and give some significant others and gift givers some ideas on the best gifts for fishermen. This list covers mostly fishing gifts and we have a separate guide for outdoorsmen gifts. And this guide will not cover a lot of the nitty gritty fishing tackle that we cover in everything else we do here. We have a laundry list of buyers guides you can access to find the best products in any fishing category, but this is more on the thoughtful gifts for anglers who live the fishing lifestyle. So we looked for unique, practical, memorable, sentimental gifts to help your favorite angler enjoy fishing trips or be reminded of fishing when they can't be on the water.
And we're covering all of the tackle sales for Black Friday and Cyber Monday in separate deals pages so this again is just unique ideas for you to wow the angler in your life.
So without any further explanation, here is our collection of fishing gifts for fishermen.
Benchmade Knives
If your angler is serious about fishing and always being prepared, then a high quality knife is hard to beat. Benchmade makes arguably some of the nicest everyday carry knives, hunting knives and carving knives out there today. Several of carry Benchmade Knives every day and can highly recommend them as a high quality very nice upper budget gift for any fisherman or outdoorsman. These knives are precision crafted in Oregon by expert knife crafters and sharpened to the finest edge on the strongest longest lasting blades you will find. Some models we would recommend would include the following:
Big Rapala Decorative Lure
This is always a crowd favorite but it's a great office or den show piece for anglers. And given that the Original Rapala floater is one of the all-time most popular and best selling lures, a larger than life representation is an eye-catching conversation piece and a nice way of conveying your fishing passion. These lures are 2 1/2 feet long and weigh something like 8 pounds.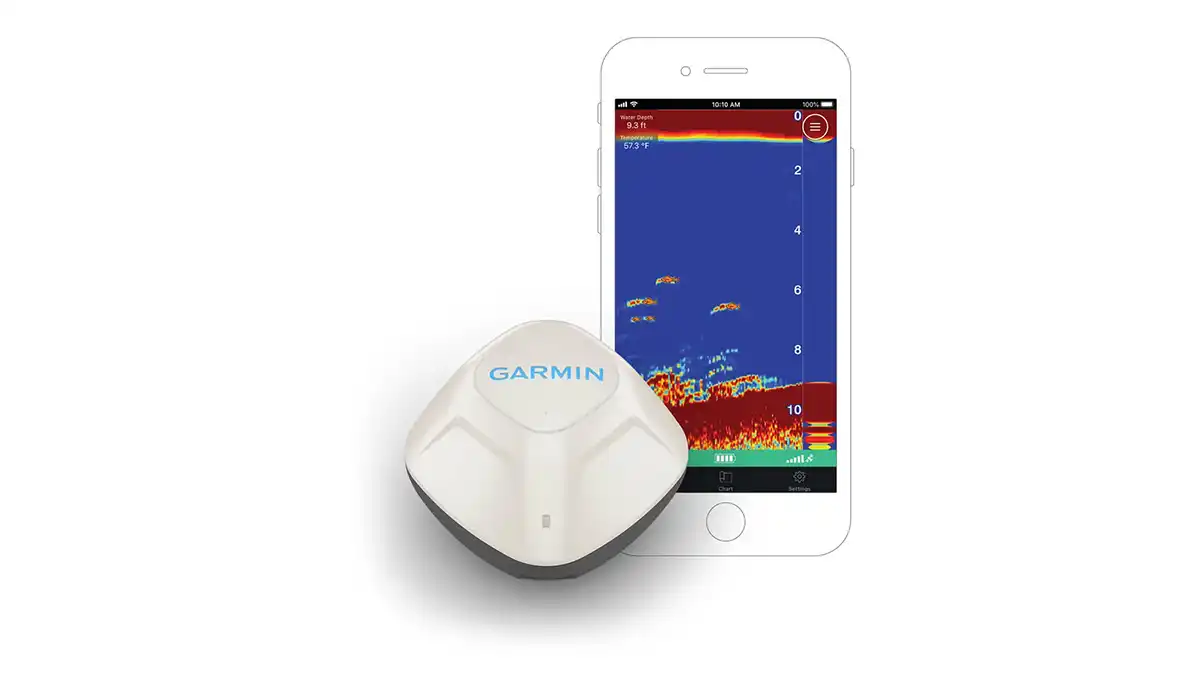 GARMIN STRIKER CASTABLE SONAR
Finding fish is the name of the game in fishing. One of the best tools to do that is a fish finder. But when you're walking the bank, wading a stream, pond hopping or even just fishing off a dock or pier, you don't always have the luxury of having a fish finder with you. So something like a castable fish finder can come in really handy. Granted the feed won't be comparable to your best fish finders, but it will show you depth and what's around where you cast it. For $99 you can relay to your smartphone the water around you to make some informed decisions on where and what to cast.
BOTE Inflatable Kayaks
I (Jason) am a big fan of the BOTE line of inflatable paddle boards and kayaks. It makes for packable accessibility to the water. I've tested the BOTE Lono Aero, BOTE Rackham Aero and BOTE HD Aero boards and kayaks. I fished out the Rackham Aero a bunch this summer on my travels and was blown away by how quickly it blows up and you are fishing and how convenient it is to throw in the bed of my truck and travel to another state and fish. It's super rugged, rigid and comes with a pedal drive so I can paddle, pedal or both to breeze through small lakes and rivers and be super mobile on my travels to access all the waters.
If you want to give your angler who doesn't already own a boat or kayak more accessibility to the water and more enjoyment fishing, it's definitely worth looking into the BOTE Inflatable skiffs, kayaks and paddle boards. We reviewed several of these in our Kayak Buyers guide.
Oru Foldable Kayaks
Another interesting kayak option for those looking for packable solutions are the Oru Folding Kayaks. I tested the Beach LT Sport this summer and was pleasantly surprised how easy it was to unfold and make rigid and how well it held up on the water. There are different models rated for different weights and uses. I liked the bigger option obviously as I'm a big guy and I wanted to take a couple rods and a tackle bag. So I liked how roomy it was and how easy it was to paddle around. You do sit pretty low to the water which can give you a slight advantage to skip under overhangs. But for a low cost option that can pack into the backseat of your car, it's a fairly impressive option for anglers wanting to explore beyond the bank and they are having good sales during Black Friday.
Astral E-Ronny Life Jacket
A good PFD is necessary if your angler plans to be on the water a fair bit, whether it's in a boat, kayaking or even paddle boarding. A good life jacket is a requirement as far as we are concerned. And the better fitting and functional it is, the more a person will use it. I'm pretty partial to a new one I (Jason) tried this year. I like the Astral E-Ronny. I'm not an inflatable PFD guy. So I always go for foam, but some of those can be bulky and uncomfortable and not wear very well. The E-Ronny is cut superbly, has lots of floatation in the mid section and is highly adjustable.
The XL model I got could expand out to 2X or maybe even 3X and the shoulder straps make it where you can set the height on your body as well. The pockets and multiple attachment points are well done for cell phones, action cams and more. The mesh back is nice on hot days and the zipper makes it easy on and off. This is a highly functional life jacket for kayaking, boating, heck even fishing off the dock in the winter.
Bending Branches Angler Classic Paddle
Bending Branches is THE NAME when it comes to Kayak Paddles. They made one of the original best fishing kayak paddles in the Angler Classic and it went on to be the best selling paddle of all time. And it's actually on sale now at Backcountry.com. This is a two piece paddle that breaks down easily for travel. It's lightweight and can really make a day on the water a lot more enjoyable with a good functional paddle. The Classic features a fiberglass shaft, making it lighter than aluminum paddles, with updated blades for 2023 that are larger and sturdier for better durability and more horsepower to maneuver a fully-loaded fishing kayak. Fishing-friendly features include a built-in hook retrieval notch to get lures unsnagged at a distance.
BUBBA Smart Fish Scale
The new BUBBA Smart Fish Scale has been all the rage this season for tournament anglers who need to keep up with their fish accurately when money is on the line. And big fish chasers also like the easy and quick weighing and operation of the BUBBA Smart Fish Scale. This scale is packed with features including weighing fish up to 60 pounds within +/- 0.3% accuracy plus the ability to recognize fish and record catch details, like species, weight, length, whether the fish was released, catch method, catch location, catch privacy, catch conditions, and more. It even lets you document your trip with GPS tracking; drop waypoints where you catch your fish; add photos to your waypoints; and share data with the Bubba Pro mobile app, where you can share data with friends and family.
Tournament mode provides live-well management for up to 8 fish, smart culling, and auto bag weight data, while Rally mode stores up to 99 fish and your total bag weight.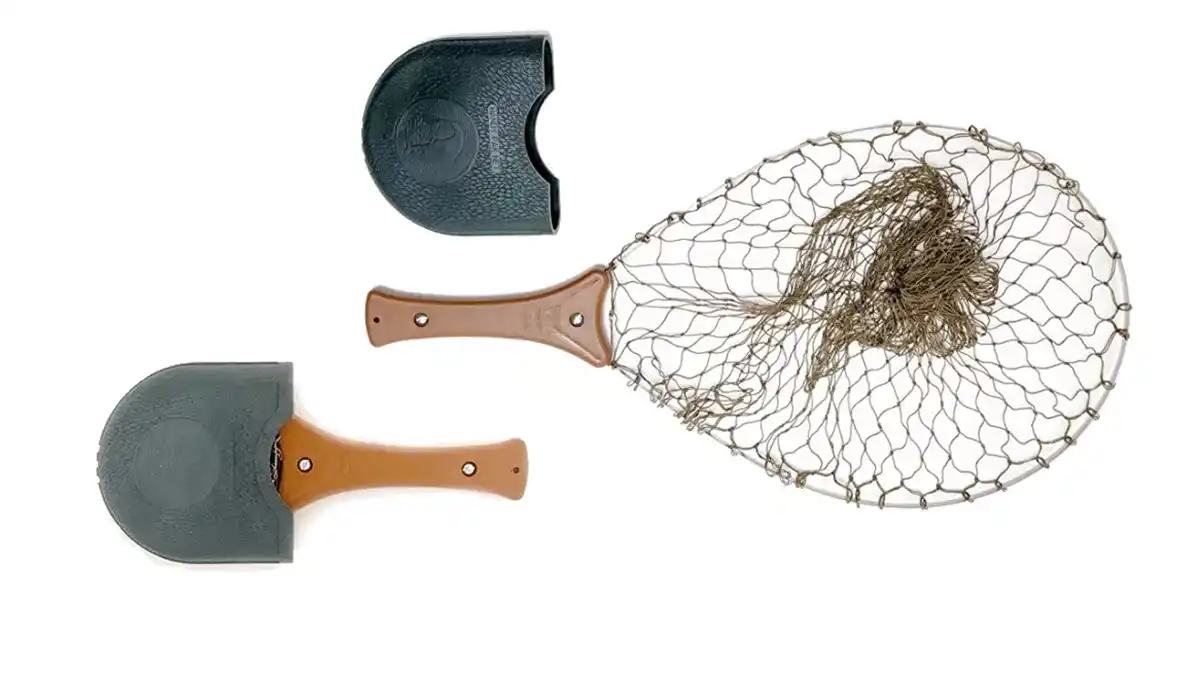 Handy Pak Insta Net
This is one of the coolest nets we've seen whether you like to wade fish creeks, fly fish, kayak fish or even boat fish. It packs down by twisting the metal hoop around and stores in a pouch that can be threaded onto your belt. When you need it, simply pull it out and it will flex into shape ready to scoop up a fish in a minute. It's a slick gift for the angler in your life. There are two different options with a soft rubber shallow net or deeper net for bigger fish.
Aftco Samurai 2 Hooded Long Sleeve Shirt
This is one that I have a good bit of personal experience with. I've worn this shirt 10 to 15 times over the last couple months. I hate sunscreen, but it's a must with all we know know about skin cancer. Still, anytime I can find a product that eliminates at least some of the need for lotions and sprays I'm very interested. And the Aftco Samurai 2 Hooded Long Sleeve Shirt does just that.
No need to apply sunscreen to the arms, ears or neck. The stretchy long sleeves and airy hoody have you covered. Made from a super-light weight material (92% polyester/8% spandex), this shirt is as comfortable as it is functional. Available in a wide range of sizes from medium to 3XL, you can get this shirt for $34.97 to $38.99 depending on the size.
Costa Del Mar Corbina Pro Sunglasses
These have been my daily-wear shades for the last 7 months or so and I highly recommend them. Costa is synonymous with quality when it comes to sunglasses and theses are top notch per usual. They provide complete coverage of the eye without being overbearing, making the Corbina Pros great for bass fishing and boating as well as daily use for driving or just being outside.
The broad frame and adjustable nose piece create a comfortable and custom fit, which is hard to find for me. My noggin is a little on the large side, so finding sunglasses that don't pinch my head and give me a headache can be challenging. These are the ticket in that regard. For reference, I can only use two pins on most SnapBack hats. You can check Costa's handy guide to see if they are the right fit for you. There are two frame colors available in the Corbina Pros, Matte Black and Metallic Silver, with 5 lens color options in the black and 3 in the silver frames. Priced around $280, these are the perfect gift for the special angler or outdoorsman in your life.
Rapala Electric Fillet Knife and Fork
Whether you're a regular consumer of your catch or a tournament bass angler that occasionally happens upon a walleye or crappie, a quality electric fillet knife will make quick work of converting that catch to cuisine. With the Rapala Electric Fillet Knife and Fork, you get a powerful fillet knife with a set of reciprocating blades that will saw through tough scales and bones, but also precisely slice every ounce of a fillet right off the fish. And you can use the stainless steel fork to pin the slippery sucker down to make the cleaning process even easier. Priced at $49.99, this is a great gift for the outdoorsman that likes to do his grocery shopping on the water.
Xtratuf ADB Ice Deck Boot
If you're spending a rainy day on the water or just running out back to feed the dog in the winter, a nice pair of warm, waterproof pull-on boots can come in clutch for outdoors folks and fishermen. That's what you get with the Xtratuf ADB Ice Deck Boot. The ADB ICE was designed to work on wet ice while simultaneously being able to transition to other wet surfaces. This new boot features Glacier Trek Pro, their proprietary ice gripping compound paired with an SRC rated slip-resistant rubber. The ADB ICE has a lightweight rubber upper that is 100% waterproof. The boots are fleece lined for added warmth with a removable EVA insole.
Flambeau 455TK Kayak Tuff Krate
A fairly simple but sturdy crate on its own, the Flambeau 455TK Kayak Tuff Krate can be customized to fit any kayak angler's needs. This crate is collapsable for easy storage when not in use. And it comes with a bungee system across the top for keeping gear pinned in, with the added option of overloading it a little without worrying about life jackets and rain coats getting lost.
Built to be a universal fit for the rear well of most kayaks, the 455TK can hold eight Flambeau 4000 series or six 5000 series Tuff Tainers (not included). With multiple tie down points and several ways to attach additional accessories, the Flambeau 455TK Kayak Tuff Krate is proudly made in the USA and priced at $37.99.
FishUSA Premium Braid Scissors
If you've ever thrown a common pair of kitchen scissors over into the boat, you know that it is a futile endeavor. Within a few trips, the scissors are rusted and incapable of cutting through tough braid, not to mention the original owner having put out a BOLO on the scissors. Now you're having to avoid making eye contact every time you express your uncertainty as to what could have possibly happened to them.
It's best just to get a good pair of fishing scissors. Try the FishUSA Premium Braid Scissors on for size. With stainless steel construction and coated in titanium, these scissors are built to weather the storm and keep on cutting. These aren't made for use with saltwater, but for any fresh-water application from cutting braid to bending hooks and even tightening up a loose screw, the FishUSA Premium Braid Scissors are the deal. Priced at $21.99.
Bass Pro Shops AM33 All-Clear Inflatable Life Vest
When I was about 13, my dad told me he'd pitch in for my first boat if I could make up half the money. I did my part, saving all summer cutting grass and doing odd jobs. And he did his. My parents had a lake house at the time, and I'd head out at daylight and come back at dark. I'll never forget the freedom I felt trolling around in that little plastic boat. But that liberty came with two parameters. If I ever ventured beyond the 2-mile range of my walkie talkie, I was done for. And if they ever caught me without my pop-off lifejacket on, I could kiss the boat goodbye.
So, I wore my little inflatable life jacket like it was a part of me. And it was a great practice to learn at an early age. Every angler in a bass boat should wear a life jacket anytime the big engine is running, and it's really a good idea for all of us to wear one at all times. Bulky traditional life jackets though are cumbersome and hot. That's where a quality and comfortable CO2-powered, automatic personal floatation device like the BPS AM33 All-Clear Inflatable Life Vest can silence the arguments of any angler reluctant to wear his PFD. My dad has had this one for a few years and now he wears his without fail. And that gives us all peace of mind knowing that a lot can happen in the blink of an eye on the water. Priced at $149.99, the AM33 All-Clear Inflatable Life Vest is a worthwhile investment.
Fishing Tackle Gift Certificates
When you just don't know what to get a guy who you think has everything there is to do with fishing already, get them a gift card to one of the top fishing tackle retailers so they can find what they want. If your angler is into panfish like bluegills and crappie or likes trout and fly fishing, get them a card to FishUSA. If they are die hard bass fishermen, get them a card to Tackle Warehouse. And, if they like to catch all different types of fish or like to do a little of everything, get them a card to Bass Pro.
BEST GIFTS FOR FLY FISHERMEN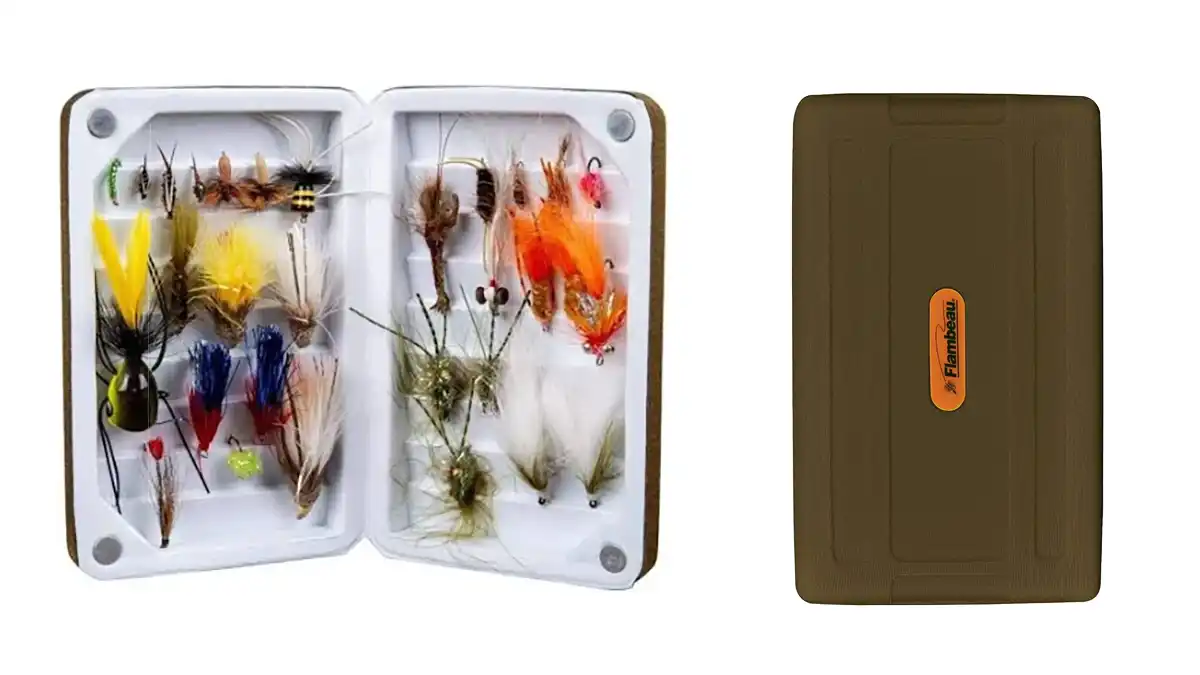 Flambeau Foam Fly Box
This is one of those handy things for fishermen that is very inexpensive. The Flambeau Foam Fly Box is made to hold fly fishing flies for fly fishermen but I also use this box to hold my favorite bluegill jigs and rigged crappie jigs. It's cheap, light and the magnetic enclosure makes for quick easy access to grab a bait and retie or switch up colors easily. It comes in a few different sizes. I like the medium sized for holding a good number of flies and jigs and still fitting in a pocket easily. It's a good looking, easy using storage solution for the price.
Fly Fishing Books
I'm an avid reader (I generally get through 50-60 books a year) and I really am a student of all things outdoors and fishing so I always work some fishing books into my yearly reading. This year I spent a lot of time brushing back up on fly fishing as I haven't been as active a fly fisher in the last decade or so. I found the series by Orvis written by Tom Rosenbauer to be really good whether you are just getting into fly fishing or want to brush up on some topics you might not be as informed about.
I also enjoyed the Favorite Flies of the Great Smoky Mountains as I will be wetting flies in that part of the world soon. And I also enjoyed America's 100 Best Trout Streams as I plan more fly fishing trips and of course I had to read the Last Wild Road from one of my favorite authors, T. Edward Nickens.
Simms Freestone Wading Boots
Simms is synonymous with quality especially when it comes to wading and fly fishing. Their waders are wading boots are the industry standards and I've loved fishing in the Freestone Wading Boots with the Felt Soles this summer and fall. The boots are freakishly light, comfortable and help me grip the slick rocks with easy as I navigate small streams and rivers. They lace up easily and slide off easily.
The waterproof, synthetic scratch leather upper with toe and heel reinforcement makes for a quality fit in a durable boot. And the partial neoprene lining adds to the comfort and easy on/off. The Dual density EVA midsole offers a comfortable ride and foot forming fit. The 12mm felt outsole is fully compatible with Simms Hardbite Felt Studs to give you even more traction when needed. If waders and wading will give your angler a lot more fishing access, than giving the gift of nice boots and waders will be a big hit!
Simms G3 Guide Stockingfoot Waders
A quality pair of waders is an investment. You're investing in several seasons of worry free fishing, comfort and peace of mind to gain more access to fish on foot. Simms G3 Guide Stockingfoot Waders are some of the best made. They are incredibly light, easy to put on and take off, and their breathable and comfortable fit make long days hiking up and down a river and fighting current way more enjoyable.
Simms' long-standing, award-winning wader has been upgraded with an improved fit, and an enhanced feature set while remaining the most comfortable, reliable, and performance-driven wader ever. Made with hands, heart and soul and individually tested for waterproofness in the USA, of imported materials, first and foremost, world-renowned GORE-TEX fabric. The upper part of the waders offers 3-layer waterproof, breathable Gore-Tex Shell while the lower section 4-Layer waterproof, breathable Gore-Tex Pro Shell. This keeps you comfortable and dry while fishing in cold waters as well as on hot days.
Fly and Lure Making Kits
When your angler can't be on the water, they can stay connected to fishing by making their own flies or jigs. Bass Pro offers a couple of nice kits with fly tying tools and fly tying materials. The tool kit has all the tools your fly fisherman will want to tie his own flies and the material kit has all the thread, feathers, dubbin and more to tie a lot of the most popular patterns as well as experiment with their own ideas. Check out these kits for a nice gift for the angler on the off season.
– Fly tying tool kit, fly material kit
BEST NOVELTY FISHING GIFTS
Busch Light Bass
For a unique gift for your angler that likes bass fishing and beer, check out the Beer Deer Busch Light Bass. It's a 3-dimensional puzzle to build a replica bass out of Busch Light bass fishing beer cases. They have other animals like whitetail deer and more. A funny gift for the angler and beer lover in the house.

Gone Fishing Flask Gift Set
For the angler who enjoys whiskey or bourbon, a nice flask engraved with the words Gone Fishing and a fish jumping will be a big hit. The stainless steel flask resists rust, holds your favorite beverage lock tight and comes with two shot glasses and a funnel. Catch that trophy fish, sit down and toast the memory with your companion. A unique fishing gift for a unique angler.