I was sent a couple of the new Kastking Speed Demon Pro rods to test and review recently and have had many requests to know what I thought about these rods because of their lower price points.
I'm always a little skeptical when getting products from companies I don't know much about or that don't have a long track record of making products, especially complicated fishing tackle like rods and reels. So I wasn't real sure what to think about the new KastKing rods.
The Speed Demon Pro features a lot of high end components including Fuji Alconite guides, custom Fuji reel seats and foregrips, and a proprietary carbon blank construction that reduces weight while increasing durability and lifting power over conventional graphite blanks. They also feature custom Winn Grips on the handles for a complete high-end package at a much lower price point of $109.
The first rod I tested in the lineup was the 7-foot, 6-inch medium-heavy power Swimbait rod. I've been throwing a variety of larger swimbaits up to 2 ounces on the rod. The rod is rated for lures between 1/4 and 1 ounce. But part of testing rods is seeing where the limits are. It's also one of the reasons I like to test a stronger power rod.
My first fish on the KastKing Speed Demon Pro swimbait rod was a 5 1/4-pound bass that fell for a 6-inch, 1-ounce Scottsboro Tackle swimbait fished in 25 feet of water on 15-pound Seaguar InvizX line. The rod has a fairly even taper and loads well into the backbone on the backcast to give you a ton of distance on the cast with a big bait.
The handle is a good length to 2-hand leverage cast big baits and the larger Winn Grips allowed me to get a really strong load on the rod to transfer momentum to spool the reel on a few casts.
The rod is powerful but sensitive. I could feel slack bites and fish coming up behind the swimbait and taking the water off of it just before the strike. I have not boat flipped two bass weighing more than 6 pounds on the rod and several in the 4 to 5-pound range.
It fishes heavy deep swimbaits on a jighead well as well as a Scrounger head like the Jenko Fishing Tennessee River Tremor Head with a Jenko Fishing Tremor Shad on it.
The guides are smooth and help with the overall sensitivity of the rod. The unique blanks are very sensitive thanks to multiple layers in multiple directions of carbon fiber material.
I was a little unsure about a $109 rod being this good but I'd be happy to recommend this rod to anyone looking to give a new rod brand a try in that $100 price range. I think you will be as pleasantly surprised as I was with the KastKing Speed Demon Pro swimbait rod. You can check them out on Amazon and at KastKing.com. 
Here's a closer look at the Speed Demon Pro rod and some of the better fish it has yielded for me:
(1 of 10)
Fuji Reel Seats and Winn Grips
(2 of 10)
Handy bait keeper behind the reel on this rod
(3 of 10)
Fuji Alconite rings in guides
(4 of 10)
Quality locking nut on fore grip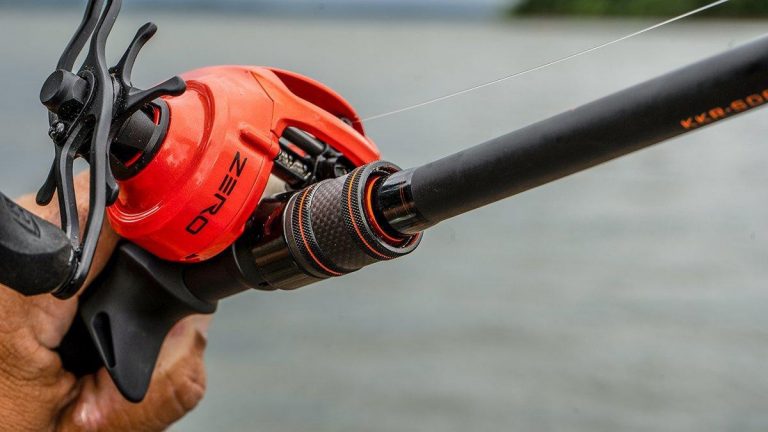 (5 of 10)
No tangle tip design and balanced guide placement throughout
(6 of 10)
Nice power and action on this Swimbait rod
(7 of 10)
Quality custom Winn Grips on the butt for comfort on hooksets
(8 of 10)
Overall a great rod on a budget of $100
(9 of 10)
A nice bass fell for a Tremor Head and Tremor Shad
(10 of 10)
A nice swimbait bass on the 7'6″ KastKing Speed Demon Pro Swimbait