Without much debate, the fish finder stands near the top of best inventions and innovations around fishing. What started simply as a way to tell how deep the water was around you, over generations, has morphed into one of the most productive tools for finding fish and learning a fishery. It took breaking down massive reservoirs and made it manageable for anyone without decades of personal experience on those lakes. So knowing the best fish finders options will give anglers good insight to be more effective on the water.
You can literally find a fish finder at any budget, and they range from the very basics like depth and temperature all the way up to real-time, forward-facing sonar that tells you what a fish is doing at that exact moment and relays feedback of how that fish reacts to what you are doing with your lure. Obviously the more functionality as well as increased resolution and screen size will determine how much more a fish finder will cost. Generally speaking you pay for functions, pixels and viewable screen size when it comes to fish finders.
And the ability to add other technologies to your fish finder like 360 imaging, side imaging, down imaging, forward facing sonar, boat control elements and more obviously make fish finders very scalable but also add to the expense. So we will aim to give you not only what the top of the line fish finders are but also what the best budget options are and what the best options in categories like best fish finders for kayaks, best portable fish finders, best ice fishing fish finders and more.
This will be a very comprehensive list but if you go to any of the major manufacturers, you will see the each make dozens sometimes more than 50 different models in various series and just knowing which one to pick from a single manufacturer let alone all of them can be very tough if you're not fluent on marine electronics, chart plotters, fish finders and depth finders. So we'll try to give you a bunch of solid options out of the hundreds to choose from.
OUR PICKS FOR BEST FISH FINDERS
BEST DEFINITION FISH FINDER
Garmin GPSMAP 8616 ($5,599)
Buy at Walmart.com Buy at Garmin.com
The Garmin GPSMAP 8616 offers anglers an incredibly fast, clear and advanced fish finder with one of the clearest pictures we've seen. There are units in bigger and smaller footprints in the GPSMAP 86XX Line-up. But the 8616 is the perfect blend of high resolution and clear glass without distortion from screen size. And the unit is very powerful so your updates are quick and real time without delay which is critical for things like lining up on a waypoint or hitting a moving fish on Livescope Plus. It is packed with features, screen real estate to be able to split multiple ways but still have great size and viewing angles.
The touchscreen makes it a fast, responsive user experience, with easy to use menus and quick back and forth between screens thanks to their handling of before and after screen switching and saved favorite screens. Wired2fish Publisher, Jason Sealock, runs this exact unit on the bow of his boat and says this is the best fish finder he has used in three decades of fishing with and filming with hundreds of fish finders. The price is steeper than some of the competitors at the 1920×1080 resolution and comparable screen sizes, but Sealock firmly believes this is the highest performing unit at the flagship level of fish finders because of the Full HD In-plane switching LED screens. They look good at any angle and this size coupled with the crisp definition lets you see the minutest of details in real-time.
Features and Specs:
Full HD IPS LED displays
1920. x 1080 resolution
15.6-inches of viewing area (diagonally)
15.1 inches x 10.3 inches x 3 inches (13.6-inch x 7.7-inch viewing)
Full HDMI and BLUETOOTH Support
Touchscreen is fast and responsive
Lots of networking options
Great mounting system for flush and gimbal mounting
Pros:
Best in class displays
Very responsive units
Big viewing area
Good on bright days
Cons:
Price (paying extra for high quality IPS LED display and processing power)
Humminbird APEX 13-19 ($4,299 – $5,299)
Arguably one of the most popular units with pro anglers next to the HELIX 12 because of clarity, resolution, functionality and price point in APEX series, the APEX 13 offers great clarity and fast processing power. The cadillac unit for multi-unit systems. If you're more of a single unit guy you might step up to the larger APEX 19 which is also popular because of it's price point compared to other large screen options on the market. These are also 1920 x 1080 resolution HD LCD screens.
Features and Specs:
Full-HD Display with Cross Touch interface
Dual Core Processor
Customized Experience with customizable menus
Full HDMI and BLUETOOTH Support
One Boat Network compatibility
Compatible with all the Humminbird imaging technologies
Pros:
Full HD resolution
Clear display screens
Good mounting options
Great mapping options
Networking options
Cons:
Price better than some competitors but still high
Draws more power than some competing units (3.1 amps)
Other good option for HD fish finders:
Another solid offering for those looking for big units in that 16-inch range with full HD resolutions. Their Solarmax HD displays are very viewable in direct sunlight and with polarized sunglasses which is a bonus. These are some of the clearest screens Lowrance has ever produced and they are compatible with all of their new ActiveTarget 2 and Active Imaging HD technologies to give you high definition readings.
BEST FISH FINDER FOR MAPPING & SIDE IMAGING
Humminbird HELIX 12 ($2,399)
This is one of the units the Wired2fish staff has the most time with and can say without reservation that this is one of the best units on the market for anglers. Our team regularly gets images you would swear were better than the much higher end units. The combination of quality glass and the resolution make for a great picture. These units are very user friendly and offer button control to toggle between views and functions. This is one of the most popular options among professional anglers and avid anglers alike. In fact they are often out of stock because of their popularity. But these are the superior units for viewing the superior side imaging technology from HB.
Features and Specs:
1280×800 resolution
Clear Glass
Button operation
Customizable settings
Compatible with all Mega imaging technologies
Plug and play and network capable
Dual Spectrum CHIRP
Pros:
Superior glass for very sharp picture even at 1280×800
12.1 inch diagonal viewing area
Very responsive
Great mapping options
Great option for multi-unit setups
Cons:
No touch controls
Have to choose SI or DI options
BEST FISH FINDER FOR DOWN IMAGING
Lowrance HDS PRO 10 ($2,599)
Another solid option from Lowrance, the HDS PRO 10 is the best unit for Down Scan. This unit offers high definition and their very clear SolarMAX HD Touchscreen. The units come preloaded with their Preloaded C-MAP DISCOVER OnBoard maps. These units look great in direct sunlight and overcast days alike. They are ready to go out of the box and they are very configurable with a lot of horsepower to process real time sonar, like ActiveTarget2 as well as DownScan and SideScan technologies and CHIRP Sonar. Terry Brown on our team runs these units and raves about how easy they were to install and setup and how great his images look when they are fishing in bright sunlight.
Features and Specs:
1920×1080 resolution
SolarMAX HD touchscreen
Active Target 2, DownScan and SideScan compatible
Easy setup and use
User friendly settings
Customizable function buttons for quick swapping of screens
Pros:
Great images
Fast processor
Touchscreen access
Compatibility with existing Lowrance products
Bluetooth and wifi connectivity
Cons:
Slightly better picture on competing Full HD screens
BEST FISH FINDER FOR LIVE SONAR
Garmin ECHOMAP Ultra 2 10-inch ($1,899)
This is another one of the most popular units among avid and professional fishermen, that just got upgraded to a newer version with improved technologies and build. Kyle and Jason have run the original ECHOMAP Ultras for a long time and both rave about how good those units have been with quality of the image as well the quick release cradles that makes removing your graphs when you park a breeze. They network together really well.
With the addition of wireless networking, multi-band GPS and a new user interface, the new ECHOMAP Ultra 2 series is even more versatile and easier to use than before. You are also going to be able to record your screens now on the Active Captain app so you can playback your Livescope Plus catches when you get home and share on social media. And your position accuracy will be second to none now with the multiband GPS of the Ultra 2 units.
Features and Specs:
Wireless Networking: Share sonar, waypoints and routes with another ECHOMAP Ultra 2 or ECHOMAP UHD2 chartplotter on the boat without the difficulty and clutter of running cables
Position Accuracy: Multi-band GPS technology with fast 10Hz updates not only provides improved position accuracy, which can benefit anglers particularly in areas like under bridges, along bluffs or in coves with tree cover.
Screen Recording: Using the ActiveCaptain app, capture what's on the chartplotter screen, including fish catches seen on LiveScope sonar (if installed) to share via text or social media.
Ease of Use: Featuring a modernized operating system with updated graphics, menus and a new homepage, anglers will appreciate how intuitive and easy-to-use the Ultra 2 series is.
Pros:
wireless networking
dual band GPS is super accurate even in cluttered areas
great looking screens
quick release brackets to lock up fish finders in seconds when not in use
compatible with all Garmin technologies
Easiest to configure
Good price for value
Cons:
availability limited for another month
can only wireless connect to other Ultra2 or UHD2 units

BEST FISH FINDER UNDER $3,000
HELIX 15 CHIRP MEGA DI+ GPS G4N CHO ($2,699)
This is probably the best big screen price you will find right now. And we are convinced we can get our Helix 15 units to look as good as any of the Full HD units on the market with our fine tuning of our settings. We are power users of the Helix units and we often have people asking how we get such good screenshots. Well we use good graphs like the Helix 12 and 15. And these units are very configurable to get an ultra clear pictures. But the most bang for the buck in the under $3,000 price range has to be the Helix 15.
Features and Specs:
Very large screen with 15.1 inches diagonal viewing area
1280×800 resolution
Easy access keypad control
MEGA Down Imaging+ and Dual Spectrum CHIRP sonar ready
Internal GPS and Humminbird Basemap
Premium Chart Compatible plus AutoChart Live to build your own charts
One-Boat Network Compatible
Ethernet Networking plus Bluetooth and NMEA connectivity
2-Year Limited Warranty
Pros:
Great image quality for the resolution
Very fine tunable
Easy menu operations
Good interoperability
Good mapping options including creating your own
Good price for screen size
Cons:
Only 1280×800 resolution
No touchscreen or wifi
BEST FISH FINDER UNDER $1,500
Humminbird Helix 10 CHIRP DI ($1,399)
Can you tell that we are big fans of the Helix 10. It's not just because we use them a lot. They really have offered some of the best bang for the buck as far as image quality and price points. A little secret about this unit to. This has arguably one of the best images out there. It's partly a function of the smaller screen, good glass and those things marrying up with the resolution. It's a lot like a TV. If you have the same resolution on a 50 inch TV and a 70 inch TV and you go into a Best Buy and look at them both side by side, most people will think the 50 inch looks better. Same premise how some videos look better on your iPhone than your laptop. Same resolution being played on a better piece of glass in a tighter form factor giving the appearance of more clarity. You get a similar experience with the HELIX 10. At around $1,300 this is one of the best buys in fish finders.
Features and Specs:
1280×800 resolution
Easy access keypad control
MEGA Down Imaging+ and Dual Spectrum CHIRP sonar ready
Internal GPS and Humminbird Basemap
Premium Chart Compatible plus AutoChart Live to build your own charts
One-Boat Network Compatible
Ethernet Networking plus Bluetooth and NMEA connectivity
2-Year Limited Warranty
Pros:
great price point
great image quality
quick menu access with easy buttons
bluetooth and ethernet connectivity
one of the most popular units sold today for good reason
Cons:
some anglers want a bigger screen
BEST FISH FINDER UNDER $1,000
Lowrance Elite FS 9 ($849)
The Elite FS 9 is a great stand-alone unit for guys who just want a good capable graph on a small boat or family boat to be able to cruise and fish some. It lacks some of the interoperability features of the higher end units but it's a solid unit for the price, especially if you add a 3-in-1 ducer for another $150 and just want a good look at the bottom and brush you are fishing on your local lake and don't want to spend over $1,000 on your graph. Simple buttons. Simple menus. Pretty much plug and play and everything is pretty much good enough out of the box. This is a good plug and go situation for your weekend casual angler in our opinion.
Features and Specs:
Preloaded C-MAP® Contour+ maps
Active Target and Active Imaging capable
800×480 resolution multi-touch touchscreen
Integrated wireless, NMEA 2000® and Ethernet connectivity
Full touchscreen control of Power Pole® anchors and Ghost® Trolling Motor
Pros:
ready to go out of the box
simple setup and menus
good maps onboard
good price point
Cons:
lower resolution than many others
not quite as robust feature list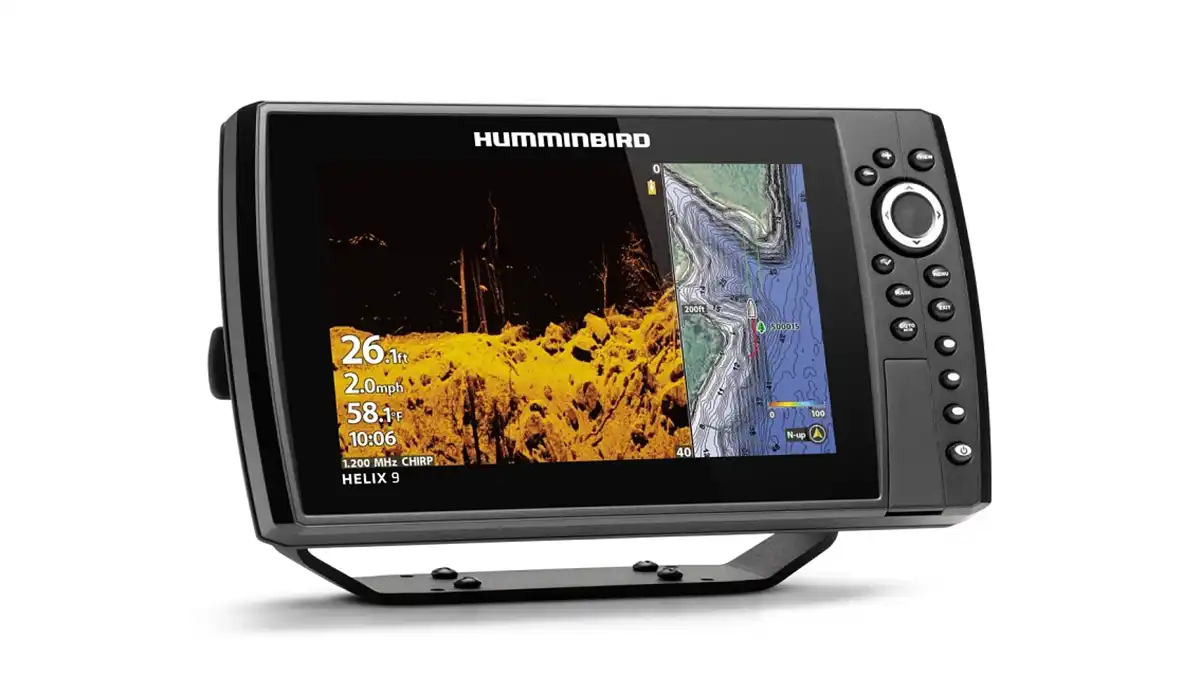 BEST FISH FINDER VALUE
Humminbird HELIX 9 ($1,099)
Another great option in the Helix line up. You can just sort of work your way down that line and get to the screen size that fits your budget. We won't go into this unit a bunch as we've covered the Helix line to death. Just slightly lower resolution at 1024×600 px. But still good quality. Comes with Humminbird base map but is LakeMaster compatible as well as Mega Imaging+ and MEGA 360 compatible. Has Bluetooth and ethernet networking. Has Dual CHIRP and MEGA Down Imaging+.
Features and Specs:
MEGA Down Imaging+
Dual Spectrum CHIRP sonar
Internal GPS and Humminbird Basemap and premium chart compatible
AutoChart Live
One-Boat Network Compatible
Ethernet, Bluetooth and NMEA Networking
1024×600 resolution
Button menu control
Pros:
GPS
Mapping
Mega Down +
Price
Cons:
No touchscreen
Slightly lower resolution
RUNNER UP: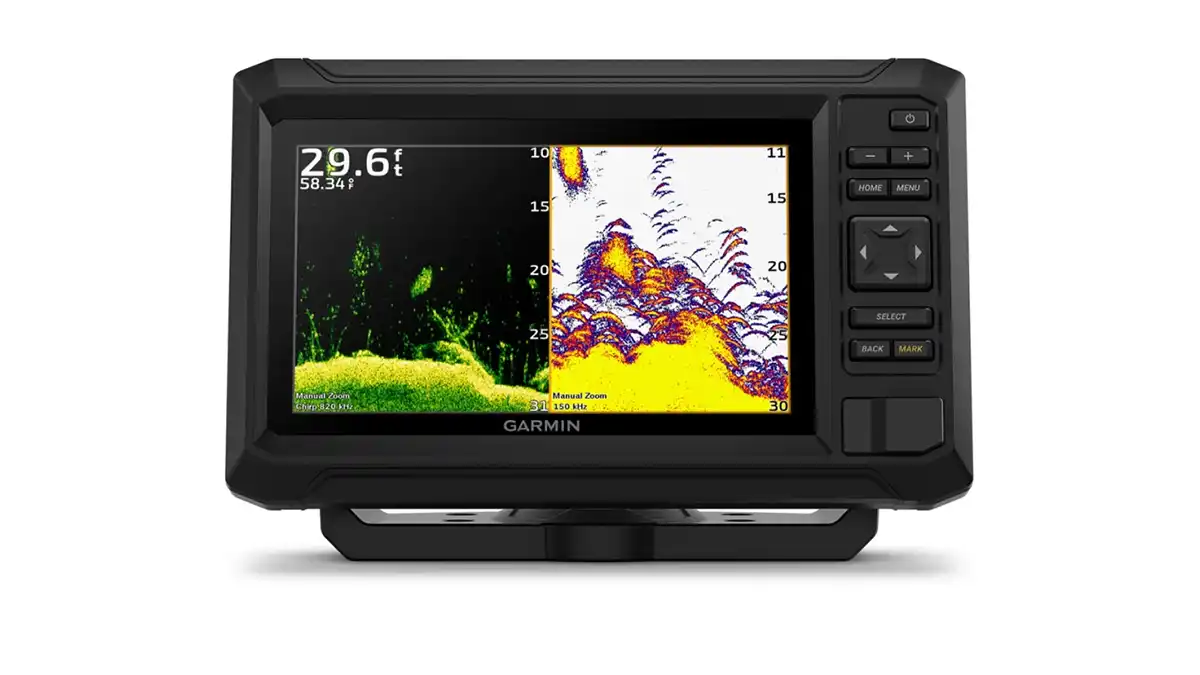 BEST KAYAK FISH FINDER
Garmin ECHOMAP UHD2 Touch 73sv ($949)
This is a great quick affordable option for anglers wanting a capable unit for their kayak that won't break their bank. This unit can do SIDEVÜ, CLEARVÜ and CHIRP Sonar, comes with Navionics Inland, has a touchscreen with key assist, comes with the quickly accessible cradle to remove the graphs while traveling easily with an 800×480 resolution. So not as clear as the higher end units but very doable when you're sitting so close to your screen while sitting in a kayak and it on a gimble mount. If you step up to the 9 inch you will get increased resolution of 1024×600.
Features and Specs:
SIDEVÜ, DOWNVÜ, and CHIRP SONAR ready
800×480 resolution
Quick release cradle mount
Navionics Inland mapping
10Hz GPS
Touchscreen with key assist
Easy setup
Active Captain app
Pros:
Quick setup
Good functions at a low price point
Easy take down and setup for portability
Touchscreen
Cons:
RUNNER UP:
Humminbird HELIX 7 CHIRP SI ($699)
BEST PORTABLE FISH FINDER KIT
Garmin LiveScope™ Plus Ice Fishing Bundle LI ($3,299)
This is the top-of-the-line in portable fishing bundles in our minds. The Livescope Plus functionality as well as Navionics+ mapping, custom combos, mountable arm and enclosed lithium battery with easy charing access, makes this the total package for finding and tempting fish quickly and easily. We have taken this with us traveling and fishing out of boats in remote places with no fish finders. Using a trolling motor mount and PVC pipe we made a quick arm that attaches quickly to pretty much any boat.
We've used it ice fishing and we love how much we are able to learn about uncharted waters with this setup. The higher price comes from the bundle kit which is the battery and Livescope Plus advanced functionality as well as the ice mount. So this portable fish finder is made for exploration and dissecting uncharted waters in great detail in real time.
Features and Specs:
9-inch ECHOMAP UHD2
Navionics+ mapping
Livescope Plus
Cradle, bag and included 16.5 Ah lithium battery
Quick and easy charging and long runtime
Ice fishing pole mount
1024×600 resolution
Pros:
Long runtime
Good screen
Very good real time sonar
Easily transported
Quickly in operation
Cons:
Optional budget conscious portable unit:
Humminbird ICE HELIX 9 MSI+ GPS G4N MEGA LIVE BUNDLE ($3,099)
Another high end portable unit that can be used for ice fishing and beyond (other people's boats, docks, rental boats, canoes, etc.), the ICE HELIX 9 MEGA LIVE Bundle is a top of the line ice unit. This features the very popular HELIX 9 and offers mapping, GPS, MEGA LIVE imaging with a battery and packable bag and cradle. For the serious explorer and ice fisherman, this unit is as good as it gets.
Features and Specs:
MEGA Live Imaging
Dual Spectrum CHIRP Sonar
Internal Precision GPS Built-in
Humminbird Basemap Built-in
AutoChart Live ICE
Ultra Bright and Detailed 1024×600 LCD Display
Multi-piece pole
Year-Round Capable
2-Year Limited Warranty
Pros:
High end live sonar
GPS and mapping
Nice display
Can easily transfer to a boat in warmer months
USB Ports on battery
Cons:
Optional Budget Option:
Humminbird ICE HELIX 7 CHIRP GPS G4 ($949)

BEST VALUE ICE FISH FINDER / FLASHER UNIT
Vexilar FL-8SE Genz Pack 19 Degree Ice Ducer Ice Flasher ($329)
For ice anglers who want to keep ice fishing simple and quick, and still love to fish a flasher, this is the no-nonsense workhorse of a flasher that sort of set the bar years ago and anglers still love today for its very simple operation and good features to clear up interference and get on and stay on fish easily. The unit is affordable, dependable and just produces as fast of information as you can get on the water. No delays in this return, the true real-time feedback in fish finders.
Features and Specs:
3-color LED display
10-step interference rejection
6 depth ranges: (20, 30, 40, 60, 80, 120)
Adjustable sensitivity control
Weather-proof, high-impact case
Transducer, 12V 9Ah battery, charger, and instructional video included
Pros:
quick and easy operation
all inclusive, small portable bundle
fastest feedback on the hardwater
Cons:
limited information on returns when compared to live imaging and FFS on LCD displays

Humminbird ICE HELIX 5 CHIRP G3 Fish Finder ($419)
For folks that want a flasher and an LCD combo, this is another great do-it-all in a no-nonsense build at a good price. The LCD can operate like a robust flasher as well as give you traditional 2D CHIRP Sonar. And splitscreen the two for maximum information on your vertical fishing. It comes with a handy cradle and carry bag as well as a 9Ah battery. This is a great option for anglers who want to be nimble, drill a lot of holes and be precise with their fishing without a lot of fluff. The Jig Charge mode is nice for getting the glow going on your glow baits.
Features and Specs:
Dual Spectrum CHIRP Sonar
CHIRP Interference Rejection
Ultrabright LCD
Jig Charge Mode
Shuttle, case and battery
Add a transducer and gimble to your boat for year round use
800×480 resolution
400 feet depth range
Pros:
Clear screen
Fast effective display
Long use on a single charge
low price
Cons:
small screen
lower resolution
BEST BAREBONES FISH FINDER
Humminbird HELIX 5 DI G2 ($269)
This unit will get harder to find but there are still a few out there and if you just need a unit to show you depth and also give you a decent Down Imaging picture, you can hardly go wrong with this small unit. The resolution is not the best and your DI will be a little more grainy than other units but you will get a good enough picture to show you what's beneath you. It's a second Generation Helix so it's a little dated in terms of technology and doesn't work with the newer technologies like MEGA Live or Mega Imaging+. This is a bare bones unit good for small boats, pontoons and even an infrequent kayak use. But you will save a ton if you can live with the lower resolution picture.
Features and Specs:
Dual-beam plus sonar
800×480 resolution
Original Down Imaging
1 year limited warranty
Pros:
affordable depth finder
good enough down imaging picture
Cons:
low resolution
not compatible with newer imaging technologies
a little slower than current units

BEST CASTABLE FISH FINDER FOR BANK ANGLERS
Garmin STRIKER Cast ($129)
For those just wanting to see how deep a small lake or pond is or want a little bit more information when fishing a big lake from the bank, Garmin made the STRIKER Cast which is a castable beacon that can then relay what is under it back to your smartphone. We played with this some when it first came out and it's neat for seeing a little more of what is around you on the water when fishing from a bank. It's not a bad tool when fishing off of a dock either. Help you look around a big dock structure more than just probing with your rod and a jig. It's pretty durable although we don't recommend slinging it against the rocks or docks too much. But it does have a protective shell that does well enough. It's recommended you cast it on 20-pound line. So bring a rod just for this as well as the rods you intend to fish.
Features and Specs:
200-foot range
durable waterproof shell
low power consumption
Gives accurate sonar readings
flasher mode (ice unit in a pinch)
Pros:
good range
low price (on sale now)
depth readings from the bank
durable enough
Cons:
low resolution
casting not always convenient
picture not clear in waves
WHAT TO LOOK FOR WHEN YOU BUY FISH FINDERS
Buying a fish finder certainly provides an investment into your future fishing, the goal of which is to make your time on the water more productive. Obviously there are hundreds of options to consider and that can make it daunting. A few words of advice to make the process a little easier. Here's an easy approach to buying fish finders that fit your needs.
Establish your budget
Leverage an existing system
Buy pixels not screen size
Go with technology that fits your fishing
Don't chase latest and greatest
The best starting point in buying a fish finder begins with setting your budget. Ask yourself how much you are willing to spend to get your boat or portable system outfitted to have a better picture of the water around you. Then from there you can start to narrow down your choices. One way to lower the cost is to choose smaller units. And to use units without as many technologies. You can also save some money if you are able to use existing transducers or networking to existing systems. That means your are only looking at a replacement or additional fish finder head unit (which most of these prices start at — a head unit with no transducers).
Guys will often get caught up trying to get bigger screens. But bigger screens don't always mean better picture. Ever go into Best Buy and stare at the wall of TVs and notice that some of the mid-size TVs look better than the big screens. That's generally because they have a combination of better resolution and better glass. And often, with two TVs with the same resolution but different sizes, the smaller screen looks better. So keep that in mind. You might get in a series that has 3-5 different sizes of screens and the lower to middle ones look better than the big ones. So pay attention to resolution over screen size.
Another thing to consider is how far the unit is from your eyes. At my console my graph is a foot or two from my eyes. On my bow, my graph is 5 feet from my eyes. So I run a single 16 at my bow and a single 12 at my console. In a kayak, I often run a 9 inch screen. Because again I'm so close to my unit.
If your a guy that runs and guns and just likes to see what is going on in an area when you get there, then technologies like Forward Facing Sonar and 360 Imaging will be more appealing. If you like slowly and methodically mapping out an area and finding schools of fish off the beaten path, then technologies like Down and Side Imaging will be more important to you. If you fish primarly shallow water and just need to know depth to avoid danger, then a bare bones fish finder might make sense.
And a graph is an investment. I tell people this all the time. I found more bass on Kentucky Lake with a Lowrance LSS2 Side Scan Module and an 8-inch HDS Gen 1 unit than any other graph I've owned. So chasing the latest and greatest doesn't necessarily make you the better angler. Spending the time learning the areas does. And you can get by with smaller screens just fine. Most of the elaborate setups on fishermen's boats are just matters of convenience. They want to make fishing more convenient and more efficient. But don't think you can't be very effective with a 7-inch unit and some old Gen 1 technology.
WHY YOU SHOULD TRUST WIRED2FISH ON MARINE ELECTRONICS
We are not just creators but avid anglers and super users when it comes to marine electronics and technology in fishing. We hold NDAs with most of the major manufacturers and have access to these electronics long before the public does. We've been instrumental in helping many of these companies improve their offerings with our feedback. We've sat in the room with the engineers and shared suggestions and real on-the-water observations and scenarios to help them build better products.
Beyond that, we have probably been hands on with more fish finders and marine electronics than most anglers in the world, let alone in the US or on the internet. We work with not only the manufacturers, but also with hundreds of anglers who all have varying degrees of setups and implementations of the electronics. We also work with many of the top installers around the country and have firsthand knowledge on the best ways to install and configure these electronics. And we do that from a basis of being on the water fishing a lot.
We are adamant about being hands on with as many products as possible, so that when we give recommendations, it's from a base of knowledge of a wide array of options. We don't write clickbait pieces for numbers. We generate honest feedback to help the angling community, and we try to learn as much as we can from other good anglers to improve our knowledge of these electronics in real fishing situations.
So trust us when we recommend technology. We have put in decades working with hundreds of people in and around marine electronics to get to this level of expertise on this topic. And we are all very accomplished and avid anglers who use these technologies to make a living in the fishing industry.