I see a lot of photos online of other folks' fishing shops, boat shops, shops or mancaves… whatever you want to call them. I'll admit that I've been a bit jealous at times. I'm happy that these people have some nice spaces but when it comes to me, I don't need all the fancy stuff in most cases. I'm a simple dude and while the bells and whistles are nice, I just prefer to keep things a bit simpler and keep a little extra cash in my billfold. All I've ever really wanted was to have a climate-controlled space to keep my boat dry and out of the harsh Georgia sun.
My wife and I bought our current house several years ago and when we were starting our house-hunting process, we made a deal: If it had a shop I liked along with a little land and a kitchen and master bedroom she liked, we'd buy it and make it work. So sure enough, we finally found this pad and nearly the day after closing, we started ripping it apart to make it our own. It was a long but educational process that, to be honest, taught us a lot about working together towards a common goal. With that being said, I never want to do it again!
My fishing shop/mancave has been a bit of a challenge, however. I thought it was the cat's behind for the first few weeks of owning it but after the initial excitement died down, I realized I had some legit work to do.
The old man who owned this place before us used my shop as a woodworking shop; Lord knows what he did in there but years later, I'm still finding sawdust in my boat carpet and nostrils just about every day. It drives me nuts but heck, we got a good deal on it so it's up to me to make it into my own.
I've spent countless weekends getting this dang shop cleaned out and presentable. Trailer loads upon trailer loads have gone to the county dump and I'm finally at a place where it's worth writing about. As I've made this space into my own, I've kept a list of recommendations I'd make to folks in my situation.
Whether you just have a spare bedroom you use to store fishing tackle, a residential-sized garage or a detached workshop, I wanted to jot down some things I've learned during this process that might help you maximize your space or even save you a little money.
(1 of 6)
Pegboard is a huge help
Because of all the wood cutting that has happened inside of my shop, the drywall is a wreck and I absolutely hate the look of it; it's yellow, sagging and just dirty looking. I've always wanted to have pegboard in my shop from a stricly tackle-storage angle but it has also served as an easy cover-up for this nasty drywall.
I covered an entire wall in pegboard within about three hours, if I had to guess. I initially wanted slatwall (I still do, to be honest) but at the time, it was just too rich for my blood. So I went to the local hardware store and had to choose between brown/cork-colored pegboard and white pegboard. The white was a bit more expensive but I ended up choosing it because with the dim lighting in my shop, I was hoping it would make the space seem a bit less claustrophobic and sure enough, it made a huge difference.
When you're hanging your pegboard, it's important to make a frame with 1-inch x 2-inch x 8-foot furring strips between the existing drywall and your pegboard. Not only does this give it a sturdier frame but it also allows room for the pegs to be inserted properly. Again, this doesn't take long but it's worth keeping in mind so you don't have to make an additional trip to the hardware store.
The pegboard is an enormous help for making extra space in an area. You can put all kinds of terminal tackle, lures and soft-plastic baits on it without taking up any extra floor space. Whether you're fortunate enough to have a big shop or a small spare bedroom, floor space is always going to be at a premium.
So my suggestion is pretty simple. Save up a few hundred bucks and put an afternoon aside to install some pegboard. It frees up precious floor space and it also lets you see everything you have, which helps you avoid digging through boxes of tackle.
(2 of 6)
Ceiling-mounted rod racks are easy and cheap
While we're on the whole floor space issue, I'd strongly recommend considering ceiling-mounted rock racks in your fishing shop. I'd like to say I came up with this idea on my own, but I didn't. The old carpenter from whom I bought this house used to store lumber with ceiling-mounted galvanized pipes, floor flanges and elbow fittings (click here for an entire article explaining how to make them). I was about to rip 'em out one day until it clicked in my head, "You dummy, these things are perfect for storing extra rods."
Sure enough, they work awesome and in the next few weekends, I'm probably going to make and install two or three more. I hate tripping over stuff while I'm walking around my shop so any opportunity I have to get things off the floor, I'm going to take it.
If you strategically mount these racks above your boat, it's even better. Instead of hopping into and out of your boat when you're getting ready for a fishing trip or tournament, you can simply stand up and quickly grab what you need. This whole project might cost you $40 or so and you don't have to be especially handy to get it done. It's an easy DIY project that'll save you a lot of hassle in the long run.
(3 of 6)
I found some fancy light bulbs
I definitely want new light fixtures in my shop; my father-in-law has some really nice ones I want to get. But I'm not quite sure if my lovely wife wants me to spend upwards of $600 on new light fixtures for my shop instead of a new fixture for our master bathroom vanity. If you're married, you totally understand what I mean.
That ain't no hill for a climber because I try to be as resourceful as possible. So for now, I'm keeping my sawdust-covered light fixtures and just changing the bulbs temporarily. I knew I wanted to switch to an LED light from those nasty fluorescents so I went to Lowe's a few weekends ago to check out the selection.
Maybe I'm just behind the times and totally clueless (I wouldn't bet against it) but I found some sweet bulbs for a great price. I got some GE T8/T12 LED bulbs with a three-way color selector switch included on them. They fit right where your old fluorescent ones were and once you put 'em in, there's a three-way switch that allows you to choose the brightness and color of each bulb. For me, that's a big deal since I'm always taking work photos in my shop. But based on the ambient light coming from the outside of the shop, a quick flip of these switches can relieve your eyes and make a big difference when you're rigging tackle. For the 48-inch size, I think I paid a hair under $18 for them.
(4 of 6)
Bite the bullet and get an epoxy floor coating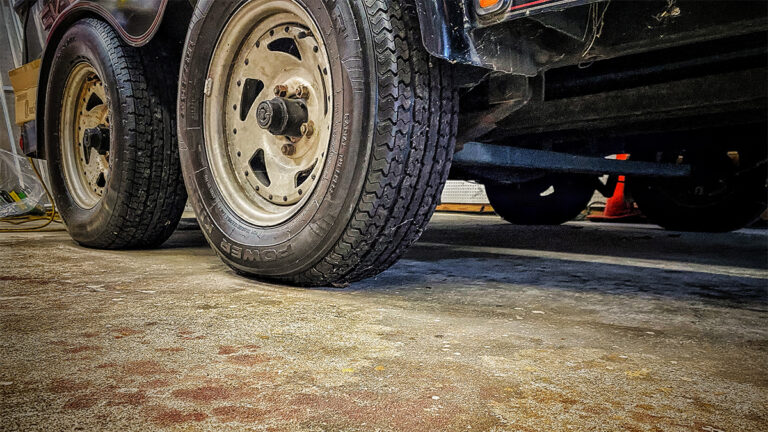 This might be the biggest regret I have regarding my shop so far. The dude who lived here before us would paint stuff and hang it to drip-dry in my shop. As you can probably guess, I now have nasty-looking dried paint all over the concrete floor of my shop. Not a huge deal, I'll admit, but for a neat freak like me, it makes my eye twitch to walk into my shop and see paint splattered all over my floor, especially when I didn't make the mess.
If I used a bit more foresight when getting my shop laid out, I would have held off on moving things into the shop for a weekend so I could quickly and easily apply an epoxy floor coating to cover all of the mess and prevent future messes. But we were so ready to get moved in and situated, I never even thought about it.
Fast-forward a few years and I'm going to have to totally empty my shop now in order to apply this floor coating. The process is actually quite easy; I have friends who have done it in under a weekend. But man, with all the stuff I have in there, it's going to be a nightmare to clean it all out and get started.
So if you're serious about having a legit boat shop, learn from my mistake and seriously consider getting the floor coated before you do anything else.
(5 of 6)
Think twice before you cut costs with plastic shelving
Shelving is important in any garage but it's especially important in an avid angler's garage. We all have all kinds of plastic tubs with soft plastic bags to store and the most efficient and cost effective option is often shelving.
I went to a local hardware store and bought some fairly inexpensive plastic shelving for my shop. Having just bought a house and paying for a bunch of expensive renovations, we just didn't have the budget to go buy a bunch of heavy-duty shelving units.
In hindsight, I wish I would have waited a few months and just bought the more expensive shelving. Mine are currently all plastic and they have bent, cracked and for whatever reason, they're also designed with perforations which don't allow bottles or jugs to sit evenly on the shelves. It drives me nuts to walk in my shop and see all my fuel treatment bottles, oil jugs and detailing products cocked to the side at a 45-degree angle.
The sturdier steel/wood shelves at the hardware store aren't really that much more expensive. Heck, you could even build your own if or when the price of lumber drops. I'm not saying that you have to drop a bunch of money on your shelving, but it is important. And the older I get, the quicker I'm realizing that buying more premium products initially can save a bunch of money and frustration in the long term.
(6 of 6)
A cheap smart TV is a great addition
When my wife suggested I get a smart TV for my shop (she probably wanted me to stop watching Braves games in the living room every night), I figured it would be a pretty expensive thing. I told her I didn't want to spend that kind of money and she convinced me to go to Walmart and check out the prices. To my surprise, I was able to grab a no-name flatscreen TV for about $140 or somwhere around there.
This thing plays cable, all the streaming apps we have, YouTube and even SiriusXM. Whether it's baseball season and she wants some quiet time or I'm in there rigging tackle before a derby, I really can't see having a shop without a TV in it. I like background noise and of course, I love my 2021 World Champion Braves, so this has definitely been a worthwhile investment.
I didn't write this article to assume any of us could afford a massive and luxurious mancave—I sure as heck can't. But whatever space you have, I do think most of these tips can help you out. Fishing equipment can take up a lot of room and if you're anything like us, you're always tinkering with tackle. So whether you have a smaller garage, a spare bedroom or whatever… consider a few of these upgrades and I think you'll be happy with the outcome.