The popularity of innovative frog designs like the Teckel Sprinker Frog and the River2Sea Ish Monroe PHAT Mat Daddy with its Plopper tail accessory inspired FLW Tour pro Michael Neal to design a homemade version that'll enhance most any topwater frog with a noisy, kicking trailer.
(1 of 12)
Trim or pull the legs out
The Dayton, Tenn. pro starts by cutting the legs off a Spro Bronzeye Frog to eliminate potentially marring entanglements with the additional action he plans to add.
(2 of 12)
Expose the hook eye connector
Next, he pushes up the frog's body to expose the juncture of the double hook's eye and the line tie. This is where Neal anchors a wire stem to which he'll add his kicking tail.
(3 of 12)
Bend spinnerbait wire to hook on to connector
Using needle nose, or round nose pliers, Neal bends a small crook in one end of the wire, hooks it into the line tie's lower eyelet and cinches it shut. 
(4 of 12)
Attach spinnerbait wire and secure
For proper fit, Neal stresses the importance of positioning the wire stem so it lays on top of the hook; not under.
(5 of 12)
Run wire down the top of the hook
Now, it's time to align the wire for proper trailer elevation; so Neal slides the frog's body back over the hook shanks and bends the wire upward at a 45-degree angle to center it between the leg stems. 
(6 of 12)
Fold frog back over hook and wire
(7 of 12)
Bend loop in wire end
With this basic suspension arm in place, Neal uses his pliers to form a loop, onto which he'll slide a barrel swivel. 
(8 of 12)
Attach barrel swivel to wire loop
"I start with  a 6-inch piece and will have some scrap, but the length makes that stiff wire easier to wrap," Neal said.
(9 of 12)
Secure wire loop on swivel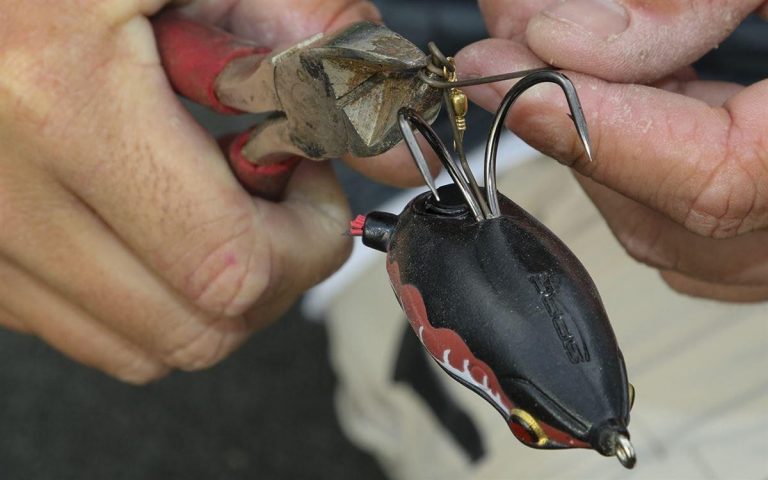 Last step, before trimming the wire, is a couple of loop-securing wire wraps.
(10 of 12)
Attach hitch hiker to other end of barrel swivel
(11 of 12)
Trim a paddle tail off a swimbait
He prefers the 5-inch Big Bite Baits Cane Thumper for its favorable combination of mass and movement. 
"It's not overly aggressive, but it's not so small that it doesn't make any noise," Neal said. "I don't need the entire bait, so I cut off about half of the bait. You want it to be as short as possible and still have enough plastic for your HitchHiker to bite. 
"You don't want that metal sticking out of our plastic, or it's going to catch grass or whatever else you're throwing it around. It's like trimming a jig's weed guard — the shorter you trim it, the more it's going to stay in place and let the tail displace the water."
(12 of 12)
Finished prop frog bait for bass fishing
"I'll fish this in sparse grass or anywhere you'd want to throw a Whopper Plopper or buzzbait, but there's too much slop for the bait to spin right or for treble hooks to catch," Neal said. "You can also skip this bait under docks and laydowns.
Start-to-finish, Neal can modify a frog in about five minutes. The best part about his system is that it keeps the trailer riding high where it creates maximum disturbance to coax those big bites.