Soft plastics are a staple in bass fishing and the finesse plastics offerings continue to expand with fishing pressure. DUO Realis sent me a sample of their new V-Tail Shad to test on various rigs and as a trailer for various bass fishing applications. Here are my experiences with this unique twist on a simple finesse plastic shape.
(1 of 9)
Perfectly keeled belly is weighted to make it stay horizontal
At first glance, the DUO Realis V-Tail Shad looks like a simple soft plastic minnow jerk bait. But that's actually not its intended use even though I have found that it was a neat little bait for fishing like a small jerkbait. The belly is actually weighted with a little more dense material to keel and keep the bait horizontal on the fall and while it's being presented. This makes it a great option on a drop shot but it also have a lot of other applications. 
(2 of 9)
Keeled nose and belly force water away keeping it upright
The V-Tail Shad has a rounded but keeled head that helps send water around and it force it to stay upright on a straight retrieve, pitching it as a drop bait or fishing it vertically on a drop shot. A lot of thought went into this shape and getting it move very naturally in the water. 
(3 of 9)
The flat back helps it stay horizontal and forces water onto tail
The flat back on the V-Tail Shad makes it easy to rig and again keeps the bait horizontal and natural in a variety of rigs. I've fished it both nose hooked and Texas rigged on a drop shot. I've put it on a small ball head and used a shaking slow retrieve, I've put it on an underspin. I've put it on the back of a spinnerbait and a Chatterbait with very good success. 
(4 of 9)
Flat tail is designed to catch water to give it a very lifelike appeal
The flat tail is the final ingredient to making the V-Tail Shad move so naturally in the water. The water that gets forced around the bait, hits a section of rings and the tail is so soft it actually has quite a bit of natural movement on the slightest movement by the angler. 
(5 of 9)
Deadly on a ball head shaking retrieve
 I learned a few years ago in really cold water, you can take a small jerk bait profile plastic and just slow reel it and impart a really subtle shake to your rod tip to get bites from lethargic bass. I also will throw this little rig when fish are suspending in the winter and summer around pods of bait. You can fish vertically for fish with this rig or cast it and ultra slow reel it or even let it pendulum down through fish because the bait tries to stay horizontal. 
(6 of 9)
Fishes really well on a drop shot
I spent most of my time fishing the V-Tail Shad on a drop shot rig and caught some really nice bass on it. It's a very good formulation of plastic where it's soft enough to have a lot of action and get a good hookset but it doesn't tear up as badd as other finesse plastics I've used. I also noticed it seemed to stay on the hook when fighting the fish. 
(7 of 9)
We've been playing mostly with nose hooking or Texas hooking with equal success
The drop shot rig really shows off how natural this bait looks in the water and gives the fish a different look than a straight-tail slender worm. 
(8 of 9)
It's a very good spinnerbait and Chatterbait trailer
They started with a 3-inch size of the DUO Realis V-Tail Shad, but the 4-inch size has really been money for me. I've caught fish on it as a spinnerbait trailer, a Chatterbait trailer, a drop shot and on a small jighead. It looks like a minnow, a shad and any other natural baitfish a bass would eat. 
(9 of 9)
It's soft enough to get great action and not interfere with hooksets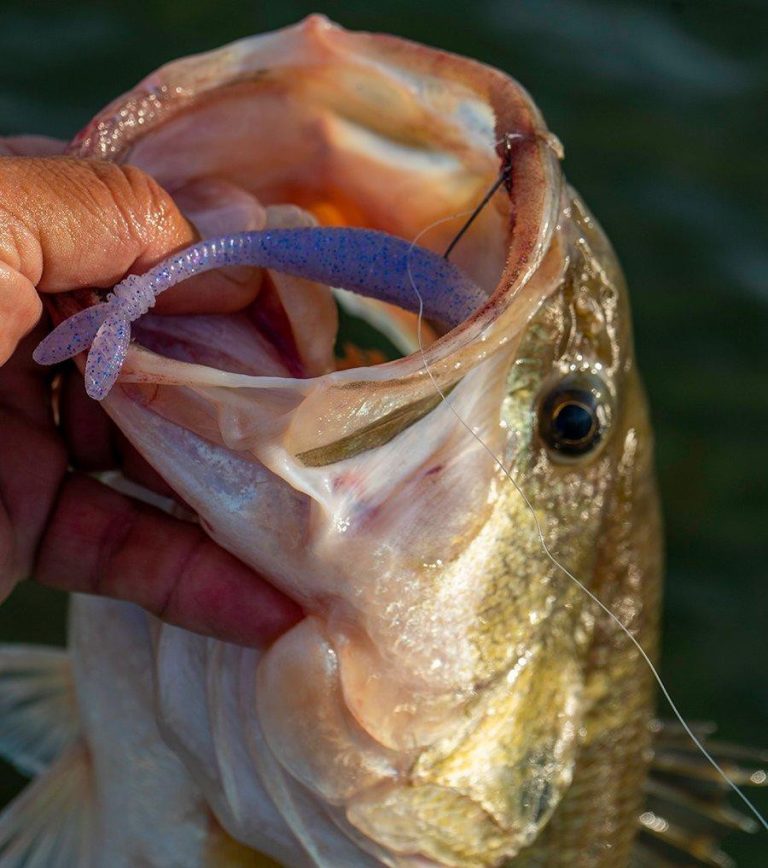 I've enjoyed experimenting with the V-Tail Shad from DUO Realis and I'm sure I'll find some other different ways to use it in the future. I like plastics that offer me a lot of options for other baits or by themselves. The V-Tail Shad has worked really well on a drop shot for really pressured fish this summer. It looks great fished both horizontally and even vertically because it stays horizontal on the fall and stands out straight while really pulsing its tail with the slightest rod twitch. 
You can find the V-Tail Shad at TackleWarehouse.com in both 3 and 4-inch sizes. I like the Ghost Silver Pearl TT, Wakasagi TT, Violet Wakasagi, and Silver Chart colors.