Chances are good that when a beginning angler first picked up a rod and reel to begin fishing, there was a Mustad hook on the end of the line. Founded in 1832 in Gjovik, Norway, Mustad is steeped in angling history and is the second oldest manufacturer in the fishing industry. Even today, one in every four hooks sold is produced by Mustad–a company with a deep historical vibe that continues to push the boundaries of growth and innovation.
Recently Paul Ruda, General Manager of Mustad North America, recognizing that success is never achieved alone, meticulously handpicked a team of industry veterans to support him in his new role at Mustad. By assembling a group of individuals who share his passion and vision, Ruda aims to create a formidable force within the fishing equipment industry. "It's an honor to serve and lead the Mustad family of brands, focusing on our North American market," he stated. "What's more rewarding is having had the opportunity to build and surround myself with a team of such skill and knowledge-base within our industry. Mustad has an excellent reputation, which is why I feel we were able to recruit such a strong staff. We all came together because we know we can make a difference for these brands, which we are all so proud of," added Ruda.
Andy Baumbach, Vince Minnick, Isaac Payne, Dave Wensel, and Brian Perry are the newest additions to the Mustad team. Their expertise and experience will boost Mustad, bringing innovative solutions to the market. Each person brings an abundance of knowledge and expertise to the organization. These gentlemen will further enhance Mustad's ability to continue delivering innovative products for the Mustad, LIVETARGET, and TUF-LINE brands.
Andy Baumbach, Director of Marketing, North America
With a solid background in strategic marketing and a passion for brand building, Andy Baumbach has been named Director of Marketing for Mustad North America.
Baumbach was fortunate to dive right into the outdoor industry at the start of his career. Specializing in creative, he was focused on developing brand identity, content creation, product packaging, and advertising. Later, he moved into marketing leadership for several prominent brands in the outdoors space. "Joining the Mustad team is exciting. There is a lot of room for growth within the family of brands. Standing on a foundation of trust, and historically well-known products, I'm confident we will be able to expound upon our current catalog with new products while supporting with fresh marketing tactics," said Baumbach.
Baumbach is an avid angler who enjoys bass fishing. "Throwing a topwater frog and feeling the rush as a largemouth blows up on the surface first thing in the morning is what it's all about," noted Baumbach. He also enjoys the opportunity and challenge of fishing offshore and catching snapper and grouper.
According to Baumbach, "The most identifiable thing about our industry is the overall culture and camaraderie. We are a very small industry, and everyone here is in it for the same reasons – helping make and sell products for fellow anglers who love to do what we do. Serving a passion-driven sport industry is rewarding in so many ways."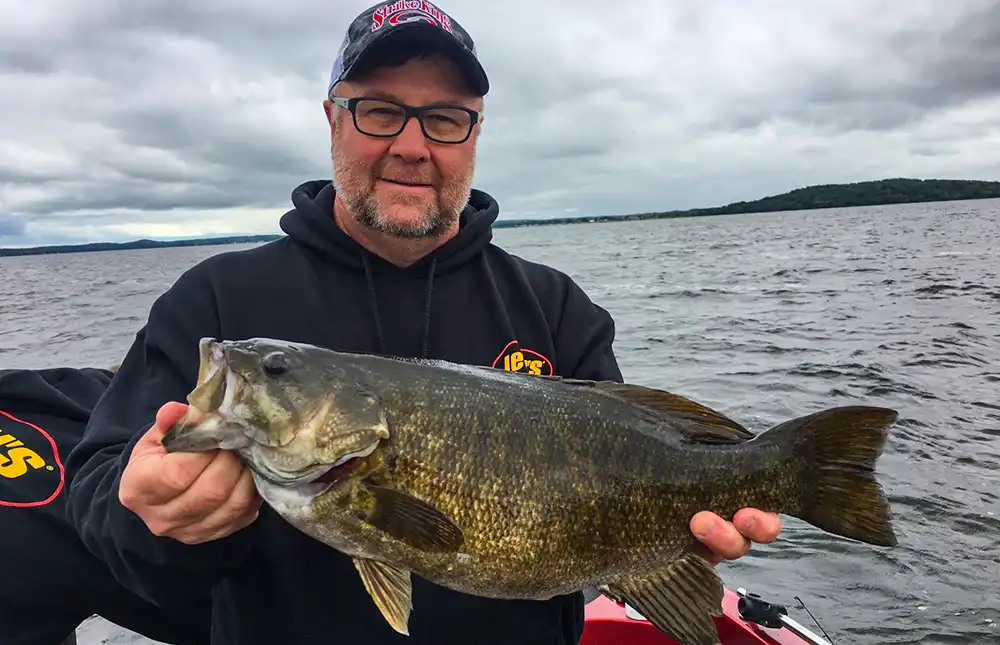 Vince Minnick, National Sales Manager – Key Accounts
Vince Minnick brings a wealth of experience in sales leadership and relationship management to Mustad's organization. With an impressive record of exceeding sales targets and building strong customer partnerships, Vince will play a pivotal role in fostering valuable connections with key accounts. His ability to identify and meet the unique needs of each client will allow Mustad to tailor offerings and deliver exceptional solutions.
Minnick owes his passion for the outdoors and fishing to his father and grandfather, who introduced him to the sport at an early age. He took his love for the sport and grew it into a career. "The thing I love the most about this industry is the opportunity to provide fishing tackle that will help anglers of all ages and skill levels have positive experiences in the outdoors," shared Minnick.
"I'm excited to be part of this team and work with such a great group of individuals who share the same passion while continuing to offer quality, innovative products to anglers and continue the great legacy of Mustad that has been going on since 1877," continued Minnick.
Isaac Payne, Director of Innovation & Product Development
In a rapidly evolving market, innovation is the key to staying ahead. With extensive experience in driving product development and incorporating cutting-edge technologies, Payne will boost Mustad's efforts in developing groundbreaking solutions. His ability to identify market trends and transform ideas into tangible products will ensure Mustad continues to provide fishermen with the latest and most effective solutions.
Payne was introduced to fishing at a young age and developed a passion for angling. It all began with catching catfish and rapidly evolved as he learned about the different fishing competitions and that there was a possibility of having a career as a professional fisherman on pro circuits like B.A.S.S. and Major League Fishing. "My favorite styles of fishing are throwing large swimbaits for big bass on freshwater lakes, tidal rivers, and reservoirs. If I am not throwing swimbaits, you will probably catch me using vertical flutter spoons or crankbaits on the Tennessee River chain or frogging, flipping, and punching different types of vegetation on popular bass fisheries across the US," said Payne.
Many industries have benefited from a renaissance in manufacturing technology and product evolution, and the fishing industry is a prime example. "The evolution we have witnessed in our industry over the past 3-5 years has been unreal. The elevation of industry products has been bolstered by technological advancements and synergies created through the competitive nature of fishing brands in the outdoor space. This has collaterally advanced the innovation in outdoor products and their performance, especially with marine electronics, outboard engines, boats, kayaks, lures, terminal tackle, and all the tools associated with keeping anglers hooked up on the water. The fishing industry will continue to thrive along with all the current and future generational expansions," notes Payne.
Dave Wensel, Senior Business Manager – West US
Having successfully managed business operations across multiple industries, Wensel joins Mustad as the Senior Business Manager for the West US region. With a keen eye for identifying growth opportunities and implementing effective sales strategies, Wensel will oversee Mustad's business sales operations in the West, driving revenue generation.
Wensel was recruited into the industry due to his merchandising experience in other markets, but it was his love of fishing that lead to him landing in the fishing industry. "It was my love of fishing that ultimately landed my career in this industry. My father and grandfather were passionate about fishing and would take me and my brother on multi-day trips to Pinedale Wyoming, where we would fish Soda Lake, consistently limiting out on German Browns," said Wensel. Today this early passion for fishing has turned to salt water, He added, "I love anything saltwater related. I prefer to cast to schools of fish and feel the power of the feeding frenzy as they realize they are hooked and try to escape."
Wensel finds that this industry is built on relationships. It's about the people, whether it is friends, customers, or business associates. It is where business is really developed. Working for O. Mustad & Son allows him to build upon a great brand heritage with an iconic company that has been around for 200 years. He says, "Being a part of that Legacy is exciting. We have lots of opportunities to improve supply chain, speed of communication, delivering on our commitments and ensuring we meet the needs of our customers and ultimately, fishermen."
Brian Perry, Senior Business Manager – East US
Brian Perry, as the newly appointed Senior Business Manager for the East US region, brings his expertise in implementing effective strategies and optimizing sales operations. He will lead Mustad's Eastern sales team, driving revenue generation in this region.
Perry's passion for fishing, along with his first job as mate on the fishing vessel Outlaw Illustrated that he needed to find a career in the fishing industry. He quips that this job eventually led to where he is today.
Perry looks forward to the new role with Mustad saying, "The people involved in the industry are generally down to earth and share the same passion, and it affords the opportunity to work with a great group of people and make a difference in the Industry."
With the arrival of Baumbach, Minnick, Payne, and Wensel and Perry, under the leadership of Paul Ruda, Mustad marks an exciting chapter in their organization's journey toward excellence. These new hires bring with them a wealth of experience, expertise, authority, and trust, further enhancing Mustad's ability to serve its clients. Their contributions will help O. Mustad & Son achieve new levels of success while providing a positive impact on the organization and the clients they serve.