While we all knew Minn Kota Stage Seven presented by Suzuki would be the final regular-season tournament Kevin VanDam fished, I don't think the gravity of the situation was felt until Saturday's Knockout Round. Entering the semifinal round of competition, you started to hear more emotion in KVD's voice during interviews. All the sudden the weight of the moment was tangible.
When VanDam lit up the SCORETRACKER that morning and power-fished himself into the lead, he captivated the attention of the entire fishing industry. It felt like everyone, even those competing against him, wanted to see KVD hoist the trophy on Sunday and put the perfect end to his unparalleled career.
While he didn't get his fairytale finish, ultimately finishing in second place, the consensus greatest bass angler of all time did continue his legacy of teaching and offered a few more lasting lessons during his final event.
KVD has been educating people on bass fishing for over thirty years, and the Team Toyota pro went out dropping knowledge even greater than 'how to catch smallmouth off flats' or 'how to crank an offshore ledge'.
Integrity
As well-known as he is to fishing fans for his trophies and accolades, VanDam is similarly praised amongst industry pundits for his class, professionalism, and integrity.
KVD leads mostly by example, but after paying his respects to fellow BPT competitor Randall Tharp, who left the spot they had been sharing on Saginaw Bay to VanDam Saturday morning, he imparted some wisdom regarding integrity in the sport of bass fishing.
"In this day and age… integrity in bass fishing is not what it used to be," VanDam warned. "Guys like Tharp get it… The one thing you should never sacrifice is your integrity. There is no trophy or check out here that's worth giving that up, because that's all you have in the end."
KVD's tips have helped thousands of people catch bass over the years, but for future of tournament fishing, perhaps no lesson is of greater importance than his input on integrity and character.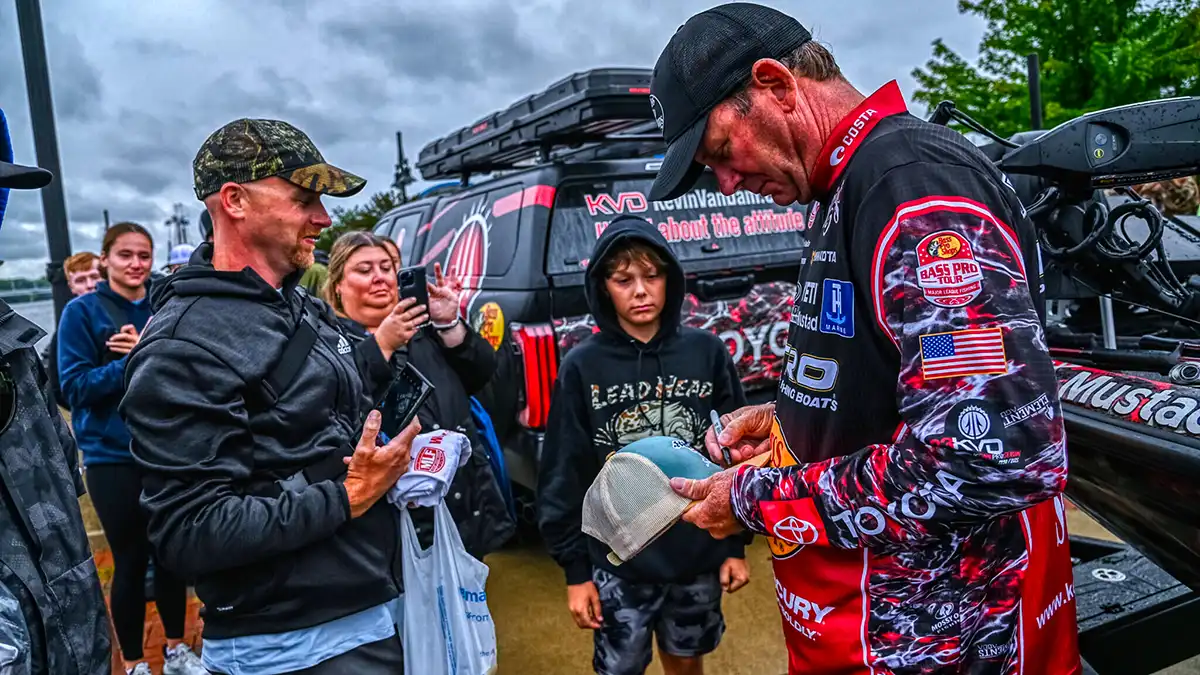 How to be an ambassador
Simply stated, there is no one who works harder to promote not only his sponsors, but the sport of bass fishing, than Kevin VanDam. KVD has been the living, breathing definition of an ambassador in fishing for decades. This didn't stop during his last tournament, as the Kalamazoo-not-so-kid-anymore proceeded to set an example for all to follow.
He helped organize and host a riverfront cleanup in Bay City through The Kevin VanDam Foundation in conjunction with Costa Sunglasses during Stage Seven. As a Michigander, he engaged in extra interviews and press obligations all through the week. He happily completed every league or sponsor request, video, picture, social media post, and anything else that was asked of him even with his emotions running high and time running thin.
Finally, when cameras were rolling before he launched for the Championship Round, KVD delivered a powerful and emotional interview where he made sure to praise his wife Sherry and their two sons. Reminding us that as important as tournament fishing is, family is everything and "the reason" as he put it.
The bar is set for being an ambassador in the sport of bass fishing and it's initialed with three letters… K-V-D.
How to lose
VanDam's final lesson came in the way he lost.
Ask any pro angler and they will tell you that you'll lose far more than you'll win in tournament fishing. When 80 Bass Pro Tour competitors show up for each event, only one leaves a winner, which means 79 leave as losers. Getting beat is a harsh reality that every aspiring tournament angler must come to terms with. When Stage Seven officially concluded, VanDam was among the first people to congratulate Matt Becker on his victory.
But until the clock ran down to zero, KVD's famous competitive spirit was alive and on full display. With less than 14-minutes in the final period, VanDam strapped his rods down and pulled his trolling motor to make one last-ditch effort to chase down Becker. One final, miserable boat ride in the pouring rain to try and make magic happen.
"I feel like staying here would be giving up… we've gotta run and give that rockpile a chance," VanDam said as he apologized to his camera man and marshal. "I could catch back-to-back five-pounders there… you just never know. But I can't give up, I never have, and I won't start now."
KVD's catch phrase is, "It's all about the attitude". Losing may be a reality in tournament fishing, but VanDam showed it should never be accepted until you've exhausted all possibilities. He scratched, clawed, and fought for the win with a positive attitude regardless of the seemingly insurmountable deficit. He didn't fold, pack it in, or bask in the moment.
He went out on his own terms, slinging a spinnerbait in the wind and rain until the final bell rang. What a fitting way to close out the most legendary career in the history of tournament bass fishing.