Today we're going to be looking at something a little different—the Cat 3 Tackle Bladed Teaser. I was first introduced to this product by its creator Ben Adrien during a live-streamed head-to-head tournament I was hosting at the time. When I first saw Ben lob a deep-diving crankbait out with three little blades out in front of it, I began to question whether or not the guy had ever caught a fish.
But my prejudice was quickly silenced as he proceeded to get a couple big bites and reel in a few more small ones to win the head-to-head. I knew then I had to check this thing out for myself. So he sent a few over and I've put them to the test. Now let's talk about this innovative little piece of terminal tackle and what all it can be used for.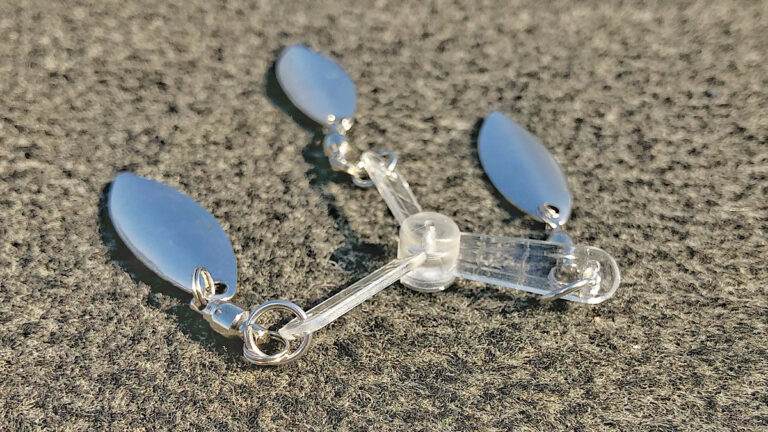 So for starters, this product doesn't fall neatly into any current genre of baits; instead, it has created a lane of its own. The best way to simply describe it is to call it a "bladed teaser". It's essentially three small willow leaf blades attached to quality ball bearing swivels that are then attached to a clear prop which is ultimately threaded onto your line. The idea is to put this teaser out in front of the baits you already have confidence in and give a bass that much more reason to go ahead and commit.
As you reel this teaser through the water, you'll see the blades on the swivels are all able to turn independent of one another. But what's really cool is that while the blades are all spinning individually, the whole teaser is spinning as well. The clear piece that holds the whole teaser together is built like a prop, so as it spins and the blades spin you get a truly dynamic flash that's constantly reflecting little rays of light in countless directions, very similar to what you'd see with a small school of baitfish.
What's really cool about this teaser is the seemingly endless number of ways it could be rigged. You can put the Cat 3 Tackle Bladed Teaser out in front of a spinnerbait, vibrating jig, squarebill, deep diver, lipless bait and the list goes on. Heck, it could even be used to mask the head of an umbrella rig. I haven't had the opportunity to try it all these different ways yet, but I did have a particularly cool experience fishing it with a small swimbait.
I had been throwing a small single swimbait for about an hour with little success, maybe having caught one or two. I decided to pull out this bladed teaser and put it in front of my swimbait. I didn't even rig it properly to maximize its potential—we'll talk more about that in a minute.
Instead, I simply ran it up on my line and tied my swimbait back on. But even with the teaser right up against the bait, I proceeded to quickly catch seven or eight bass, in much less time than the hour it had taken me to get a bite or two without the teaser.
The Cat 3 Tackle Bladed Teaser comes with bobber stoppers, which can be used to hold the teaser in place by putting one above the teaser and another below. Then, simply slide your teaser and bobber stoppers up and down your line until you have them the desired distance away from your bait. But there are many ways to rig this teaser onto your line and some actually work better than others.
Again, when I caught them on the swimbait I was just letting the teaser come all the way down to the line tie of my jig head. This still allowed the blades to spin freely but the prop didn't turn all that smoothy.
Using a bobber stopper above and below the teaser will get it away from your bait a little but if you really want the prop to turn at its max capacity, you'll need to add something else to the mix. Adding a glass bead between the teaser and the bobber stopper closest to your bait will allow the prop to spin much better. It's also worth noting that when putting the prop on your line, there's a top and a bottom. You can tell which is which by the cup in the center of the prop. The bottom of the prop has a cup to it and this cup should be pointed in the direction of the lure you're using it with.
(4 of 5)
A couple more ways to rig it
I also found that exchanging the glass bead for a small tungsten bullet weight works really well. This will still allow the prop to spin freely but also adds a little weight to the rig to help get your bait down deeper. This will be helpful if you're fishing small single swimbaits down deep or if you wanted to fish this teaser with a spybait for instance. It also keeps the whole rig level in the water instead of having a heavy jighead swimbait below and the teaser being weightless up above. With some weight up near the teaser, it looks like the lure is more naturally trailing a small school of baitfish.
You can also use a swivel to better lock your teaser in place. If you're using small diameter line, casting really hard or perhaps even trolling a setup with this teaser in salt water, you'll find that the bobber stoppers aren't enough to hold the teaser in place. Using a swivel in place of the bobber stopper closest to your bait will fix this problem. Then simply tie a short leader line to the bottom of your swivel and attach your bait to opposite end of the leader line and you're good to go.
Along with the Cat 3 Tackle Bladed Teaser, you'll receive a little card that illustrates how to rig it using a bobber stopper, teaser, bead and swivel. You should be able to figure out several other ways to use the teaser as well based on this piece and a little creativity on your end. The teaser comes one to a pack along with six bobber stoppers and is priced at $6.99.
The biggest thing you'll have to watch with this product is not putting it up wet. But if you take care of it and dry it off after each trip, I believe one will last you quite a while. The wide array of baits with which you can use this product make it one of the most versatile items on the market today. Don't be scared to try it with anything.
I was quick to judge it when I saw it for the first time, but was almost immediately made a believer in it that day and in my personal experience since.
The Cat 3 Tackle Bladed Teaser is available at TackleWarehouse.com.