These might be my favorite new lures that I fished this fishing season. This was one of my toughest years for swimbaits on Kentucky Lake, and I certainly caught more bass on other lures. The Bull Wake and Bull 4×4, however, got some of the most memorable bites, follows and crazy few minutes I had all year. As I get older, I enjoy the process of catching better quality fish with a more realistic forage imatator as much as trying to load the boat with limits of keepers.
Here are my thoughts on the Bucca Bull 4×4 and Bull Wake swimbaits that Mike Bucca released this year. 
(1 of 5)
A lip that climbs anything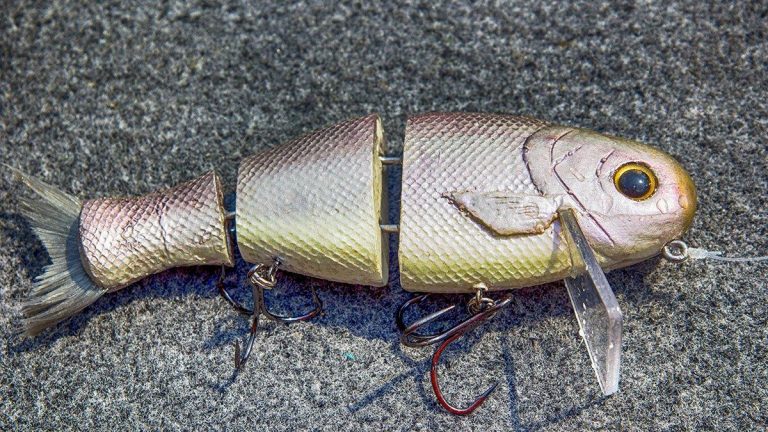 I believe the bigger bass on Kentucky Lake are gizzard eaters. I think once they reach a certain size, a gizzard shad imitator becomes a better option for catching big ones. And one of the places I see Gizzard shad the most is up on shallow rocky banks. That's where I've spent most of my time slinging the 4×4 and Wake Bait. But the lip on these things make them do some really cool stuff.
The craziest thing is they will literally jump over logs, stumps, and laydowns in the water. I've been able to jump the bait completely over a log out of the water and have it keep on swimming.
A key component to the Bull 4×4 and Wake Baits is a solid, sharp angled lip that enables them to pretty much come through anything they might come in contact with in shallow water. That's really been their allure for me too is throwing them where I can see gnarly cover where in the past I would put down my hard swimbait and pick up a more weedless soft swimbait for fear of snagging. These baits are made purposely to guard against snags and the lip helps the bait climb over cover without snagging.
You can see some examples of the jumping cover in test tanks here:
Bull Wake test tank footage
Bull 4×4 test tank footage
(2 of 5)
Profile that is one of the best in shad swimbaits
I've always been a fan of the Bull Shad profile, shape, sizes and colors. I love that they look beat-up and matte because when I've encountered gizzard shad, they are anything but perfect looking. They always look tattered, bloody spots, brown splotches, missing scales. In other words the more realistic offering is the one that is worse for the wear when it comes to gizzard shad swimbaits.
I do love that they offer both the Bull 4×4 and Bull Wake in bluegill patterns now too. I threw a Bull Gill a lot this spring on bream beds so I didn't play with these baits as much in that window but I think they will be dynamite for fishing in like bream holding places like around docks, on shallow laydowns and such in the spring. So I'm looking forward to that bite again next year. 
But I fished the 4×4 on visible cover in less than 3 feet of water because it will get down in and climb through the cover like where I would throw a spinnerbait or a square bill crankbait. I threw the Bull Wake where I would throw a long A or other style of minnow wake bait. I usually am throwing that in pockets and on large expansive flats where I think fish are roaming. 
(3 of 5)
Good hardware and features
The wide angle of the lip and the profile of the body make Bull Wake and Bull 4×4 do what they do. The really good hook hangers, split rings and solid joints make the Bull 4×4 and Bull Wake really solid investments. Add in the realistic eyes, matte finish and feather tail and you have a really good swimbait.
The knocker and joints clicking I think make the bait even more enticing. I think they also take a normally clear water application and make it work in dirty water too.
The Bull 4×4 and Bull Wake are 6-inches long and weigh roughly 2.9 ounces. 
(4 of 5)
Looks good from all directions and tricky mover
I took a lot of pictures of the Bull 4×4 and Bull Wake on a laydown tree because I can't get over how well they fish over and through cover. It's like having a magnum squarebill crankbait with a perfect shad profile and swimming action, that won't get hung up. I had some fun catches in the spring when the water was up and had a lot of color fishing it just like I would a big bladed spinnerbait or a squarebill crankbait.
Sometimes I think a big bass on cover won't run out and grab a little crankbait worked on the cover. I've seen times where a big spinnerbait got way more big bites in those same conditions. I traded up to a bigger profile of the Bull 4×4 this spring fishing around cover and had some really fun days of fishing in water you would think would be too dirty for a swimbait. 
But the sound of the joints and the knockers together I think make these incredible in dirty water. 
(5 of 5)
So much fun to fish around cover
I had a lot of fun fishing the Bull 4×4 while the water was high and colored. It's just uncanny how it comes through cover. It would get hung in wispy bushes some, but on a laydown tree, it would crawl completely out of the water to come over a branch and keep on trucking. Many times, a bass bites when a bait contacts cover and then immediately rights itself and starts swimming normally. That is a key trait in a lot of consistent fish catching lures. Something ordinarily you wouldn't associate with big hard swimbaits.
These baits snake and weave back and forth if on stop and go and twitching retrieves. I love that about them. You can get them into and around cover and really get erratic and draw a fish out. 
I fished them some this fall but the normal swimbait and topwater bites have been really off for me this year. Me and the bass certainly haven't been on the same page. But I'm telling you fishing these baits are addictive. You will have as much fun seeing where you can get them in and out of and what you can do with them on obstacles and knowing your odds are going up for that big strike. 
I think if you want to throw big swimbaits in shallow water fishing from the bank, these might be a wise choice. You can check them out at Tacklewarehouse.com and BullShad.com. Mike Bucca has some great resources on how to get the most out of his lures on his site and a ton of fish catch photos on the baits on his Facebook page.