Shimano has long excelled at making reels, specifically spinning reels, as well as baitcasting reels, and rods for both baitcasting and spinning applications. But now they are moving into making lures for bass fishing and they are already excelling at that in a big way. I was very impressed with their balsa hard bait offerings and now I'm even more impressed with their new Swagy Strong Spinnerbait series.
These spinnerbaits were designed with a lot of input from good anglers because there are features that directly address shortcomings I have seen in other spinnerbaits. So if you are a savvy spinnerbait angler, you will see these refinements in the next few images. If you're not, let me give you some direct experience and feedback on the elements that really make this spinnerbait unique and special.
(1 of 7)
Detailed Throughout
The stand out features of this new spinnerbait are numerous. While the details easily express themselves cosmetically from paint jobs to finely tied and coordinated skirt strands, the real details that matter all have to do with how the bait fishes. And that's where I was most impressed.
The Swagy Strong looks great. Great high-end packaging and great paint and color combinations with shiny blades. But if you're a good spinnerbait angler, that stuff doesn't matter as much as balance, wired vibration, turn speed, trailer keeper and overall fishability, also known as the lure coming through cover well, getting bit and hooking and landing fish.
(2 of 7)
Super Balanced Head Performance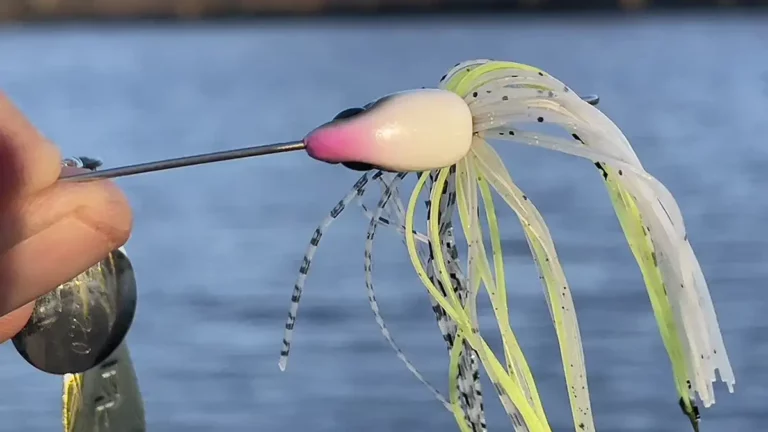 I fished the Swagy Strong on two different lakes in two different states before I realized just how well built it was. Initially, I thought it felt good, thumped good, casted well and looked great when I was reviewing the Best Spinnerbaits for 2022. But I had only caught a couple fish on it shallow.
It came through shallow wood great and I thought it was a great new spinnerbait. But after I took it on a recent trip and fished it out deep for very lethargic and weary bass on deep breaks, I was even more convinced that it was a special spinnerbait.
The main thing that really sold me on the spinnerbait is how balanced it stays and crawls through cover thanks to the design of its head. And how well it fishes at ultra slow speeds, even at just 1/2 ounce size. Ideally I like a 3/4 ounce spinnerbait for slow rolling so I can easily maintain contact with the bottom, but the 1/2-ounce Swagy Strong Col/Willow combo was very appealing.
I would climb the spinnerbait over stumps and scattered brush and the bass would slowly come up from behind and just suck the spinnerbait in and there would hardly be a bite. Just a change in the pressure. Almost like feeling grass on your line. I would lean back slightly and the pressure would give and the fish would move and I would set the hook on them. A lot of spinnerbait bites in the winter are like that. You get some of those slamming hits. But most of the time its mush.
But the way this spinnerbait contacted cover and maintained its balance is why it got bit. And it got bit over and over (see below). And that's why I really like how this spinnerbait fishes through cover and over structure.
(3 of 7)
Welded Blade Point and Refined Wire Arm
The Swagy Strong has a welded eye for the main spinnerbait blade. This may not seem like much but it's one of those refined details that matter when you're trying to build the best spinnerbait. There are a few manufacturers who don't take a lot of care in making sure the gap is closed and I've had numerous spinnerbaits over the years, throw their blades on the cast or when a big bass jumps throwing its head back and forth. It's a fairly infuriating occurence.
The wire is highly refined as well. It's very durable and strong at the base and head but has more flex as you get to the blades. So it vibrates on your reel hand and rod well, but you hardly have to tune it after catching a fish. So it's a very well thought out wire design as well.
But that detail is just another piece to this spinnerbait that shows an attention to not only detail but to common issues anglers face with competing products. That's how you build a better mouse trap… by fixing the shortcomings of the current mouse trap.
(4 of 7)
Sharp Hook and Effective Keeper
The hooks on the Swagy Strong are extremely sharp and they are coupled with a wire keeper that holds trailers to the spinnerbait really well. I have fished the Swagy Strong with and without trailers and it catches fish both ways. I like a trailer in the winter with some bulk to help slow down the bait and give the fish something to target.
You can bend the keeper out slightly and then pinch the trailer after you thread it on to get the hook to dig into the trailer for a better hold.
(5 of 7)
It's a Fish Catcher
I caught some nice fish to about 4 1/2 pounds on the Swagy Strong. I had a nice flurry one evening right before dark where I caught a bunch of feeding fish slow rolling uphill out of a deeper drop on a small lake. The key to me is the bait stays upright while fished along the bottom and the blades spin at ultra slow speeds things to high quality swivels.
So I was watching my spool on my reel to make sure I was crawling the bait along, feeling with my rod tip and keeping the blade just barely thumping as I worked the breaks.
I think I had 9 bites and landed 7 fish. One of them, I was a little slow on the uptake and didn't realize the fish had it and thought I was just in some cover. And when I set he was already throwing it. The other, full disclosure, I forgot these spinnerbaits come with a hook cover in the package. I
t's a clear piece of tubing to protect the hook until you are ready to fish. I forgot it was on there, and sure as heck, I got a bite on my second cast. I set the hook, moved the fish, it flopped up on the surface and came off. I was a little dumbfounded until I reeled it in and found the tubing torn off a little but still covering the point. Lesson learned I reckon.
But these spinnerbaits get bit, and they hook fish well with just a leaning hard quick short hookset.
While the $13.99 price tag will give some anglers pause, this is a high end spinnerbait. It has a refined hand-tied skirt, a wire keeper, sharp hook, high quality swivels, blades and a welded blade eye. And most importantly it's an extremely well balanced spinnerbait with its keeled head design.
Check out the Shimano Swagy Strong Colorado / Willow Combo Spinnerbait at these retailers: