This rainsuit is packed with advanced features and function focused on keeping you completely dry while fishing.
(1 of 15)
The Problems with Rain Gear
I will get to the JB Langley Altus rain gear review, but to understand why this might be one of the best rain suits available for anglers, you need to understand what the common issues are with rain gear for most anglers. I see more conversation and questions online about rainwear than maybe any other piece of fishing gear. Largely because everyone experiences the same issues. The biggest complaint is when you buy rain gear, you wear it all day in the rain, and at the end of the day when you get back into your truck, you're soaking wet.
Most good rain gear will keep you dry in a light rain with no wind standing in your driveway. But get on the boat with heavy wind, waves and water crashing into you, and that's when the great rain gear is separated from the good rain gear.
Most anglers think that it's the magic material that keeps you dry, doesn't get too hot and withstands all the elements keeping you bone dry. But there is no material that stops all water when you have several holes cut in it and it fully opens on one side (i.e. cuffs, zipper front, and hood). Most guys aren't soaked because the material of their raingear doesn't repel water, but because the openings — namely the hood and sleeves — of that material are not built to keep the water back.
(2 of 15)
Addressing it properly
JB Langley launched a new clothing brand earlier this year, problem was they went somewhat unnoticed because of COVID restrictions and lockdown in the middle of their launch. But I think the new Altus Rain Suit is going to get people's attention.
Everything about it caught my eye. The suit is amazingly advanced from materials, to cuts, to attention to very fine details. The Altus features lots of components that focus on keeping water out of all entry points while making the entire suit completely customizable. There are pockets everywhere with flexibility to move around however you need while fishing.
The Altus features a Toray Entrant HB (Hybrid) Four Layer Fabric System that has a 30,000 mm Hydrostatic Water Column Rating This basically means it has one of the highest waterproof ratings available which makes it more waterproof than many options on the market.
But the more impressive features involve the tailoring and sealing in the areas where the water tries to get in around the bottoms, sleeve cuffs, and hood.
(3 of 15)
Features: 3-Way Adjustable Hood with Bonded Brim
One of the main issues with rain gear is a hood that puffs up when you're running down the lake. That's also how a good deal of rain gets inside a rainsuit and then seeps down into your clothing, making most anglers think their rainsuit is not waterproof. Like I said, most rainsuits are waterproof, but nothing is completely waterproof if there is a big hole in it around your head allowing water to enter.
So the 3-way adjustable hood with bonded brim on the Altus was designed to alleviate the issues with a hood on fishing rain gear while running down the lake. There are three adjustments on the hood on each side and in the back. You can cinch it down all around your head and keep the water from blowing in around a loose opening on your face.
The Altus seals tightly around your cap and sunglasses with the front zip up collar and tightened hood leaving almost no space to let water in.
(4 of 15)
Features: Rear Vent
The back adjustment on the Altus Jacket hood also features a pre-drilled vent. This vent allows air to flow through the hood and out which keeps the hood from puffing up and catching wind and pulling back on your neck while you run down the lake. Just cinch it down and run and the hood stays tight to your head.
(5 of 15)
Features: Magnetic, double taped snug zipper pockets
The pockets and YKK Aquaseal zippers are designed to give you double layers of protection from water getting into the rain suit. The front pockets feature magnetic flaps that keep the flaps down in the rain but easy to access when necessary.
(6 of 15)
Features: Inside pocket, sunglasses hook
Inner pockets feature the sealed zippers as well as a hook slot for your sunglasses or cheaters if you just want to get them out of the elements for a second.
(7 of 15)
Features: Triple water protection at sleeve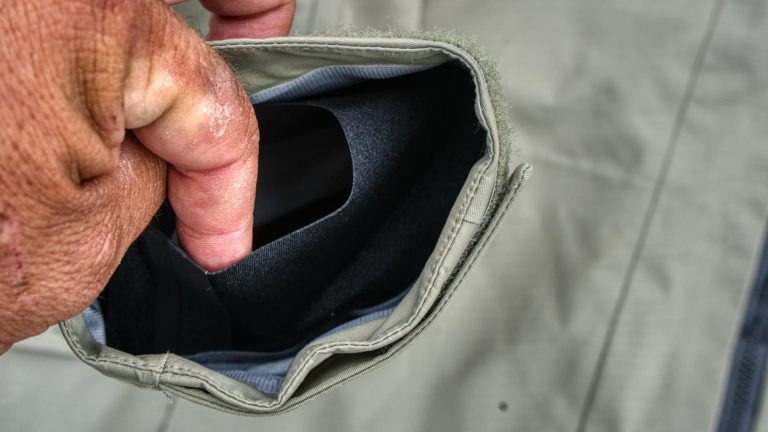 The 2-piece articulated sleeve features an inner sealed diving-suit-like flexible waterproof wrist cuff, with an additional waterproof trough to help catch and keep water from going down into your sleeve. Then the velcro closure around the sleeve cuff keeps it all cinched down to keep water out of one the common entry points on lesser rain gear.
(8 of 15)
Features: Bottom Bib Pants Hybrid
The Altus Rain Bib Pant is constructed using Toray Entrant HB Hybrid 4-layer technology, C6 DWR and YKK AQUASEAL zippers. But the bibs also quickly convert to a rain pant if you prefer. The fit is structured to stay tight to your waist but roomy through your hips for moving around in a boat or on a river bank.
The legs zip all the way up with heavy duty sealed zippers to easily put them on and take them off over your clothes and boots. The straps can be removed. The back panel of the bibs is vented to keep you comfortable wearing under your Altus Rain Jacket. The bibs are cut lower, which I thought was nice, so you can have straps to keep your pants up without having two layers on my torso with full body bibs. The knee pads can be removed easily if you won't be on your knees much.
(9 of 15)
Features: Roomy Water secure pockets
The Altus Bib pants have sealed, flapped and magnetic pockets like the jacket to keep items dry but easily accessed when necessary.
(10 of 15)
Features: Comfortable Bibs or Quick Pants
The Altus Bib Pants have a zipper, two button enclosure, belt loops for the pants option and a nice flexible tension waistband. The straps on the bib are easily adjustable, comfortable so you can keep them loose if you're like me and don't like rain bibs pulling on your shoulders all day.
(11 of 15)
Features: Flexible movement around Waist
There is a sealed welded back pocket and flexible waistband around the back to keep the pants tight to your body to keep the water out without pinching or being uncomfortable as you fish.
(12 of 15)
Features: Removable Straps, Zipper and double snaps
The Altus Bib Pants straps are easily released with a quick velcro enclosure. The two snaps and zipper keep the pants secured and you can easily add a belt with the belt loops. I use a plastic and cloth tactical belt a lot when I fish in case I get caught in the rain and these are perfect for this rain pant.
(13 of 15)
Features: Removable knee pads
The knee pads on the Altus Bib Pants sit in simple interior layered pockets. They are easily removed to make the suit a little more pliable. You can see how heavily sealed and constructed the bib pants are on the inside of the legs.
(14 of 15)
Features: Adjustable Legs with Full Zip
In warmer temps, I often fish bare footed when it's raining. I like the heavy duty zippers on the legs and velcro cuffs to give me an extra tight fit around the ankles when I fish barefooted.
(15 of 15)
Comfortable, breathable options
The amount of thought that went into the design of JB Langley Altus rain gear gives serious anglers a lot of options in an ultra high-end suit. The designers were tasked with making a suit that would actually keep anglers dry no matter what while fishing. The suit is markedly more comfortable and distinctly more waterproof than many other options for fishing.
I really like the low cut bib. You can make them pants easily which I also like. They were a little warm in 70-plus-degree weather with jeans. But most of the time when it's that warm, I wear quick-dry shorts and a rain jacket.
The Altus Jacket fits nicely with some really sharp colors. It has room to layer underneath but its not baggy. I'm a big guy and the fit seemed right to me. The cut on the jacket is nice and the pants were comfortable fishing, driving, digging in compartments, landing fish, as well as loading and unloading the boat.
The JB Langley Altus Rain Jacket and Bib Pants make a serious suit for serious anglers for sure.