Because I flip and pitch shallow-water cover throughout the large majority of the year, I've had an opportunity to test most of the more "talked about" soft plastic options out there. There are a bunch of good baits out there, but when I first laid eyes on the Tackle HD Hi-Def Craw, I knew I had to get my hands on a few packs. I didn't know the company's story, had no idea where they were located and honestly, I didn't even know any buddies who have tried this bait. But with all of the soft-plastics I see and test, it takes a lot to really get me pumped up about something.
Fast-forward a year or two and I had to put this review together for you guys. I've been fishing with this bait for a good while and I only have three left. I'll explain why I plan on making another order this week.
I'm going to do things a little different with this review. I'll get the "wordy" stuff out of the way in the first few slides and then I'll post some high-definition photos that certainly speak for themselves.
(1 of 8)
Looks meet durability
The Tackle HD Hi-Def Craw is an absolutely stunning bait. I think we can all agree on that. It's created from a 3D scan of an actual crawfish and tweaked to mimic the natural movements of a live crawfish, so it really is the total package in terms of realism.
But man, I'll be really straight with you; when I saw the $11.99 price point, I definitely clinched my jaw a little bit. But I went ahead and made the purchase. If my beautiful wife can buy a new pair of britches every dang week, I figured I could splurge on some fake crawfish. But I digress.
I have tried some of the ultra-realistic craws on the market and while there are some good options, I've had durability issues with most. So if I'm paying $12 for a 5-pack of baits, they better be able to hold up to abuse and provide some serious value.
I can confidently say that the Hi-Def Craw impressed me with its durability and surpassed my expectations. I'm probably averaging five fish catches per bait, which I have absolutely zero complaints about. They're still a little pricey, but my gosh do they get a lot of bites.
The claws stay attached, even after being attacked by obnoxious little bluegills and the legs also stay on without issue. I also like the lack of crazy flanges and appendages because it allows me to skip this bait underneath boat docks with ease.
(2 of 8)
Clever packaging to maintain shape
The plastic blister packaging (say that three times fast) is a smart and forward-thinking way to package these baits. A lot of pitching and flipping baits don't really become compromised if an appendage gets a little bit warped. But in the case of the Hi-Def Craw, everything needs to be straight as an arrow so it will look anatomically correct underwater.
The packaging certainly maintains the shape of the baits. They're easy to get out of the package and the packaging also repels water and moisture quite well. But I will say that these packages are pretty big and take up a lot more room in your boat than other soft plastic packages. It's not a deal breaker to me, but you might just have to rearrange some stuff in your storage compartments.
(3 of 8)
They're pretty, but do they work?
I will answer my own question with a resounding "yes".
The Hi-Def Craw is going to get you a bunch of bites. I don't really know how else to expand on that. Now, let's talk about how I've applied it in my fishing.
(4 of 8)
How I've fished it
I prefer keeping things very simple in my fishing. Sure, I'll experiment with different techniques because it's my job to teach people everything I can about fishing. But when I'm just fun fishing by myself, I'm kind of a steak-and-potatoes guy.
So when I started trying to Texas rig this bait for the first time, it took me a while to figure it out. Due to angle near where the feeding appendages would be on a live crawfish, it was tough to get it to sit straight on my preferred 4/0 offset EWG hook. I ended up downsizing to a 3/0 hook and it worked much better, so that's something to be aware of.
I've also been using this on a shaky head in deep brush piles lately. I don't recommend using a screw-lock model because the "nose" of the Hi-Def Craw isn't flat enough to screw onto anything.
Tackle HD recommends using their Stealth HD Jighead that was specifically designed for this bait. I have not tried them yet because I didn't have any. I checked 'em out on Tackle Warehouse and they're also a little pricey at $8.99 per 3-pack. So I think I might just try it on a larger Ned rig head and see how it works out.
Now, let's get to the detailed pictures.
(5 of 8)
A view of the compound eyes, cephalothorax and carapace
(6 of 8)
A view of the abdomen including the realistic tergum, telson and uropod
(7 of 8)
A view of the claws, cheliped, rostrum and walking legs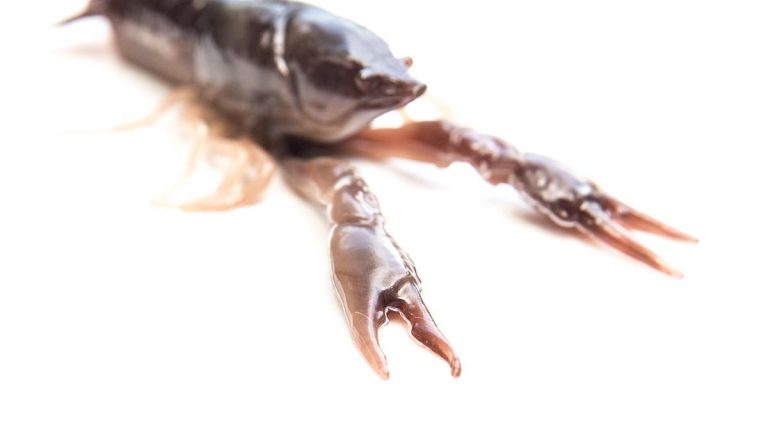 (8 of 8)
Final impressions
If you can afford to splurge a little on these baits, I recommend doing so. You'd be hard pressed to find a more realistic crawfish imitation out there. Don't be fooled by its good looks, though; it definitely performs exactly as you'd hope a crawfish imitator would underwater.
The Tackle HD Hi-Def Craw is available at TackleWarehouse.com.