It's been interesting to watch the recent ultra low-profile baitcaster craze in the bass fishing industry. I'll be quite honest; I've tested several of them over the last year or so and I've only liked a select few of them. Most of these reels feel awesome in your hand but they leave a lot to be desired in regards to durability and power. I cinch the drag down on most of my casting reels and if I set the hook and the drag slips, I'm out. 
With that being said, I was really looking forward to testing the new Abu Garcia REVO Premier Gen 4. I've owned lots of REVOs over the years and I was really hoping the team to discover a suitable balance between weightlessness and power. It has been about two months since I began my testing and I'll share all of my experiences with you. 
(1 of 6)
It's not temperamental
This is a big deal for me when I'm testing a casting reel. Anglers cut off and retie baits all throughout the day and it's irritating to constantly tweak your brake and tension settings with every change. That's why I made such a concerted effort to test this reel with many different baits and applications. 
The REVO Premier Gen 4 is designed with the IVCB6L braking system. Yes, that sounds terribly complicated but essentially it's an internal locking brake system. When you remove the side plate of the reel, you can very easily lock and unlock individual pins within the braking system. I may lock two of the pins if I'm fishing in especially windy conditions, but I usually leave them all unlocked. The external brake dial can be used for all of your small, on-the-go adjustments. 
I've had no problems thus far, whether I'm fishing a weightless soft jerkbait on windblown points or skipping a 1/2-ounce jig underneath boat docks. 
It probably took me five or six casts to get this reel totally dialed in, which isn't bad at all in my opinion. The last few Abu Garcia casting reels I've tested have made significant improvements in cast control. 
(2 of 6)
Distance between line guide and spool
If you compare this reel to its other REVO predecessors, you'll notice an increased distance between the line guide and the spool. This allows for a little less friction as the line leaves the spool which results in a fairly noticeable increase in your casting distance. I've been quite impressed with the distance I'm able to get with the REVO Premier Gen 4 and I think it's going to be especially helpful when bombing walking topwaters or lipless crankbaits.
I expect open-water anglers to be able to cover water at a pretty crazy pace with this reel. 
(3 of 6)
The drag has some serious shoulders
As I mentioned when I began this review, I don't use casting reels with wimpy drag systems. I want enough power to set the hook hard and wrench big bass away from cover quickly; I don't want a single inch of line coming out of my reel. 
Thankfully, I've discovered that the REVO Premier Gen 4 has some legitimate shoulders. Abu Garcia calls it a Power Stack Carbon Matrix Drag System which simply means one thing to me: I can crank it down and take quick control of the situation when I hook a fish. It has up to 24 pounds of drag and I have not had it slip since I've started testing it. 
Since everyone fishes differently, I also backed off on the drag for a few days and played some fish after hooking them. If you're not someone who likes to crank down the drag, I can confidently say that you'll be impressed by the mid-range performance of this new drag system. It dispenses line smoothly with very little surging. 
(4 of 6)
You'll like how it feels in your hands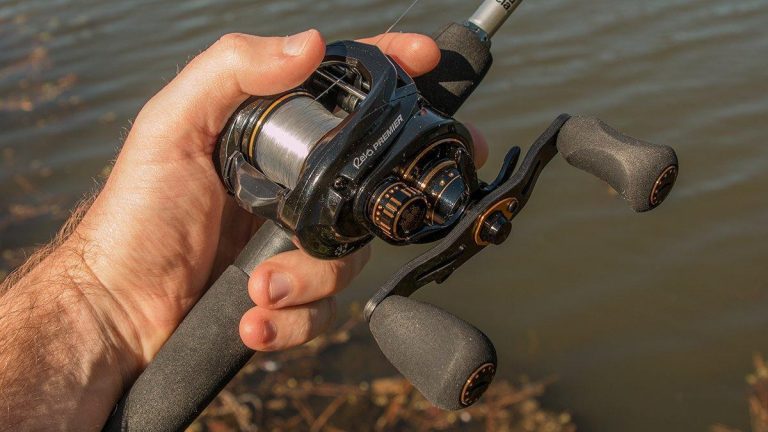 Weighing in at just 6.1 ounces, this reel is incredibly comfortable in your hands. I highly doubt you'll experience any hand fatigue while using it, even after a 10 or 12-hour day on the water. It palms very well, but it also feels much sturdier than many of the other ultra low-profile reels I've tested in recent years.
The handle on the new REVO Premier Gen 4 feels a bit larger than some of my older REVOs, but I've actually really liked it. It's a 90mm carbon handle that adds a little more cranking power and leverage than what many anglers are used to. I'm not sure if it makes a huge difference when fighting a fish, but I love the feel of it. 
I'm glad to see Abu Garcia design this reel with oversized EVA knobs. They're easy to "locate" when you're out of position and get an unexpected bite and they stay between your fingers, even when they're wet or covered in fish slime. Even on hard hook sets, my hands aren't slipping at all, so I'm not bloodying my knuckles on the drag star. 
(6 of 6)
Available at Tackle Warehouse
If you're in the market for a high-end casting reel, I would certainly suggest taking a long look at the new REVO Premier Gen 4. It's easy to cast, it's super lightweight and most importantly, it has enough power to horse big bass whenever necessary. It's not leaving my front deck anytime soon. 
The Abu Garcia REVO Premier Gen 4 is available at TackleWarehouse.com.