When power meets finesse in bass fishing, it's a deadly combination. That's really what makes a swim jig such a great lure. When you look at a swim jig, it's really just a a spinnerbait without a blade arm, a buzzbait without a prop or a vibrating jig without a blade. It's a skirted bait that can be used to mimic various baitfish in all sorts of situations, whether around cover or in open water.
Not all swim jigs are created equal however. Some are more finesse than power, while others lean in the opposite direction. There are different sizes, hundreds of colors and different ways so secure trailers. We're going to look at some of those differences in this piece, as we offer up our take on the best swim jigs of all time.
BEST ALL-AROUND SWIM JIG
The Dirty Jigs Swim Jig has to be near the top of the list for any swim jig aficionado. Built on a solid frame with a strong 5/0 VMC 30 degree hook, this swim jig is a great option for everything from power fishing vegetation to somewhat open water swim jigging around docks, barren seawalls and rocky points.
The Dirty Jigs Swim Jig is available in dozens of fish catching colors with heads painted to match each 50-strand skirt. You can also select between four different head weights: 1/4, 5/16, 3/8 and 1/2 ounce. Built to catch bass both big and small, this is a great all-around option for any angler looking to get into the swim jig game.
BEST FINESSE SWIM JIGS
DIRTY JIGS FINESSE, BEAST COAST WORKINGMAN'S COMPACT and Z-MAN MIDWEST FINESSE
If you're looking for a smaller profile swim jig, Dirty Jigs offers a Finesse Swim Jig that is hard to beat and a Best Seller on Tackle Warehouse. There's also the Beast Coast WorkingMan's Compact Swim Jig too, a bait with a smaller profile and thinner wire hook meant for sparser cover and lighter baitcasting gear.
But Z-Man's Midwest Finesse Swim Jig is a little finessier even still, for the angler looking to mimic smaller baitfish or target more finicky bass. The Z-Man MW Finesse Swim Jig has a needlepoint 3/0 hook, a good bit smaller than the DJ Swim Jig and smaller even than the WorkingMan's hook. This bait isn't built for a baitcaster. It's tailor made for light line and finesse gear. Think Ned rig with a skirt. When it comes to a true finesse swim jig, this bait is a great example of what to look for.
Buy Dirty Jigs at Tackle Warehouse
Buy Beast Coast at Tackle Warehouse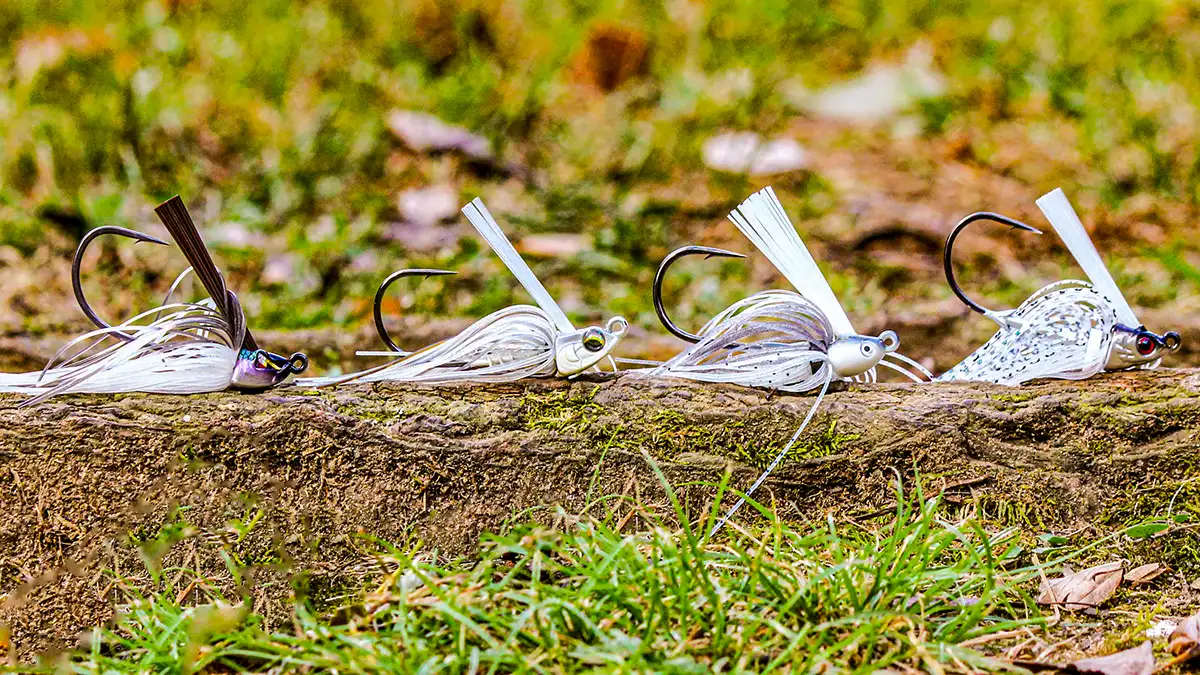 BEST POWER FISHING SWIM JIG
DIRTY JIGS NO-JACK SWIM JIG
In the interest of neutrality, we don't want to focus too much on one brand, but the Dirty Jigs No-Jack Swim Jig is a bait that can't go unmentioned when talking about beefy swim jigs for power fishing. This subcategory of swim jigs is characterized by one key feature— a big, stout hook. The No-Jack Gamakatsu hook that anchors this bait is as close to unbendable as metal can be, making it a great selection for the thickest cover, strongest braid, stiffest rods and most ferocious hooksets.
OTHER GOOD OPTIONS
There are other solid options in this arena. The Team Ark Elite Z-Swimmer is another with an impressive hook. The 6th Sense Divine Swim Jig is a great bait for heavy cover swim jigging too. Freedom Tackle's Swim Jig has a beefy hook as well. This is the key thing to look for when trying to find a swim jig for thick cover and big bass.
Buy Dirty Jigs at Tackle Warehouse
Buy Team Ark at Tackle Warehouse
Buy Freedom Tackle at Tackle Warehouse
BEST TRAILER KEEPERS ON SWIM JIGS
It's almost always necessary to pair a swim jig with a soft plastic trailer of some sort, in order to add action, complete the profile and fine tune the fishability of these baits. With the right trailer you can better control the depth and speed at which you can fish a swim jig, and you can completely change the profile to imitate a variety of baitfish. Like swim jigs though, all trailers aren't created equally either.
Most swim jigs use a single or double-barbed molded bait keeper. These do a serviceable job in most settings. The screwlock bait keeper used in the 6th Sense Divine Swim Jig locks a traditional soft-plastic bait on as good or better than any other trailer keeper out there. Screwing the bait up onto the back of this jig is a bit awkward at first, but once you get the hang of it, the connection is very secure. Still, it can be a futile endeavor if bass are short striking the bait and biting off appendages.
To eliminate the annoyance of lost claws and tails, you can shift over to a super stretchy and durable soft plastic like Z-Man's ElaZtech (or one of the few other comparable materials). But the screwlock in the Divine Swim Jig will not penetrate these materials. Instead, you'll want to go with a swim jig with a single or multiple molded barbs, like the Dirty Jig swim jigs or the Freedom Tackle Swim Jig. A wire or dual-wire keeper works well too, like what's found in the Ark swim jig and Z-Man finesse swim jig. These trailer keepers work well with traditional soft plastics as well, but they are imperative for the super stretchy materials.