Ever since I got on the best toad bite of my life last year, I have been addicted to this technique. I love to cover water quickly and this type of bait allows you to churn and burn through areas while experiencing some of the nastiest blowups of your life. In my honest opinion, I think toad strikes are much more aggressive than hollow-bodied frog blowups simply because the bass think it's getting away from them. These types of baits trigger that primal instinct which results in ticked off bass and heart-stopping topwater explosions. 
I've had an opportunity to thoroughly test the YUM Tip Toad this summer and the bass have been absolutely choking it. It gets downright hot in my area and although the fishing has been quite difficult, the Tip Toad has been one of my most consistent producers over the last few months. 
I'll take you through the things that have impressed me most thus far. 
(1 of 6)
Leg design produces unique noise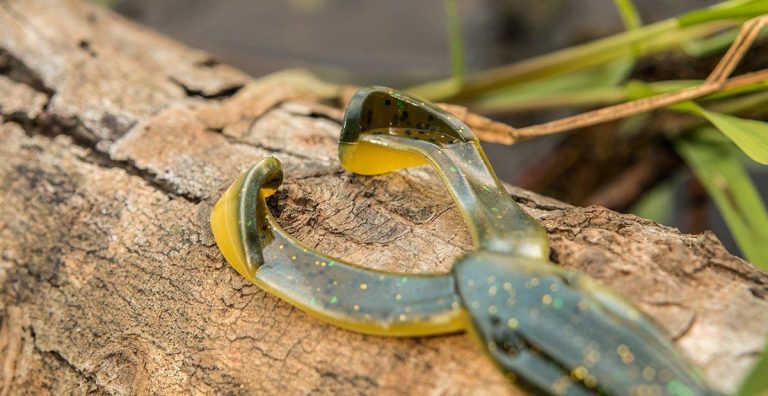 The flanges on the end of the Tip Toad's legs move a lot of water and leave an enticing bubble trail on the surface, but the noise they produce actually caught me by surprise. They don't "plop" and "gurgle" as much as I thought they would; instead, they make more of a "trickling" sound if that makes sense. But I think that's why I've been catching so many bass on it lately.
We get very little wind in my area on these hot, summer days. The lakes and ponds are often glass-calm which can put bass on high alert. That unique "trickle" sound I mentioned has been quite advantageous in these tough conditions. It doesn't overwhelm the bass but it definitely draws them to the bait. I've been paralleling banks in two to three feet of water and have seen bass swim from eight to ten feet away just to attack this bait. The aggression with which they eat this bait has been impressive to say the least.
If you take this YUM Tip Toad to a body of water that has been tough lately, I'd be willing to bet you'll catch bass after my experiences.
(2 of 6)
Streamlined profile and added hook point protection
The Tip Toad is much slimmer than most soft-plastic toads I've used, but that's for a very specific reason. Even after a long cast, it only takes about a half-turn of your reel handle to make this bait start working on the surface. Many toads you'll use will take several feel to come to the surface, but the Tip Toad has some serious lift and gets on plane very quickly. I was actually just fishing this bait a few hours ago and four of my five bites came within a foot of where the Tip Toad landed. I sincerely don't think I would have gotten those bites with several other models. 
You'll also notice the raised eyes and the small nodules on the top of the bait, towards the back. These not only add extra realism to the bait, but they also protect that hook point and help the bait come through vegetation and wood cover much easier. I have thrown the Tip Toad a lot and I can't remember the last time it has been snagged in cover. I'm very happy with how efficiently I've been able to use it. 
(3 of 6)
Pairs perfectly with a 4/0 hook
Lots of people go crazy experimenting with toad hooks, but I have found that a heavy-wire 4/0 Offset EWG Worm Hook works best with the Top Toad. That will save you some time and possible frustration. The hookup ratio has been outstanding and the bait rarely lands upside down. It may do it occasionally, but usually all it takes is a quick pop of the rod tip to snap it back into prime position. 
(4 of 6)
The bass flush it
 As I mentioned earlier, I'm very confident that you'll catch a lot of bass with the Tip Toad. It may look rather unassuming in the package, but it has been a real life saver for me throughout the summer months. My best advice is to put the trolling motor as fast as it will go and burn through as much bank as you can. You'll be able to make some bomb casts with this bait; this type of efficiency puts the odds in your favor, in my opinion. Instead of hitting just a few spots and trying to coerce lethargic bass to bite, you can take this Tip Toad and specifically target those aggressive bass that are actively feeding. 
(5 of 6)
Affordable price allows for frequent bait changes
You can probably expect to catch one, maybe two, bass on each Tip Toad. The nose is designed to be extra skinny to facilitate quick lift, but that type of convenience doesn't come without any sacrifices. If you scroll back to the bass photo, you'll notice the head was ripped out of the bait. This will happen on the large majority of your blowups. Once the bass clamps down on it, you'll notice the Tip Toad sliding up your line. On the positive side, however, this does get the plastic away from the hook point, which could be the reason I've had such an extraordinarily high hookup ratio. 
While nobody wants to constantly blow through baits, the $2.99 price point does make me feel a lot better about the lack of durability. I don't think it makes much sense to fuss about the durability of a bait that A) catches a bunch of bass and B) is half the price of some of its competitors. 
(6 of 6)
Available at Tackle Warehouse
If you're looking for a new topwater bait that'll flat-out catch 'em, even when its tough, I strongly suggest taking a close look at the YUM Tip Toad. Rig it on some 65-pound braided line, a 4/0 Offset EWG Worm Hook and burn the bank as fast as you can. You'll surprise yourself and I have a feeling you'll be coming back for more. 
The YUM Tip Toad is available at TackleWarehouse.com.