A soft-plastic crawfish imitator is hard to beat when you're bass fishing. Whether you're on a small pond or big reservoir, they're excellent choices for Texas rigs and jig trailers alike. I've even had success fishing them weightless on the surface, just like you would a toad.
I can't possibly count how many of these baits I've seen and tested. Most of them are very similar and to be honest, there's not much to 'em. But I've been fishing with the X Zone Lures Muscle Back Craw for a couple of months now and I've found some characteristics that seem to differentiate it from many others I've used. 
(1 of 6)
Beefy body adds durability
I've always been a big stickler for durable soft plastics; I specifically look for baits that I won't tear up easily. I skip a lot of boat docks throughout the year and there's nothing more annoying to me than having a bait slide down the hook shank after nearly every cast. It wastes time and money.
The X Zone Lures Muscle Back Craw has truly impressed me with its durability. Its midsection is a bit thicker than many other crawfish baits I've tested, which helps it stay rigged correctly after hours of skipping and pitching underneath overhanging cover. I love that I don't have to constantly check and readjust the bait between every other cast. I can work my way down a bank or a row of boat docks quite efficiently.
It can also withstand a lot of fish catches before replacement is necessary. I've averaged roughly three or four fish catches per bait, which is certainly nothing to scoff at.
Because bass see this type of bait so often, it's important to differentiate your presentation whenever possible. The Muscle Back Craw has prominently cupped pinchers that add a surprising amount of action throughout the retrieve. 
As it falls to the bottom on slack line, the claws rapidly kick back and forth which I've found very advantageous. At least half of my bites on this bait have come on the fall, which tells me that the bass have a hard time watching it fall in front of them without eating it. I strongly suggest closely watching your line when you're using this bait. If you see a sudden jump or tick in your slack line, reel down and set the hook; even if it hasn't reached the bottom yet. 
This claw design also makes it an excellent choice when fishing a swim jig. As I mentioned earlier, it stays on the hook well to facilitate efficient skip casts and the claws put out a lot of vibration, even at slow retrieve speeds. 
(3 of 6)
You can use it for many different applications
While I've primarily found myself pitching and flipping shallow cover with the Muscle Back Craw, I've also taken the time to experiment with it on the back of flipping jigs, football jigs and swim jigs. The big body hangs onto trailer keepers very easily and of course, those cupped claws add a lot of drawing power as well. It may be a little too much action during the colder months as bass tend to prefer a more subtle profile, but if you're fishing a jig in the spring, summer or fall it will be a solid addition to your trailer lineup.
(4 of 6)
Center line makes rigging easy
If your craw is rigged crooked, you won't catch as many fish. This will impede the action and also negatively impact your hookset at times. 
A simple, but useful, characteristic of the Muscle Back Craw is the prominent center line found on the backside of the bait. Even if you're rushing to get it back in the water, you can quickly find the perfect center line and the bait will sit beautifully on a 4/0 hook. 
(5 of 6)
The fish hang on to it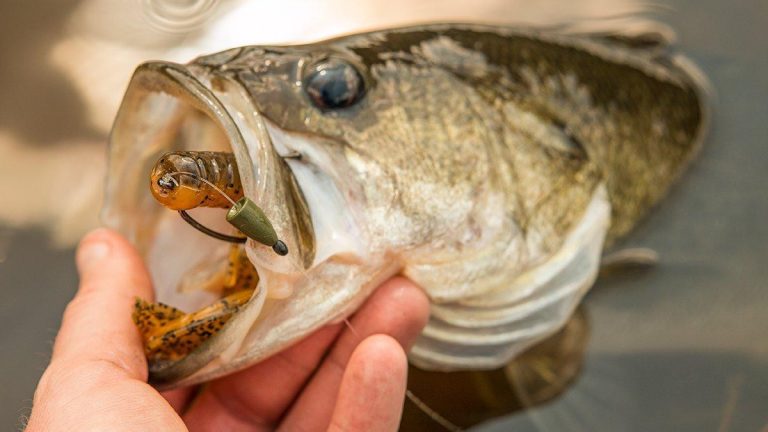 This bait has a fairly pungent smell to it, but not so much that it'll make your hands stink all day long. It smells similar to some pork fat-infused baits I've tested in the past, but to be quite honest, I'm not sure what X Zone puts into their baits. But I do believe it makes bass hang on for a few more seconds before setting the hook. 
I say that because the fishing in my area has been really darn tough lately. Getting bites hasn't necessarily been a problem, but they've been spitting baits out before I can get a chance to set the hook. I guess it's that transitional funk I've written about in the past. 
For whatever reason, however, they've been grabbing ahold of this bait and not letting go. I've had a hard time catching them for the past few weeks and this has been one of the few baits I can consistently catch 'em with. It's not some sort of magic bait (there is no such thing), but it's putting 'em in the boat lately. 
(6 of 6)
Available at Tackle Warehouse
This bait has a place in my boat now. It's not particularly eye catching, but it has proven itself to be one of those "old reliable" baits that keeps getting bites in tough conditions. Fishing isn't a fashion show to me. If it catches fish, I use it.
If you like to pitch and flip, I'd have no reservations recommending the Muscle Back Craw.
The X Zone Lures Muscle Back Craw is available at TackleWarehouse.com.