A buzzbait is one of the staples of fall bass fishing. Early morning fog and a subtle gurgle and clack that you are suspensefully waiting to be knocked out of cadence in a thunderous commotion. It doesn't get much better than that for bass fishing. Many anglers don't realize there is a lot you have to do a buzzbait to get it to perform optimally unless you get one like the new Tackle HD Worldwide Buzzer that has already done a ton of the leg work for you. I have been fishing it since early spring and it's a fish catcher out of the package.
(1 of 6)
Adjustable clacker is right
The Tackle HD Worldwide Buzzer was designed with input from James Watson. Watson has won a ton of money over the years on buzzbaits on highland impoundments and he wanted a buzzbait that was right out of the package, that could be cast a long way, skipped under docks, swapped out with toads, and could be adjusted on the fly to clack, be silent or just a slight ticking sound.
The result is the Worldwide Buzzer. This buzzbait features a scooped head that keeps the bait planing well in the water, while offering a customizable chamber that can adjust the sound of the buzzbait by simply bending the wire inward or outward a touch to make the blade hit harder or lighter in the groove.
The rivet is already pinched on the arm as well so the blade squeaks right out of the package (at least mine have so far). So the sound is right on these buzzbaits no matter what you prefer.
The Tackle HD Worldwide Buzzer is available at these online retailers:
See what else makes this buzzbait unique.
(2 of 6)
The staple colors and options
Watson's Worldwide Buzzer comes in five staple skirt colors but you can also get varying blade colors to create alternative options. Some days a black blade will get bit more. Some days a gold blade is a lot better. And then some days a silver blade is best. So you can have the same color skirt with different colored blades and hone in on the best combo for each day.
The skirts come in Black, White, Chartreuse, Chartreuse and White, and Black and Red. Thus far the black with the gold blade or black with black blade have been the hot tickets for me depending on clouds and sun and water clarity.
(3 of 6)
Great design throughout
The keeled head on the Tackle HD Worldwide Buzzer is nice but the skirt collar, double barb and wire keeper system locks your trailer or toad in place on this head without having to super glue if you don't want. The hook is solid and super sharp. The components are top notch on a compact and well designed frame.
(4 of 6)
Keepers hold well
The keeper locks your plastics in place. That's especially nice when you peal the skirt off and go naked with just a Zoom Horny Toad or HD Swimmer on there and you're slinging the bait as hard as you can to skip it way under things like boat dock walkways or overhanging limbs.
(5 of 6)
I caught a bunch this spring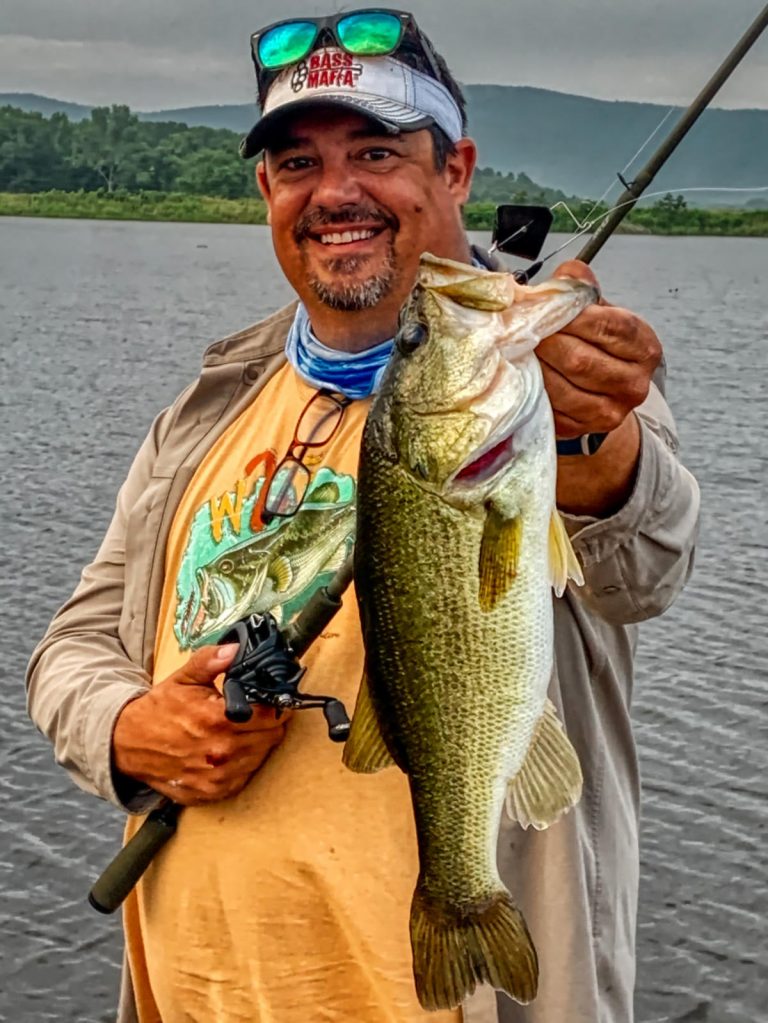 This spring I fished it around grass and wood and had a lot of fun catching spawn and post spawn bass on the Tackle HD Worldwide Buzzer. I fished it mostly on braid and was able to make long casts with the 1/2 ounce version and stay wayback off the ambush points in the grass and shallow wood to catch a bunch of bass on it.
It worked equally well in stained and muddy water.
Check out this video with Mitch catching some nice bass on it.
(6 of 6)
Versatile bait for many seasons
This late summer it was still working well with shallow fish lurking around bluegills in the backs of some creeks already. And going into fall it's going to be on my deck on every trip until the water gets below 50 degrees.
I like the 1/2-ounce version the best but you can get in 3/8 ounce and the nice compact 1/4-ounce size for clearer waters and skittish fish.
The Tackle HD Worldwide Buzzer is available at these online retailers: