I've used traditional tackle trays for the large majority of my life. If I'm being honest, I've always been the dude who throws some baits in a grocery bag and goes fishing. Maybe it's a maturation deal or something, but I really have been trying to get more organized for the past few years. During this period, ultra-thin tackle trays have been very useful to me. Not only do they allow me a better view of all the lures and tackle inside, but I can also fit a bunch more in my boat without taking up too much room.
I've been testing out the Lure Lock LL1T Large Thin 4 Cavity tackle tray for the last several months and here's what I've learned about it.
(1 of 6)
The Tak Logic technology is pretty sweet
The Lure Lock LL1T Large Thin 4 Cavity features a proprietary gel coating along the bottom, which provides a sticky surface to hold your lures in place. This feature is meant to keep your lures and terminal tackle from sliding around.
In my experience, the stuff works. Now, it's important to remember that if your lures aren't touching the gel, they'll still move around. So for instance, I loaded one of these boxes with my favorite jerkbaits. Because it's so full, a lot of 'em would still fall out if I turned it upside-down. But I can confidently say that the lures still stay put a lot better than traditional tackle trays, even when the box is full.
(2 of 6)
The dividers stay in place
I can't tell you how many times I've had dividers slide out of place and completely mess up my organization. Whether it's a rough boat ride or you're just transferring tackle in and out of your boat, it's a common occurrence.
I have been extremely pleased by how well these dividers stay in place. They fit firmly in their slots and stay there, no matter what you're doing. You can pick this box up and shake it for several seconds and not one divider will move.
(3 of 6)
I trust it for some of my more expensive lures
I put a lot of my expensive lures in the Lure Lock LL1T Large Thin 4 Cavity. I also have another one I use for my hand-made crankbaits which are valued at over $50 per lure. Living in the south, I fish in the heat a bunch and haven't had any issues with melting or paint damage.
(4 of 6)
The dividers break cleanly
You won't have to dig around for a pair of scissors when you're setting this box up. It comes with easy-snap dividers that provide a clean edge without any cutting tools. This has been a very big help, to be honest. I really like how there aren't any rough edges that cause the dividers to fit poorly into their slots. It takes me about 30 seconds to get a Lure Lock LL1T Large Thin 4 Cavity set up the way I like it.
(5 of 6)
A clean edge and a snug fit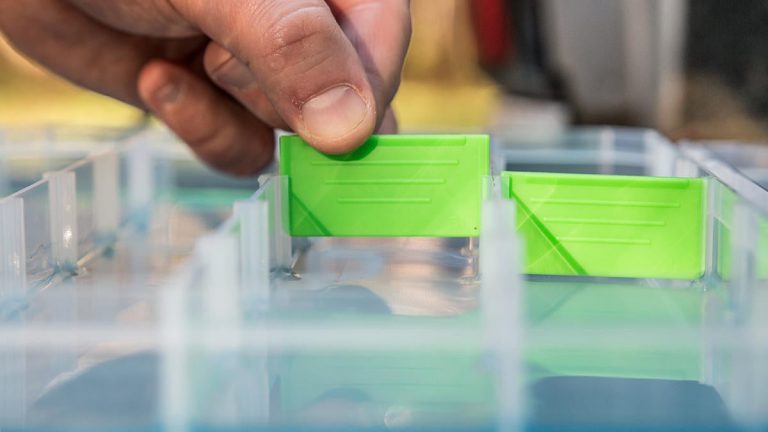 This is one of the easiest and least frustrating tackle trays I've used, in terms of getting it all set up. I used to procrastinate "creating" more tackle trays to further organize my tackle, but these Lure Lock boxes really do make it a lot easier.
(6 of 6)
Final impressions
I'm going to be ordering more. Admittedly, I'm not a huge fan of the bright green color scheme, but fishing isn't a fashion show. This box holds my lures in place, keeps 'em safe and makes my organization a lot quicker and easier.
The Lure Lock LL1T Large Thin 4 Cavity is available at TackleWarehouse.com.