I picked up some of the Jenko Creature weights early this spring from the Jenko Fishing guys. This is a unique twist on the standard bullet sinker. It looks a bit like a snake head almost with a flatter profile, eyes on the side and a narrow nose. But the real appeal to this weight comes from the balancing and placement of the weight in the this super dense lead alloy offering.
The head is designed so that it rights itself to fall with its chin down and eyes on the side giving the bait a more natural and gliding, spiraling action as it goes through the water. Because of the way it rights itself, it can be fished more like a jig or even swam through the water rather than just lifting and dropping it because you don't have to worry with the bait spiraling in the water like it does with a traditional Texas rig when you reel it in.
The big heavy duty red eyes give it a more natural appeal and they are put together very well. I haven't lost an eye out of one yet. The nose is tapered to avoid any sharp edges and the paint on it seems very durable.
The Jenko Fishing Creature Weight comes in sizes from 3/16 ounce up to 1 ounce and in green, white or black colors. It's not tungsten so it has a little larger profile, but I think that adds to its appeal because of the bigger eyes. I've been using the 3/8, 1/2 and 5/8 sizes most of the time. But I would look forward to punching the big 1 ounce weight through some grass mats somewhere.
I've caught several bass now on the weights and am very happy with how durable they are and how well they come in and out of cover and give the bait a little more action on the fall. I think you will be really impressed with what it does with a lighter weight on the fall.
I'm very interested to play with this on the ledges where hopping a worm can often get you more bites than just dragging it can at times. Add in a more natural gliding, swimming, spiraling action and you might really have a unique profile to get some bites.
I've had a bunch of people ask me about the weights I've been using flipping this spring or that saw my pictures on Instagram. I've been happy with the weights so far and I know they've accounted for several wins in tournaments on the lake over the years by some very good flippers and ledge fishermen.
Drew Boggs is the creator of the Creature Weight, and he's been using them to win several tournaments flipping the last few years even when flipping didn't seem like the best option on Kentucky Lake at the time of those tournaments. It's a great spin on the traditional bullet weight and one of those "why didn't I think of that ideas."
To pick up some creature weights, you can order them online at JenkoFishing.com or pick some up at local tackle stores carrying Jenko Fishing products. I suspect more online retailers will have them soon as well. Check out more shots of the weights, rigged various ways and some of the big bass I've been catching on them.
(1 of 10)
Adds eyes and unique action to your otherwise simple Texas rigged plastic
(2 of 10)
The eyes are very well done. I've not had one come out yet.
(3 of 10)
Nose is free of sharp edges so it doesn't tear up the line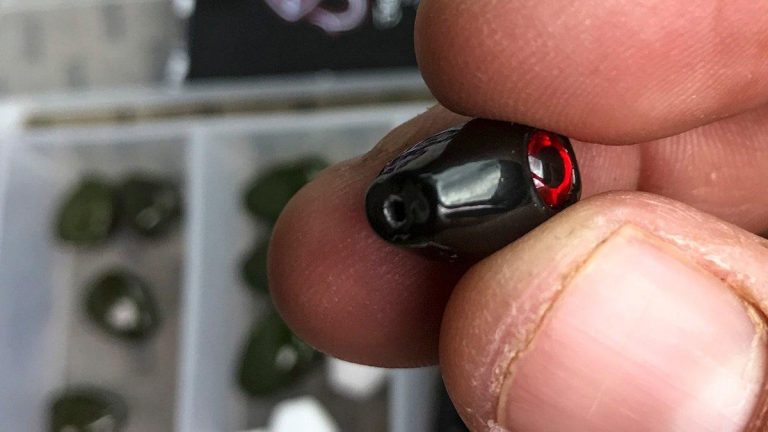 (4 of 10)
Collared weight allows you to add a skirt to a soft plastic for a more jig-like profile
(5 of 10)
Been working well with flipping plastics
(6 of 10)
Caught several good ones on it already this spring
(7 of 10)
Lots of size and color options to fit your favorite soft plastics
(8 of 10)
Caught this giant walking the bank on Kentucky Lake
(9 of 10)
Another nice one on the Creature weight
(10 of 10)
Check out the Creature Weight from Jenko Fishing