This has been a weird year for me in regards to bass fishing. The bite hasn't been great around here (for me, at least) and I've really had to change how I fish in some of my favorite areas. In many cases, this has meant targeting deeper fish with finesse baits on light line. It's admittedly not my favorite thing in the world to do but having this particular reel in my hands has made it pretty awesome.
I've been thoroughly testing the Abu Garcia REVO MGX Spinning Reel for over a year and I can confidently say it's one of the finest spinning reels I've had an opportunity to test. It's definitely a high-end reel and it feels incredible in your hands throughout a long day of fishing. From its weightlessness to its buttery-smooth drag system, this is a spinning reel that will impress any finesse bass fishing enthusiast.
(1 of 4)
Lightweight but tough
I've been a little let down by several high-end reels I've tested in recent years. Sure, they're lightweight but they feel like they'll break apart if you set the hook too hard. I feel like some manufacturers focus a little too much on weightlessness instead of durability and dependability. Personally speaking, if I'm spending over $300 on a fishing reel, it better be able to last me several years and thousands of hooksets and fish fights. That's why it took me so long to publish this review; I had to make sure it could withstand the rigors of hardcore and frequent fishing.
Weighing in five percent lighter than the previous model, the Abu Garcia REVO MGX Spinning Reel is equipped with a C6 carbon rotor and a C6 carbon body that drastically reduces unwanted weight and seems to make a big difference on the water. No matter what finesse technique I'm using, I've been incredibly impressed by the comfort of this reel. The weightlessness also seems to help me with bite detection. For instance, if I'm fishing a wacky rig and the bite comes on slack line, I can feel the very instant that bass bites my worm.
While some super-light reels will feel a little "iffy" in your hands, you won't have to worry about that at all with this particular reel. It will stand up to a lot of abuse which, in my opinion, makes it worth the investment.
(2 of 4)
Outstanding line management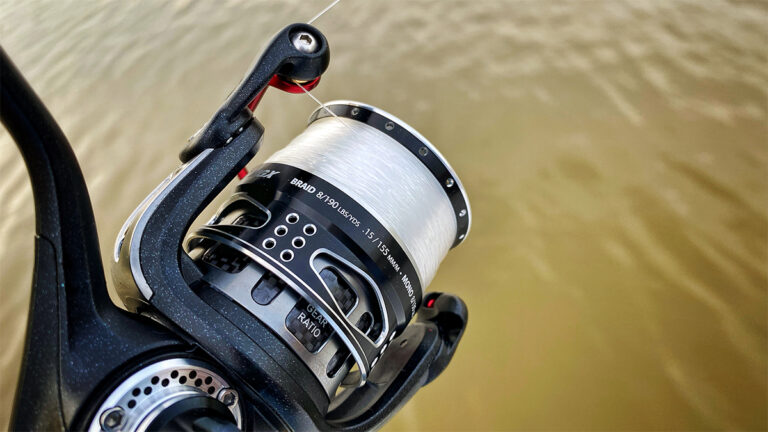 I change up my spinning reel line selection a lot—maybe too much, to be honest. For the past few years, I've actually been using straight fluorocarbon on most of my setups. I purposely kept with that trend while testing this reel because as we all know, fluorocarbon can be an absolute pain in the rear end when you're fishing with a spinning reel. It can coil, jump off the spool and get all sorts of bad memory even after just an hour or two of fishing.
I'm happy to report, however, that the Abu Garcia REVO MGX Spinning Reel handles fluorocarbon, monofilament and braided line beautifully thanks in part to its Rocket spool lip design. Not only does it help increase casting distance, but it also stops that cringeworthy line-slap noise you'll hear when making a cast with fluorocarbon.
I've tested this reel with several different brands and diameters of line and have been more than impressed with each.
(3 of 4)
A smooth drag that's hard to describe
The drag on this reel is phenomenal; that's about the only way I know how to say it. It allows you to make incredibly slight adjustments to fine-tune the reel to your personal preference and it dispenses line as smooth as any spinning reel I've had the chance to test.
Whether you're setting the hook or fighting a fish as it makes a boat-side run, you won't notice any hesitation or delay in this drag system. Abu Garcia calls is a "Carbon Matrix" drag system but I just prefer to call it "dang good".
(4 of 4)
Final impressions
Due to its price point, this reel isn't going to be for everyone and that's totally okay; we make a concerted effort to test and review gear in every price point. But if you're a finesse-fishing enthusiast, I strongly recommend putting this reel in your hand. Whether you have to borrow one from a buddy, try one at a store or whatever… I think you're going to be blown away by its weightlessness and beautiful design.
For me, I expect this to be one of those reels I keep in my boat for years upon years. I'm not one who buys into marketing claims and studies the weight of reels but man, this is going to be a hard one to beat for me. I actually can't wait for the post-spawn season because I am going to be skipping a wacky rig for fry guarders on this reel every single day.
The Abu Garcia REVO MGX Spinning Reel is available at these online retailers: