As tournament anglers begin to experience success locally, thoughts of grandeur start to enter their minds. They begin to wonder if there's a chance they can do it for a living. As that seed is planted, it's nourished and watered. From the time that seed springs forth a single leaf from the ground, it's pruned and cultivated. The ground around it aerated and the weeds plucked away. Then suddenly, an elephant's foot blocks out the sun and comes crashing down to stomp the seedling into oblivion and bury it six inches in the ground.
The young mind has one very beautiful and crippling characteristic: naivety. As a kid catching a bass, you don't take into consideration the millions of dollars a national touring pro will spend over the course of his life, the thousands of nights he'll spend away from home, the countless hours of sleep lost worrying about catching bass to pay the bills. You just want to catch a bass and get paid to do it.
But what if there was another way? What if you could make $50,000 a year fishing while only spending $5,000 and sleeping in your own bed? Sounds like a pretty sweet gig. That's the reality for a select few "local pros".
A few anglers are able to do this in several states across the country, but just take Alabama for example. Guys like Russ Lane, Jamie Horton and Dustin Connell dominated locally before making the move to the national pro fishing circuits. But there are also anglers like Chris Rutland and Coby Carden who elected to stay in Alabama and try to continue to dominate locally; and dominate, they did.
Carden and Rutland are both certainly of the caliber necessary to contend for the $100,000 prizes the Bassmaster Elites, FLW Tour and MLF Bass Pro Tour award along their trails. But a select few, like the aforementioned anglers, are actually able to gross $100,000 some years right here at home while spending a fraction of what the national guys fork up each year.
I recently spent the day on the water with Michael Smith, a young angler from Alabama whose presence has been felt locally over the last few years, to discuss what it takes to become a local pro.
First off, you have to be a hammer. As previously mentioned, Smith has proven his prowess on the local level and that skill level is obviously of utmost importance. Though a blind hog will root up an acorn every once in a while, you're not going to win locally or on the road often if you're not very, very good. Some would say it's even harder to win consistently on the local level than it is to win on the road.
For the traveling band, the anglers step onto a new playing field every week. Granted there's always someone on the national circuit that's a local for the week. But to further prove my point, a local winning a national level event is one of the rarest occurrences in professional fishing. Until Boyd Duckett won the Bassmaster Classic in 2007, no angler had won the Classic in their home state since its inception 37 years earlier.
Fishing against the same guys who frequent the same waters week in and week out minimizes the advantage of local knowledge and levels the playing field. So to be a local pro, you have to be very, very good.
Originally from Florida, Smith cut his teeth fishing across the southeast with considerable success early on and found himself dreaming the same dreams that fill the minds of most young anglers.
"All I ever really wanted to do was fish, but I didn't really know if I was good enough to do that for a living or not," Smith said. "I was blessed to get to go to college and earn my electrical engineering degree. While I was in college, I started doing well enough that I realized, if this is what I want to do, I can probably do it. I don't think I would've gone out there and been the next KVD or anything, but I thought if I wanted to, I could at least pay the bills.
"The problem was, by the time I got out of college and got my first big-boy job, it was a pretty sweet gig. I go to work, sit in an office, make good money, have great retirement and great benefits. All that stuff you don't think about when you're 12 years old reading Bassmaster.
"That in combination with meeting my wife, who already had a little girl from being married before, who basically thinks I'm her dad, and now having a little one of our own, being gone 300 days a year to fish professionally just doesn't look as attractive as it used to."
So a decision had to be made. But as astute as Robert Frost was, it seems he overlooked the third option in Smith's case. When the two paths diverged in the woods, Smith didn't solely take the one heavily trodden or rarely walked, but rather split the difference and kept one foot in each trail.
Sponsors are a critical part of the game if you want to make fishing a profitable venture. Though entry fees and traveling expenses at the local level are far cheaper, many of the other costs associated with competitive fishing at any level are the same across the board.
Boats and the equipment that completes top-of-the-line rigs these days can top $100,000, especially when you add a tow vehicle to round out the total tournament package. Add to that the gas bill, occasional hotel stay and the cost of rods, reels, line and other tackle and it's hard to see how anyone can make money without a little help winning a couple grand here and there around the house.
However, sponsorships and partnerships are all too often the main focus of up-and-coming anglers and not put into the context of what they actually are. If you pursue sponsors, you'll rarely ever acquire them. When your focus is success on the water, sponsorships become a byproduct of that success. If you want to show up on a company's radar, you don't send them a DM on Instagram. You need a big break.
"I won the America Bass Anglers National Championship in 2011 on the co-angler side," Smith said. "That was the first year I ever fished anything other than club tournaments and Federation Nation events. I won 2 of the 5 regular season events that year too. So I made like $61,000 when I was a 20-year-old co-angler.
"That opened a ton of doors for me. Basically after that season, the ABA put me on their pro-staff and have been my title sponsor ever since. Every year, they pay all my entry fees to all of their events. That's like $1,300 or $1,400 a year in entry fees. Then on top of that, all the relationships they have opened a lot of doors. Basically, after they sponsored me I was able to get on with Triton and Mercury and a few other companies. I added probably 80% of the sponsors I have now after winning that tournament."
In 2012, while finishing up his degree, Smith elected to fish as a co-angler again. Among other high finishes for the year, he capped the season off by finishing runner-up in the 2012 ABA National Championship and in just two years had amassed nearly $100,000 with a fishing rod in the back of someone else's boat.
(4 of 8)
Run with the right crowd
Quality local anglers have a to tendency find their way into the same boat. Take the group of Alabama anglers mentioned at the beginning of this article for instance. Before Russ Lane made the move to the Elite Series, he won a lot of money fishing team tournaments with Chris Rutland. Before Jamie Horton made the same move, he and Coby Carden won more than their fair share fishing together. After both Carden's and Rutland's counterparts had moved on, they became permanent fixtures in one another's boats.
This phenomenon has two derivatives: Iron sharpens iron and its better to win together than to beat each other up. The same was the case for Smith, who grew up fishing against and eventually with, Bassmaster Elite Series and FLW Tour champion Drew Benton.
"Drew and I were super good buddies growing up and are still good friends," Smith said. "We got started fishing around the house against each other and then started fishing together after beating up on each other for a few years. Those were the good ole days. We had a ton of success before he moved on and I started doing my own thing.
"He took his path which has worked out really well for him and I took mine. He's fishing professionally at the highest level and having lots of success, I chose not to go that route but I'm having a lot of success at the local and regional level and I think we're both really happy.
"We fish just alike. I'm not saying I would have done as good as he has or, who knows, I may have even done better. But he's definitely making a living doing nothing but fishing and seeing him do that has proven to me that if that's really what I would have wanted to do, then at least in my mind I believe I could have had a similar career to what he has had."
Not only does having a good job make the decision to leave it and pursue professional fishing that much harder, but a good job is also a prerequisite for being able to compete at the local level. More importantly, a lenient job.
Time on the water is an absolute must when it comes to becoming a dominant angler at any level. Many of the anglers who rise to the top at the local level either own their own business or work a flexible schedule that accommodates that need for time on the water.
Smith's work allows him enough vacation each year to spend week days practicing for the bigger local events. His job is also fairly structured where he's able to punch out right at 3:30 most days and get time in on the water in the evenings, even on days when he does work.
(6 of 8)
Contingency awards
The majority of the money won by Smith and other local pros doesn't come from the tournament organizations and entry fees, but rather contingency and loyalty programs. You can make an extra buck or two by using just about anything these days. The overall purse can quickly grow if you're in the right boat, pulled by the right truck, pushed by the right motor, looking at the right graph… you get the idea.
By using their products and registering for their programs, Smith is eligible for contingency awards offered by Triton Boats, Mercury Marine, Toyota, Leer and T-H Marine.
"The ABA Opens pay better than anything else locally and even in those, if I win and get the guaranteed $5,000 for first, I'll win another $8,000 or so in contingency awards alone," Smith said. "And if the winner of the event isn't eligible for the contingency programs, most of these companies will still payout a highest finisher award.
"Like with Triton Gold, even if I don't win, if I'm the highest finisher in a Triton I still get $500. There are a lot of times I'm able to take advantage of that just by finishing pretty high and not even winning."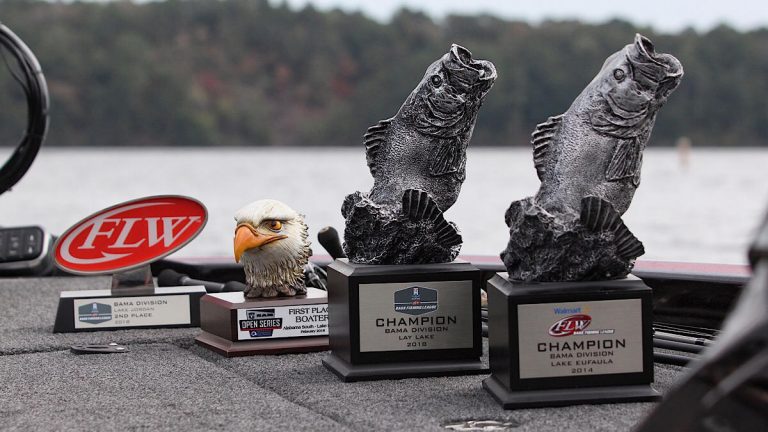 Obviously location is important if you want to be a local pro. There are a lot of fisheries around the country and all are definitely not created equally when it comes to the local tournament scene. You need a home base that not only boasts a good local tournament scene but also sees a fair number of regional events come to its shores each year.
Although Lake Eufaula is an hour-and-a-half form Michael's home, it's certainly the closest and what would be considered his home waters at this point. Having a home body of water that hosts big tournaments is critical to being a local pro.
In addition to local pot tournaments most weekends throughout the spring, summer and fall, Eufuala has hosted two ABAs, a BFL, the American Fishing Tour National Championship and the Ray Scott National Championship. With Smith's contingency eligibilities, there where hundreds of thousands of dollars up for grabs in those five tournaments in first-place prizes alone.
(8 of 8)
This is your blueprint
Obviously, becoming a local pro is easier said than done, and not necessarily any easier a task to accomplish than becoming a national touring pro. But this article does layout the blueprint. Few have ever made real money locally without all these crucial components. Most of this stuff is also critical to starting a national touring pro career.
So if you're a kid looking out into the stars, dreaming about fishing for money. Print this out, nail it to your wall and get to work. Dreams are important fuel for the fire, but gas poured on the ground won't burn for long. You're going to need to collect a lot of firewood. It's time to put in work.