I make no mistake about it. I'm a crankbait guy. I love crankbaits. I plan a lot of my fishing around when the crankbait bites are going to be best and the windows of opportunities through various fishing seasons. My favorite season is prespawn cranking by far. I think it's probably the fact that big fish will sometimes move shallow and you can catch some of your biggest bass all year on little bitty crankbaits. Couple that with the fact that cold weather has generally slowed fishing down a bit for most of us if not halted it all together when it gets really cold and nasty. So those first few warm up trends got me and the bass both thinking about crankbaits.
But I'm always on the lookout for the next great crankbait for certain applications. I think I found another fun one for when the crawfish bite is going hot in the prespawn. The new Koppers LIVETARGET Crawfish 2 1/8-inch crankbait offers a lot of variety, quality and detail to a very specific niche of early spring crankbait fishing. And so far we've been pleasantly surprised by these new crawfish cranks.
Koppers Live Target line of baits are molded, colored and profiled to match the hatch not only anatomically but also in size shape and color to fit a variety of fisheries and situations. The Crawfish Crankbait comes in four different sizes and a wide range of naturally occurring crawfish colors to give you just the right hue and profile for this type of crankbait fishing.
The baits are a little more than 2-inches in length with the Deep Diver being a bit larger. They are made of a hard plastic that is anatomically molded to mimic a crawfish in the tucked and fleeing posture. If you've seen a crawfish in the wild, when they are spooked, they tuck their head to their tail and dart away backwards. These crankbaits are amazingly detailed down to the space between the tail and the head that is left clear plastic to more closely mimic a real craw.
The lip is very strong and thick and can take a lot of abuse and grinding. We've cast the bait up against rocks, slabs of concrete around boat ramps, off the sides of docks and into stumps and brush piles. The lips show little sign of wear and the finishes are extremely durable.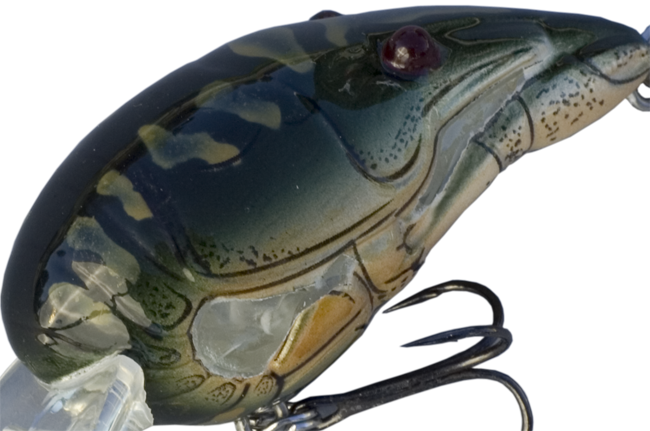 The finishes are simply amazing in the intricate detailing, individual shell molding, and very natural transitions of colors and even raised realistic red eyes coming up off the tail.
They offer a square bill, a shallow runner, a medium diver and a deep diver in the 2 1/8 inch line up and several other options in the 2 ½-inch line up. But we tested a 2 1/8 medium diver because that fit the type of crankbait I've been doing recently.
The bait has a nice subtle wiggle. It kicks and deflects well off rocks, stumps and other cover and the bait backs up off of obstructions well with its buoyant plastic. We've caught bass just steady cranking and also with a stop and go erratic retrieve as well. The bait casts like a stone and we feel like it tracks real true and gets right back on track after a deflection. Sometimes you have to watch crankbaits that they don't turn and ride on their side when they hit an obstruction and this bait had no issues like that in our testing.
The baits are a nice small profile but fish a lot like a bigger bait because we caught some pretty nice largemouth on them already. The baits have very sharp hooks, strong hook hangers and solid split rings making this a very well made bait from aesthetics to construction.
The crankbaits retail for $11.99 on Tacklewarehouse.com. We really liked Orange Brown, Green Tan, Mustard Brown and Brown Yellow but the crankbaits are offered in 15 different colors.
If you target largemouths, smallmouths and spots foraging on crawfish, you're going to want a bunch of these great crawfish imitating crankbaits from Koppers. They look great. Catch bass well in murky and clear water alike and will last a long time. Our baits ran well out of the package without any tuning necessary. Definitely worth a few extra bucks for a crankbait that works well and is built to last a long time.