As many folks have noticed, I've gotten into crappie fishing a lot more in the past few years. I enjoy the hunt for fish and with Garmin Livescope I've been able to catch up on my learning curve with crappie. So now I spend more time reviewing crappie tackle as well as bass tackle. The St. Croix Avid Panfish rods has become a favorite line of new crappie rods this year.
These rods are built on high-end blanks, feature super refined grips, custom guides and tons of technologies that make these some of the lightest, most sensitive rods you can find for panfish in the market. These are Cadillacs when it comes to crappie gear. Which I love that manufacturers are finally seeing crappie fishing as bass fishing has been with high-end gear and lots of technology put to catching them. I like being able to splurge on my hobbies and having the nicest gear out there. These rods fit the bill for crappie fishing.
Find these St. Croix Avid Panfish rods at these retailers:
Here's a much more in-depth look at these high-end panfish rods.
(1 of 10)
Highly Sensitive Blanks
The new St. Croix Avid Panfish Rods start with their proprietary Carbon Fiber SCIII+ blanks. These blanks feature all of their decades of perfected technologies like Integrated Poly Curve Technology, Advanced Reinforcing Technology, Fortified Resin System and Taper Enhancement Technology. And they are all 100% made in Park Falls, Wis.
The skinny on these blanks boils down to light, sensitive and powerful rods that can throw 1/32 ounce jigs with ease and swing crappie up to 2-pounds. The blanks are ultra sensitive and transmit the lightest takes and bites into quick hooksets and more landed trophy panfish.
I've caught big shell crackers, bluegill, crappie, white bass and even a couple nice smallmouth on these rods mostly because they do such a good job casting the smallest jigs and transmiting the lightest bites.
St. Croix rods are known for having some of the finest, cleanest custom cork grips on their rods. And these Avid Panfish rods do not disappoint. They have 5 custom handles on the 9 actions in this rod line. But they feature split grip design with a nice butts and ergonomic hand grips.
And the rods are still very light. They are comfortable, smooth and easy to fish all day.
(3 of 10)
Great Actions for light jigs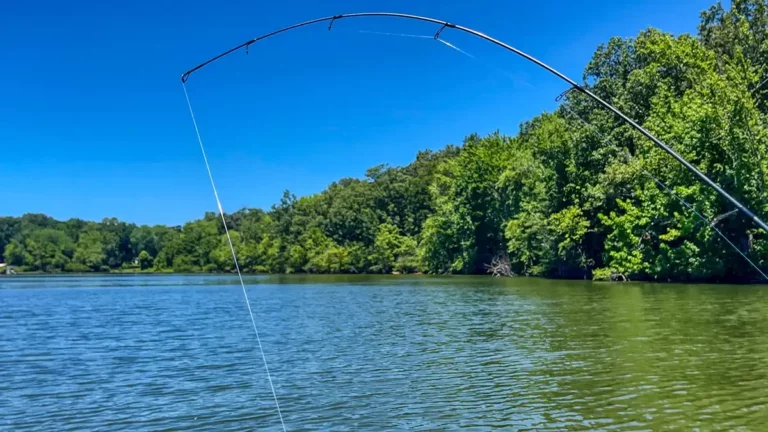 The rods are a little on the light side, so if you prefer a lighter rod, you will really like these rods. I really came to love these rods as I experimented more with 1/32-ounce jigs for bluegills and crappie. I fish 4-pound monofilament most of the time on these rods and I think 2-pound line would work well too if you're really into the ultra-light applications.
But I really like the actions and tapers on the 6-foot, 9-inch and 7-foot ML rods in the line. I am able to throw really light jigs a good distance and still swing good crappie between 1 and 2 pounds. I have swung a 2.11-pound crappie on my Avid Panfish rod but I don't recommend it. But you can hoist those 1 pound crappie in all day with these rods without worry.
(4 of 10)
Guides for casting performance
The Avid Panfish Rods feature unique stainless-steel guides that really allow for good controlled line flow on a whip cast with light jigs. And you have a lot of sensitivity on the retrieve.
Knowing what your jig is doing at all times is important, even when using Livescope. So having good transmission between your line, guides, rod and hand matters.
The guides work well and are durable. I've taken them in and out of boats and on trips in an SUV and the guides have resisted getting flattened or bent.
(5 of 10)
Highly Sophisticated Crappie Rods
These rods have lots of intricate detailing and design throughout. The blanks looks sharp, the grips offer comfort and sleek handling, great guides and hook keepers for your jigs to keep your ready to go in seconds when moving spot to spot. They are the total package ranging from 6-foot ultralight powers with fast actions to 7-foot, 3-inch medium-light powers with mod fast actions.
I don't live on a great lake for shooting docks for crappie. But I use a shooting cast a lot when fishing around shallow cover. These Avid Panfish rods load well and shoot jigs really well for having lighter tapers.
And you can move fish well with the medium-light rods.
(7 of 10)
Casting 1/32-Ounce Jigs
Most of my time with these rods has been casting 1/32-ounce jigs. Tightlining and scoping crappie roaming around on bait and a little shooting. I've always been a 1/16 to 3/32-ounce guy when it comes to crappie jigs but I've seen more and more with crappie being a lot more pressured where a 1/32 ounce jig gets bit more.
There are times where you can just straight wind on a jig and catch crappie. But a lot of times its pausing, fluttering, pulsing, dropping, lifting and sometimes just holding it perfectly still for long periods to get a crappie to bite.
But these Avid Panfish Rods are superbly suited for catching really finicky crappie.
I've also been playing around with staying way off of fish but trying to fish jigs slowly and pausing the bait a lot on fish. That's hard to do with 1/16 and 1/8 ounce jig heads. But throwing a 1/32 ounce jig a good distance gives me a lot of leeway and gets me a ton more bites.
So this is probably the single most reason these rods became some of my favorites this season.
(9 of 10)
Great for chasing trophy panfish
I actually hunt big crappies. Sure I like to sit and catch limits of keepers, but I like to stay on the hunt until I find bigger crappie. I'm the same way with bluegills, redears, and bass. I just want to stay on the hunt until I find big ones. That means a lot of repeated casts with light jigs.
Whipping cast after cast, the Avid Panfish series is a great choice for very avid panfish anglers like me.
(10 of 10)
Great rods for the panfish aficionado
I've caught big redear, lots of big crappie and many big bluegill on these rods. They are fun to fish with. You get a great fight, you can throw any panfish bait you have in your arsenal and you will enjoy a lot of days of panfish fishing with these rods. It's a great investment if you're an avid panfish angler.
I like to have nice rods when I am going to be on the hunt for trophy fish suited to the size of my lures and the fish I'm after. If you're in the market for your Cadillac crappie rod, then take a look at these St. Croix Avid Panfish rods. I highly recommend them. Check out more details about them at Stcroixrods.com.
Find these St. Croix Avid Panfish rods at these retailers: