"Technique specific" gear is a relatively new term when it comes to fishing rods and reels, but it's a subset of the market that is growing rapidly. There was a time when a spinning rod came in one basic size, 6 foot, 6 inches. And half the baitcasting rods on the market were 7 feet in length. Now, there are bass fishing rods that fall into each and every inch increment from 6 and 1/2 feet to 8 feet, made of varying materials and in a wide range of powers and actions.
Cranking gear is a good example of this explosion in options. There are rods made of graphite, fiberglass and other composites. And they range from sub-7-footers for finesse cranking and shallow precise target casting to 8-footers for slinging and deep cranking magnum plugs. Sorting through all the options can be a little daunting, and buying gear for specific purposes can get pretty pricey.
Wouldn't it be nice if there was an affordable set of cranking rods that covered all the bases? We think so, and that's what turned us on about the 13 Fishing Defy Black Gen II Cranking Rods.
THREE GREAT OPTIONS AT AFFORDABLE PRICE
I don't know this to be fact, but my guess is 13 Fishing used the name "Defy" to label these rods as a nod to how they are defying the unspoken laws of the fishing industry, by creating superb fishing rods for an excellent price. Though we'll be talking in detail today about the three cranking rods in the Defy lineup, there are actually 21 different casting and spinning rods that carry this name. This is an amazing selection, all priced below $100.
But focusing back in on the three Defy cranking options we'll be talking about today, 13 Fishing offers a 7-0, 7-4 and 7-9, all for $79.99 each.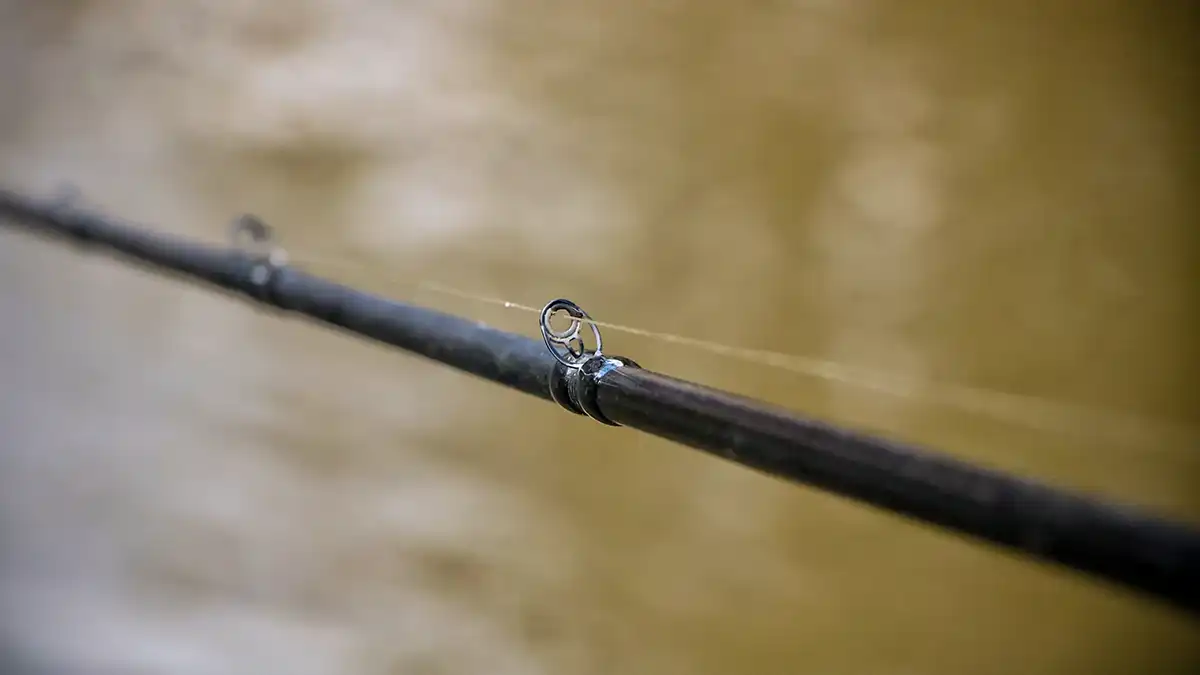 FEATURES OF DEFY BLACK CRANKING RODS
Not all 21 rods in the Defy lineup are made from the same material or using the same components. So let's hone in again on these three cranking rods in particular when discussing the features. Per Tackle Warehouse, the blanks are "constructed using a proprietary process that combines E Glass Elastomers with 24-ton graphite, resulting in an elastomeric composite with the parabolic blank characteristics of E Glass and the lightness of graphite."
That's a lot to say that these rods aren't as heavy as straight fiberglass cranking rods, but they still have a good bend to them, especially towards the tip. At least that's what I experienced testing out the 7-4 Defy Cranking Rod. I also really liked the longer than normal lower foam grip on the handle when casting bigger plugs. Here are some of the other features listed out.
Evolve Stainless Steel Alconite Guides
Custom Evolve Seamless Reel Seat
High Density Japanese EVA Split Grip Handle
CGE1 Blank Construction
Evolve Snagless Hook Keeper
HOOK KEEPER
The Evolve Snagless Hook Keeper is the perfect selection for a cranking rod. I prefer open hook keepers on rods that I use a variety of baits with, like treble hook baits, jigs and weedless rigged soft plastics. This is because they are easy to use with all these baits, and you can store a Texas rigged soft plastic without having to take the hook out of the bait, like you would with the closed hook keeper on these cranking rods.
But you'll never really want to use these cranking rods with a soft plastic bait like that; maybe with a vibrating jig or a small swimbait on a jig head. But in both of these situations, the hook is exposed and can be stored securely using this hook keeper. The majority of the time, this hook keeper will be used to store treble hook baits, which are far more secure here than they are with open hook keepers, or even simple closed keepers made with one rounded wire.
This may seem like a small thing to focus so much time on, but this attention to detail is important. It can mean the difference in reaching for your cranking rod in the rod locker when you need it to find it rigged and ready to go, or finding your crankbait has bounced loose and lodged itself into three rod socks and the carpet.
PERSONAL EXPERIENCES
I went with the 7-4 for testing because I figured it would be the most versatile. It's held its own with everything from a squarebill to a Strike King 5XD. I haven't thrown a 6XD on it, but I think it would be fine there as well. That would really be the tipping point though, and you'd do better with the 7-9 using 8XDs and 10XDs, or Norman DD22s and other baits of that size range. If you're going to crank a 6XD-size bait a lot, you might want the 7-9 instead of the 7-4. If you'll be throwing something smaller than that the majority of the time, and only occasionally need to be able to throw a 6XD, the 7-4 is the way to go.
On the lower end, the 7-4 is borderline too much for a Strike King 1.5 or other comparable bait. I have thrown several squarebills on this rod, and I will say the added length is nice when trying to navigate a bait back through a laydown. But the 7-0 would make for a better rod for square-billing, and for throwing flat-side crankbaits or shallow- to mid- divers like the popular Rapala DT4 and DT6 crankbaits. The 7-0 would be a good lipless rod too for open water, with the 7-4 better suited for longer casts and ripping a trap out of submerged vegetation.
WRAPPING UP THE DEFY BLACK CRANKING RODS
If you've been hesitant to branch out into technique specific gear because you don't want to spend hundreds of dollars on rods and reels you'll rarely use, the Defy Cranking Rods are perfect for you. Priced at $79.99, these rods are more than adequate for any cranker and perfect for the new comer.
All three rods certainly have a place in the crankers arsenal, but I'd still say the 7-4 is the most versatile, with the 7-0 being the next rod in this lineup I'd like to try out. And, simply because I rarely fish a crankbait deeper than 15 feet, the 7-9 would be the one I'd hold off on til last. But if you're a deep cranking fan and you've been doing it with a regular rod, I bet the 7-9 would be a joy to fish with, make fishing deeper plugs less tiresome and increase your landing ratio.
You can find the 13 Fishing Defy Black II Casting Rods at TackleWarehouse.com.