One of the hottest new jig trailers to hit the market is the Keitech Flex Chunk. This is one of Keitech's newest releases, and is sure to put fish in the boat across the country. I've been lucky enough to test this trailer over the last several months, and I've noticed a few scenarios where this jig trailer really excels. This review will cover the Flex Chunk's build, fishing applications, rigging options and overall performance.
FLEX CHUNK BUILD
The Keitech Flex Chunk features the classic chunk trailer design, but with a few updated features. A thick threading section insures your trailer won't rip or pull down after catching a few fish. This bait comes in both a 3.2-inch and 4.3-inch sizes as well as a wide variety of colors sure to match most jigs. The Flex Chunk also features Keitech's signature squid scent which has been a proven fish catcher for many years.
The Flex Chunk's thick build and rugged texture gives this bait an original action. The appendages slowly shake as this bait glides to the bottom due to its thick legs and added salt content. The chunk offers a great option for jig fishing this fall and winter thanks to this enticing action and subtle presentation.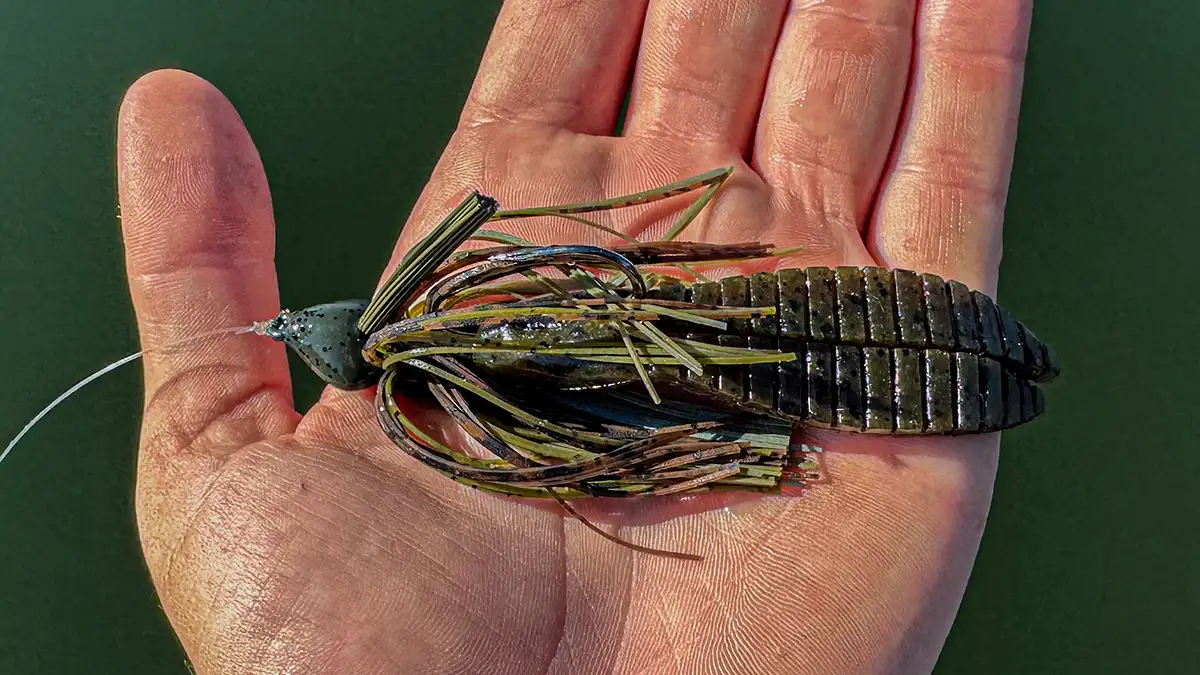 FISHING THE FLEX CHUNK
I've used this chunk over the last several months, and have tested it in a number of different scenarios. With cooling water temperatures, I've been mainly focused on rock banks and brush piles. I've paired the trailer with a number of different jigs depending on the amount and type of cover present.
Rock typically holds the sun's heat when water temperatures drop. This can often congregate fish around rocky cover due to the heat transmitted. When using the Flex Chunk around rock, I typically pair it with a football head jig. I'll go anywhere from a 3/8 to a 3/4-ounce jig depending on the depth of cover I'm fishing. I like to fish the flex chunk by making long casts and slowly hopping the jig back to the boat. Allowing this bait to fall on a tight line allows this trailer to kick with a subtle swimming action that generates a lot of bites. This is my go-to style when throwing this bait around offshore cover.
Fishing a jig around bluff walls and rock banks are both high percentage areas to get bit. Pitching this lure right against the bank and quickly hopping it down hill is a great way to generate shallow reaction strikes during colder months. This is one of my favorite techniques when targeting shallow bass in the winter.
I've also been throwing the Keitech Flex Chunk around offshore brush piles. The chunk paired with a casting style jig is a great choice for for brush. The trailer does a great job at imitating bluegill and other types of baitfish that use this brush for shade, protection and feeding grounds. Throwing this bait over the brush and slowly hopping it up and over the brush is a great way to trick quality bass into biting. While this technique doesn't typically produce a ton of bites, it is a great way to put quality fish in the boat this time of year.
RIGGING THE FLEX CHUNK
The Keitech Flex Chunk comes in two different sizes, making it easy to pair with most jigs. I typically pair this bait with anything from a 3/8 to 1/2-ounce jig due to the trailer's thicker profile. This bait performs well on casting, flipping and football jigs and is a great choice when tying to imitate baitfish. This trailers subtle gliding action makes this bait extremely effective when targeting large bass in thick cover.
There are two different ways that people choose to rig a chunk, both giving the jig a different profile. Some people thread this bait onto the hook like a normal soft plastic trailer. This is often my preferred method of rigging as your bait doesn't seem to tear as bad. Others like to go straight through the middle of the chunk, giving the jig a larger profile. While I don't practice this method often, it has been a proven fish catcher for years amongst seasoned jig fisherman.
The Keitech Flex Chunk is a great option for putting quality fish in the boat throughout the winter months. This baits subtle action and unique features are sure to make it a fish catcher when paired with a variety of different jigs. If your looking for a hot new jig trailer, I recommend checking out the Keitech Flex Chunk.