The easiest option for a lot of anglers is to buy a rod and reel combo, especially when you are on vacation or traveling and just want to have a combo handy to fish with should the opportunity present itself. Buy rods and reels as combos can save money as often they will pair a good rod with a decent reel or a good reel with a decent rod. And generally speaking, the total combo will be less money than if you bought the rod and reel separately. So it's a great way to save money and get a decent combination of rod and reel to fish with. So we thought it would be helpful to get hands on with as many rod and reel combos and give anglers a buyers guide for the best rod and reel combos in a variety of categories to fit a lot of different budgets and types of fishing.
There are several companies that specialize in rod and reel combos and they offer a lot of different options. We chose just a sampling from those and compared to some of the single offerings out there as well and polled an angler group to see who they thought made the best combos so we could have a wide base to look at then narrowed it down to these in this guide.
OUR PICKS FOR BEST ROD AND REEL COMBOS
BEST VALUE SPINNING COMBO
Favorite Fishing Shay Bird Spinning Combo $85
This unique cosmetic spinning combo was designed by the owner of Favorite's daughter and features eye catching colors with a quality rod and a good 6-bearing spinning reel. That offers good performance at a good price point. So it's an striking combination that functions well. The Shay Bird combo comes in 3 options from 6-foot, 6-inch length up to a 7-foot, 3-inch length in moderate to medium heavy powers. So I would classify these as good middle of the road bass combos that would work for other species around that same size (channel catfish, white bass, walleye, etc.).
The reel has 6 bearings and the whole combo weighs just 8 ounces so not terribly heavy as is often the case with off the shelf combos. And at $85, it's a good combo for the money making it a good value in our opinion.
BEST WORKHORSE COMBO
Lew's Mach 2 SLP Baitcaster Combo, $124
This is one of the combos we have used the most. This has been one of my travel combos I leave at my relatives place in Arkansas that I frequent to fish many times a year. It's a workhorse combo that can fish a good many bass applications. The Mach 2 reel throws really well and has a good drag system. And the rod is a solid rod as well. I do a lot of power fishing with the 7-foot MH option. Fishing braid with frogs, some light duty flipping, spinnerbaits, swim jigs and more.
This was one of the first higher-end baitcast combos I had found a couple years ago and it's still a solid producer. You can get the original model still in a few places but the newer generation versions just came out and are a little more at around $199. But these are solid combos with a 10-bearing reel that has 15-pounds of drag system. The rods have zirconium inserts for very good castings and retrieving. Like I said, it's one of the better combos that first came out. Most of the time when you buy baitcast combos you either sacrifice on the rod or the reel. But this was one combo where both the rod and reel were good.
BEST HIGH END BAITCASTER COMBO
Lew's Mach Jacked Baitcaster Combo, $259
After offering a great combo for serious anglers who prefer to just buy all-in-one-packages, Mach stepped it up again with the Mach Jacked series of baitcast combos. These combos feature a 10-bearing reel, with tons of stopping power on the drag. The come in three options from 6-foot, 10-inch length up to 7-foot, 3-inch length. They feature Winn Ultra material on the reel grips and rod handles with premium guides on the rods.
These combos are manufactured to offer premium performance at a price cheaper than putting together a high end rod and a high end reel. So if you're ultra serious about bass fishing, and just want a few combos, this is a great high quality option. Like I've said before, when you buy combos usually you are sacrificing somewhere. But that's not the case with these. These combos fish like high end Lew's rods and reels in one much more affordable package. Arguably one of the best tournament ready combos available anywhere.
BEST HIGH END SPINNING COMBO
Lew's Mach Jacked Spinning Combo, $249
Same goes for the spinning rod in the Mach Jacked Series. A premium reel paired with a premium rod give anglers high end tournament performance in a combo offering. The spinning reel features 10-bearings with a silky smooth drag not often found on combos. The rod has high end guides, custom Winn Ultra grips and 3 rod lengths to fit all of the spinning rod applications for bass fishing from 6-foot, 10-inch ML Rod to a 7-foot, 2-inch M rod. These are high end combos built for serious anglers.
BEST CATFISH COMBO
Ugly Stik GX2 Baitcaster combo, $59
The Ugly Stik combos have stood the test of time. Most of my childhood was spent defying the odds with a couple of Ugly Stik combos and now with the GX2 combos, you get a little more refinement and performance with the same great fiberglass and graphite blends to make nearly indestructible gear. The GX2 6-foot, 6-inch Medium combo is a great rod for getaways, camping trips, and more. It's durable and the performance can handle decent sized channel cats. It works for some bass fishing applications all though the 1 bearing reel is not really smooth enough for more sensitive techniques. But the stainless steel guides make this a great throw it in the bed of your truck and go rod. And at a price point of $59 you can hardly go wrong if a no nonsense durable rod is more your liking.
BEST DOCK FISHING COMBO
Proficiency Flash Spinning Combo, $119
This bright combo is perfect for fishing under the shade of docks. If your an angler that likes to fish off the dock or walk the creek or the bank, this is a great rod and reel combo for that. It features a lot of nice features like a 6-foot, 6-inch medium IM7 graphite blank, stainless steel guides with aluminum oxide inserts, and premium cork split grip handles. The reel is a 2000 series with a fast 6.2:1 gear ratio and smooth 11 bearing system, all powered by an aluminum handle with a comfortable cork knob. It's a lot of performance and we found the combo to be pretty tough too. So you can bang it around on the bank and dock and not worry with it giving on ya. A lot of high end features packed into a bright combo that holds up to a lot of abuse.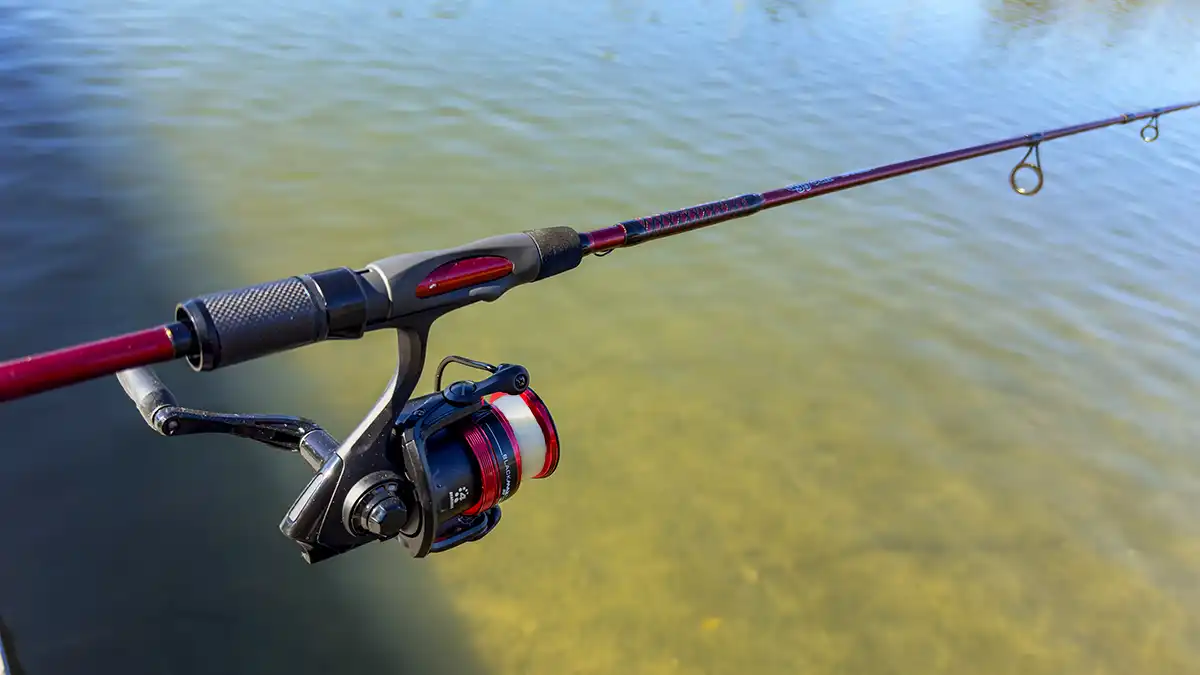 BEST LIGHT COMBO
Ugly Stik Carbon Spinning Combo, $88
Made to be as much as 30% lighter than other Ugly Stik options, the Carbon Spinning Combos offer lightweight performance with Ugly Stik durability. These are nice rods for panfishing and light duty bass fishing. A great combo for walking the bank and wading in your favorite creek. With upgraded features and lighter weight, this has quickly become a favorite of Ugly Stik fans. These rods feature 24-ton blanks with solid graphite tips for added sensitivity. They are said to be 50% stronger than most other rods and 30% lighter than other Ugly Stik Rods. So these are focused on bringing that Ugly Stik performance to a little more refined and sensitive option. The reel is an Abu Garcia Black Max baitcaster with 4 bearings and 5:1 gear ratio.
BEST CROSSOVER COMBO
ToadFish Spinning Rod and Reel Combo, $138
This is the second product we've used from ToadFish and I have to say I'm very impressed with their offerings. They reel has a smooth drag, casts well, with fluid quiet operation and the rod is tough as nails. It's actually made as an inshore rod but I found it can handle a lot of braid ready bass applications and makes a great spinning rod for bank fishing, wading, traveling and more. The rod, reel, reel seat, reel handle and guides all have a very high-end custom feel that makes this a very unique rod and reel combo at a middle of the road price point that would work for a wide variety of fish.
These combos have 30 ton graphite blanks, stainless steel guides, patented reel seat with a 5 bearing reel, IPX5 water sealed system, aluminum body and handle with a carbon rotor. And the spool is braid ready. It's a sweet combo that I think a lot of people would enjoy.
BEST ULTRALIGHT COMBO
Pflueger President Ultralight Spinning Combo, $59
I've been a longtime fan of Pflueger Spinning reels having used them for at least a decade. They just perform and this ultralight combo is a steal of a good deal for panfishing, ultralight fishing, creek fishing, trout fishing and more. A lot of trout guys love this combo because it can throw light baits, handle light line with it's good drag system and offer a great day of fun fishing with light line. It's a heck of a fun combo. Pflueger has always made great spinning reels and this combo is well worth the money in our minds.
Quantum Optix Ultralight Spinning Combo, $41
The most affordable of all the combos we tested, the Quantum Optix is a nice little combo for barely the cost of two pizzas. You want to go have some fun on a weekend camping or vacation trip, get this little ultralight combo, some Roostertails and some Chatterbait Mini Flashbacks and go to town on trout, bass, crappie, bluegill and more. The 5-foot ultralight rod and 50 size spinning reel is a 2-piece combo that is easily packable. Features 4 guides, and 4 bearing reel for good performance on a budget.