A simple but effective storage solution for soft plastics packages.
(1 of 5)
Simple cost effective solution
Storing plastics for bass fishing can be a chore. Some anglers think that storing plastics in trays out of the packages dries them out too fast. Others think that keeping them in their packages can be cumbersome to store.
Plano came out with Speed Bags a few years ago to try to solve both storage issues and have since revamped them with their new line of KVD Speed Bag Worm Files.
The new KVD Speedbag Worm Files come in two different sizes. The large size is said to hold 40 bags of plastis and the smaller size will hold 20 bags. I have seen where anglers were saying the didn't think these worm files would hold that many bags of plastics.
It does appear that way if you have large plastics that bulk up the bottom of a bag. All you do is stack them upside down and right side up back to back. So you have 20 right side up and 20 in between those upside down. That lets them all fit in there. With thinner plastics it's not an issue.
(3 of 5)
Good form factor for storage
The bags are rectangular in shape and their TPE Waterproof shell makes them semi rigid. So you can stack a few easily on shelves, in compartments, etc. So if you organize bags by types of plastics like lizards, worms, Senkos, etc. You can get a bunch of plastics in a pretty small space.
(4 of 5)
Foldable flaps make options easily accessible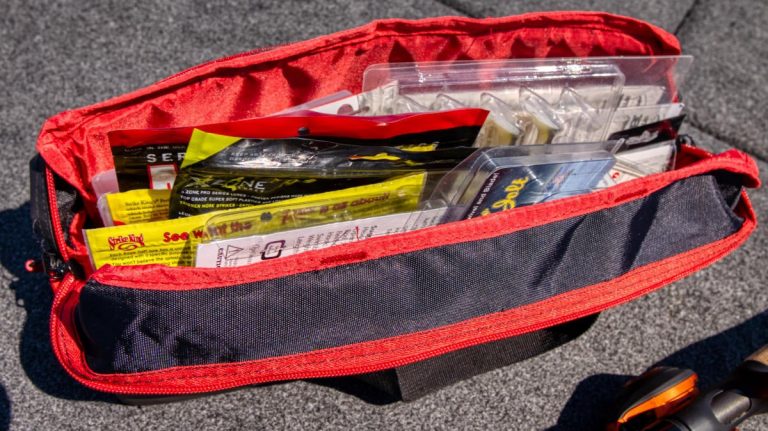 KVD Speedbag Worm File has fold down flaps which makes it easy when you're on a hot bite or trying lots of different plastics to thumb threw bags easily and grab the next bait. I will often leave mine out and open when fishing and just grab another color or size to change things up often.
(5 of 5)
Zipper pull makes opening and closing quick
The zippers on a lot of soft worm files wear out quick and get hard to move get the binders open and closed easily. That hasn't been the case with these Speedbag Worm Files. They have reinforced zippers and a big loop pull on the zipper to make it easy to open and close in a compartment or another larger tackle bag.
Little features like that make these great bags for the money.
You can find the Plano KVD Speedbag Worm File at TackleWarehouse.com for $7.99 and $10.99 or at planomolding.com as well as local retailers that carry Plano tackle storage solutions.