I've been experimenting a lot the last year with crappie fishing. And the new owner of Basstrix reached out to me and wanted to send me some of the new crappie baits he was releasing. I've had the Basstrix Mini Trix for awhile now and can honestly say I love them for crappie!
The Mini Trix is a hollow bodied minnow imating plastic for crappie. They come in 1 1/2-inch and 2-inch options. And right now they come in 7 colors and soon they will have corresponding Mini Trix Heads. I've rigged these on simple roundball jigheads as well as wire keeper jigheads and actually prefer the wire keeper jigheads.
I was able to thread the Mini Trix onto a Jenko Slasher head and then poke the wire keeper out of the back. It acted like a hook and kept the plastic on the hook through 28 crappie before I replaced the bait. I thought these would tear up in a few fish but I was surprised how long a single bait lasted.
Here's a better look at the Mini Trix options and experiences.
The Basstrix Mini Trix is their first offering aimed directly at crappie and panfish and I think they did a great job designing a unique offering that works for crappie. I've had some killer days already on the baits. I think the colors are very neat and unique and look very lifelike while still offering some color to attract fish in dirtier water. And they pair really well with a variety of heads and colors giving you the total package in one bait.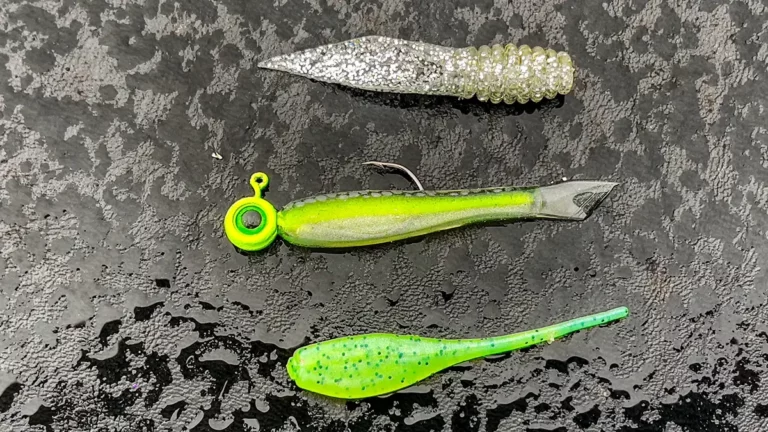 I thought the baits looked a little large in the package but on a jighead and next to other popular crappie baits, these are a little meatier but have an oustanding profile and action in the water. I was happy to see the fish responded equally as favorable in my testing. They cast well and fish well. I really liked them on a 1/16-ounce jighead.
The hook ups have been very good on these.
The packaging is very well done and you get 7 baits to a pack. But one pack will last you a minute if rigged on a good head. A drop of super glue helps them last even longer.
They come in 7 nice colors and two different sizes so you have a lot of good options for 1/16 to 1/8-ounce jigheads. I've casted them, vertical jigged, shot docks, pitched and skipped them around crappie and caught them good every time.
The crappie inhale this profile. I think they are convinced it's a real bait. Nearly every fish I've caught had the bait down it's mouth and was pretty hard to unhook. And I've had some really big crappie up to 2.57 pounds on the Mini Trix already.
(5 of 6)
Stays on a jig really well
I think this profile is spot on and the sizes are perfect. I think I'd even be interested in fishing a 2 1/2 inch version. But maybe down the road. The 2-inch is my favorite already. I like that size and profile and the fish have really responded well to it.
(6 of 6)
Had Great Days on Bait
If you're looking for a very realistic offering for crappie, the Mini Trix is a great new option. I've really enjoyed fishing with these crappie baits the last two weeks, catching some of the biggest strings of black crappie I've ever had on Kentucky Lake. I had a day a week or so ago where I boated 7 black crappie that weighed 14.98 pounds, and I had 5 over 2 pounds in that mix. This last outing I had 20 crappie between 1 pound and 2.23 pounds on the Mini Trix.
Right now the Mini Trix is available at BasstrixLureCo.com, Tackle Warehouse and other retailers soon.