The Ark Invoker Limited Edition Casting Rod Series gives anglers a unique series of rods with custom components built on unsanded 40T HM carbon fiber blanks that feature nano tube reinforcements throughout each layer of carbon fiber using Ark's HPCR (High Pressure Carbon Fiber Rolling). The way they are designed gives anglers a super lightweight rod that is very strong.
Here's a quick rundown of the key features and experiences with this rod.
(1 of 6)
Unsanded blanks for reduced weight
The Limited Edition Invoker Casting rods feature unsanded blanks that make them lighter and crisper and you can get away with more sensitivity and action in a smaller rod footprint. I have been using a small 6-foot, 6-inch medium light model and 7-foot, 3-inch mag medium heavy model to compare different techniques and powers in the single line. The blanks surprised me with how powerful and tough they are relative to their weight. There is so much intricate detailing in these blanks. They just feel different from tip to butt.
(2 of 6)
Crazy combinations in this line of rods
I'm not just saying this, but the 6-foot, 6-inch ML R Invoker Limited Edition rod is one of my favorite rods right now. I've been cranking all spring with it throwing small homemade flat sides and little crankbaits like the Yo-Zuri 3DR Shallow Crank 50 that only weighs 1/4 ounce. I'm amazed at how well it casts such small cranks and how sensitive it is and how precise I can be casting into ultra shallow places. It is such a fun little rod to fight fish on and is such a cool rod for fishing like this in the spring.
They have a couple glass cranking rods and a couple of rods with "Reaction" as its action. Those have been fun to fish with. There are nine casting rods in the limited line ranging from the IVL66MLRC that can throw 1/16 ounce lures up to the IVL76HFC that can throw 1 1/2 ounce lures.
(3 of 6)
Full Fine Cork Handle
The full cork handle on these Invoker Limited Edition rods is one of my favorite features. The AAA finely finished cork handle features a swept hourglass design that keeps the rods light and comfortable in your hands all day. The way you grip a rod cranking causes more fatigue than a lot of other techniques in fishing. You have to train yourself to palm the reel gently and keep the rod balanced in your hand and on your arm to have better sensitivity and less fatigue. These handles made for a very comfortable cranking experience.
(4 of 6)
Custom reel seat and foregrip
The custom real seat features through touch construction so you can feel the blank while you fish. The foregrip securely locks the reel in place with now slop or wiggle during use. The design is very ergonomic making palming the reel easy and efficient. The smooth detailing on this part of the rod accents the overall design. Again a lot of details and features on every part of these rods.
(5 of 6)
Fuji K Concept Alconite Guides
Part of this rods appeal and sensitivity comes from the high quality guides transmitting what the line is picking up as your bait collides with rocks and fish. These guides are sturdy, smooth and make casting and fishing with the rod really enjoyable.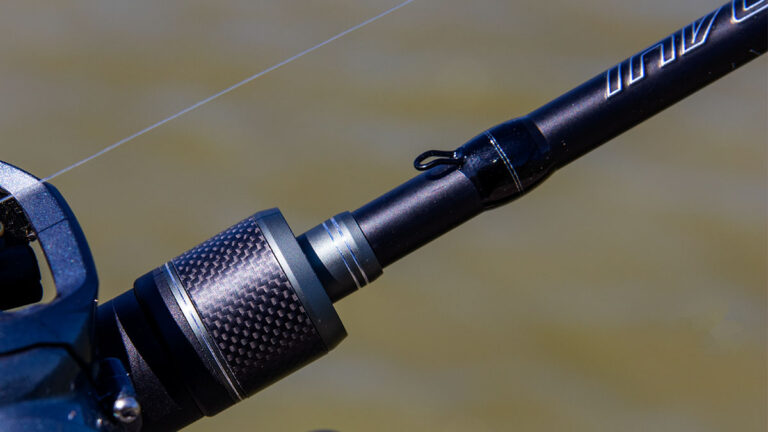 The Invoker Limited Edition Casting Rods did not disappoint. They are custom, using the nicest components and even come with a card that authenticates which rod in the series you own. They are loaded with fine details and features that make these rods truly unique and a joy to fish with. I've loved fishing crankbaits, jigs and jerkbaits on these rods so far. Like I said, I absolutely love that 6-foot, 6-inch ML R rod for cranking small flat sides around in the prespawn. I think it could be a great spy bait rod as well as fun rod for some finesse techniques that folks might usually fish on spinning tackle.
I'm a big fan of the Ark Rods lines and this is one of my new favorites. Louie Zhang has done a remarkable job making some of the nicest rods as well as some the most practical and affordable rods. I like that he tries to make rods for every budget and every taste in rods and this new Invoker Limited Edition line was probably a lot of fun to build and bring to market with so many things packed into each rod.
You can find the Invoker Limited Edition at the following online retailers: