My best bite this spring and summer has come on finesse swimbaits casted to fish I see on Livescope. One of my main staples has been the BioSpawn ExoSwim. I got a couple packs after the Bassmaster Classic in Alabama. I saw them at the show in the Karl's Bait and Tackle booth and thought they had an interesting profile with good size options and color selection.
(1 of 10)
Lots of options
The BioSpawn ExoSwim comes in 3 sizes from 3 1/4 to 4 3/4 inches. They offer 13 colors. But the real draw is the ExoSkeleton design that displaces more water and gives the bait a significant tail kick and body roll for its size.
For sure the bass have reacted well to the way it swims for me.
The tail is designed well. It's thin but does fold under pressure. It's soft enough to kick well but rigid enough to hold up to several rambunctious bass.
(3 of 10)
Grooved Back for easy rigging
The grooved back and belly makes it easy to rig the ExoSwim perfectly on jighead, weighted hook or as a trailer on a swim jig or Chatterbait.
(4 of 10)
Fits perfectly on jigheads
The profile offers a lot of rigging options, giving you a dynamite little package that catches a variety of fish. I have fished the 3 1/4 inch and the 4 inch sizes with a lot of success.
Recently, I was on Table Rock fishing for suspended bass roaming on bait out in front of docks. I would take a 3/8 ounce Scottsboro Hellfire head and screw the ExoSwim 3 1/4 inch on to it.
Later in the day I would fish out deeper for fish schooled up offshore and I opted for the 4 inch version on a 1/2 ounce VMC Boxer head. I could keep the bait down and slow roll it on the bottom in 20 feet of water to catch those competitive bass.
I was floored at how well the bass got these little baits down in their mouth and how well they held onto them. I never had any fish just barely hooked on the lip. Everyone had it way back in their mouth. Usually a good indication the bait looks right to them.
The plastic in the ExoSwim is permeated with BioScent that, coupled with the action, makes it a winning combination on your favorite small jighead. The 3 and 4-inch sizes got engulfed and stayed hooked up on largemouth, spotted bass and smallmouth alike. I caught some smaller bass that still had the whole bait out of sight in their mouth when I got them in.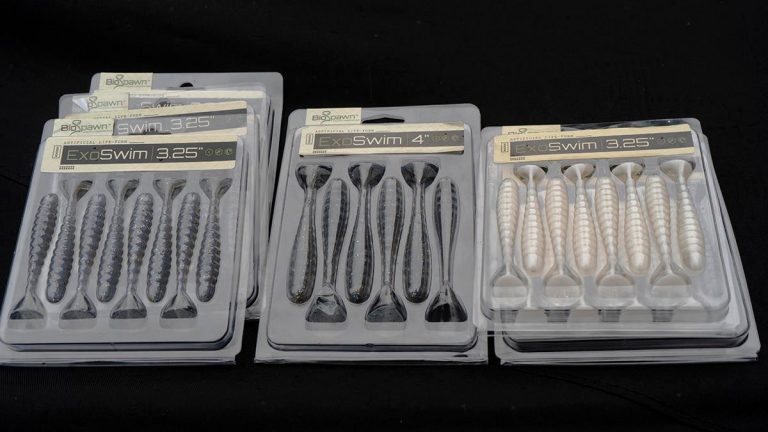 The thin clam-shell packaging keeps me from bending or warping the tails and affecting the swim adversely. It is a fairly thin package too so I am able to stuff a bunch of packs into my Money Bag to keep them handy when on good scrapes.
(7 of 10)
Good color options
I will say without hesitation the Feider Shad color is my favorite. Not sure if Seth had a hand in designing that, but it's money. My close second is the Pearl Flash color. When I have been in ultra clear water, I've gone with the Feider Shad. When the water has had some stain, I've opted for the Pearl Flash.
(8 of 10)
Recommendations on Tackle
It recommends you throw the smallest 3 1/4 inch size on spinning tackle. I had no problem with it on 1/4 and 3/8 ounce screw lock heads on baitcasting gear. I used a Shimano SLX DC with 12-pound Seaguar InvizX most of the time on a lighter tipped G. Loomis IMX Pro 7-foot, 1-inch Med 852C JWR rod.
That setup let me get tons of distance while also being pinpoint accurate on my casts to fish I was seeing on LiveScope.
(9 of 10)
Responsible for a lot of nice bass
I managed several nice bass in the last few months since the Classic with these swimbaits. It was the deal on Table Rock last week. Those fish liked everything about the color, action, profile, scent and way the ExoSkeleton made the bait perform. Stacey King and I fished together and he was on a bunch of big schools. The ExoSwim was easily my best lure for those fish.
(10 of 10)
Finesse Swimbaits that match summer shad well
I like these finesse swimbaits later into the summer because fish are often schooling on shad that are getting to be 3 inches in length. So it keeps the bait matching what the bass are keying on and I would watch bass beeline from 20 feet away to nail it. I'll have video on it soon.
You can find the BioSpawn ExoSwim at the following online retailers: