As spinnerbait manufacturers go, Nichols Lures has been pretty solid for the last several years. Their newest offering, the Catalyst Spinnerbait, is a whole lineup of baits really, with nearly a dozen different blade size, color and shape combinations. Let's start the conversation about the Catalyst by diving deeper into the options.
CATALYST SPINNERBAIT OPTIONS
The Catalyst Spinnerbaits come in two blade combinations: Tandem (Colorado/willow leaf) and Double Willow. Each of these baits is available in 3/8- and 1/2-ounce sizes and come in a good variety of 9 color choices. The options don't really stop there though. The color choices vary not only by skirt color but also by head color and blade color. Even the shaft of the bait and the hook are different colors depending on which bait you choose.
For example, the Bombshell Shad color in the 1/2-ounce Tandem Spinnerbait has a nickel (silver) head and hook paired with a nickel #3 Colorado blade and a gold #4-1/2 willow leaf blade. All the 1/2-ounce Catalyst Tandem Spinnerbaits have this same blade size combination, but when you look at the White and Chartreuse color choice for instance, you'll find the head, blade arm and hook are all gold, as well as the blades.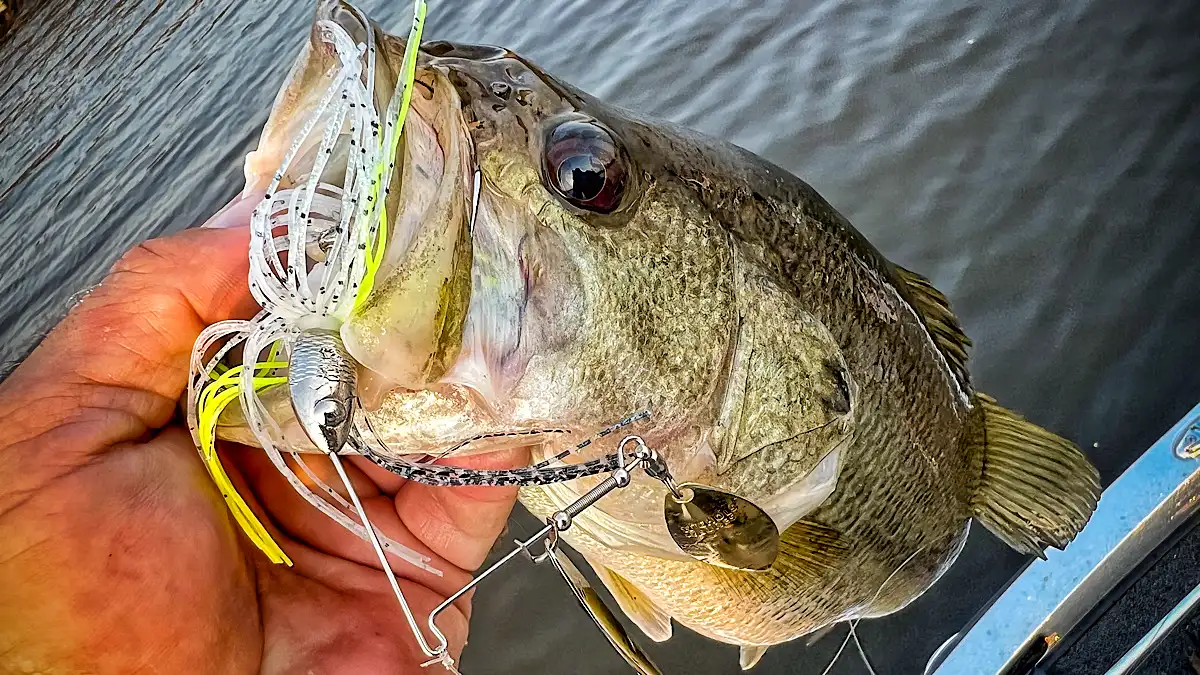 Here's a simple and quick look at the blade combinations and sizes.
Tandem (Colorado/willow)
3/8 ounce: No. 3 Colorado & No. 4 willow
1/2 ounce: No. 3 Colorado & No. 4 1/2 willow
Double Willow
3/8 ounce: No. 4 willow & No. 4 willow
1/2 ounce: No. 4 willow & No. 4 1/2 willow
COMPONENTS ON CATALYST
Nichols uses solid components in their baits, which has put them ahead of or least up there with most other spinnerbait manufacturers. The Catalyst lineup is no exception to this rule. Nichols used a Worth ball bearing swivel, which is top notch and allows the blade to spin smoothly no matter the speed of the retrieve— even to the point the blade spins when the bait is paused and allowed to fall.
They used an Owner hook with this bait as well, again plating the hook and all metal surfaces of the bait with either 24k gold or nickel to match the blade combination and skirt selection. The hook is strong, sharp and sufficient for this bait. No weak points either in the other metal trimmings like the split rings and spacers. The Pro-Tie skirt locks onto the bait well and should hold up a lot longer than traditional skirts with rubber-band style collars.
GOOD TRAILER KEEPER
I personally really like to use soft-plastic trailers with my spinnerbaits. This bait will work perfectly fine and catch fish without a trailer. But I especially like to throw spinnerbaits in stained-to-muddy water and a trailer really helps beef up the profile of a bait. It can also be used to slow a bait down and adds a little realism and action to get hesitant fish to commit instead of turn away at the last second.
This keeper is a little unusual. It's sort of like a ledge around the whole hook shaft, instead of a barb or bent wire. It can be a little hard to work with when using some thinner traditional soft plastics, but it works really well with Z-Man's ElaZtech lineup of soft plastics. I typically prefer to use their Split Tail TrailerZ with my spinnerbaits anyway, and this keeper works better than most with it.
CLOSING THOUGHTS ON CATALYST SPINNERBAITS
For $9.99, the Catalyst Spinnerbait is a great go-to spinnerbait option. Filled with different blade and skirt color choices as well as different blade color, size and shape options, this one lineup of baits covers a wide spectrum of the spinnerbait game.
The diameter of the wire used with this bait is proportionate to the blade size, finding that sweet spot that allows for maximum vibration and flash while also ensuring the integrity of the blade arm for as long as possible. A strong Owner hook, solid swivel and components and a reasonable price make the Catalyst a good buy. If you give one a try yourself, you may find that the Catalyst becomes your new favorite spinnerbait.