A good medium-diving crankbait is a great addition to any tackle box since it's a bait that catches fish throughout the year around a wide range of cover and prey. Especially if the crankbait is a little towards the smaller end of the spectrum of these cranks.
The Jenko CD7 is a great illustration of a bait that falls into this category. I've had a chance to fish with it a good bit lately and it has been a great producer for me. Several of the other Wired2fish guys have also had an opportunity to test it out and we all agree—this is definitely a crankbait you want to keep on your radar. From its components, color schemes, castability and action, we're all certain you'll find a use for it on your local fisheries.
Let's dive into some of the characteristics that make this bass fishing crankbait such a good choice, especially in the fall of the year.
With a body length of 2.16 inches (not including the bill) and the ability to dive up to 9 feet, the CD7 perfectly exemplifies a medium-diving crankbait with a compact profile. This style bait works exceptionally well as the fall fades into winter. But because of its size and effective depth range, it's also a lure that will catch fish year round.
It has enough wobble to attract bites in dirty water but the action is also subtle enough to work very well in clear-water situations as well. We've also found that this crankbait "hunts" quite well throughout the retrieve, which means it doesn't always swim in a totally straight line. If you really think about it, threatened baitfish rarely swim straight because they're trying to elude a predator and the Jenko CD7 does an excellent job imitating this natural behavior.
It's important to note that it doesn't blow out throughout the retrieve; it'll just kick out an inch or two and quickly return to center. So it swims straight but has a little "jump" to it throughout the retrieve.
The CD7 comes equipped with long-shank, round-bend VMC trebles made of a thin wire. This hook design pairs well with a medium-diving crankbait like the CD7. The round bend gives you the best chance to hook a fish if it swipes at the bait, the long shank ensures maximum coverage of the lure without the hooks being able to tangle and the thin wire requires minimal hooksets to slip the hook into a biting bass.
We've had some really good luck with VMC trebles throughout the years so this is a welcome feature to this crankbait. These hooks tend to stay sharp after repeated collisions with cover and it seems as if they hook short-striking bass better than many other hooks on the market. This is a big "plus" in our book, if you ask us.
At 1/3 ounce, the CD7 casts pretty well for its size. It also helps that this lure is fairly small because the smaller the bait, the less wind resistance it will encounter while being cast. So the bait will soar through the air with minimal friction and can go further.
A medium-action casting rod seems to be the best option for this particular crankbait. But if you prefer throwing a plug on a spinning rod, you can also get away with that. It's rare that a crankbait can be so versatile in regards to rod selection but again, that's another reason we've been so impressed by this particular lure.
This bait has a nice sound created by multiple rattles. It's a good in-between sound; it's not super high pitched but also not quite as dull as a loud, one knocker-type sound. Instead, it's a great marriage of the two.
It's important to pay attention to the sound of crankbaits because as fishing pressure increases around the country, the bass become conditioned to particular sounds. We really like that this rattling sound is a bit more unique, which can help fool a few more bass along the way.
The bill and body design of the CD7 come together to create a crankbait that dives very quickly and correctly. One of the drawbacks to lots of crankbaits is that they will rarely run straight right out of the pack. This tends to be a pet peeve for us because when you spend good money for a quality fishing lure, you expect it to swim straight and act how it should in the water.
Fortunately, the CD7 dives straight and runs true, even if it's reeled quickly. It will not blow out and and you're not going to have to constantly put pliers to it in an attempt to straighten its action. It's ready to go straight from the package.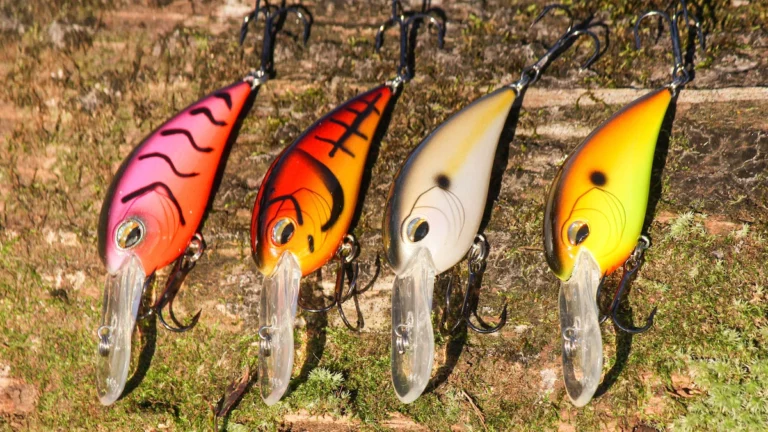 This crankbait is available in 12 vibrant colors. From bright craw patterns to chartreuse colors for muddy water all the way over to natural patterns for clearer water, there's a color for almost anything you'd want to do with the CD7. The details on these color schemes are really nice looking and certainly add a lot of realism to the presentation.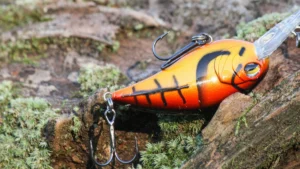 In the CD7, you get a quality medium-diving crankbait for a reasonable price of $9.99. Paired with a well-sized set of VMC trebles, your bait is covered front to back with sticky, thin-wire hooks that will slip into any fish that passes by. All of this is accompanied by a uniquely pitched rattle and a solid bill design to create a true-running juggernaut of a little medium-diving crankbait.