With cooler temperatures quickly on the way, I wanted to make sure I reviewed the Berkley Choppo before the full-fledged fall bite arrives in most of the country. It has quickly become a go-to option for me in several situations and it's a great way to catch a bunch of bass, whether they're situated on isolated cover or schooling on baitfish in the backs of creeks.
If you tie this lure up and keep it in your hand for a full day, chances are you're going to have a great day on the water. So stick with me for a minute or two and we'll go through the most impressive aspects of this topwater bass fishing lure.
Berkley Choppo is available at:
(1 of 5)
The Berkley Choppo features high-quality components
Too many lures these days have low-quality components in regards to hooks, split rings and line ties. It's a frustrating issue because if you spend good money for a bait, you expect it to be ready to fish straight from the package. At least that's how I think.
Luckily, the Berkley Choppo comes out of the package with some of my favorite treble hooks. The Berkley Fusion19 trebles with which it's equipped are some of the finest trebles I've tested in recent years. They're razor sharp and they also don't bend and flex, which is a big deal with this particular bait. Because I like to throw this bait primarily on braided line, the no-stretch qualities of braid can be pretty tough on hooks especially when you hook a big fish. These hooks, however, stand up excellently to the abuse of tough hooksets and braided line. You can expect an outstanding hookup ratio.
(2 of 5)
Spins quickly and runs true
This lure has really impressed me with its ability to swim true and straight. I've tested a lot of similar baits in the past few years and it can be difficult to find one that swims straight. The Berkley Choppo, however, starts spinning right when it hits the water and it doesn't veer to one side of the other. You can take it right out of the package and not have to tune it.
(3 of 5)
Casts like a rocket
Regardless of the size you choose, the Berkley Choppo helps you cover a bunch of water in a hurry. With weights ranging from 1/2-ounce to 1-ounce, you're able to chuck this bait a country mile. I've used it effectively chasing schooling fish in open water and also targeting isolated cover. I've found it especially useful around isolated, shallow cover because its castability allows me to stay far away from the cover so I don't spook the fish. So if there's a stump in a foot of water, I can target it without my boat or trolling motor spooking a fish that may be sitting there.
(4 of 5)
Great-looking paint schemes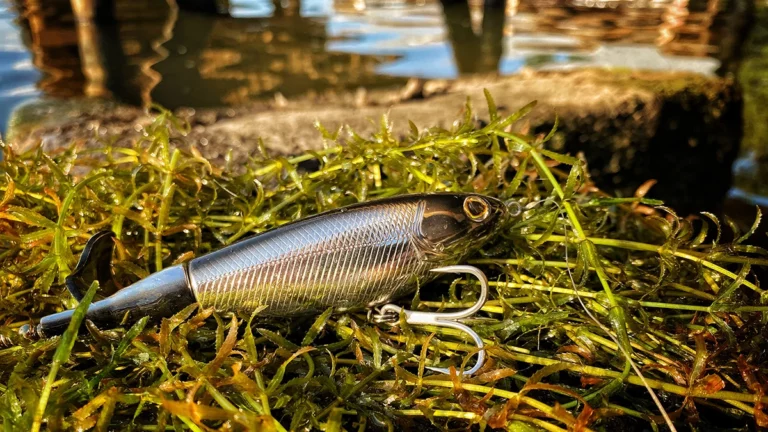 Regardless of where you fish, I'm fairly certain you're going to find a Choppo color that works really well for your particular fishery. With 16 available colors, the selection process might be a little overwhelming at times but don't let it mess with your head too much. Here in Georgia, I simply stick with shad- and bluegill-type colors. Bluegill colors seem to produce really well in the summer months and as the nights begin to cool, I'll switch to shad colors. We've had a lot of sunshine and cool nights lately, so that's why you see a shinier, shad-colored bait in these photos. It's a great option for schoolers in the evenings.
When you're fishing and happen to see a bunch of bluegill in the shallows around boat dock posts and other kinds of shallow cover, don't be afraid to tie on a bluegill-colored Choppo. Shallow, roaming bass with absolutely destroy a well-placed Choppo.
This is the time of year you should seriously consider trying one of these lures. It casts a country mile, all you have to do is turn your reel handle and get ready for a bite. The bites you get with this lure are absolutely vicious, so you're going to have a bunch of fun.
Berkley Choppo is available at: