Reading lake maps is something all anglers should do during the winter months to become a better fishermen. The truth is it's hard to consistently get on the water this time of year. Whether it's because you're chasing deer and ducks, the holiday honey-dos are piling up, or you're iced out of your favorite fishing hole; if you can't be on the water the next best option is map study.
In part one of this series, Gerald Swindle laid out some of what he believes to be the foundations of lake map reading. The Team Toyota pro pointed out details like learning the lay of the lake, committing names of creeks / coves to memory, and locating areas like boat ramps or marinas before ever hitting the water.
For this go around, Swindle discussed some of the more advanced details he focuses on when studying a lake map that are applicable whether he's preparing for an Elite Series tournament next year or you have a local jackpot derby next month.
(1 of 2)
Dial in based on time of the year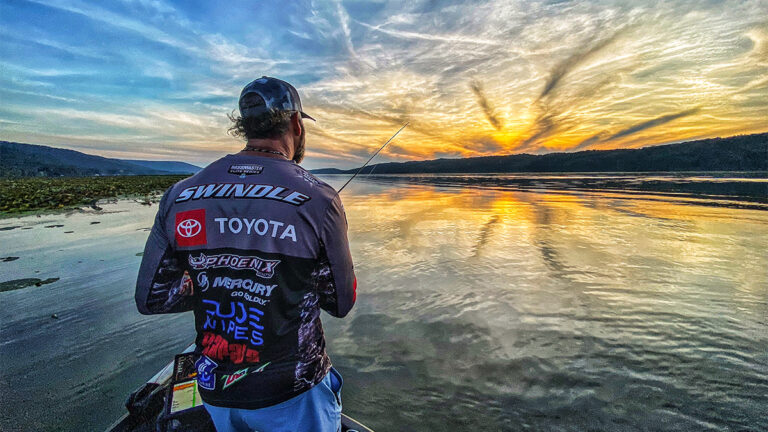 After getting a handle on how a fishery lays out, the first thing Swindle looks to do is break down features of the lake based on different seasonal patterns he expects to target, depending on time of the year. But he's not trying to pick out "magic spots" from one end of the lake to the other.
Instead he'll start with a small section of the lake and pick out a handful of places he believes to have potential, purposefully trying to avoid the feeling of being spread too thin when he hits the water.
"You aren't reading a map to find fish, you are finding places to fish," Swindle said. "Don't get so bogged down in the fine details when looking at a map. Save that for when you're actually out on the water. Find five or six places that have the general ingredients of you are looking for, based on the time of year, and start your search from there."
Over his 26-year career, Swindle has learned his map time is more productive when he keeps it simple. So G-Man focuses on established and somewhat basic details or features he has learned to target based on weather patterns and time of year.
Winter – "I'm looking for deep water. Tight contour lines indicating steep drops whether it's close to the shoreline, off the side of a point, or in a creek channel. Bass want access to deep water this time of year."
Spring – "I'm looking for flats and protected areas in the backs of coves, both major creeks and smaller potentially overlooked pockets off the main lake for when fish push to spawn. Locate a pile of these areas and think about how they'll be affected by different wind directions."
Summer – "In the summer I'm looking offshore, off the bank, whatever you want to call it. Irregularities along the main river channel, humps, and even long tapering points catch my eye and get marked down as a place to look for structure and fish with my electronics."
Fall – "You've heard it before, but fall is all about baitfish in the creeks for me. A channel winding its way through the back of a flat creek with three or four little points is the kind of thing I'm looking for. Think about predominate wind directions the area has been getting and how that might position baitfish."
We could write a 1,000-word article on each one of these seasons, but Swindle stresses to keep your map study more straightforward or universal and dial in to detailed nuances when you get to the lake.
(2 of 2)
Go fishing with a game plan
The whole purpose behind Swindle studying Humminbird's FishSmart app, Google Earth, or paper maps over a cup of coffee in the morning is simple; it gives him a game plan.
"That's the beautiful thing about map study – it helps you have a purpose when you hit the water, a game plan," Swindle explained. "That way you don't launch your boat and feel overwhelmed by the size and scale of the lake or river."
Once you're on the water you might fish through the first five areas you picked out on a map in two hours, and realize your best guess wasn't even close. In fact, Swindle will tell you that happens more times than not. Still, you're a step ahead because you're familiar with the fishery and know where another boat ramp in a different section of the lake might be.
Once you get a couple bites and start to form a general idea of what the fish are doing, map study proves extremely useful as it helps you establish and run a pattern.
"Maybe you catch a couple fish off a deep point with a jerkbait on your next trip to the lake – that's great," Swindle offered. "But if you've put in time reading maps, you should know where a few more similar points are located… go fish them! You'll either catch fish and put pieces of the puzzle together, or you might realize it was more of an area deal. Either way, studying maps will help shorten that learning curve."