I have been fishing the Bait Finesse System for most of the year for crappie and have been lucky to have had the opportunity to fish the new Cashion Icon BFS rods for several months. These rods are packed with features for the Bait Finesse System community and really showcase the craftsmanship that still a lot of folks don't know yet with Cashion rods.
Cashion makes some of the finest blanks in fishing rods and they are all made stateside in North Carolina. They are able to make extremely light, durable and sensitive blanks through their proprietary processes and we've been highly impressed with their blanks on several of their rod lines. Some of the best we've seen in fact.
With Bait Finesse Systems, you must design a rod that can load on the back cast with tiny jigs but not be so unwieldy that you can't keep precise accuracy with a little lure. And it has to be paired with a shallow-spooled reel that is designed for casting very light lures without the drag of a full spool of line. Typically you stick with 10-pound braid or less where weight and diameter of the line is of critical importance for casting performance. So making a good BFS rod is not easy.
Bait Finesse System is a popular finesse approach to fishing for bass, trout, panfish and recently crappie. And for crappie fishing right now, I really feel like there are only two names right now for BFS and those are Cashion and Jenko. The Cashion Icon BFS rods were designed with throwing ultra light bass lures like light ned rigs, micro jigs, small crankbaits and rip baits.
Here's more about the Icon BFS rods.
(1 of 6)
Two rods for all BFS applications
Cashion designed two rods for BFS in the Icon Series. The first is a 7-foot light power rod with a fast action. And the second is a shorter 6-foot, 10-inch medium light power with fast action. The former will throw 1/16 ounce jigs well. And the latter is rated more 1/8 ounce jigs but I've fished a lot of 1/16 ounce jigs on it well. I like the casting distance I get on both rods.
I've been fishing the Icon BFS rods paired with a Tsurinoya Dark Wolf Ultra or a Shimano SLX BFS reel. The 7-foot model loads well but I actually have been preferring the load on the 6-foot, 10-inch rod for crappie fishing.
(2 of 6)
Sensitive and Light ICON Blanks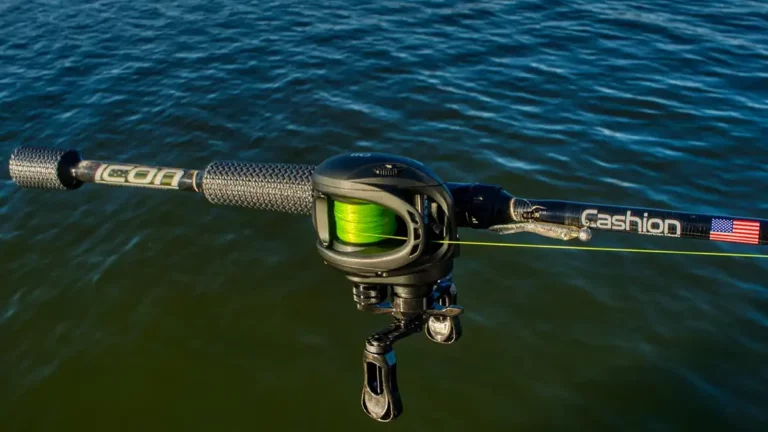 Cashion created some of the finest blanks in their Icon series. So these new BFS rods are on a very sophisticated platform. The rods load and release with a springy, crisp action. Yet they have a ton of backbone as I experienced fighting some nice sized catfish, bass and white bass. I even boat flipped one fish nearly 5 pounds just to see if the rod could handle it. I don't advise it, but I made it through the swing unscathed.
The grips on the Icon BFS series feature the carbon weave that has come to be synonymous with Cashion. And I think some people overlook their rods because of uncertainty with these different grips. But don't let the grips throw you. They are comfortable and actually more sensitive than cork and EVA. You will be in love with these rods if you pick one up and fish with it.
(3 of 6)
Very solid backbones
I have been impressed with how well these blanks can throw very small lures but still have a lot of backbone to fight better than average fish. You can tell how the rod loads that it has a lot of backbone for being such a light sensitive rod. Often sensitive light rods with crisp actions don't have a lot of power. And powerful rods generally are a lot more muted when it comes to sensitivity and action. That's what impressed me so much with these Icon BFS blanks. You get great castability and power.
(4 of 6)
Full micro guide configuration
The Icon BFS rods feature micro guides from feeder to tip. I actually would prefer the first guide from the reel to be a full sized guide. What time I've spent fishing various BFS rods and reels. A bit larger guide yields better casting and less issues under load.
The guides on these rods are very smooth, keep the line managed well as long as you use small diamater lines. I planed with 4-pound test mono and 6, 8 and 10-pound braids from various companies including Seaguar, Varivas, and Spro. I did have some issues with the really light 6 pound braids breaking under load when I would snag a jig on brush and try to pull my jig free and the line broke at the first guide from the reel.
So that's why I said I would prefer a larger guide there or stay in the sweet spot on braid at around 10 pounds. After figuring that out, I've had no issues since with the rods.
(5 of 6)
Great bite detection and bait control
I've caught a lot of fish on these rods since late spring. Like I said I've caught bluegill, redear, white bass, yellow bass, catfish, largemouth, smallmouth and both black and white crappie on these rods. If you get into BFS fishing you will find that you catch a lot of species using small lures that look extremely natural.
But for me these rods excel for bass and crappie. Micro jigs have been my favorite lures to fish on these rods. Tiny swimbaits, spy baits and rip baits are fun too. They cast so well and you have such precise control on your bait. A lot more than spinning rod setups I believe.
(6 of 6)
Great power to swing big crappie
I have swung all but a few crappie weighing more than 2 pounds on these rods. I've swung a few 3 pound fish and one between 4 1/2 and 5 pounds. I am probably most impressed with the blanks. The rods are extremely light. They make the lightest pickup from a fish perceptable. And that's what you want in a high end finesse rod.
To learn more about the Cashion BFS rods, visit Cashionrods.com.