The 13 Fishing Inception G2 Casting Reel is one product in the recent collaboration between 13 Fishing and 2-time Bassmaster Elite Series Angler of the Year Gerald Swindle. Swindle's passion for creating quality gear at an affordable price was the driving force for 13 Fishing to design and build rods and reels that he'd feel confident competing with on the Elite Series, without breaking the 150-dollar mark per unit. That was the goal, let's see how they did.
WELL BUILT FOR THE MONEY
We published our review of the 13 Fishing Meta Casting Rod recently, after taking a few months to put it through the wringer. That rod was paired with the reel up for review today, and both performed really well for the money. Again, these products are available for $150 each. It's a tall order in 2023 to build a quality rod or reel for that price, but 13 Fishing did both with these two.
They can't quite hang with the rods and reels topping $500 apiece, but they're 85 to 90 percent as good as any of those high dollar models. And considering you can buy them at a rate of 3 to 1, these are solid options for the arsenals of average and even elite anglers, as Swindle has proven by using both on tour all year.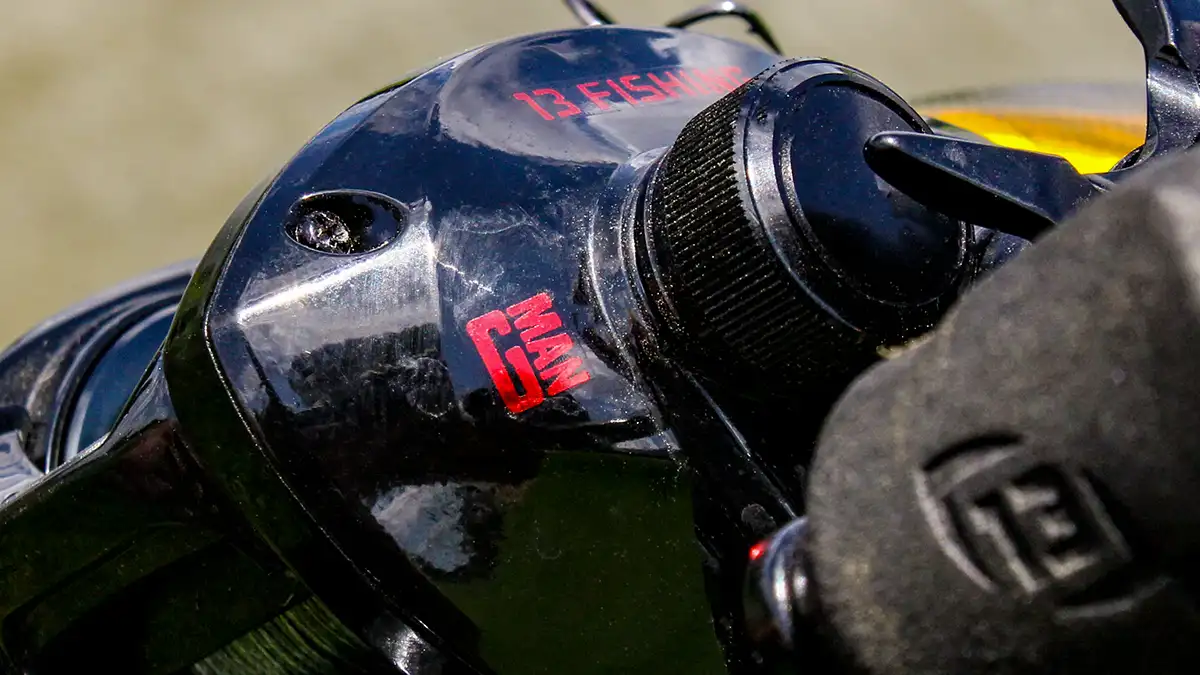 SPECS ON THE G2 CASTING REEL
The Inception G2 Casting Reel comes in three gear ratios, with a right and left hand model in each. There's a 5.3:1 for big crankbaits, a 6.6:1 for anglers who like to use their reels to control the pace of their slower moving baits and a 7.3:1 for a good all-around option.
The 5.3:1 weighs a touch more at 7.2 ounces, compared to the 6.6 and 7.3 which weigh 6.9 ounces. This is because the duo saw fit to add a slightly longer handle to this reel (95 mm vs 90 mm) to help winch big baits and bass in. And they swapped out the Ti Armor Aluminum Drive Gear for a H.A.M. Hardened Brass Drive Gear.
Here are the other specifications of the Inception G2:
HD Aluminum Frame
Arrowhead Line Guide System
Alert Drag Clicker
Beetle Wing Rapid Access Side Plate
Integrated Hook KeepR
22lb Bulldog Drag
EVA Tech Handle Knobs
Aluminum Star Drag
Gen II Hard Anodized Worm Gear
Low Friction 6-Way Braking System
8 Total Ball Bearings
OTHER COOL FEATURES
I like the integrated bait keeper on the face of the reel. This is a pretty cool detail that will help store your baits a little more securely. I typically like to use the bait keeper on front of the rod itself, if there is one. But sometimes there's no bait keeper at all, and other times the bait keeper is on the back of the rod, running the risk of the baits easily hanging in the carpet of the boat.
The EVA foam reel knobs are a nice touch too. They have a comfortable shape to them and create a solid point of contact between the angler and the reel. The drag of this reel also clicks as it is pulled, similar to what you'd hear form the drag of a spinning reel. This was a little odd at first, but it actually helps you know if your drag is slipping or if its releasing smoothly, so that you can quickly backoff of it or tighten it up as needed.
BEETLE WING RAPID ACCESS SIDE PLATE
My personal preference when it comes to the braking system of a reel is for the controls to be exposed. Think of something like what you see on a lot of the Lew's baitcasters. These dials are a little easier to adjust quickly. But, they can get bumped out of place and bogged down by crud. So there is something to say for an internally controlled braking system.
Of the reels that I've used that have an internal control system, I like the one on this reel the best. The side plate can quickly be spun out of the way by the simple flick of a switch. And once you're inside the reel, there's a clearly labeled braking system that allows you to click between settings to precisely dial in this reel for each bait you use. Once you've set the brake, you can spin the side plate back into place and lock it in. It's really a well designed and simplistic system.
OTHER THOUGHTS ON THE INCEPTION G2
The 13 Fishing Inception G2 Baitcaster is a quality, well-designed reel for a competitive price. There are a lot of detailed features packed into this reel, down to the intentionality of not making a one-size-fits-all handle for all three available gear ratios. At $150, this is a solid selection for a novice to intermediate angler looking to level up his gear, as well as a perfectly capable product for a tournament angler at any level.
The braking system is easy to reach and easy to adjust. The components and materials are light and strong. Putting this reel up against the best reels on the market regardless of price, it gets a B+. Against comparable reels in its price range, it's on par with most of the better ones I've tried.