Check out this rock solid large fish finder mount for the bow of your boat for mounting two big displays on the front of your fishing boat.
(1 of 8)
Over Under Mounts Clean and out of way
I had the Precision Sonar Over Under Mount installed back in February of 2020. For these types of products I like to use them for a good while before I talk about them because you really want to be sure they hold up. After running them more than a year, I can say these are rock solid super well thought out mounts for your high-end fish finder displays.
This mount attaches to the front plate on my Phoenix. It's got a backer plate on it for rigidity to help support they weight as the front dash would not do well on it's own supporting the weight of two graphs.
(2 of 8)
Independent Adjustable angles
I was unsure about running two graphs up front but I have really enjoyed it thanks in large part to how they are mounted on this Precision Sonar Over Under Mount. The units are off the deck and angled independently to cut down on glare and viewing angles. I like that I can adjust each one to be at a good angle while standing, sitting or even viewable from the console while I run.
(3 of 8)
Excellent cable Management
The mounts are very well thought out with a large hole for wiring, that keeps everything cleanly out of sight and still easy to get to. The mounting hardware is heavy duty but the wires were easy to get in and out and installed.
I did have to be calculated getting large plugs through first because as you pass more wires through the opening, space gets more and more limited.
(4 of 8)
Heavy Duty 1/4 inch thick braces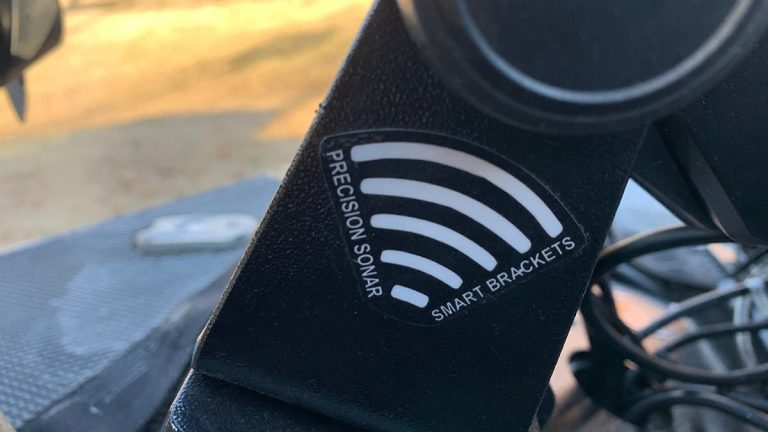 This are not flimsy, thin aluminum arms on the Precision Sonar Mount. These are heavy duty 1/4-inch thick aluminum arms to easily support your full size fish finder displays.
(5 of 8)
Solid, adjustable and tamper proof
They use heavy duty bolts and thumb fasteners to let you adjust one side while making the other side very difficult to remove to keep them tamper resistant.
(6 of 8)
Wires out of the way
I love how the mount sits, where it sits and how well I can manage cables around it like for my trolling motor easily. Having a clean front deck is a big deal for me. I'm a big guy and don't want anything to trip me up when I'm fishing up on the nose of the boat.
(7 of 8)
Super clean and out of the way
The Precision Sonar Over Under Mount really made using two displays enjoyable this past season. They are heavy duty, well thought out, and make for one of the cleanest, strongest setups you can have on the bow of your boat.
You can find Precision Sonar mounts at PrecisionSonar.com
(8 of 8)
Solid Mount for more of these views
I've caught a ton of fish with the Garmin Electronics on my boat this past year and look forward to setting up a new boat in the coming months with new Precision Sonar mounts.