I've been using a simple little trick to store small terminal tackle like crappie jigheads or terminal tackle for a specific technique during a certain fishing season like flipping hooks, weights, pegs and beads when I'm flipping when the water is in the bushes. I find that when I'm doing things like crappie fishing around brush and hanging jigs and having to retie a lot, it's a pain to sit down and get my stuff out and retie and put it all away. With this little trick, I throw it in my pocket. And then just pop out a jighead and retie while standing on the front deck. It's also a super handy way to carry stuff when bank fishing.
Check out the different uses I've found for this fishing tackle storage hack in this gallery.
(1 of 8)
A simple effective hack for storing small tackle
You might already recognize my unique storage packs. I separate jigheads out by size because usually when I'm fishing, I'm pretty locked into one size and just need that size handy. Sometimes I'll keep two packs in coat pockets to quickly change back and forth. Then I just simply write with a marker on the sides and tops of the packs what's in there. 
(2 of 8)
Especially if you love Tic Tacs
 For those who haven't recognized these containers they are the bulk Tic Tac containers you can buy at the grocery store or some convenience stores. I'm a Tic Tac addict, so I always have some in my truck. I'm on the go a lot and have a real pet peeve about bad breath. But I ended up with several of these containers and always thought there had to be something I could to store some small fishing items. 
(3 of 8)
The label peels off easily and you have a clear container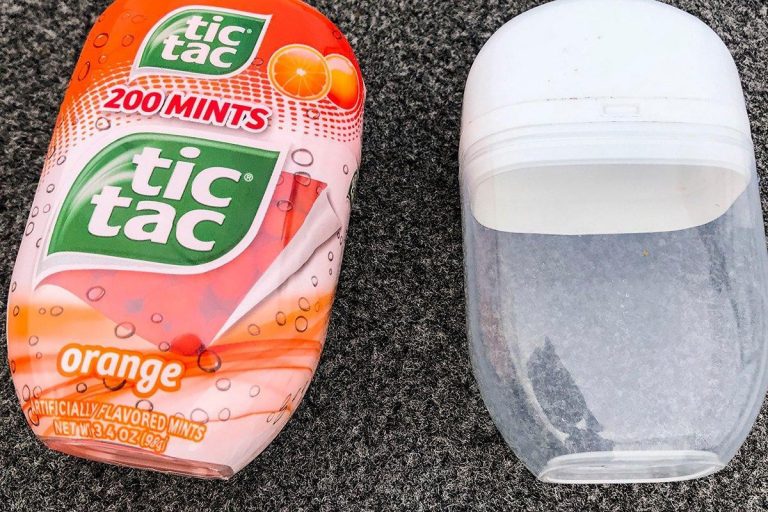 The best part is they turn into clear reusable containers quickly and easily. The plastic wrapping tears off easily, and the plastic containers are very clear. You can easily tell in a glance what is in each container. If you have several similar items in there you can just write on the sides with a permanent marker. 
(4 of 8)
It has a large opening for filling or picking a color
The little containers are pretty hand because they have both a large opening for filling them up easily with lots of tackle. But you can also pop it open and pick out certain items like a specific color jighead if you get on a hot color or bite. 
(5 of 8)
Or a small opening for just one small item at a time
 The small opening is nice because you can shake the container and get a single jighead or weight to come out easily and quickly usually. 
(6 of 8)
I even use velcro to make an easy in boat storage method for them
Lately I've been playing with Velcro sticky tape. Taping one side to the wall of my storage compartment and the other side to the back of the Tic Tac container, I can mount these in my boat and then just pull them off and stick them in my pocket while I'm fishing. I'm still playing with this idea and would love to hear some other ideas one how to use these like this.
(7 of 8)
And they go into my crappie tackle bag easily
Most of the time I just throw them in my tackle bag or pocket and hit the water. I like that they hold a lot but don't take up too much room. 
(8 of 8)
Simple and effective
I like this simple storage hack because I can see when I'm getting low, keep the tackle sorted by size or color or however I choose. But I also found an added bonus. Jigheads will dull in regular containers. These containers are air tight and the jigheads seem to stay looking new longer and seem to keep the water out better. So there is a simple little trick that I hope makes storing little fishing terminal tackle a little easier.