We're talking best catfish rods today and we have several rods to share in this one as well as how catfish rods came to be and how much the catfish rod category has exploded in the last 10 or so years. Now there are so many good options for catfish anglers and most of them are at really great price points. So you can get a powerful strong catfish rod with the right amount of power and flex to keep a big cat hooked up regardless of where you fish. We'll also talk generally about what to look for in a good catfish rod and why certain criteria matter in the best catfish rods today.
OUR LIST OF BEST CATFISH RODS
These catfish rods are some of the best options based on price, durability, strength, components and functionality. You can certainly pay more or less for a catfish rod.
BEST VALUE ROD – Ugly Stik Catfish Special Rod
The Catfish Special line includes four rods from 7 feet to 10 feet in length with Medium Heavy powers and moderate actions. These rods are two piece rods save for the 7-foot model. The rods feature Ugly Tech construction that is a graphite fiberglass blend to give the rods incredible strength and flexibility. The shrink wrapped rubberized full grip handles are comfortable and the rods are light relatively speaking compared to other rods. They are a great value given their strength and durability at $59.
BEST VALUE ROD – Daiwa Beef Kitty Rod
The lineup of Daiwa Beef Kitty Rods includes 7 rods with 5 of those being spinning rod models. The rods come in sizes from 9 feet to 12 feet and can throw weights up to 6 ounces. These long rods are great for bank fishing and long casting as well as trolling. They are a great value with large heavy duty full grips, locking metal reel seat, with powerful stylish blanks. They handle weights from 1/2 ounce up to 6 ounces and a wide range of big line sizes. A lot of rod for $59. See more at https://daiwa.us/products/beef-kitty-catfish-rods.
MOST DURABLE ROD – Catch the Fever Hellcat Rod
The Catch the Fever Hellcat rods offer incredible, power, castability and most importantly durability. They built these to withstand hell and keep pulling and swinging big catfish into the boat. These rods come in both spinning and casting models at a 7-foot, 6-inch length for all models. But they offer 4 rods in both styles from medium to extra heavy rods. So you can pick the power you want and feel confident this rod will handle any abuse you can throw its way. The medium rods can handle 1 to 6 ounces of weight on them for casting while they extra heavy rods can handle a whopping 20 ounces of weight on them without compromise. They are pretty hush hush on how these rods are built but rest assured they are high quality high durability rods. The rods are at the top of the price range for most catfish anglers at $139.
BEST BUMPING ROD – B'n'M Poles The Bomber Rod
This 7-foot, 6-inch casting, one-piece rod features a S-Glass/Carbon composite blank for strength and sensitivity. The Medium action and medium power make this a very fun rod to fight big catfish on and it's a tremendous rod for trolling, especially "bumping" which is simply bumping your bait backwards in current as you nose into it with the bow of the boat and back troll with your lines out behind the boat but moving that direction and you simply lift and let your bait slip and bump along the bottom with the current as you drift backwards. These rods excel at this precision controlled drifting that is very popular for giant catfish on the big rivers. The rods also feature double hook keepers, polymer handles, stainless steel beefy guides, a hi-viz tip, double-locking aluminum reel seat with an engraved American Flag. This rod can handle trolling, bumping, drifting, high floating, suspending and more. It's a super versatile fun rod for catfishing at $89.
MOST VERSATILE RODS – B'n'M Silver Cat Elite
The 7 1/2-foot 1-piece Silver Cat Elite features E-glass composite material in the blank, which provides extreme strength and durability for fighting and landing giant catfish. Designed for suspended drifting as well as anchoring, the stiff backbone and faster tip detect bites more clearly and deliver really solid hookups on big cats.
We love the unique action of the Silver Cat Elite. That coupled with the high quality X-Grip handle and aircraft grade aluminum reel seat and locking nuts provides extra grip and improves rod aesthetics while keeping your real locked down in a big fight. These rods feature medium heavy actions and can handle lines up to 50 pounds easily. All for $84. One of the best most versatile rods in the lineup. Suspend drifting, anchoring, bank fishing, tailwaters and more, this rod can get it done.
BEST CHANNEL CAT ROD – Ugly Stik GX2
The Ugly Stik GX2 Spinning Rod retains all the strength and reliability that Ugly Stiks are legendarily known for. These GX2 spinning rods, however, also have new features built into them. The Ugly Tech construction combines fiberglass and graphite in exactly the right proportions to yield a blank that is sensitive, lightweight and virtually unbreakable. The 1-piece stainless steel inserts offer strong performance and effortless execution while fighting catfish. We really like chasing channel cats with the GX2. The 7-foot MH rod is awesome. If you get the Ugly Stik Catch Ugly Fish combo you get a size 50 reel on it with 20-pound Stren to fight big channel cats all day for a low price of $59. But the combos have been on sale recently for $44. The rod itself is usually $49 so that's a heck of a deal on a great everyday catfish rod!
WHAT TO LOOK FOR IN A CATFISH ROD
Since catfish often feed tentatively, tasting the bait as they approach, a rod with a softer tip generally is best. It telegraphs those initial nibbles to the anglers, while allowing the fish to mouth the bait and move off without feeling too much resistance. Some resistance is okay, the reason why circle hooks work so well. But too stiff a of a rod can cause them to drop a bait. Manufacturers generally rate their rods for action and power. We sometimes confuse those attributes, but their differences is important: Action describes the bend of the rod under pressure while power relates to the strength of the rod. Power ratings are based on how much force is needed to develop a bend in the rod. Ratings run from Light to Medium, Medium-Heavy, and Heavy, even Extra-Heavy for some trophy-fishing situations.
Action, on the other hand, ranges from slow (very flexible on he upper third of the blank) to moderate, then fast and extra-fast, depending on how far down the blanks the rod bends. Fast-tip rods aren't applicable to most catfish situations. Extra-fast blanks telegraph super-light bites, but, but break readily under too much pressure. When scouting for a rod, check manufacturer specs listed in a catalog or website. But note that companies vary in their rating methods, so not all "medium-heavy" rods, for example have similar power or rod flex under pressure. It's ideal to examine a rod in a store or check out the one used by a fishing buddy or guide so you can feel it and discuss why it works.
Most rods designed for artificial lures have fast tips, while those for fishing natural baits have slower actions, where the rod bends down the upper third before meeting strong resistance in the butt section. Soft-tipped rods help lob delicate baits like stink bait, cut bait, blood bait, as well as larger live baits intended for flatheads. A flexible tip absorbs casting energy and prevents baits from flying off the hook on the cast, a major waste of time and bait. But it's important that the lower half of the rod blank is powerful enough to put pressure on a big fish in deep water or fast current.
When using circle hooks, always allow a fish to pull against the rod as the hook finds its mark. At times, catfish may hook themselves when pulling against a rod with moderate action. Movement of the tip also alerts the angler that success is at hand. Rod with softer tips work well when you're casting a bait and placing a rod in a holder, whether from shore or from a boat. Cast out, then engage the reel and wind up most slack line, leaving just a little belly in the line. When a fish bites, the rod starts of bend as it move off. Allow it to pull down for a few seconds before softly raising the tip, which should set the circle hook. When fishing for big blues with large cut baits, circle hooks work well, but you'll want a stiffer rod than for creek fishing since you have to exert greater pressure to set the hook in the tough jaw of a big blue, especially in deep water.
POWER CATFISH RODS
Exceptions occur, of course, such as when we fish rivers from a boat by tight-lining, drifting, or back-bouncing in deep water, where stiffer tip actions are needed to feel bottom contours and detect bites from a distance, then be ready to set the hook. A stiffer tip section is helpful when blue and big channel cats are aggressively taking baits, which often occurs in reservoirs where cats feed heavily on shad, blueback herring, and skipjacks.
Anglers after giants may use long and powerful spinning rods to apply controlled pressure on a big one, while not risking tearing out the hook, similar to the way salmon anglers use them to subdue feisty 50-pound kings. When working closer the the boat, though, a shorter and stiffer rods allows you to set quickly and get a big fish out of bottom cover and headed to the surface before it can wrap up in submerged timber, stumps, or brush piles.
Although catfish rods don't have to be high-tech, there's a need for a wide variety, given all the locations we fish. At one extreme, there's a need for 12- to14-foot spinning rods designed for surf-fishing striped bass and big red drum, if you're shore-fishing for big blues in spring, when they cruise shallow coves to eat gizzard shad. These rods aid casting distance when you want to reach creek channels or expansive flats. Getting the most from a long rod requires practice to cast effectively with your rigs.
On the flip side, in back-country creeks, a medium-heavy walleye rod can deliver your bait and play out channel cats up to 10 pounds or so comfortably and effectively. Anglers who travel for tournaments or to try new waters may have a garage full of dozens of rods, challenging the bass guys. On the other hand, people who fish well known local waters have honed their tackle selection carefully and don't have to tote too much stuff. That adds to the attraction of catfish–its basic simplicity and fun factor.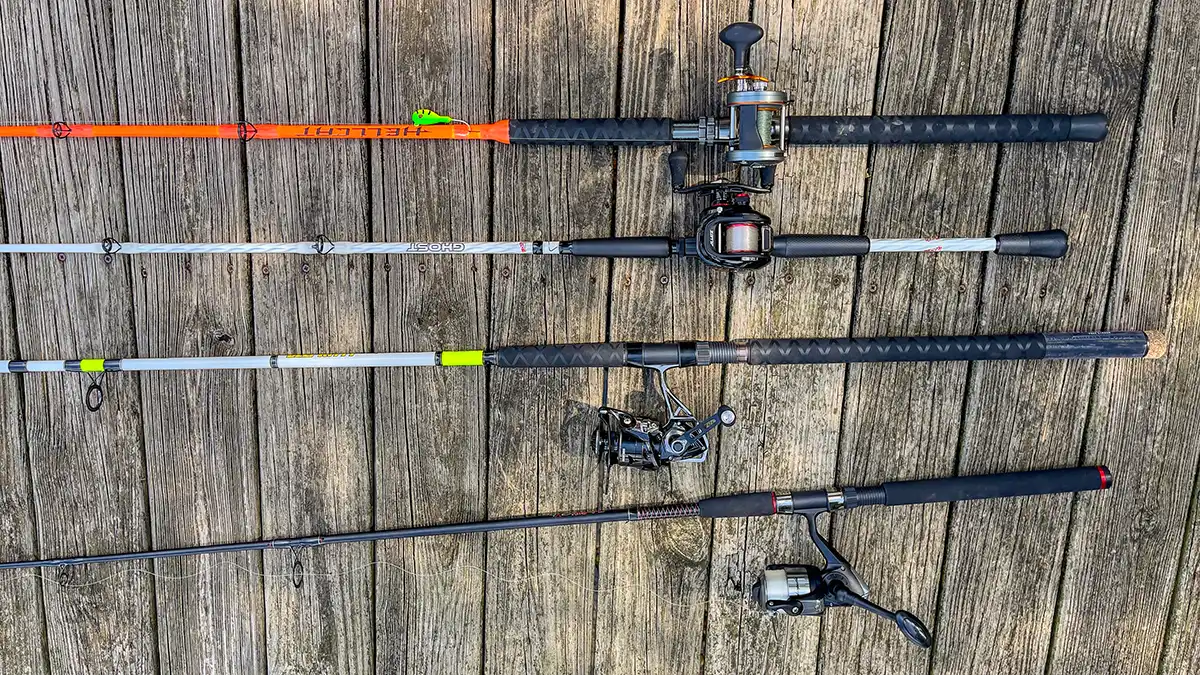 CATFISH ROD BRANDS
Today, many other rod makers offer rods designed for catfishing, and most use some variation of the original Howald process, producing models that are strong and sturdy and as sensitive as possible. Companies making catfish rods worth checking out include the following:
All of these companies offer some good models generally priced between $40 and $170. Even Amazon has got into the catfish act with their exclusive Catfish Pro Tournament Series, while Ugly Stik continues to carry the banner with their Catfish Specials.
CATFISH ROD HISTORY
For many years, catfish anglers used rods designed for catching other large game fish—striped bass, saltwater fish, muskies or salmon. After all, fishermen had been using primitive nets and traps made of straw to catch catfish for centuries before Europeans discovered North America's abundance of fish. Folks have used limb lines, bush hooks, and set lines for countless decades, as we read in the tales of Mark Twain and others.
So when Shakespeare released its nearly unbreakable Ugly Stik in 1977, catfish anglers across the country took notice. They wouldn't dream of toting a high-modulus graphite bass rod to the creek or putting it in a rod holder. Face it: For catfish duty, a rod has to be tough enough to withstand the power of the whiskered ones and stoutly built to last in the types of environments we hunt for cats.
The characteristics of the Ugly Stik rod that made it such a success involved the way it was built. Shakespeare used the Howald process, developed by Dr. Arthur Howald, for its "Wonderod", and modified it slightly for the first Ugly Stiks. The technique involves an internal spiral core and parallel fiberglass fibers impregnated with polyester resin and cured in an oven. This provides great strength.
Ugly Stik rods are still made this way, but materials and methods have been tweaked as new technologies have come along. Along the way, Shakespeare based their promotions on the fact that Ugly Stiks could be bent into a circle without snapping. The construction process yields a rod that's sturdy and stiff, yet flexible. Newer models are also built using graphite in the center of the fiberglass wraps to increase sensitivity.
You can find a good strong catfish rod that fits your personality as well as where and how you like to fish for catfish. Gone are the days of having to settle for rods made for other fish.