Solunar
Tables presented by BassForecast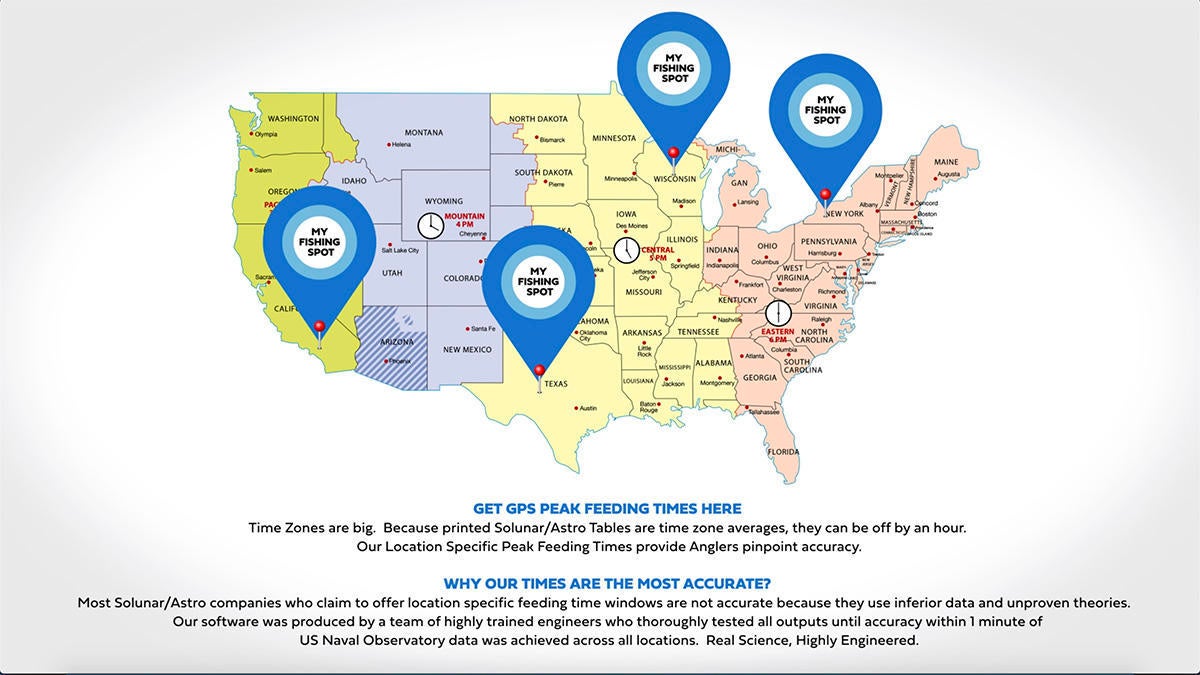 The BassForecast location-specific peak feeding times are more accurate than printed astro/solunar tables. The BassForecast app can predict and document the exact major and minor fish feeding times for your exact locations where other printed tables could be off by hours based on locations in a certain time zone.
Type your location below and choose it from the drop down list to see your BassForecast major and minor feeding times and fishing weather data!
About BassForecast
Knowing the weather trends will help you in your bass fishing. We've provided this page from the BassForecast app for anglers as a resource to check important information about today's fishing weather and fish feeding times related to environmental events like sunrise, moonrise, sunset, moon phases adjusted accordingly for your exact location.
The BassForecast app takes it one step further by feeding all the weather data and trends into its algorithm to more accurately give you the best options for fishing. It can feed all the weather data into its system and then recommend the days, times, locations and even the fishing lures you should try to catch bass on your next trip. These robust features are available on the full BassForecast app.
So if you're limited on when you can fish or want to plan a fishing trip according to the best days coming up, then we highly recommend you download the app to your mobile device so you can look 10 days out into the future to see the best ranked days and times to fish based on weather trends, moon phases and feeding times as well as get additional fishing tips on where to fish and what lures to use within the app.
Additional Directions
At the top of the BassForecast page, you will find a search bar for a city and state or zip code to be entered. To adjust the forecast to your location, simply type in your city, wait for it to populate the list, and then choose your city from the list. Or type in your zip code, wait for it to display your city from the list and choose.
If you type in something and hit enter, it will take you to a blank page. Type in where you want to adjust to and wait until the app displays your city. Then choose it from the list to get your adjusted forecast.