There are so many soft-plastic bass fishing toads out there these days that I've lost count. I feel like they're becoming even more popular in recent years and if you're a soft-plastic manufacturer right now, you pretty much have to have some kind of toad-type soft plastic in you lineup if you want to compete.
I've run across a little problem, however: Many of them aren't any good and I think that's why the consumer rarely hears about them. People will try a pack of 'em, not like them and never buy them again or mention them on social media.
I've spent a few months testing the Tackle HD Croaker and it's a legit option if you're looking for a soft-plastic topwater toad. Its smaller size made me a little hesitant at first but after lots of casts and hooksets, I can comfortably say that it's a big-time producer in certain situations.
Hang with me and I'll explain exactly what I mean by that.
(1 of 4)
Small in stature but casts like a missile
The Tackle HD Croaker only measures 3 3/4 inches long which, in my opinion, is fairly small for this type of bait. I'll readily admit that I raised an eyebrow when I first took one out of the package. Whenever I'm fishing soft-plastic toads, I prefer to stay way off the cover (normally grass or underneath boat docks) so I don't spook the fish. I was sure that its diminutive stature was going to impede that strategy.
Much to my surprise, the Tackle HD Croaker casts excellently. It's dense enough to add enough weight to your back cast to allow for some impressive casting distance. I'm very impressed by this and honestly didn't expect it. Don't be afraid of its small size. It still casts well and helps you show highly pressured fish something they don't see everyday.
(2 of 4)
It has helped me extend the topwater bite
The webbed feet of the Tackle HD Croaker give this toad a very unique action that has seemed to have helped me extend the topwater bite. Early in the mornings and late in the evenings, it's no secret that warm-weater bass like to move to the shallows and ambush unsuspecting prey near the top of the water column. That's how most folks catch their biggest fish of the year in hot weather. The problem is, however, is that lots of popular topwater options are a bit too obtuse and loud to the fish in high-sun conditions. They don't always want a loud buzzbait or topwater popper chugging over their heads.
This particular toad, however, offers a really nice balance in regards to water displacement and noise. It's louder than the very popular Zoom Horny Toad but it's also quieter than many traditional paddle-legged toads. Throughout my testing, I may have started with a more aggressive-style toad in super lowlight conditions but under higher skies, the Tackle HD Croaker seems to get a few more bites than other options. So right when the topwater bite starts to go downhill, I'll pick up this bait and grind out a few more bites that I might not have otherwise had.
(3 of 4)
Excellent hook penetration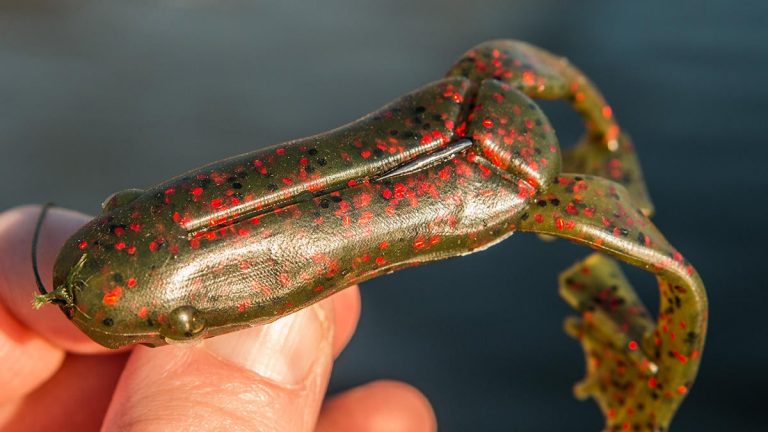 A lot of the soft-plastic toads I've tested throughout my career have been a bit too thick for my liking. The idea behind these particular designs makes sense because the manufacturers want to make sure they're thick enough to provide enough weedlessness in thick cover. But in my experience, sometimes it's overdone and the extra density can inhibit your hookset and negatively affect your hookup ratio.
Tackle HD did a really nice job finding a happy medium in that regard. it's thick enough to allow you swim it across super-thick cover but it's also thin enough to provide an outstanding hookup ratio. In my experience, if a bass blows up on this bait, it's coming inside the boat 99 percent of the time.
(4 of 4)
Holds up well to multiple bites
I'm a very frugal person and if you ask any of my buddies, dust blows out of my wallet any time I open it. I appreciate a good value and when it comes to my fishing gear, I'm the same way. Heck, I've been wearing the same pair of $30 flip flops for the past five years. If it ain't broke, I ain't gonna fix it.
The Tackle HD Croaker does hold up well to a lot of bites. I tossed a white-colored one around during the shad spawn and was getting a bunch of bites each morning and sure enough, each bait held up excellently throughout all of the shad spawn mayhem. After about 3 or 4 fish catches, the nose will start to tear in most situations but heck, at $4.29 for an 8-pack of baits, I can't complain at all.
Grab yourself a 3/0 heavy-wire offset EGW hook, thread a Tackle HD Croaker onto it and start burning through shallow cover and you will absolutely catch fish. As long as the water temperature is over 55 degrees, you can expect some big bass on this bait. If you're a shallow-water angler… this might be one you want to have.
The Tackle HD Croaker is available at TackleWarehouse.com.