I've spent a lot of time testing the Lew's Custom Speed Spool MSB Casting Reel lately with a number of different bass fishing applications. It has been a great time to test this reel, as the wind speeds have been pretty crazy in my area. The best way to test a baitcaster is to throw light lures in heavy winds; and that's exactly what I've been doing. Here's what I think you should know about this particular reel..
(1 of 7)
Line indicator is an excellent idea
On the face of the double-anodized aluminum spool tension knob, you'll see the Speed Dial line indicator. It's one of those simple things I wish I would have thought of. Whether you're using fluorocarbon, monofilament or braided line, you can easily turn that dial to reflect the diameter of your line. If you're someone who has a lot of combos in your rod locker or man cave, it's a great tool that helps you quickly identify what's on your spool. There's no need for label makers or little notes in your iPhone to keep track of things. 
It's easy to operate and you can easily turn it with your fingernail. It will not turn the spool tension knob itself and even after lots of banging around in my boat and truck, the indicator is still set exactly where it needs to be. 
(2 of 7)
The handle knobs are a practical addition
This reel comes equipped with Winn Dri-Tec handle knobs. If you're used to the paddle-style knobs in previous Lew's models, these may take you about a half-hour to get used to, but you'll really like them. Water and fish slime haven't been an issue throughout my testing. I can unhook a fish and immediately make another cast without drying my hands on my pants or t-shirt. 
I also like their solid feel while executing hard hooksets with bottom-contact presentations such as jigs or Texas rigs. My hand will sometimes slip and bloody my knuckles on the drag star on other reels, but these grips give me a solid connection point. 
(3 of 7)
Speed Keeper will keep the scratches to a minimum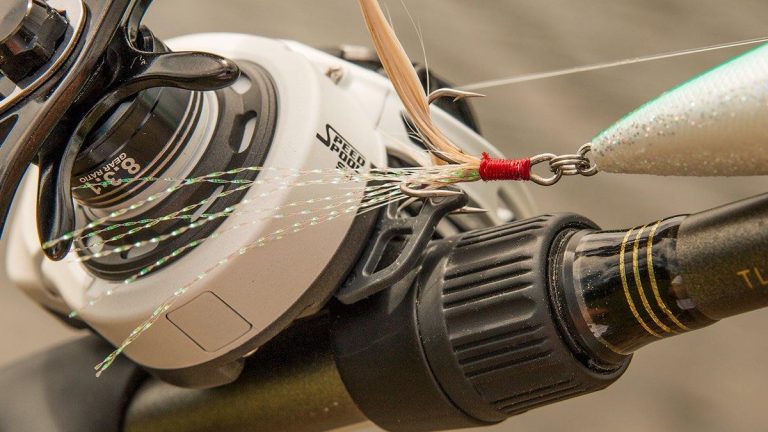 This Speed Keeper system allows you to hook your treble hooks and worm hooks to the back of the reel, away from the body of the reel. I can see this being a big plus for those who like to sell their used reels after a few years because it will eliminate hook rash and drastically improve your potential resale value. When the Speed Keeper is in the stowed position, you'll never even know it's there. It's another simple, yet practical addition that just makes sense. 
(4 of 7)
Externally adjustable Magnetic Control System
This model is designed with an externally adjustable Magnetic Control System, or MCS. Essentially, it uses an external click dial for setting the magnetic brakes, but it also has four individually disengaging, disc-mounted internal brake shoes that operate centrifugally. It sounds fancy, but it all boils down to castability. This is not a temperamental reel whatsoever. There's no need to constantly mess with your settings, even after a drastic change in lure weight. You can go from skipping a weightless worm to pitching a heavier Texas rig with just a few quick clicks. 
(5 of 7)
Ultra low profile
This shot really demonstrates the low-profile design of this model. Lew's calls it the Super Low Profile Reel Platform and it's certainly one of the smallest, most palmable reels I've tested. Its one-piece aluminum frame and graphite sideplates make it a joy to fish with, as it only weighs in at 6.6 ounces. 
(6 of 7)
Available at Tackle Warehouse!
If you're in the market for a new reel, I strongly recommend taking a long, hard look at the Custom Speed Spool MSB Casting Reel. Keep in mind that I test a lot of reels throughout the year and most of them never make it on the website. I take my recommendations seriously and I would certainly suggest this reel for both experienced and beginner anglers. 
The Lew's Custom Speed Spool MSB Casting Reel is available at TackleWarehouse.com. 
(7 of 7)
Comfort and castability
This has been one of the best-casting reels I've ever tested, to be quite honest. I spooled it with 15-pound line and have made it a point to use small, lightweight lures throughout much of my testing. I've spent extensive time fishing weightless soft plastics and smaller topwater plugs with the Lew's Custom Speed Spool MSB Casting Reel and the results have been quite jaw dropping. 
I took this reel from the box and other than cinching down the drag, which I do with all of my casting reels, I did not touch the tension knob or external brakes. I needed to see how temperamental it is. As it turns out, I fired a 3/8-ounce topwater popper about 50 yards with essentially zero effort on my very first cast. There was no backlash to speak of, even in a stiff 15 mile-per-hour wind. After thousands of casts, I have touched the tension knob one time and I still have not experienced a single backlash to date. That may sound crazy to some, but it's the absolute truth. 
You'll notice that the worm gear is located quite a ways from the spool, which drastically cuts down on any friction as the line comes off the spool. In my opinion, that's what helps it cast so far with such minimal effort.
As you can see in this photo, this reel is also quite comfortable and easy to palm. There are no uncomfortable ridges or curves, which results in zero hand fatigue after a long day of bass fishing.