There are a lot of products on the market for bass fishing these days. But it seems as if I'm often guilty of finding something that works and then not looking any further. As the old saying goes, "if it ain't broke, don't fix it".
That's one of the things, however, that I love about my job. I'm forced to try new things. I simply can't write a product review each week on the same 5 baits I've used for the past ten years. I believe that makes me a better and more well-rounded angler.
Enter the Bruin Outdoors Paul Elias Legend Series Baitcast Reel (Bruin ELS). This is a product I would have likely never bought because I already have several reels I like. But it's a product I'm glad I got to use because it opened my eyes to a reel I would definitely recommend buying now.
Here's what I've learned about this unique bass fishing reel throughout my testing.
The Bruin ELS casting reel is lightweight with a low profile; two things I really like in a reel. I grew up fishing with those old round reels. For those who don't remember them, they were great at the time. But the first time I put a low-profile reel in my hand, it was just a natural fit as opposed to having to make those big round reels work over the years.
Understandably, most reels are low profile these days so this isn't something that really sets this reel apart so much as it is something I think Bruin did a very good job with. This reel is as comfortable in my hand as any I have ever owned.
I also really like the handle. I'm not a big fan of round knob handles. I like paddles or handles like this reel has with the kind of flattened out areas for your finger and thumb to grip.
(2 of 4)
Dual External Brake System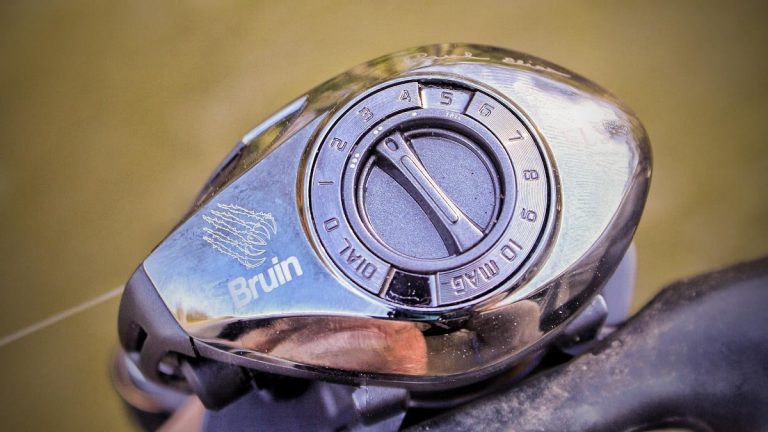 You can really dial in this reel. The ELS has a Dual External Brake System with 80 points of cast control. Bruin accomplishes this with a two-part control system on the left of the reel. There's a ring you can spin and then a dial in the middle you can turn. The dial is gauged by little white dots but actually has four positions since you can set it all the way to the right before any of the dots.
Then the ring ranges from 1 to 10 but actually has an extra click between each number for a total of 20. So 20 clicks on the ring times 4 different positions for the dial means you have a lot to work with. I was throwing a pretty heavy bait when I took this photo so I had the dial set to the third position (two dots) and the ring on 3. It sounds confusing, but in practice it's very simple and very effective.
(3 of 4)
Drag and best of the rest
The Bruin ELS also has a nice drag system. I haven't tied into any big ones in real thick stuff with it yet but from what I've seen, I don't anticipate any issues there. According to the specs on the reel, it has a Japanese designed anti-reverse clutch that is put in place to ensure the reel doesn't slip on the hookset. That accompanying the 22 pounds of drag means it's likely capable of handling most anything you can throw at it in the freshwater realm, certainly anything I'll be doing bass fishing.
A lot of the other features are a little wordy and I only ended up with two-thirds of an engineering degree, so I'm not going to even pretend to know what all they do. I just know the reel works. But for those of you who do understand the inner workings of a reel, the Bruin ELS also has an 11-bearing system comprised of 10 double-shielded stainless steel ball bearings with one zero-reverse one-way clutch bearing.
Like I said, the reel works. That's the long and short of it. It's a good reel for the money especially, landing at around $150. The Bruin ELS currently comes in 4 gear ratios and only right handed options. The ratio options range from 5.3:1 to 8:1 so there's something there for everyone… if you're right handed, anyway.
As stated at the onset, after trying out the Bruin ELS, I would recommend giving it a shot. And, there's even a little added incentive on their part. Bruin offers a no-questions-asked, 30-day, 100% satisfaction guarantee or you can box the reel up and send it back to them for a full refund. Now that's pretty impressive in and of itself.
The Bruin Outdoors Paul Elias Legend Series is available here.