I added the B&W Tow & Stow Adjustable Mount Hitch to my Toyota Tundra this past winter and moved it to my new GMC Sierra this past summer. It's been a rock solid towing accessory for my boat and truck. This will likely be the last hitch I ever buy, and here's why I say that:
(1 of 7)
Options for perfectly balancing multiple trailers
I have a boat trailer and a hauling trailer. One has a 2-inch ball receiver and the other has a 1 7/8-inch ball receiver. I used to carry around two hitches. Then one of my locks rusted stuck and I had a heck of a time getting the one hitch off.
So that had me on the hunt for a better option. The B&W Tow & Stow Adjustable Mount Hitch has lots of options. You can get it for 2 inch, 2 1/2 inch and 3 inch receivers. You can get it with small, medium, large and extra large adjustments which means you can raise and lower the ball from 3 inches (small) to 9 inches (extra large) amounts. And you can get it with 2 balls or 3 balls.
That's a ton of options for all your towing needs, made to fit a huge variety of stock and lifted tow vehicles.
(2 of 7)
Compact for being so heavy duty
I like how compact the B&W Tow and Stow hitch is. Three heavy duty stainless steel pins hold the hitch and ball in place at your desired height. The hitch itself is just barely wider than the receiver and everything tucks away nicely when stowed.
I've seen other big hitches that stuck out a foot, had attachments on both sides and just seemed like an accident liability waiting to be claimed.
(3 of 7)
Incredibly strong hardware
The 3 pins control the ball orientation and the height or drop of your B&W Tow & Stow hitch. These pins move easily in and out but are snug in their positions so the hitch isn't rattling or shifting when towing. Heavy duty cotter pins keep the stainless steel pins from backing out.
(4 of 7)
Quickly tucks away
When I want to park the truck in the garage, I used to have to take my hitch off and store it somewhere out of the way. It was always a pain because the hitch receiver would have grease and grime on it, so you couldn't just put it in your truck.
With the Tow and Stow, you pull the three pins, turn the balls around and swivel the drop tongue down and around the hitch receiver to tuck it neatly out of the way.
It's also theft proof thanks to its design. The balls can't be removed from the hitch. You can secure the hitch to your receiver with a locking pin. And then even if all 3 pins are pulled the hitch is unremovable.
(5 of 7)
Minimal profile for 3 balls and 5 different positions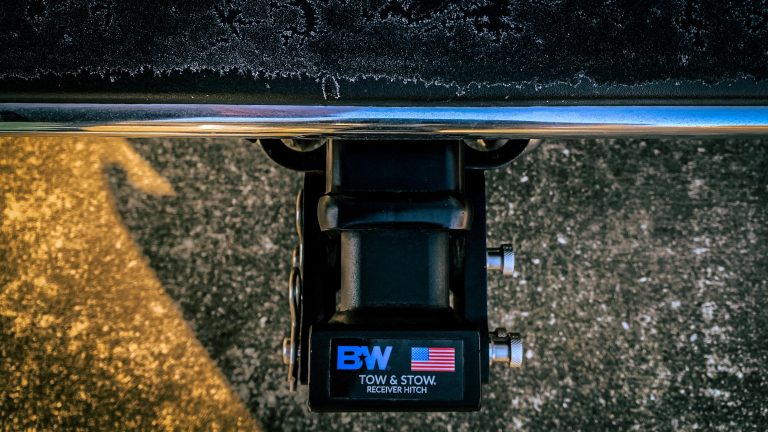 All of this adjustment and ease of stowing makes it ideal. When tucked away, I can pull into the garage and close the door and not worry about anything catching. It only sticks out past the bumper a couple inches when stowed. So it's very low profile.
The automatic car wash I use won't wash the back of your vehicle if you have a hitch on your truck. But with my Tow and Stow tucked away, I can go right through and get my truck fully cleaned.
(6 of 7)
A slick package of rugged strength
I have had the hitch on my truck now for 11 months, and it has been rock solid without the least bit of wear or tear showing. There is no play in the hitch because all of the components and hardware are top grade construction on heavy duty materials with high tolerances.
B&W bills the Tow and Stow Adjustable Mount Hitch as the last hitch you'll ever need to buy, and I believe it now. Mine still looks brand new after a year of fishing and towing all over the place.
(7 of 7)
Been a rock-solid towing accessory
If you want to buy one hitch and be done with it forever, go online to BWTrailerHitches.com and use their configurator to figure out the right hitch for your tow vehicle. You won't be disappointed.