I really like to see companies go the extra mile to be innovative. It can seem at times like there are a handful of bass fishing baits out there that companies keep inventing and reinventing. While this does often lead to better baits in a particular bait category, things can get a little stale when looking for something different.
One such company that often goes out of their way to be innovative is 13 Fishing. While they do offer some stuff that's similar to other popular bait genres, they also have some really unique stuff like their Jabber Jaw series which combines elements of a vibrating jig with a crankbait.
Today, we're going to be reviewing another interesting bait 13 Fishing has come up with, the Spin Walker.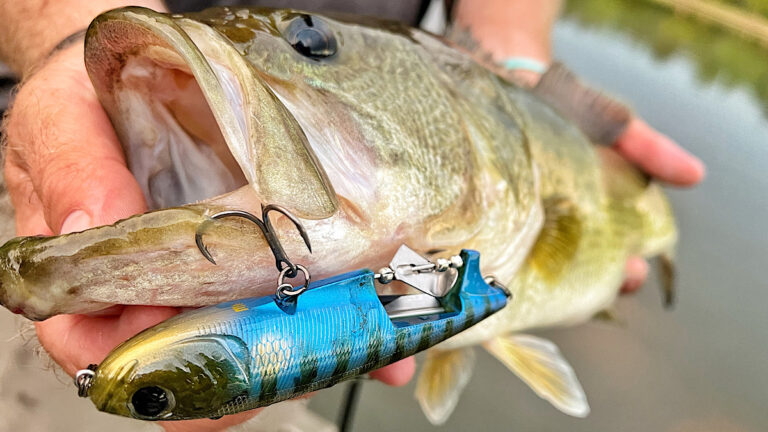 Now at first glance, I was a little taken aback by the Spin Walker. It looked like something that was created just to be different, which happens sometimes. But I tied it on and gave it a shot. I didn't really have any prior knowledge of the bait or how it worked. I thought perhaps it was meant to be fished on a steady retrieve like a Whopper Plopper or Choppo, but quickly found out that wasn't really the deal.
Then I started walking the bait (which should have been the obvious starting point given its name is Spin Walker) and found it walked really well, similar to how a Spook or Sammy would. Walking the bait back and forth, I could hear a crisp little buzz and clack as the bait made its way closer to the boat. That added sound came from the small prop and metal plate built up into the belly of the bait.
(2 of 4)
Prop and clacker
This is what really sets this bait apart from any other out there that I've seen. There's a small metal prop, similar to what you'd see on a buzzbait, tucked up inside the belly of the bait. Just above that prop there's a small metal plate the prop can bang up against. As I walked the bait, the prop would spin and spit water while also clacking against the little metal plate, creating a unique sound compared to any other topwater out there.
The bait has kind of a rudder-style keel to it. I assume this bait was designed this way to make room for the prop and clacker and also aid in the bait's ability to walk. Just attaching a prop to the bottom of a walking-style topwater would probably create all sorts of problems when trying to walk the bait. So 13 Fishing worked the bait design out to have this rudder style belly so there was room for the prop and so the bait could still be walked really easily.
(3 of 4)
Colors, size and hooks
I quickly caught a few fish on the Spin Walker and they really annihilated it when they hit it. This struck me as a bait that would work really well around bream beds in particular because of its size at 4 1/4 inches. There are a couple color schemes that really mimic a bluegill well and the action looks like a struggling bream or bluegill on the surface. But there are lots of shad and other baitfish colors as well, so this bait would do a good job imitating any type of injured baitfish really.
The hooks on this thing are really nasty. They're VMC Hybrid Trebles with a PTFE coating. They're extremely sharp, have a nice bite to them and the PTFE coating means they're super resistant to corrosion. I really, really like these hooks for a walking-style topwater this size. They do a good job of reaching out and grabbing a fish that's just swiping at the bait and they really lock in.
I wouldn't say this bait totally replaces all other walking-style topwaters out there but instead it gives you a unique alternative to a lot of the other baits that are similar in size. The prop and clacker built into the belly of this bait really move it into a lane all its own. What I thought might have looked a little gimmicky at first really adds a good bit of unique action to the bait.
With super sharp hooks, 12 color options and a unique action, the Spin Walker is a great topwater for targeting bass that are keying in on bream, bluegill and other baitfish. With an MSRP of $19.95, you can currently grab them for a steal at Tackle Warehouse which has them on sale at $10.98. I think this is one of those baits that some anglers may be hesitant to try at first just because it does look so different, but they'll really be impressed with if they ever do give it a chance. That was my experience, at least.
The 13 Fishing Spin Walker is available at TackleWarehouse.com.