Jason Sealock
As fishermen, we get to a point where certain baits become staples simply because we've had so many fish catches, we build a confidence that if we get around fish, they will bite this bait. That's the case for me with the combination of the Strike King Squadron Head and a Rage Swimmer. I will admit I was a Keitech guy always using a light wire jighead. But I got tired of losing fish from the lighter jigheads "flexing" all the time. Sure you could downsize to spinning gear and light line, but I'd rather put it on some 10-12 pound Seaguar Tatsu and baitcasting gear and fish it like a regular swimbait.
I talked about it with Todd Castledine last year, and he told me about going up to St. Clair and playing with small swimbaits and having the same problem with lighter jigheads and those big feisty smallmouths pulling like mad and flexing the hook and getting off. So he tied on a Squadron Head that has a meaty hook, put it on baitcasting gear and went to working on them. He ended up with a top-10 finish. with more than 43 pounds of smallmouths for two days.
That got me throwing the combination of the Strike King 3.75-inch Rage Swimmer on a 1/4-ounce Squadron Head a lot last year. I was pretty blown away at how you could just run water and get bit with that little rig. Deep in the winter, shallow in the warmer months, it didn't seem to matter. It just gets bit.
(1 of 4)
Bite Size Gets Bit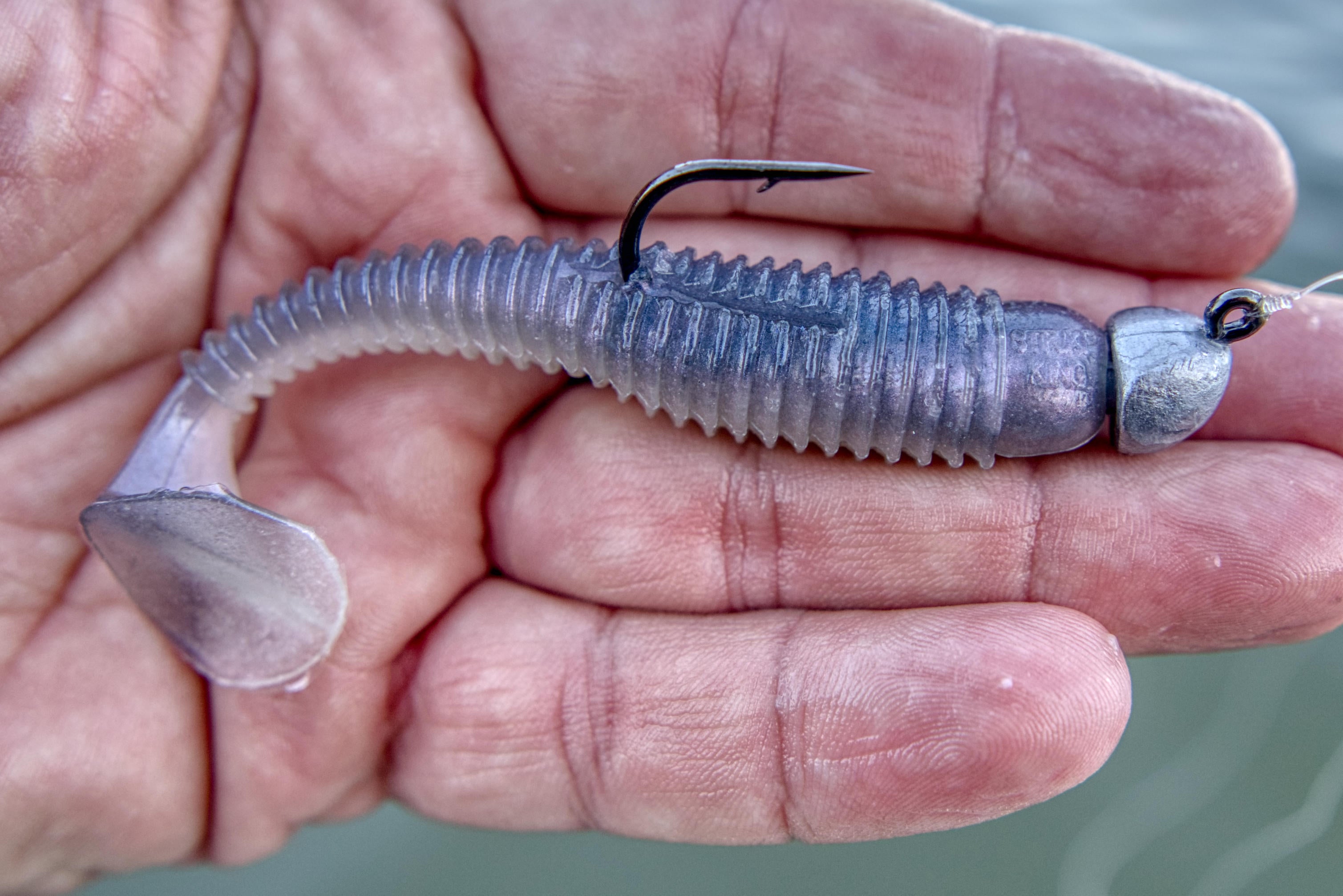 Jason Sealock
The profile is perfect for fish. A lot of shad and other baitfish are in that size range and it looks very natural without being obtrusive. You can skip it. You can bomb it. You can target cast it. And when a fish bites it, it's usually out of sight, down their throat. 
I like the 3.75-inch on a 1/4-ounce Squadron Head the most. But I play around a lot with different weights and size swimbaits. I will upsize to the bigger 5.75-inch Rage Swimmer and 3/4-ounce Squadron Head in the summer months. And now the 3.25 inch and and 1/8 ounce head is a hot little morsel on lakes with suspending spotted bass as I found on Table Rock last summer.
(2 of 4)
Lots of sizes and colors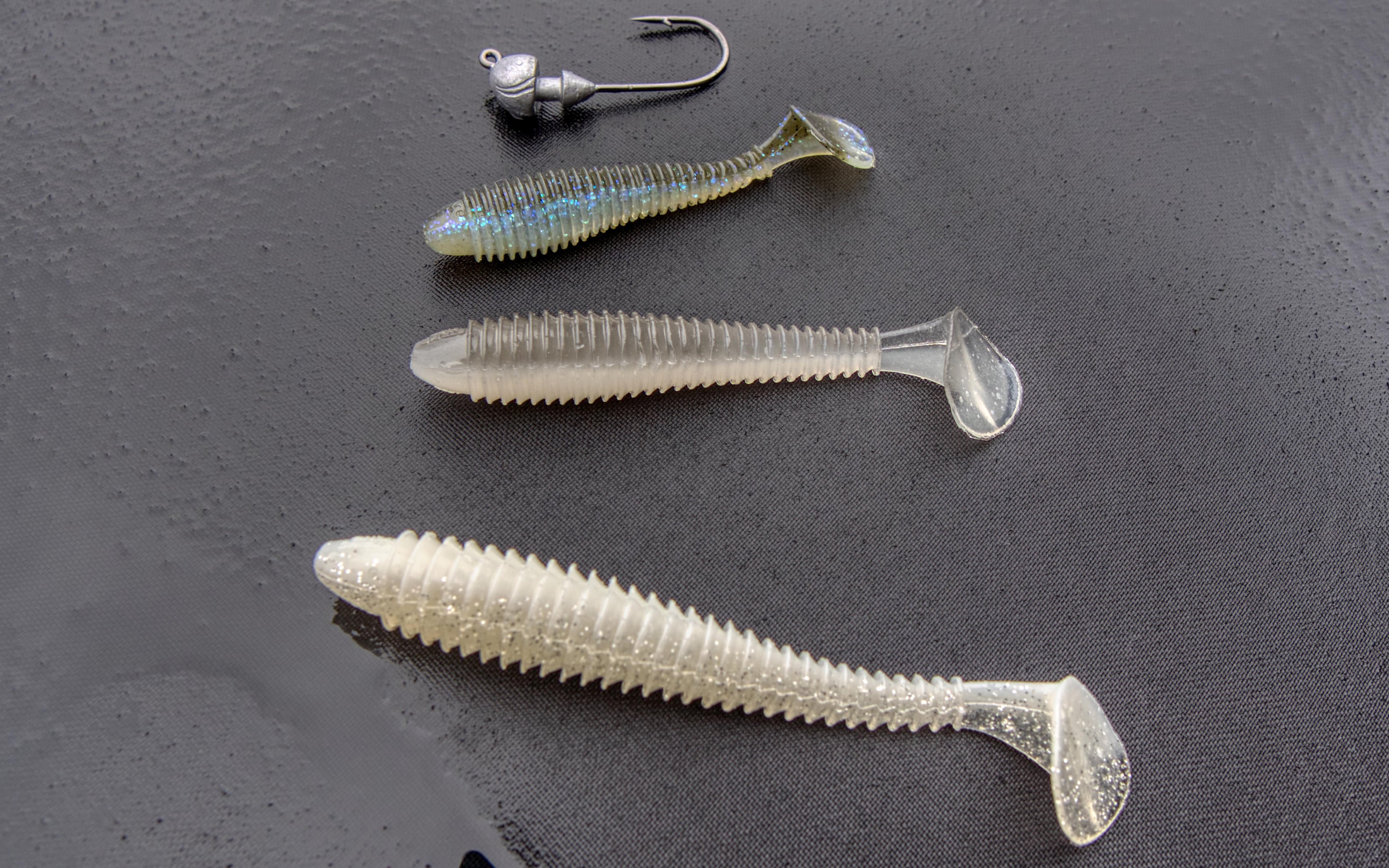 Jason Sealock
I like that there are so many options for colors on both the Rage Swimmers and the Squadron Heads. Pro Blue Red Pearl with a Glimmer Blue head is pretty sexy. I also like the Ghost Shad with the Silver Bling. 
There are colors, sizes and combinations that will fit whatever water you're fishing. 
(3 of 4)
Rigs straight but check it
Jason Sealock
The baits are packaged well to keep the tails straight and it's critical to rig Rage Swimmers perfectly straight. Line up where the hook needs to come out on the groove on the back and then thread it perfectly down the middle.
It's equally important to check after every fish that it's straight. I glue mine on the heads but even then you can get a slight rotation in the tail that makes the hook angle off to one side or the other on the hook groove on the back of the Rage Swimmer and just that little bit off being off keel will reduce the number of bites.
(4 of 4)
Clearwater search bait and effective catcher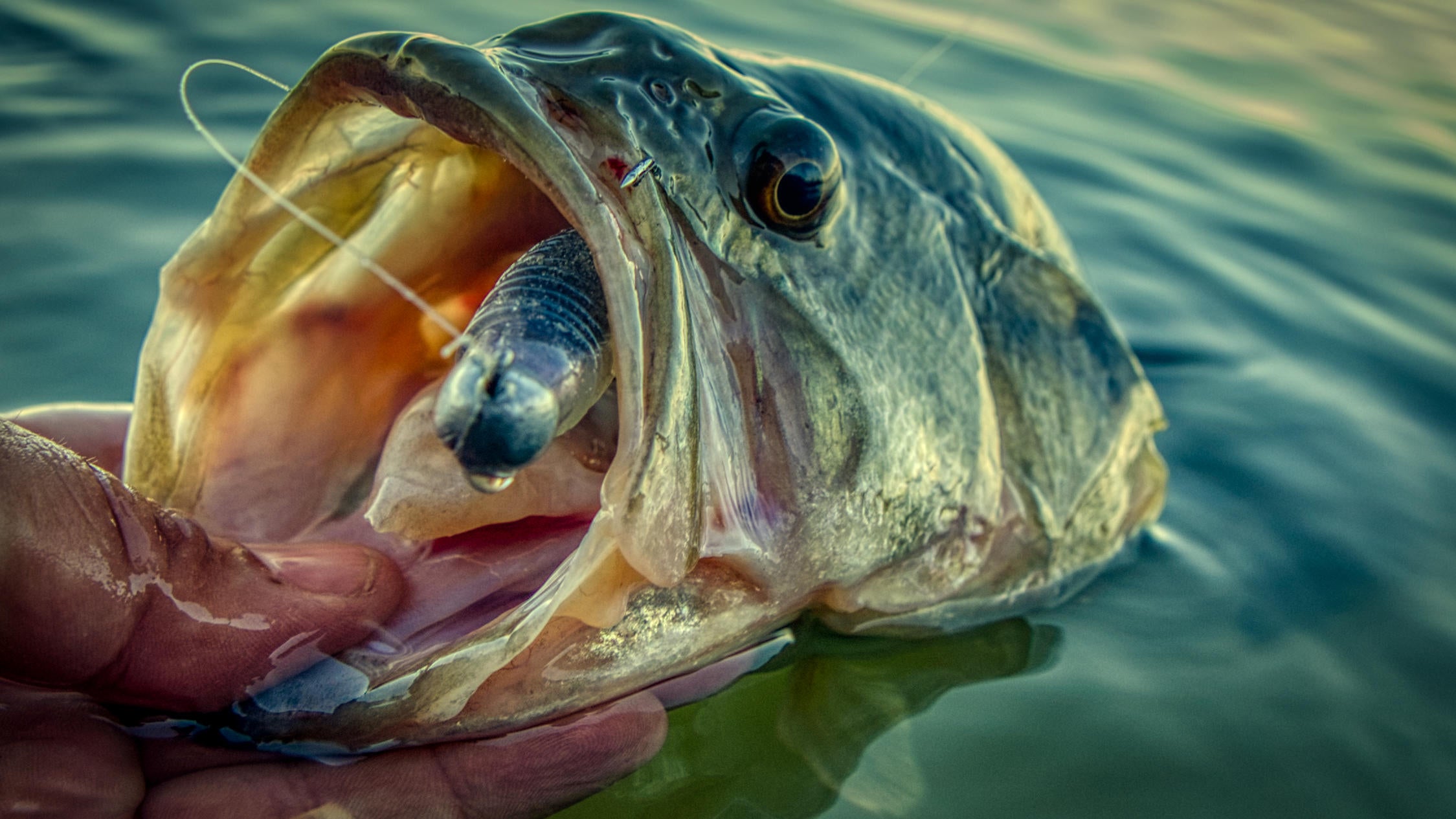 Jason Sealock
This weekend I was playing around with the settings on my Garmin Echomap Ultra units, getting them configured for fishing. I was also learning the nuances of my LiveScope setup. I've fished with Garmin Panoptix quite a bit with other anglers but was getting familiar with it all on my boat.
I was able to catch some bass out of brush I found. Then I started just scanning up and down banks looking for isolated suspended fish and seeing if I could catch fish I saw on the screen. With a jerkbait and a Squadron Head with a Rage Swimmer I was able to catch fish I was seeing on my screen relatively easily. 
Like I said earlier, when you're looking for patterns, getting acclimated to new technology or just trying to catch the most bass on any given day, having a staple you know they will bite if you get it close to them like I have with the Squadron Head and Rage Swimmer combination makes it a lot more efficient to catch fish.
Check out Strike King Squadron Heads here:
Check out Strike King Rage Swimmers here: