If you're fishing tackle freaks like us, you've come to the right place! We're at the 2018 ICAST show, and we wanted to share a bunch of the new fishing products for you to consider for the 2018-2019 fishing seasons.
EDITORS NOTE: This gallery is large with more than 150 new products, so give it a minute to load or scroll slowly so the images have time to buffer to your device.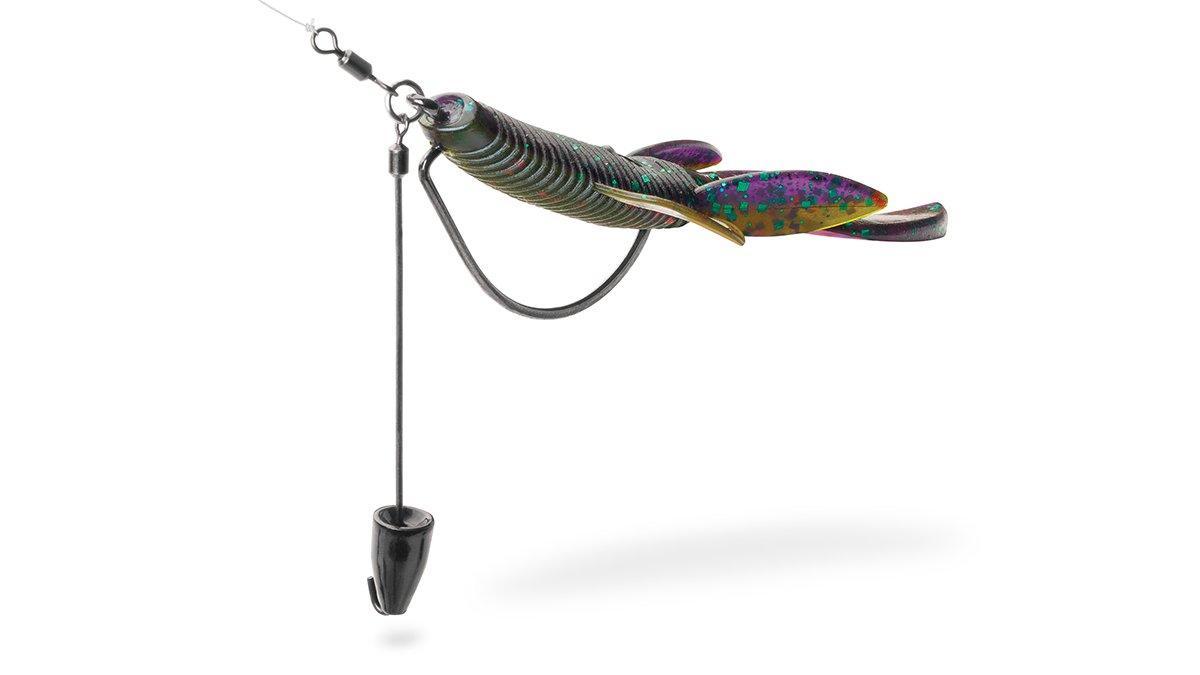 Taking the effectiveness of a drop shot and coupling that with the power of a Texas rig and you have the Tokyo rig. With premium components including a one piece solid ring connected to a premium rolling swivel allows the bait to move freely above the dropper arm, maximizing the rig's action. A heavy-duty wide gap forged hook for maximum strength with a 3 degree offset point for increased hooking rate and a 2.5" stainless steel dropper arm for customized rigging. Insert your preferred weight on the shaft then bend the end of the shaft with pliers to secure weight on the dropper arm. Flip, punch, pitch or cast this rig anywhere and everywhere you would fish a traditional Texas rig or jig and show the fish a presentation they've never seen. 2 rigs per package and in sizes 2/0-5/0.
MSRP: $3.99
(2 of 152)
VMC Neko Skirt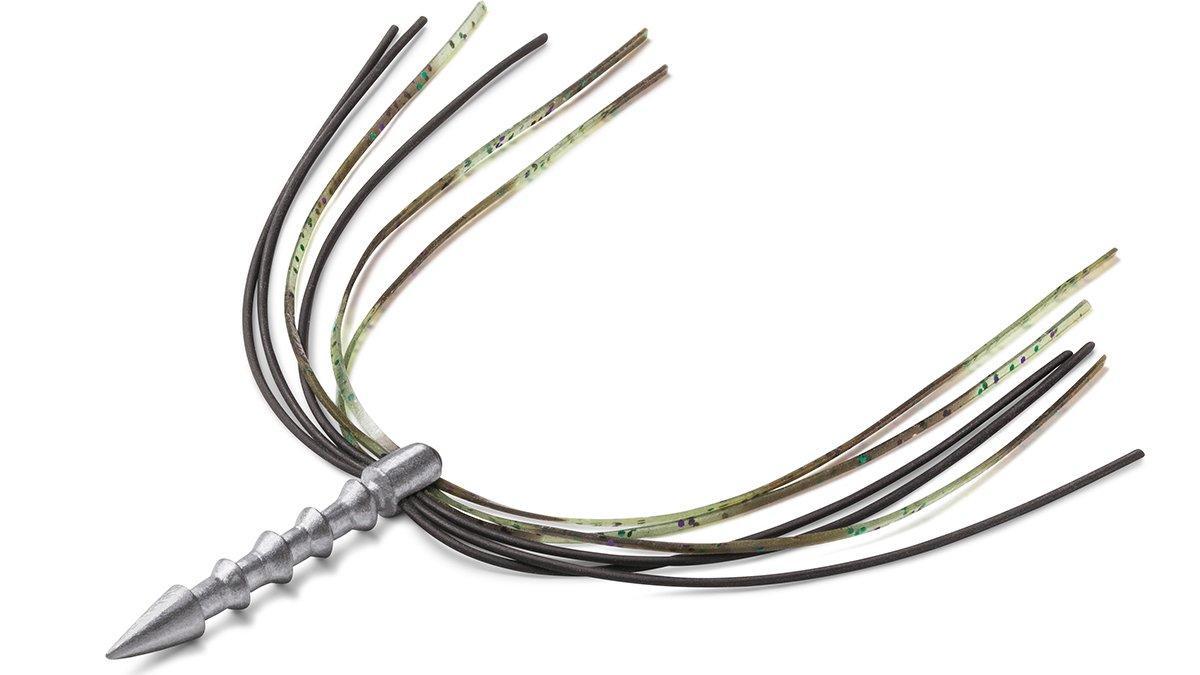 Take your Neko rig to the next level with the Neko Skirt. With a two part skirt combining living rubber and silicone material to create an incredibly realistic and unique action underwater. Conical ribs firmly anchor the weight in place without damaging the plastic and an epoxy resin end holds the skirt firmly in place. 2 skirted weights per package in 8 colors and weights of 1/32 – 1/8.
MSRP: $2.99
(3 of 152)
VMC Finesse Neko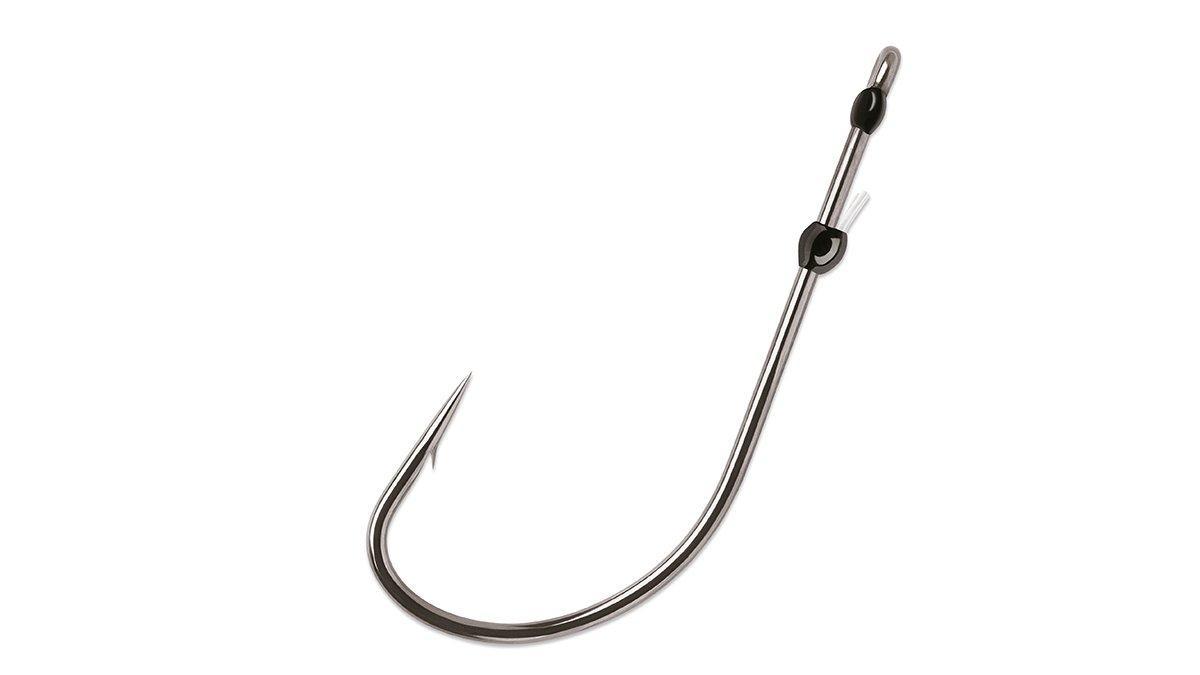 A hook designed for Texas rigging while drop shotting or finesse fishing. The adjustable fluorocarbon keeper provides versatility for a wide variety of plastics/situations. This hook has all the characteristics of the VMC Neko hook that fisherman love – a resin closed eye, wide gap, long shank and a 3 degree offset point to put more fish in the boat. Available in sizes 2-2/0.
MSRP: $4.99
(4 of 152)
Rapala RipStop 12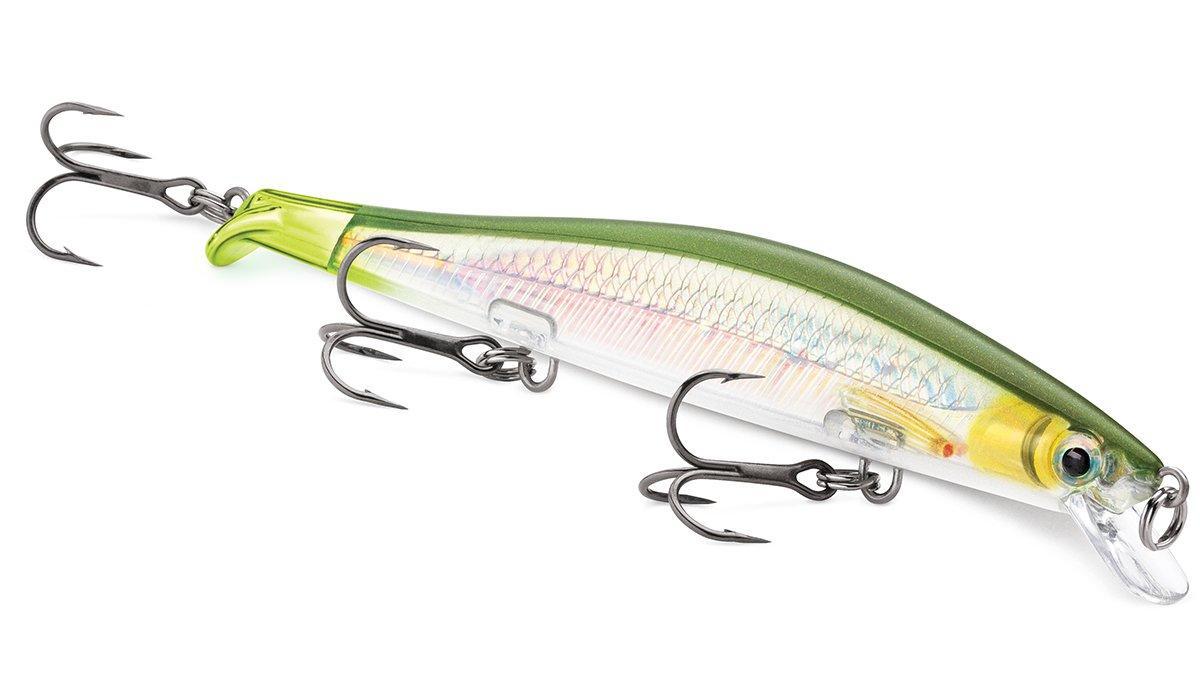 The RipStop tail design creates a fast ripping, hard stopping, flashing swimbait action. Its forward motion stops on a dime, with a subtle shimmy before coming to rest, then ever so slightly lifts its head with a super slow rise. Now in a larger size with 3 treble hooks. 
MSRP: $10.99
(5 of 152)
Rapala 60-inch Retractable Ruler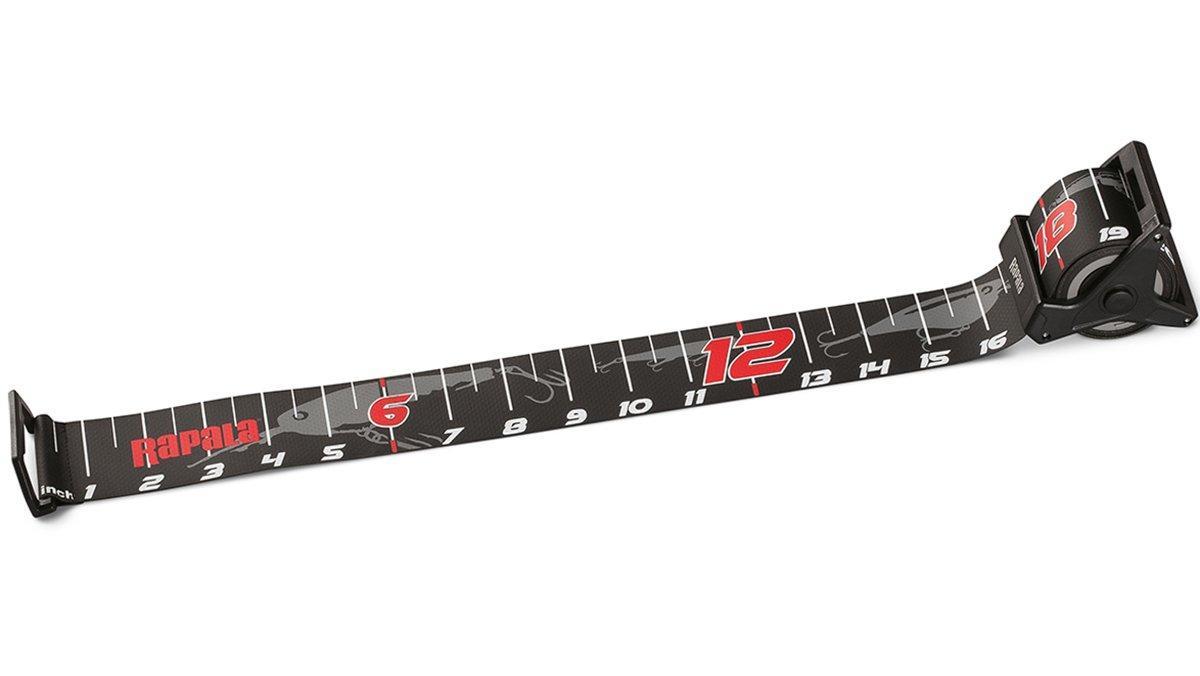 Spring loaded retractable ruler for easy storage with oversized, easy to read numbers, in ½" increments up to 60". It has a non-reflective surface to ensure lengths show in photos, made from a long-lasting, UV protected, waterproof material. To frost the cake it has a flip-up nose board for accurate measuring. 
MSRP: $19.99
(6 of 152)
Storm 360GT Searchbait Swimmer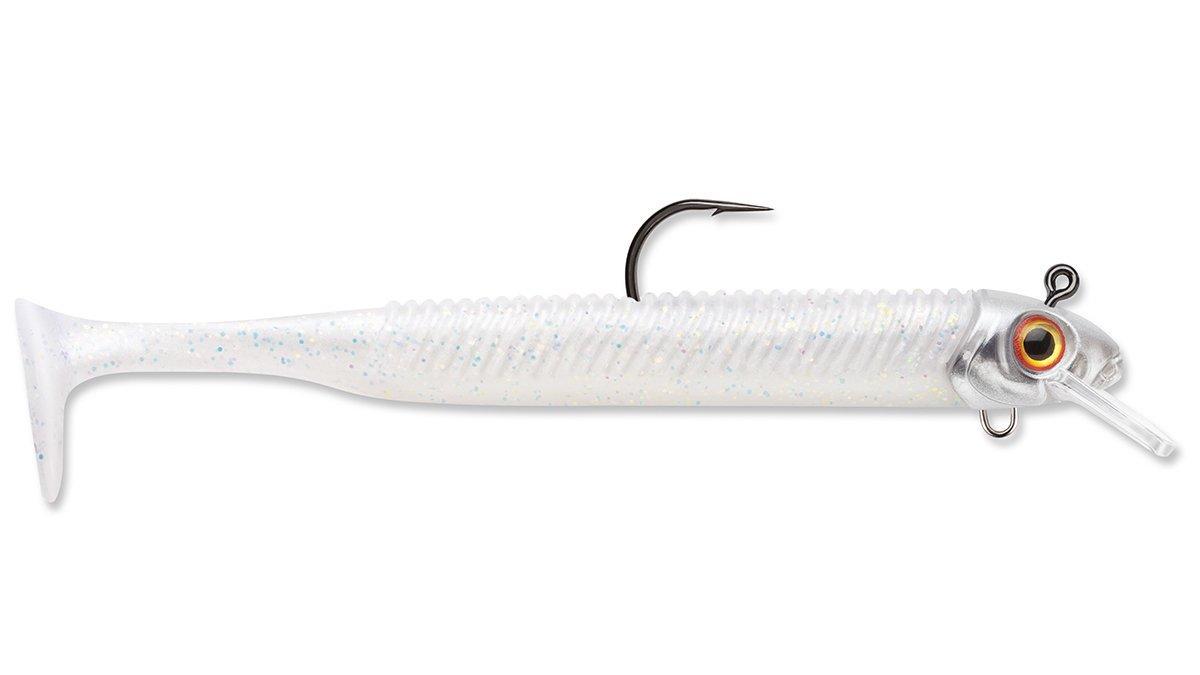 This new swimbait has a molded diving lip that adds a crankbait action and depth control. Exclusive VMC hook with extended "leg" on line tie to further enhance the action. A 60 degree angle keeps the lure swimming perfectly and a life-like rattling jig head provides an un-rivaled presentation. The Swimmer jig head has an optional hanger on the bottom which allows customization with stinger hooks or blades. Like all of the 360GT bodies, the 360GT Searchbait Swimmer has entry and exit marks for the hook which make it the easiest swimbait to rig perfectly every time. Each package contains a pre-rigged Swimmer with 2 extra bodies.
MSRP: $5.49
(7 of 152)
Storm 360GT Jigs - Heavier Weights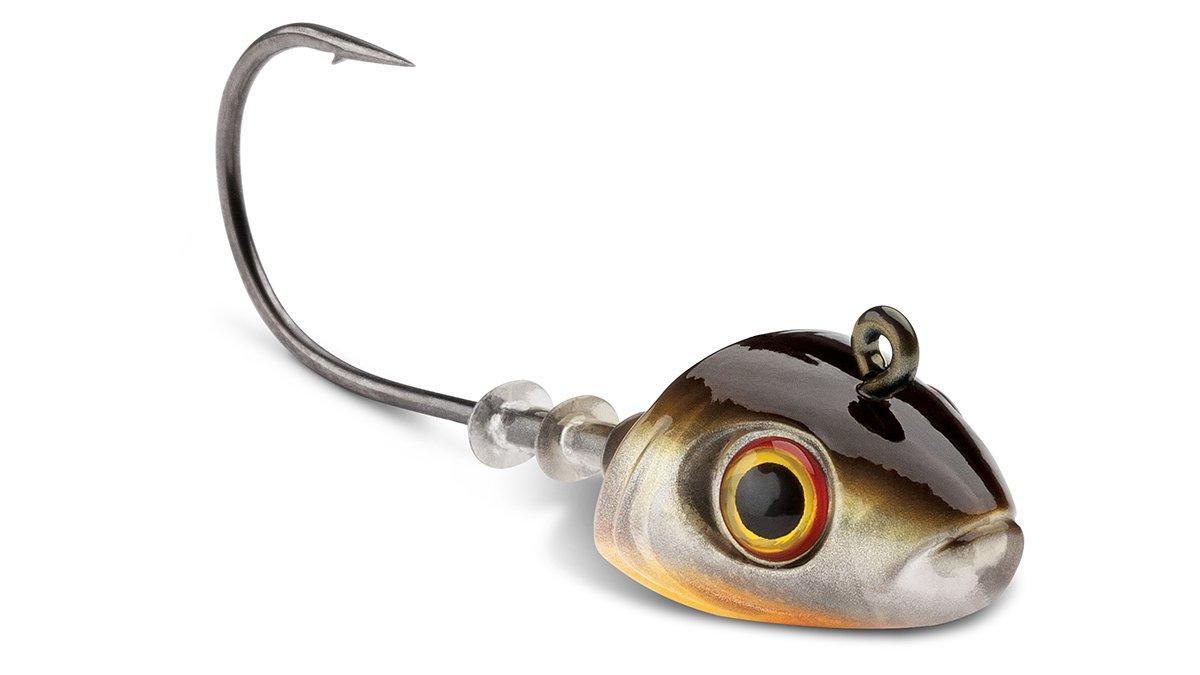 To compliment the current lineup of 360GT Searchbait jigs they'll now be available in heavier weights. The 3.5" Searchbait can now be used with a 1/8 or ¼ ounce jig head, the 4.5" with a ¼ or 3/8 ounce jig head and the 5.5" with a 3/8 or ½ ounce jig head.
MSRP: $3.99 for 1/4oz, $4.49 for 3/8oz and $4.99 for 1/2oz
(8 of 152)
Sufix Advance Monofilament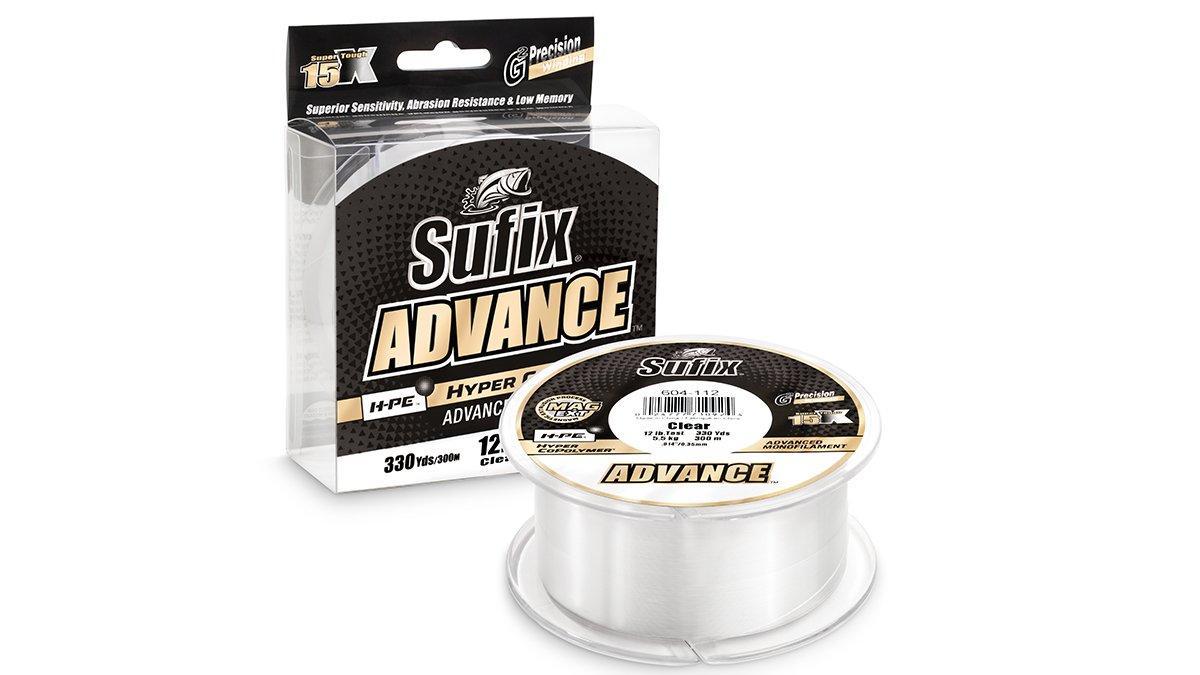 Is this braid or mono? It's a little bit of both and the result is the most abrasion resistant, supple and sensitive monofilament ever. Advance mono provides 50% lower stretch than standard monofilament, incredible abrasion resistance, superior sensitivity, smooth long casting, unbeatable knot strength and low memory. Following in the footsteps of 832 Advanced Superline, Sufix now revolutionizes the monofilament world with a line that has superior abrasion resistance, yet is extremely supple and sensitive. Available in 4,6,8,10,12,14,17,20 and 25# test in 330 yard spools.
MSRP: $12.99
(9 of 152)
Terminator Shudder Bait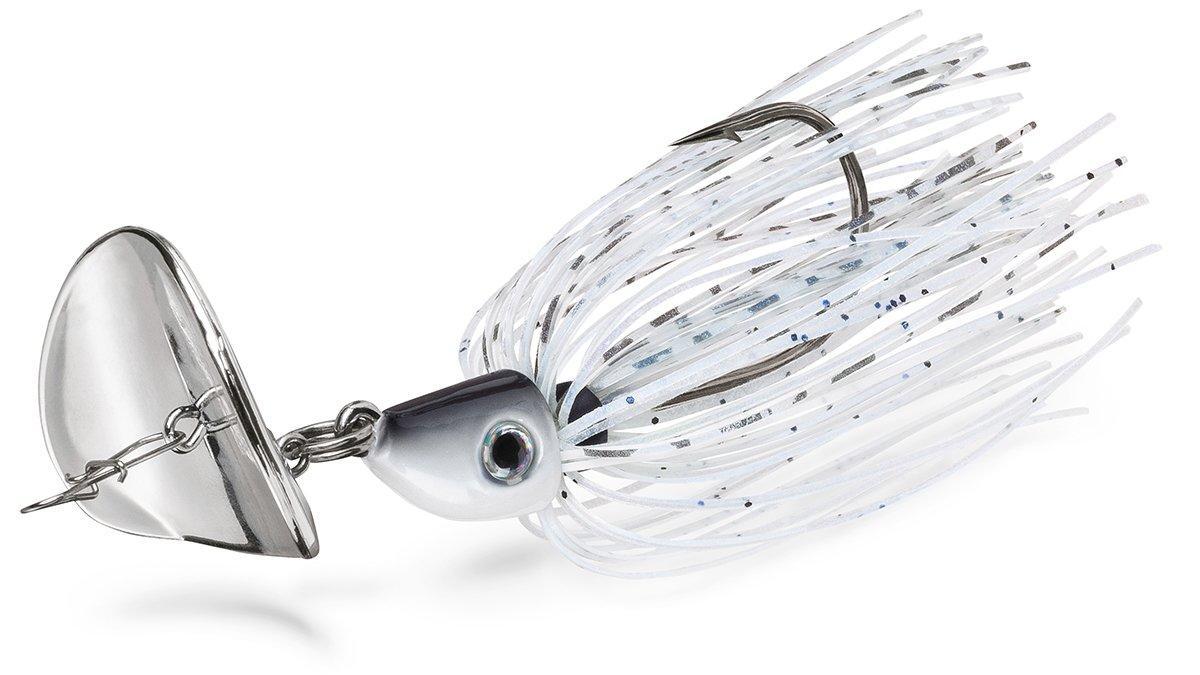 The Shudder Bait has a custom designed swimming lip, combined with a lower positioned head to create an erratic, hard pounding, sweeping action. Amplified water displacement generated by the swimming lip emulates feeding predatory fish. The lifelike interchangeable silicone skirts in baitfish patterns allows you to perfectly match any situation and the premium VMC hook and snap ensures you land 'em all. The action of this bait is almost that of a Colorado bladed spinnerbait and has become a go-to presentation when faced with dirty water. Available in 9 colors and in 3/8 and ½ ounce.
MSRP: $ 6.99
(10 of 152)
Z-Man CrossEyeZ Football Jig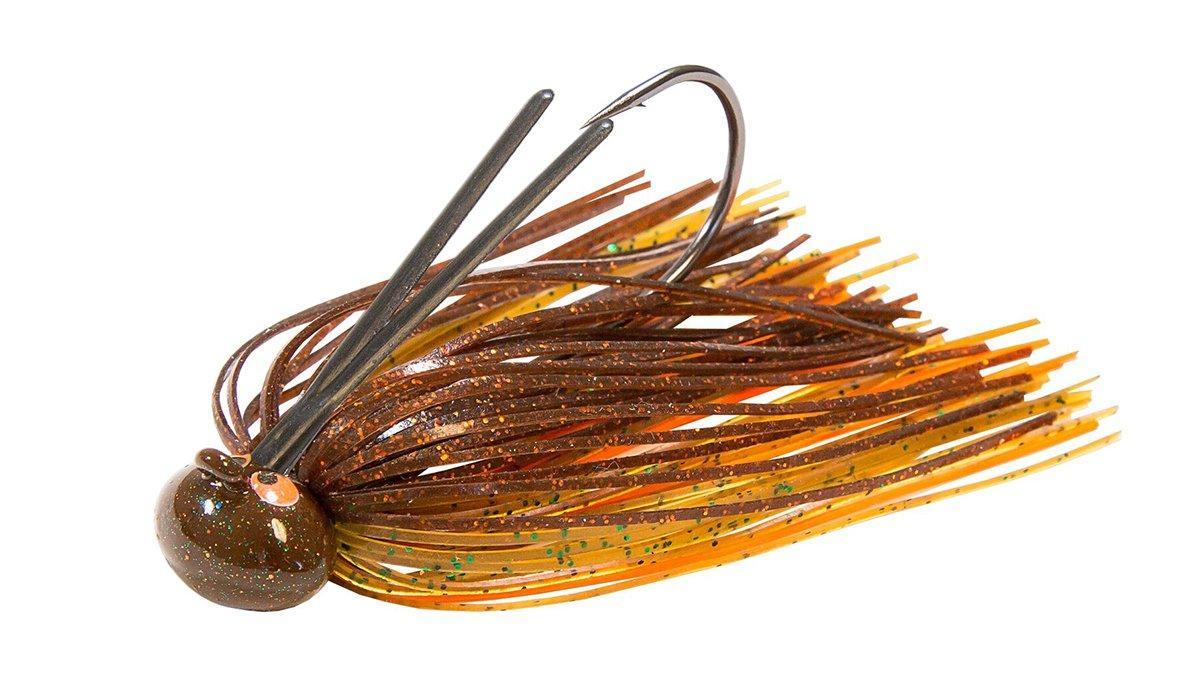 Designed by BASS Elite Pro David Walker, traditional football shaped head, flat eye 5/0 VMC® long shank hook, wire trailer keeper, hallmark painted 'cross eyes,' hand-tied skirts, custom v-shaped weedguard.
(11 of 152)
Z-Man CrossEyeZ Snakehead Swim Jig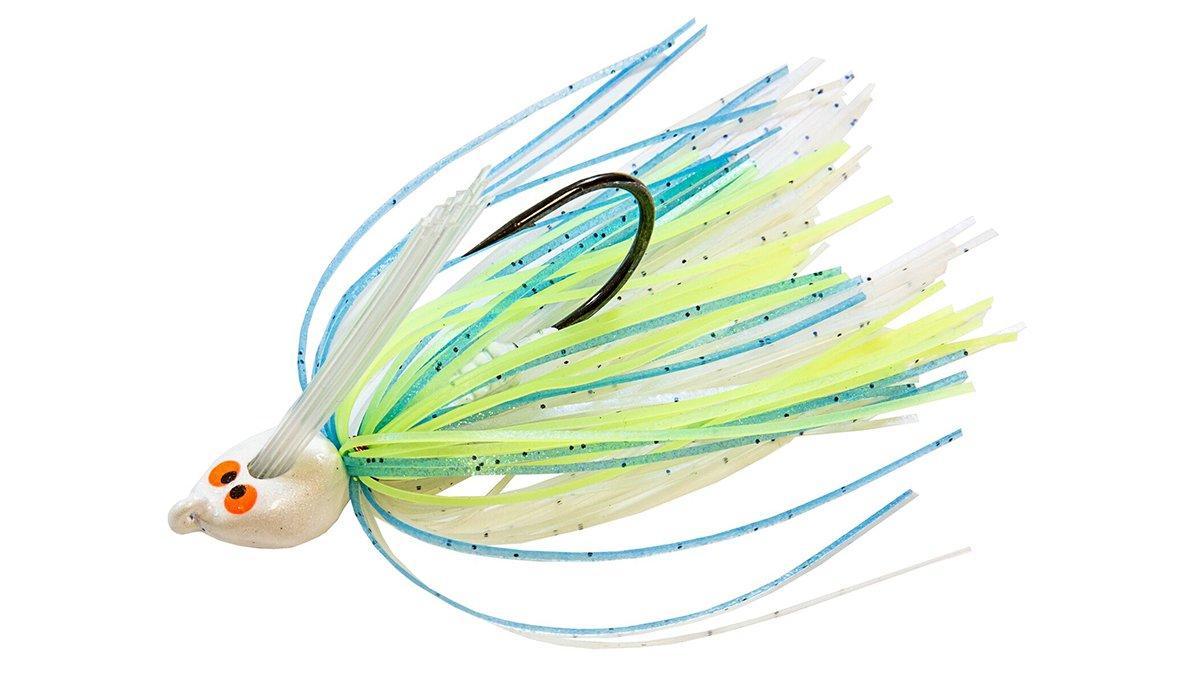 Designed by BASS Elite Pro David Walker, streamlined head shape modeled after a snake's head, 4/0 VMC® hook, split-grip keeper, hallmark painted 'cross eyes,' hand tied skirts, soft fiber weedguard.
(12 of 152)
Z-Man Finesse BulletZ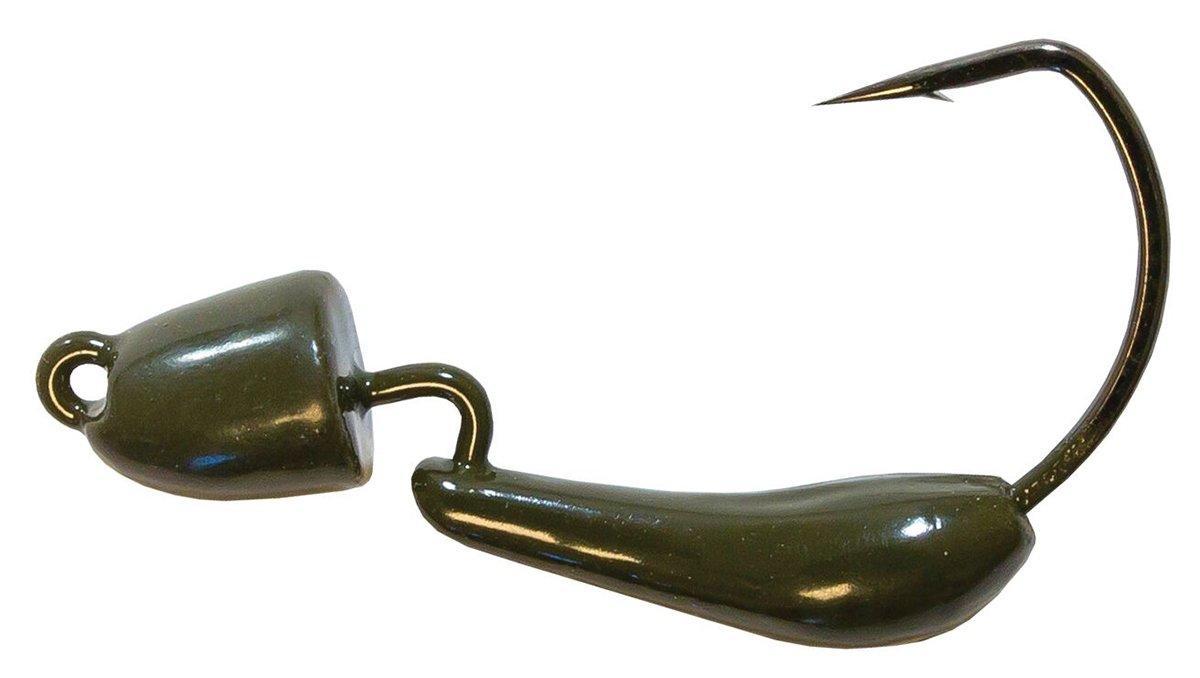 Bullet shaped head and recessed eye for snag resistance, built on custom size 1 VMC® EWG heavy duty jig hook, molded lead keeper prevents baits from slipping.
(13 of 152)
Z-Man SlingBladeZ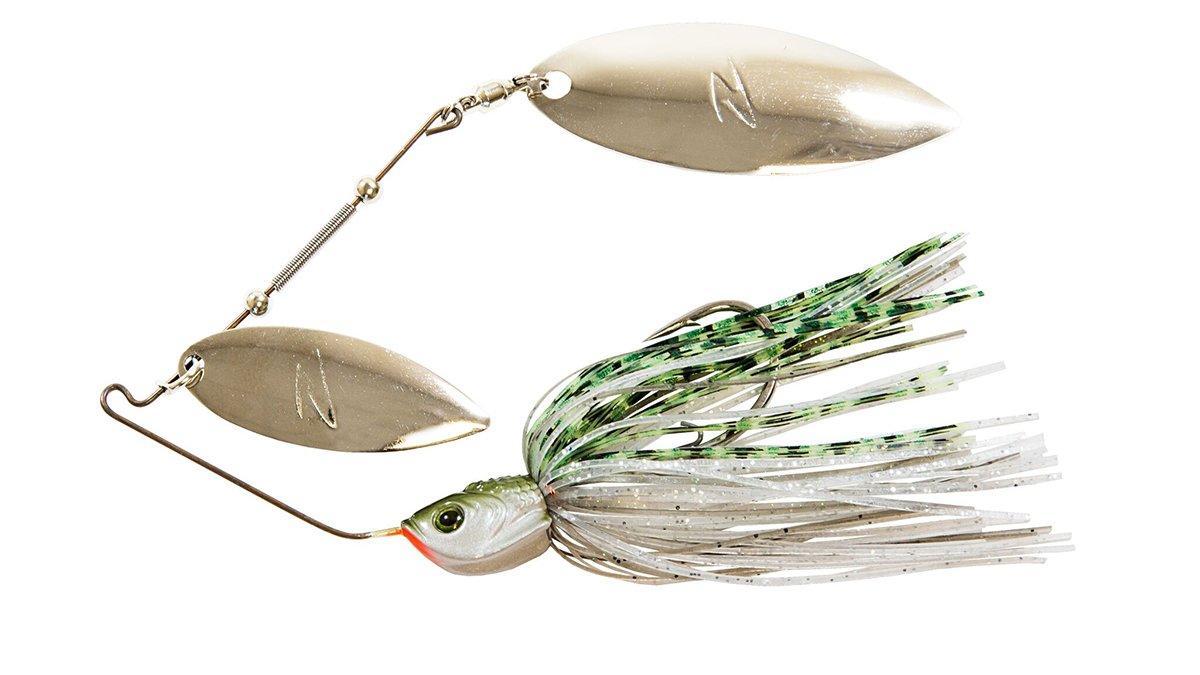 Designed by Bassmaster Classic and Forrest Wood Cup champion Luke Clausen, Built on 17-7 stainless LiveWire™ frame, exclusive StabilTrack™ head design, 5/0 VMC® hook, copper wire hand-tied silicone skirts, custom blades.
(14 of 152)
Z-Man TRD CrawZ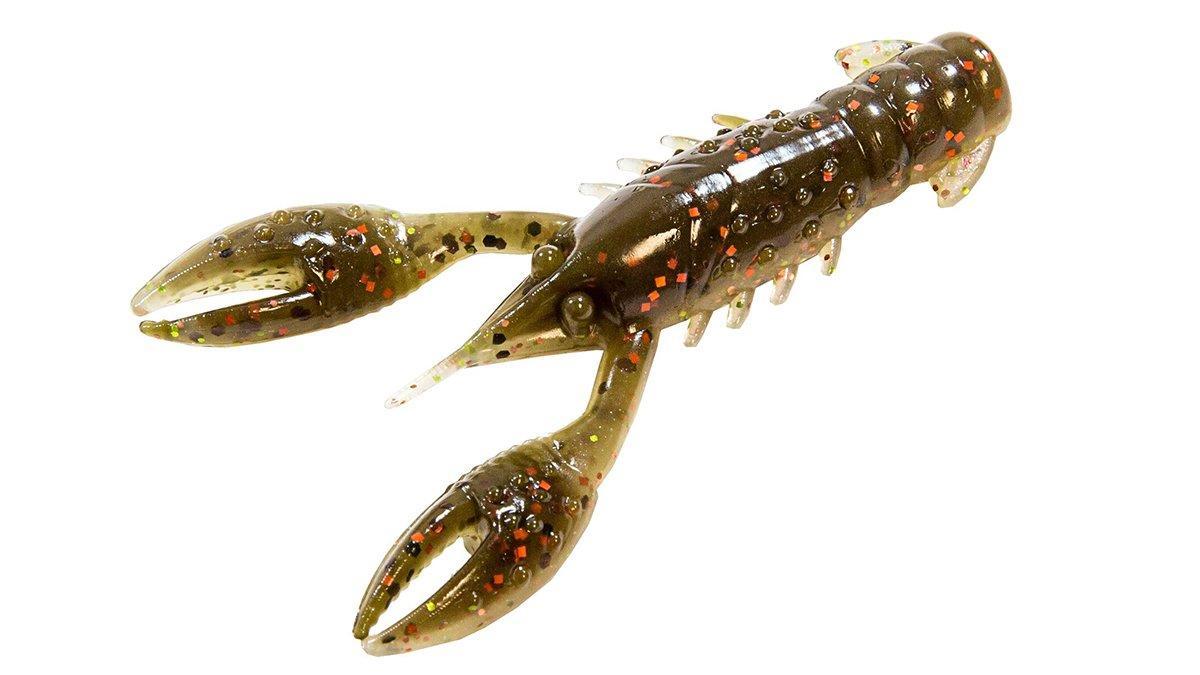 10X Tough ElaZtech® construction, lifelike Ned Rig-sized crawfish imitation, tucked under tail for gliding action, buoyant claws float at rest to mimic natural defensive posture of crayfish.
(15 of 152)
Z-Man TRD MinnowZ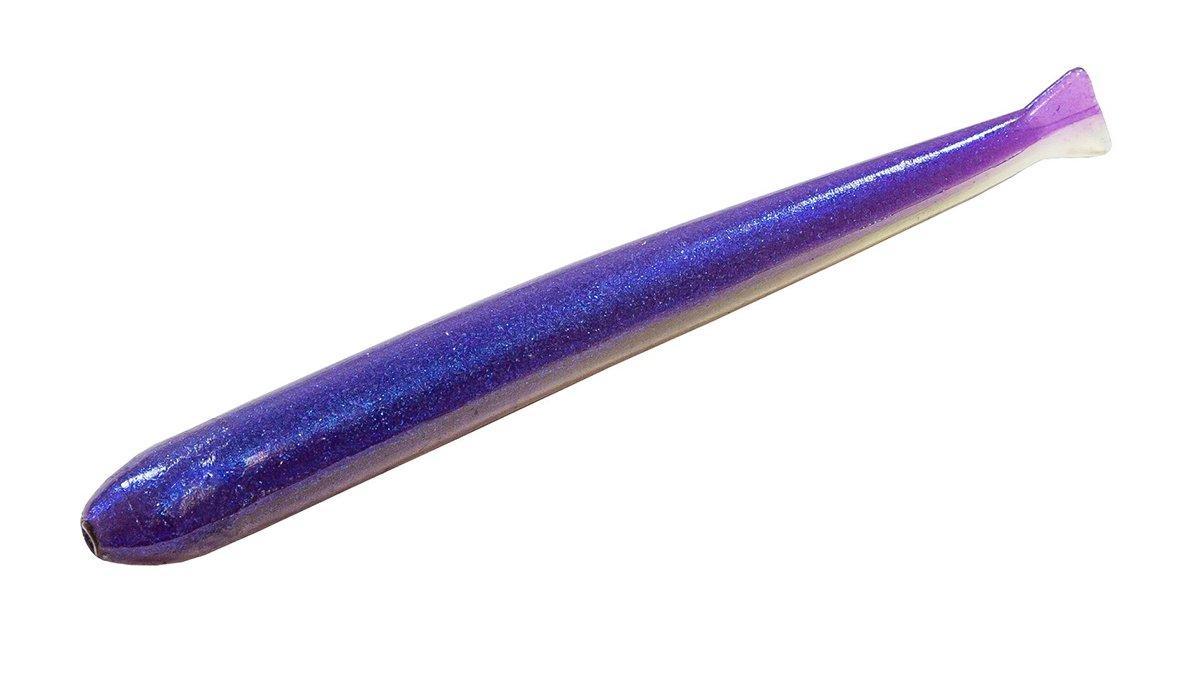 10X Tough ElaZtech® construction, slender baitfish profile, ideal for Ned Rig, drop shot, or inshore saltwater applications.
(16 of 152)
Z-Man Weedless Eye Jigheads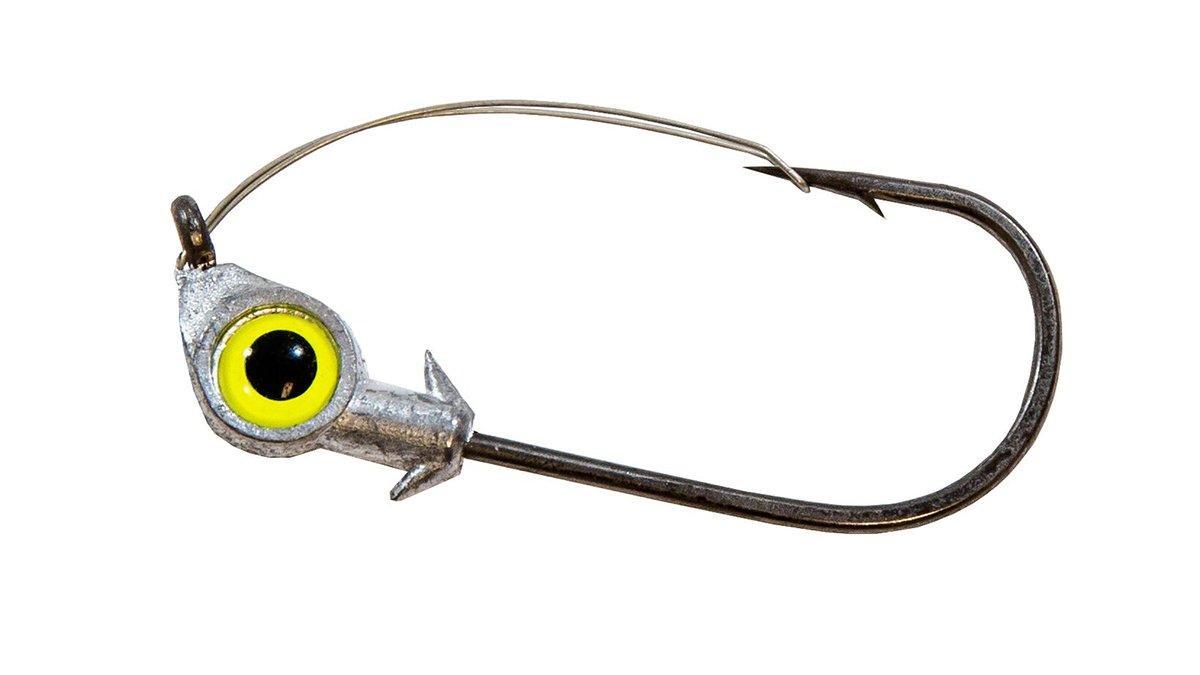 Oversized 3D eyes present prominent target for gamefish, custom wire weedguard, dual super-sharp keeper barbs hold ElaZtech® plastics securely, 3/0 heavy duty Mustad® UltraPoint® hooks.
(17 of 152)
Z-Man ElaZtech Bait BinderZ Doublewide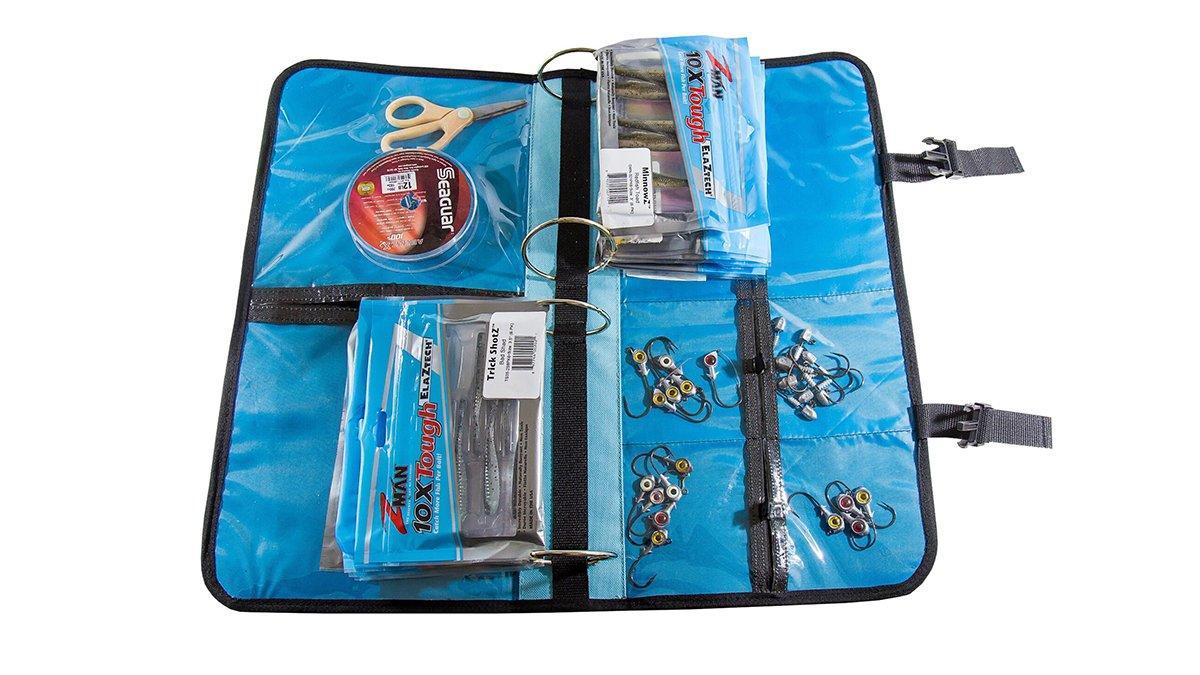 Designed to fit pre-punched holes on standard size Z-Man bait bags, tough 500 denier nylon construction, side-by-side orientation, inside pockets to hold terminal tackle and tools, treated nickel plated rings, embroidered Z-Man logo.
(18 of 152)
Yamamoto Mermaid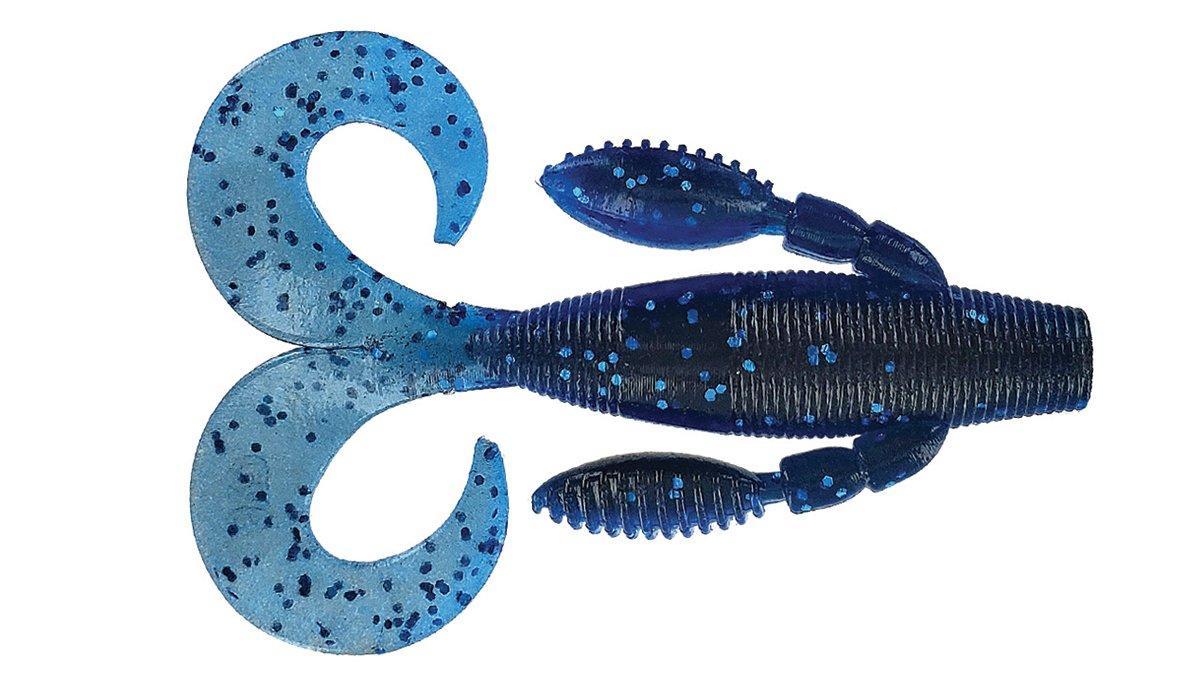 The Mermaid is the perfect "transitional" lure between the Flappin' Hawg and the Cowboy. The body provides that large, bulky profile that mimics crawdads and bottom-feeding minnows. The legs, with their outward curl, fold into themselves during the fall, making the Mermaid look longer than it is, providing a tight, fast, vibrating action that minnows produce  when trying to flee.This bait excels used alone on a jig head dragged along the bottom, or Carolina rigged. Add the Mermaid as a jig trailer or alone Texas rigged when flipping and punching. For Texas and Carolina rigs use a 3/0 EWG, but even a 4/0 or 5/0 straight shank hook will fit this bait.
(19 of 152)
Seaguar Smackdown Stealth Gray Braid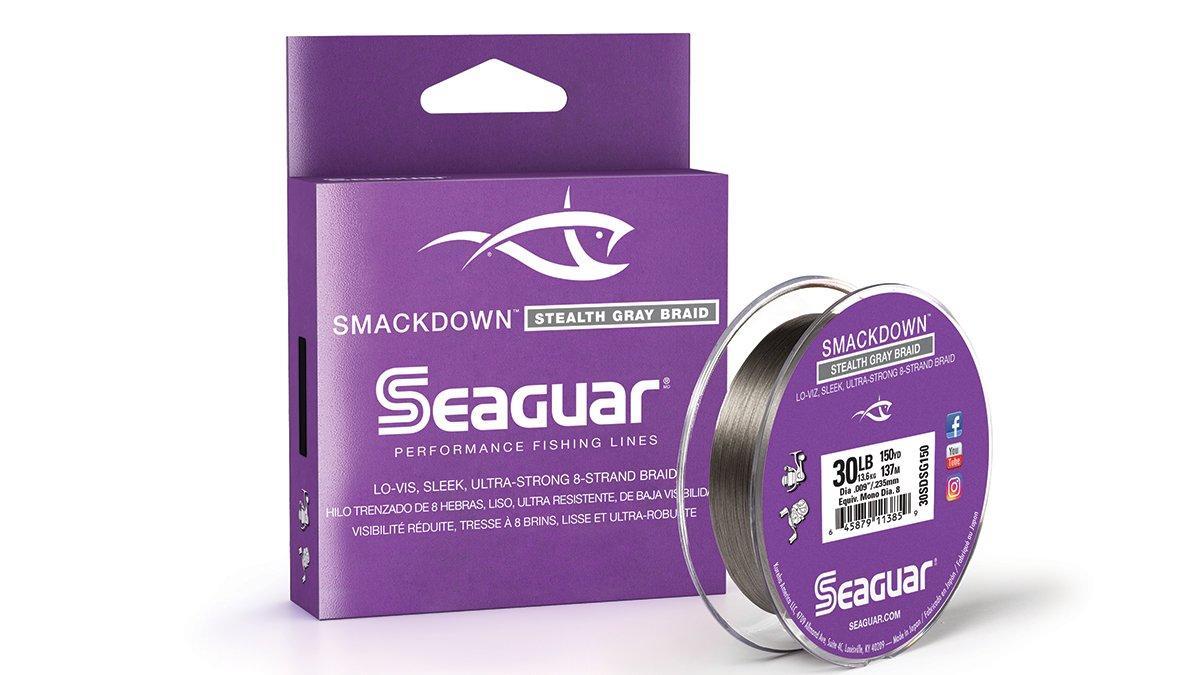 At ICAST 2018, Seaguar will unveil a new color of its ultra-successful Smackdown, designed specifically for the angler who demands a low-visibility main line. Welcome Seaguar Smackdown – Stealth Gray.
Smackdown is Seaguar's eight-carrier braided line, sporting a high-density weave and an extremely round profile, making it exceptionally slick. It's a difference that bass anglers will notice the first time that they present a bait with Smackdown spooled on their reel, a Seaguar exclusive feature that lets you cover more water with every cast so you can catch more fish each trip. That same slickness also makes Smackdown remarkably quiet as it passes through the rod's line guides, and eliminates the wind knots that are commonplace with lesser braids. Smackdown is truly the ultimate braided line for a wide variety of everyday bass-centric applications.
Seaguar Smackdown – Stealth Grey packages all of Smackdown's key features and capabilities into an extremely low visibility line that makes presentations appear more natural and is perfect for challenging fishing conditions, like clear water, cold water, or heavily pressured fish. Anglers no longer need to choose between stealth and strength – Smackdown Stealth Gray provides everything they need.
Smackdown – Stealth Grey will be available in seven popular tests, ranging from 10 lb test (2 lb mono diameter equivalent) to 65 lb test (25 lb mono equivalent) in 150 yard spools. Look for Smackdown – Stealth Gray on shelves in early 2019 with MSRP $29.99.
(20 of 152)
Seaguar Smackdown Flash Green Braid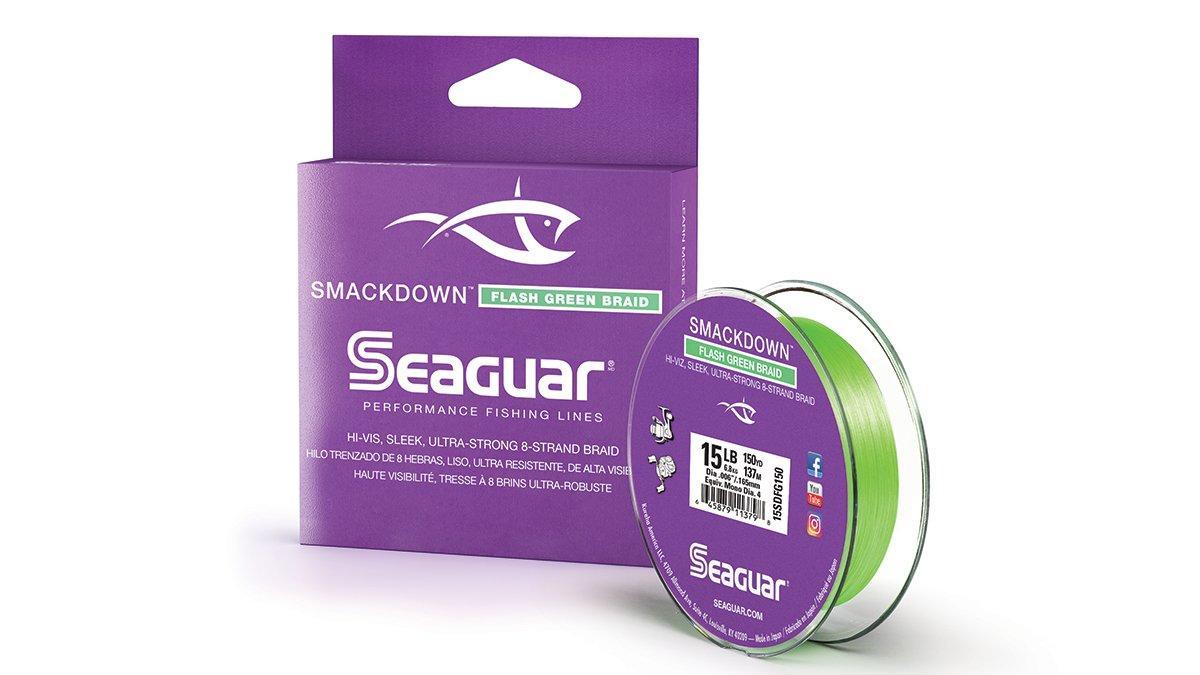 At ICAST 2018, Seaguar will reveal a new color of its versatile Smackdown, engineered to exceed the expectations of finesse anglers who detect bites by watching their line. Introducing Seaguar Smackdown – Flash Green.
Seaguar Smackdown is an eight-carrier braided line, manufactured with a high-density weave to give it an extremely round profile and an incredibly smooth finish. You'll appreciate those differences every time you present a bait with Smackdown spooled on your reel, advantages that let you cover more water with every cast, so you can catch more fish each trip. Smackdown's slick finish also makes it remarkably quiet through the rod's line guides and eliminates wind knots. Smackdown is truly the ultimate braided line for bass anglers.
Seaguar Smackdown – Flash Green assembles all of Smackdown's key advantages and capabilities into a high-visibility braided line that is perfect for finesse applications and other times that strikes are detected not by feel, but by sight. Combine Smackdown – Flash Green with a Seaguar 100% fluorocarbon leader to enjoy the best of both worlds: slick, strong, and highly visible above the water; supple, abrasion-resistant, and nearly invisible below.
Seaguar Smackdown – Flash Green will be available in four popular tests, ranging from 10 lb test (2 lb mono diameter equivalent) to 30 lb test (8 lb mono equivalent) in 150 yard spools. Look for Smackdown – Flash Green on shelves in early 2019 with MSRP $29.99.
(21 of 152)
Seaguar InvizX - 600-yard spool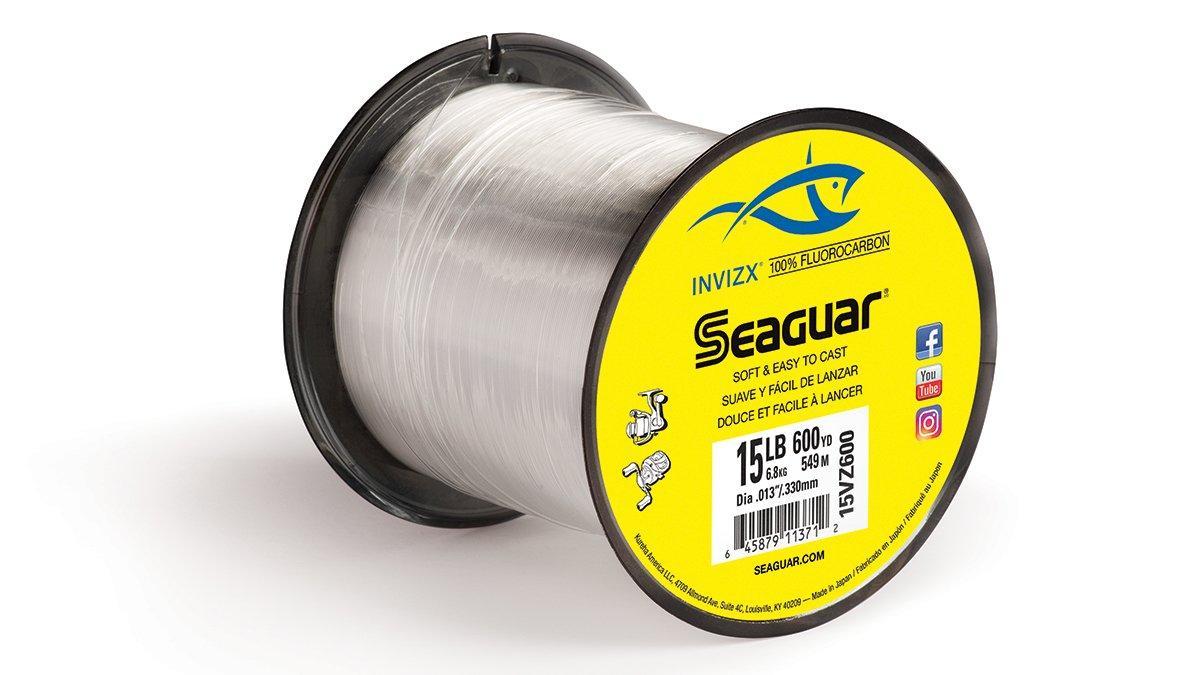 The new spool is small and compact to fit well in a boat. Buying a 600-yard spool instead of three 200-yard spools of InvizX saves approximately 18 percent. Prices range from $67.99 to $85.99. 
(22 of 152)
Mustad Triangle Catfish Hooks
Reminiscent of the awe-inspiring angles of stealth technology, Mustad's Triangle Concept (MTC) is a complex merging of wire shapes.  The actual triangle section is constructed using a proprietary 3-Way optimized forging process that makes these hooks an 20 percent stronger than traditional wire. The first hooks were for catfish and circle hooks but we expect to see more hook options with this technology soon. 
(23 of 152)
River2Sea Whopper Plopper 75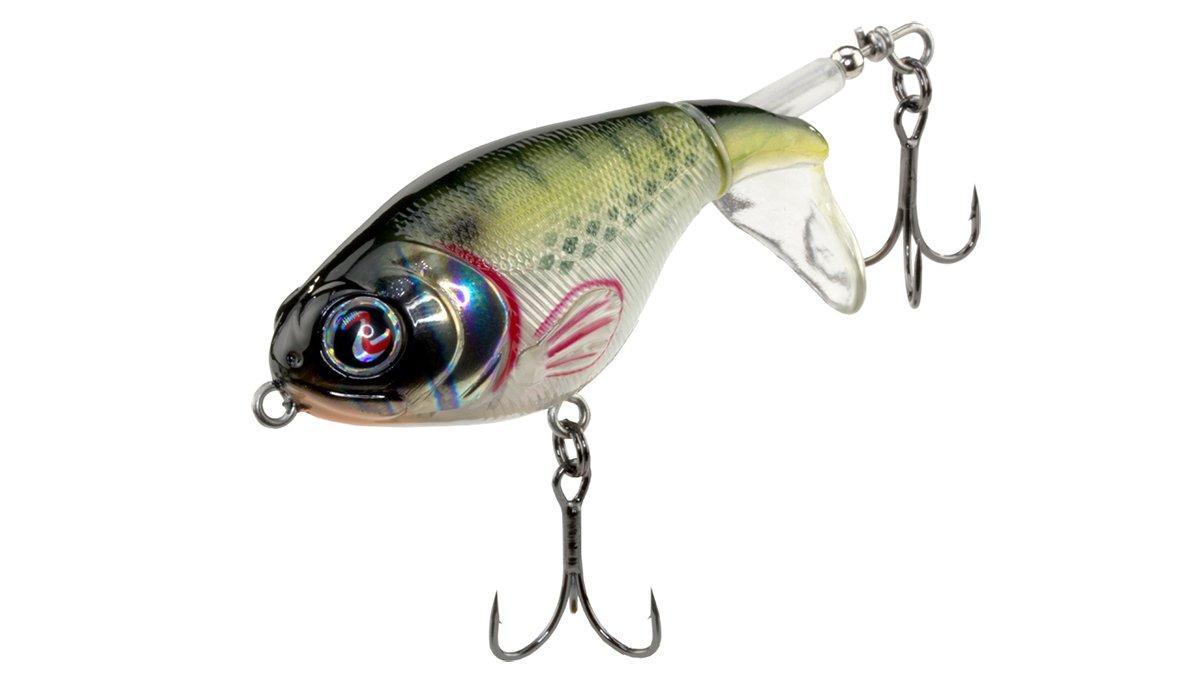 The newest addition to the Plopper family, the 75 will change the game yet again! The 75 has the body of a smaller crankbait, yet a plopper tail as big as its bigger brother, the 110. Available in 11 fish catching colors.
(24 of 152)
River2Sea Worldwide Spoon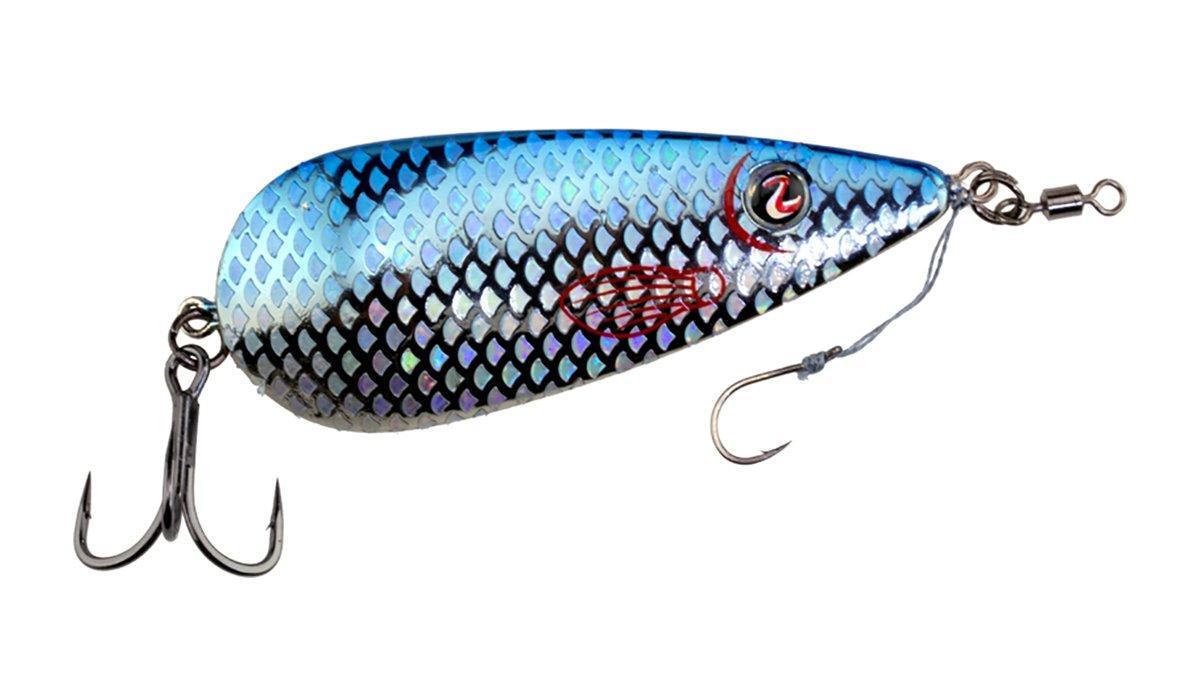 Designed by FLW Tour pro James Watson. The Worldwide Spoon is perfect for open water casting, vertical fishing, ledge pumping, and spoon jacking in docks. It's perfectly cupped and weighted for the best fall rate. As the spoon falls it will "swim away." It comes equipped with a River2Sea #1 4X Treble and comes equipped with a removable stinger hook. It comes in 7 colors.
(25 of 152)
Trokar TK178 Swim Blade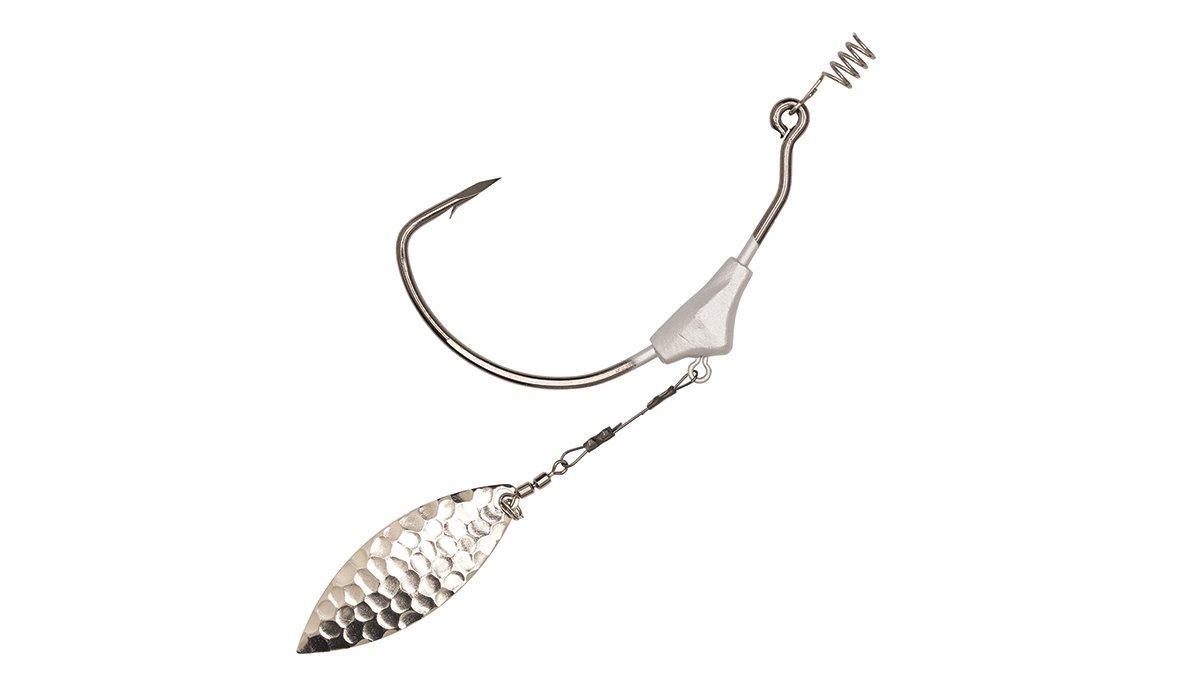 This hook features Trokar's Surgically Sharpened Technology for a faster, deeper, surer point penetration, requiring half the pressure of the competition. Manufactured using cold forged high- carbon American-Made steel, the hook also offers better durability and stronger holds for hard fighting fish. The size 3 hammered willow blade is secured to the lead weight via titanium wire and a rolling swivel to prevent blade binding. The precisely bent hook and spring help keep soft baits in place during long hours of demanding fishing in all kinds of conditions.
(26 of 152)
Trokar TKWTJ Weedless Tube Jig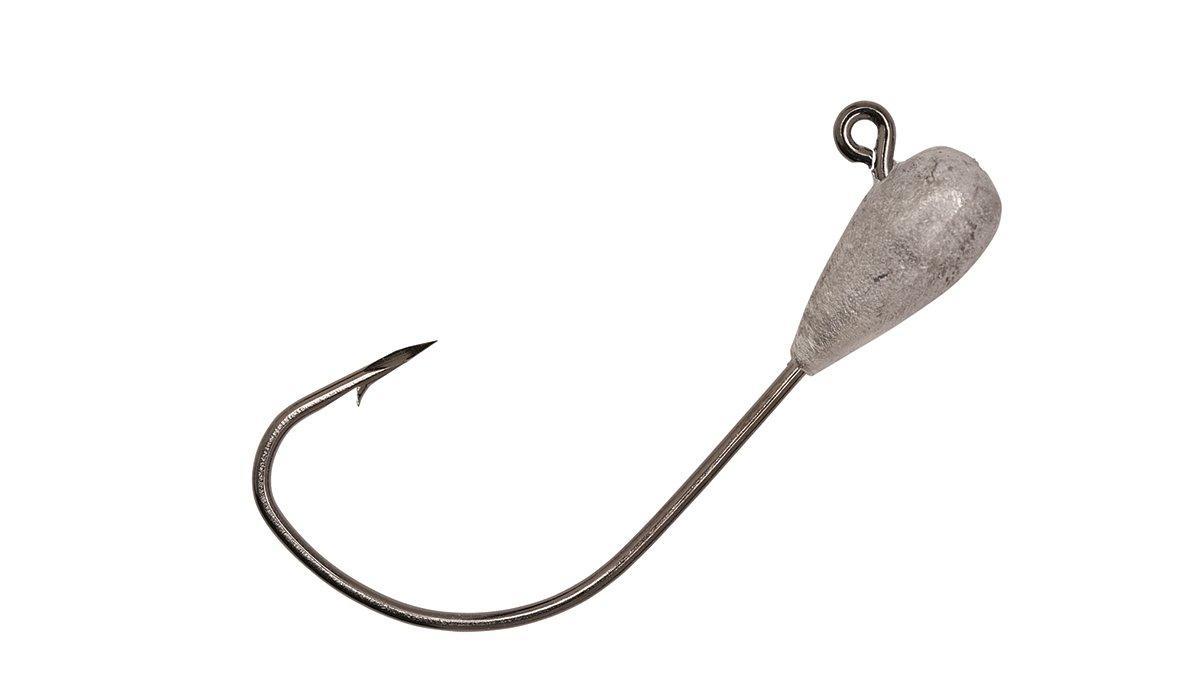 The TKWTJ features an angled hook bend which makes rigging for weedless fishing simple. The hook point easily tucks into the body of soft plastic tubes, keeping anglers free from snags without losing confidence in the ability of the hook to penetrate during hook set. The TKWTJ is available in a variety of weights for adaptability in a variety of conditions and situations.
(27 of 152)
SPRO RkCrawler MD 55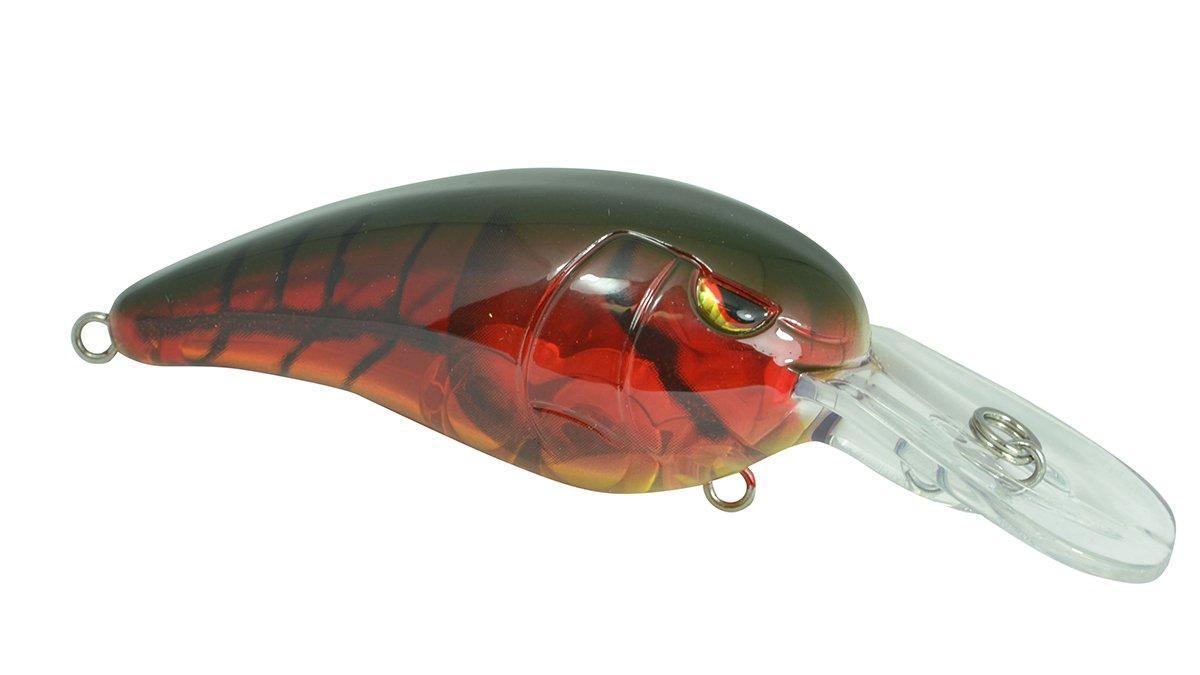 Dives 7 to 9 feet deep, weighs 1/2-ounce and measures 55 millimeters long. It is designed to come through shallow cover very well. 
(28 of 152)
Ark Rods Tharp Series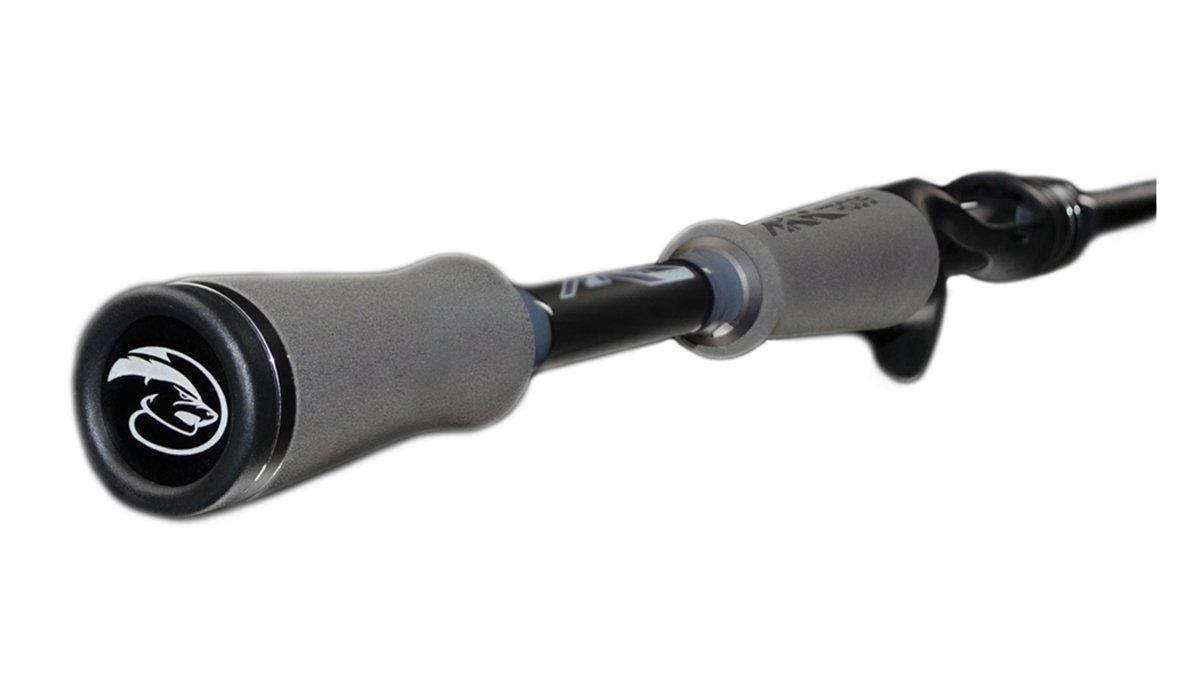 Unique graphite reel seat for more blank sensitivity, Japanese Toray 40T high-modulus carbon fiber with MDML technology, custom high-density EVA grip and Fuji K-Concept guides with the newest F-Ring inserts. Priced at $129.95 and an exclusive "Honey Badger" hat is included free with purchase.
From professional angler Randall Tharp: 
The ARK Tharp Series is comprised of 12 rods (2 spinning, 3 composite and 7 casting models). Each was built to my exact specifications to fish specific techniques that I use to do my job at the highest level on the Bassmaster Elite Series.
This project was a lot more than testing a few new blanks and putting my name on them. I took this opportunity to use my knowledge, working with an amazing company and the very best in the business overseas to build an innovative and affordable line of rods. We utilized new materials and components that I am confident will give me a competitive advantage on the tournament trail. I flew half way around the world to ensure each model is perfect for the task that I designed it for and couldn't be happier with the results!
(29 of 152)
Bandit Rack-It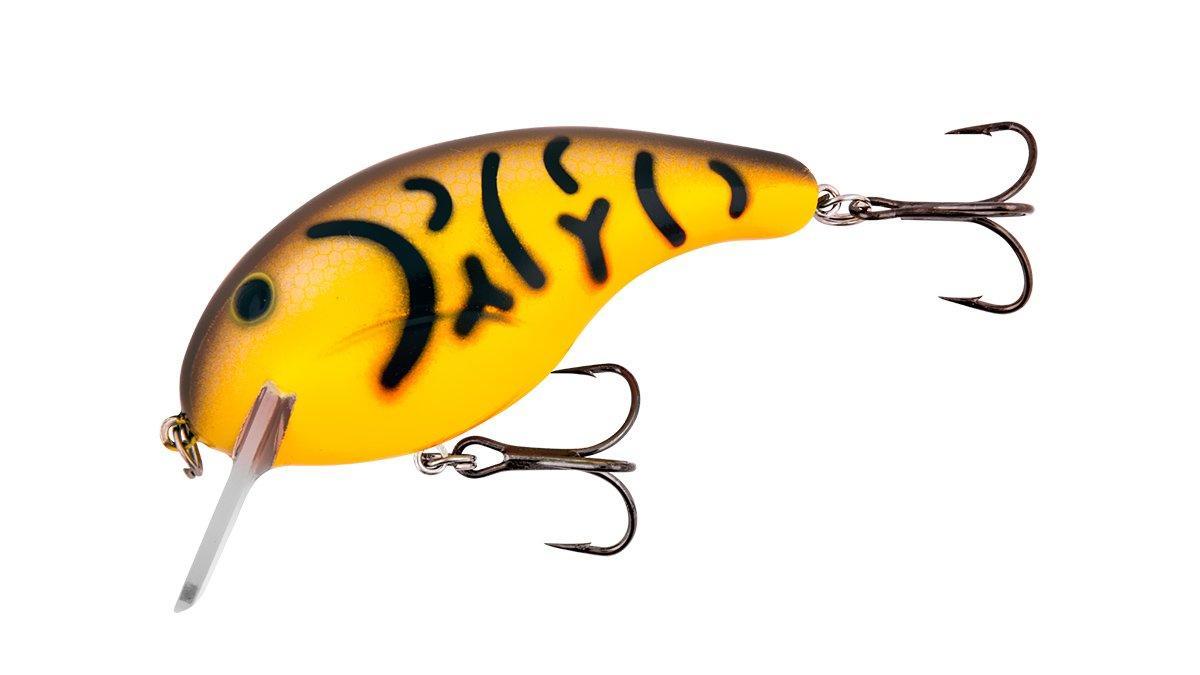 This 2 3/4 inch square bill crankbait is made of butyrate, giving it a unique and loud knocking sound that the bass haven't heard. It weighs 5/8 ounce for pinpoint casting around shallow cover and will run 4-6 feet deep. The baits will retail for $6.99 and come in 12 proven Bandit colors.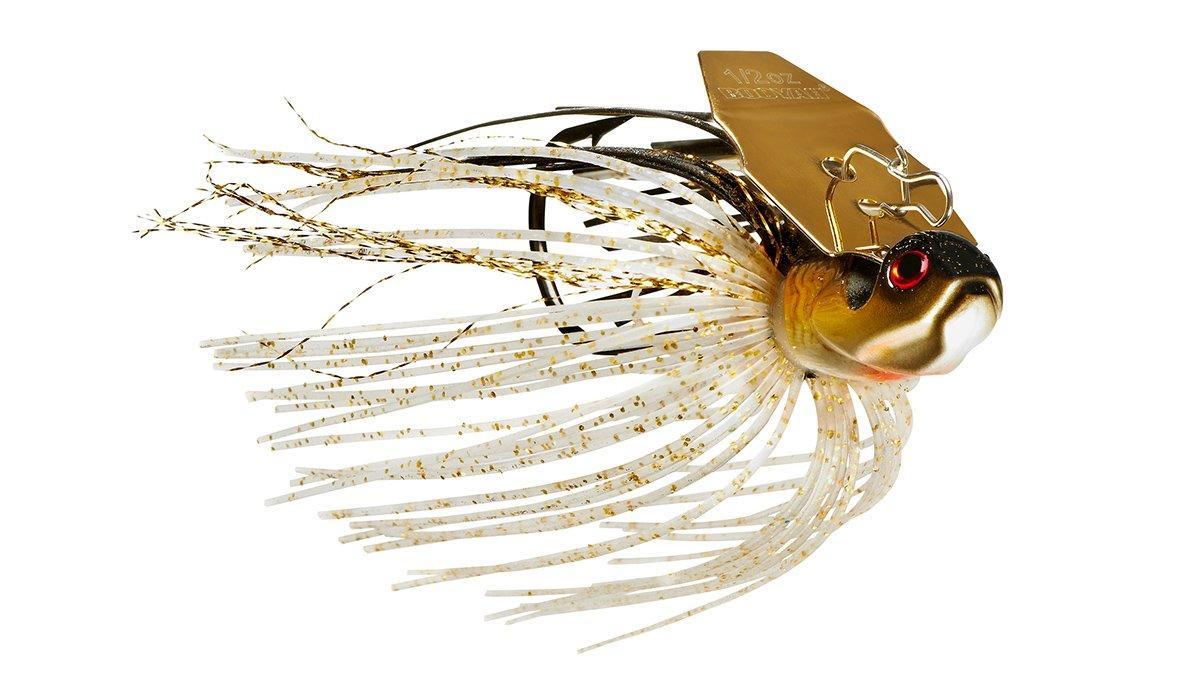 This new bladed jig features a polycarbonate head with a recessed blade attachment midway on the head and a lead core that gives the bait a distinct knock as well as being more snag less to fish around stumps and wood cover. The design of the head also forces this bladed jig to stay down in the water column instead of riding up like many vibrating jigs. They will come in 3/8 and 1/2 ounce sizes and retail for $8.99. 
(31 of 152)
BOOYAH Squelcher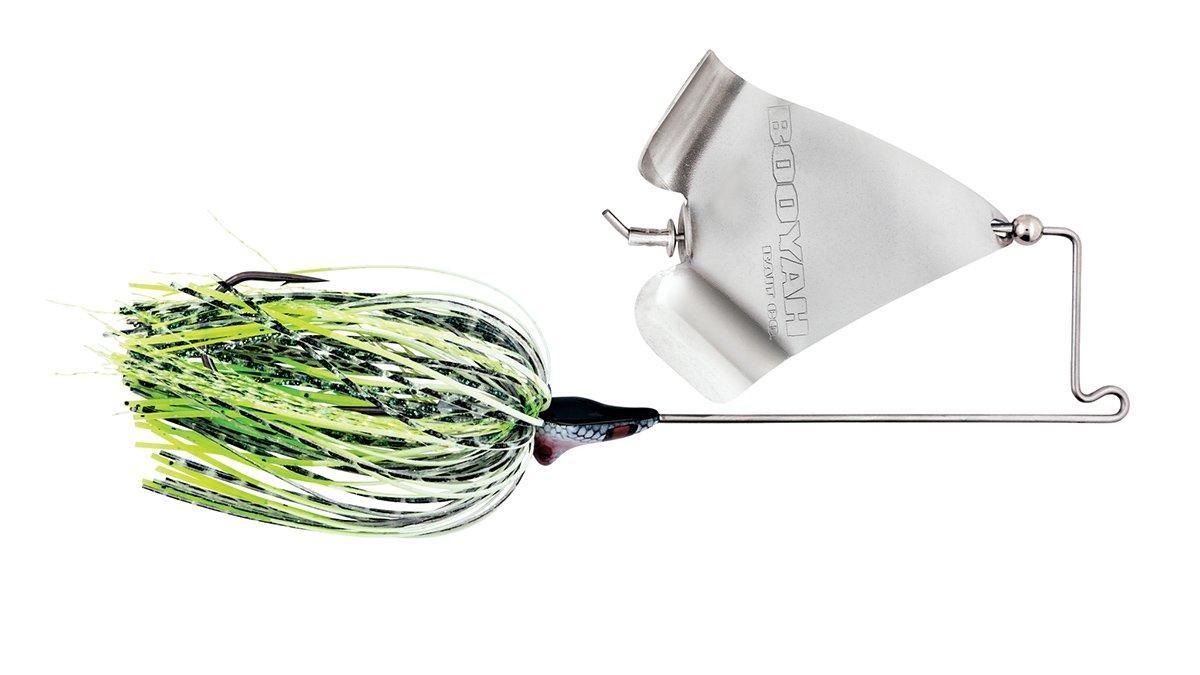 Featuring a unique S-curved blade and quick-planing keeled head, the Squelcher is said to fish slower and stay on the surface easier than most buzz baits. It also features an oversized hook and wire keeper for trailers with a thicker gauge wire and an oversized bead that nests in the blade hole to give it a high pitched squelch in the water. They will come in 3/8 and 1/2 ounce sizes and retail for $7.99.
(32 of 152)
BOOYAH Toad Runner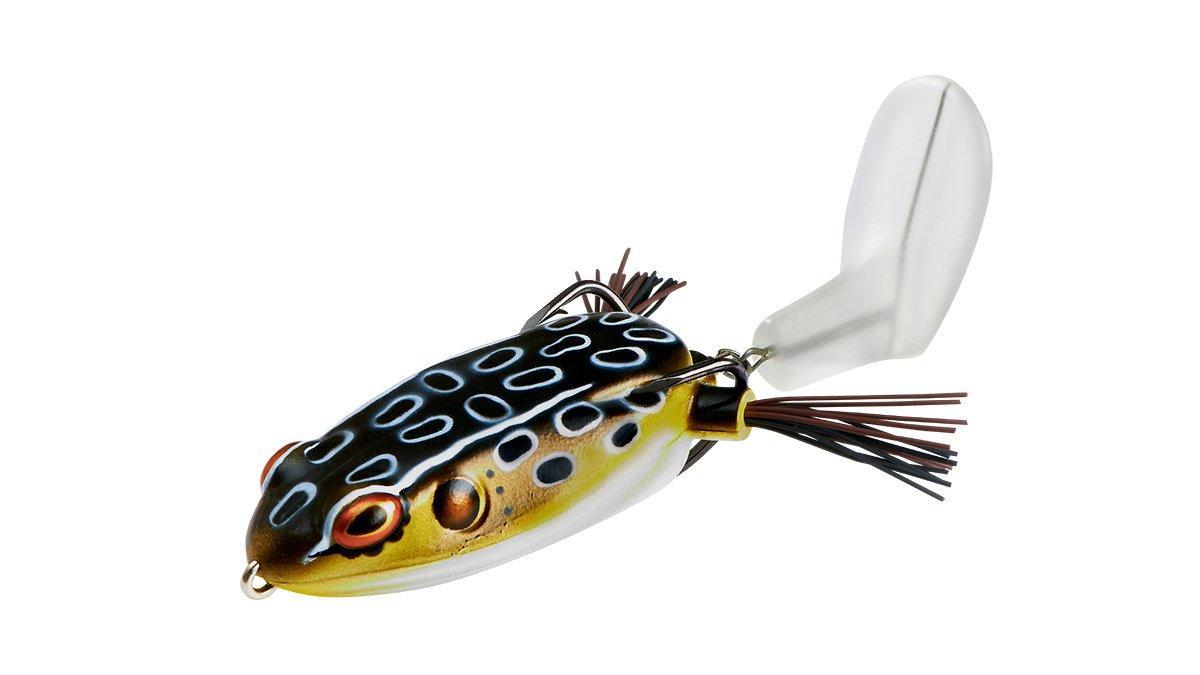 Built on the bulkier Pad Crasher frame, this new frog buzzbait hybrid uses small legs to keep the bait keeled and true while the molded paddle tail chops the water on the retrieve. It comes in 10 colors and weighs 7/8 ounce. The Toadrunner retails for $9.99.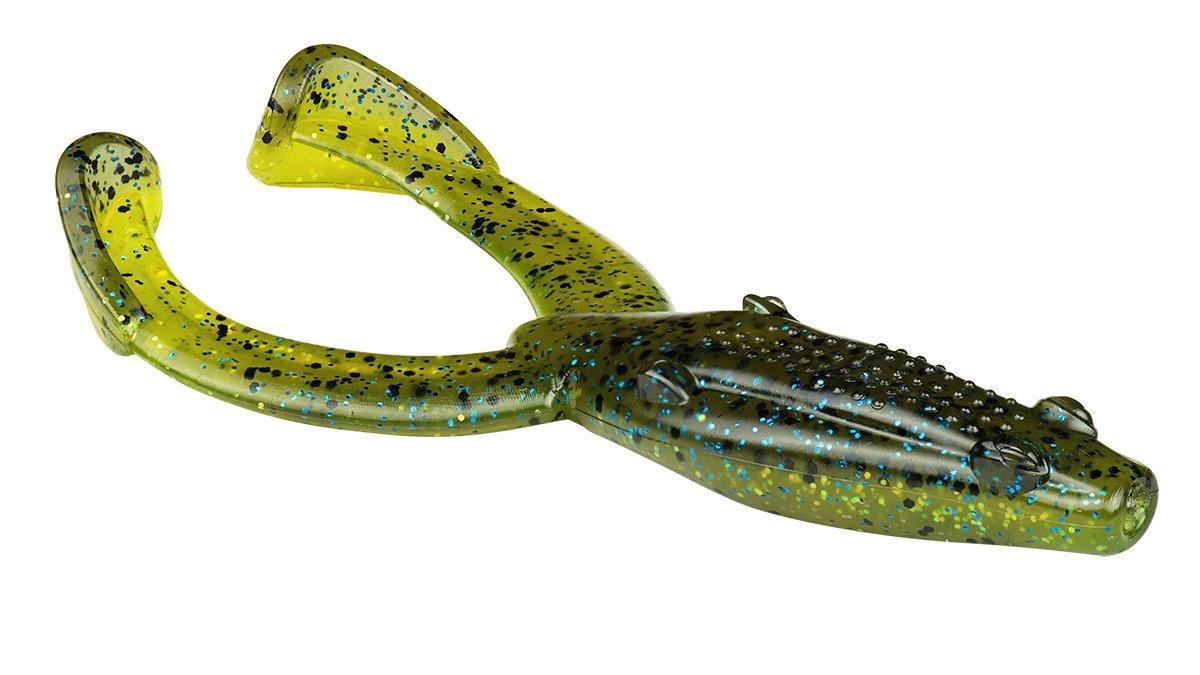 This topwater toad features a lifelike profile, hook slot grooves to perfectly fit 4/0 and 5/0 EWG hooks with tapered kicking feet that give it a unique sound. It measures 4 1/2 inches and comes in 10 colors for $2.99 a pack.
(34 of 152)
Megabass Orochi XX Bass Rods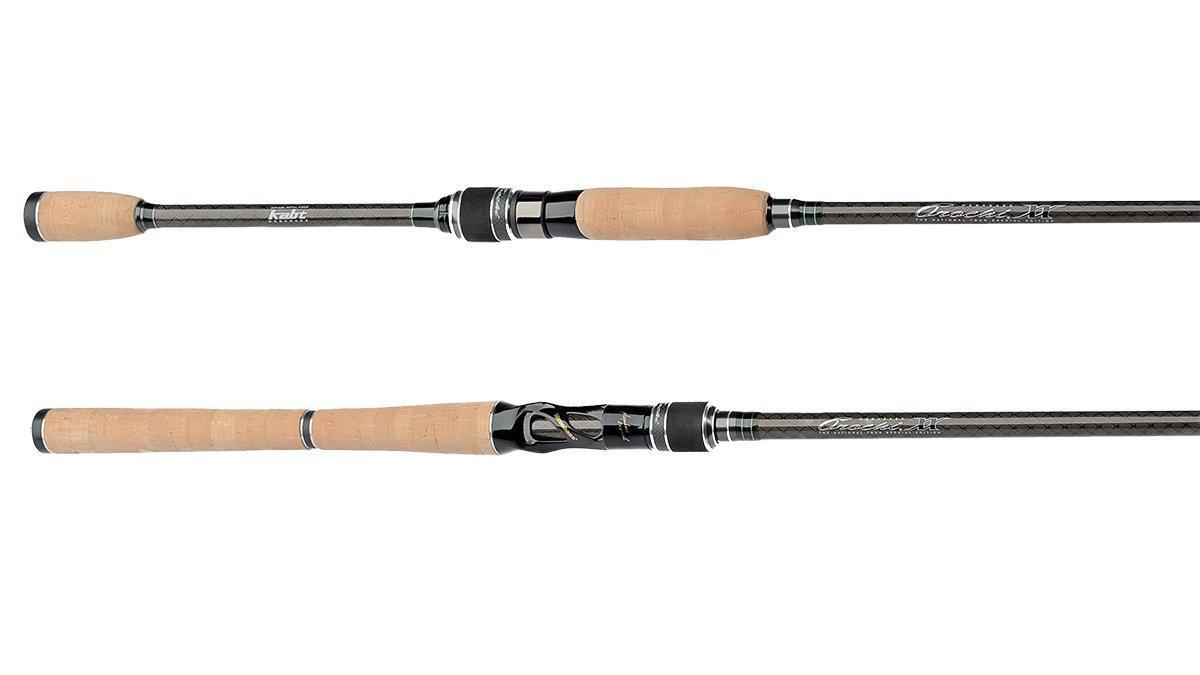 Building off the original 2013 launch, the latest versions of the Orochi XX rods feature a new X47-ASL kabt metal fiber material that is woven into a layered, multi-axis design which reinforces the butt section of each blank, replacing the first generation's carbon wrap to deliver superior power to weight ratio and more lifting power, torque while maintaining crispness in actions. Features 15 models that are shipping already starting at $299. 
(35 of 152)
Megabass Sonic Side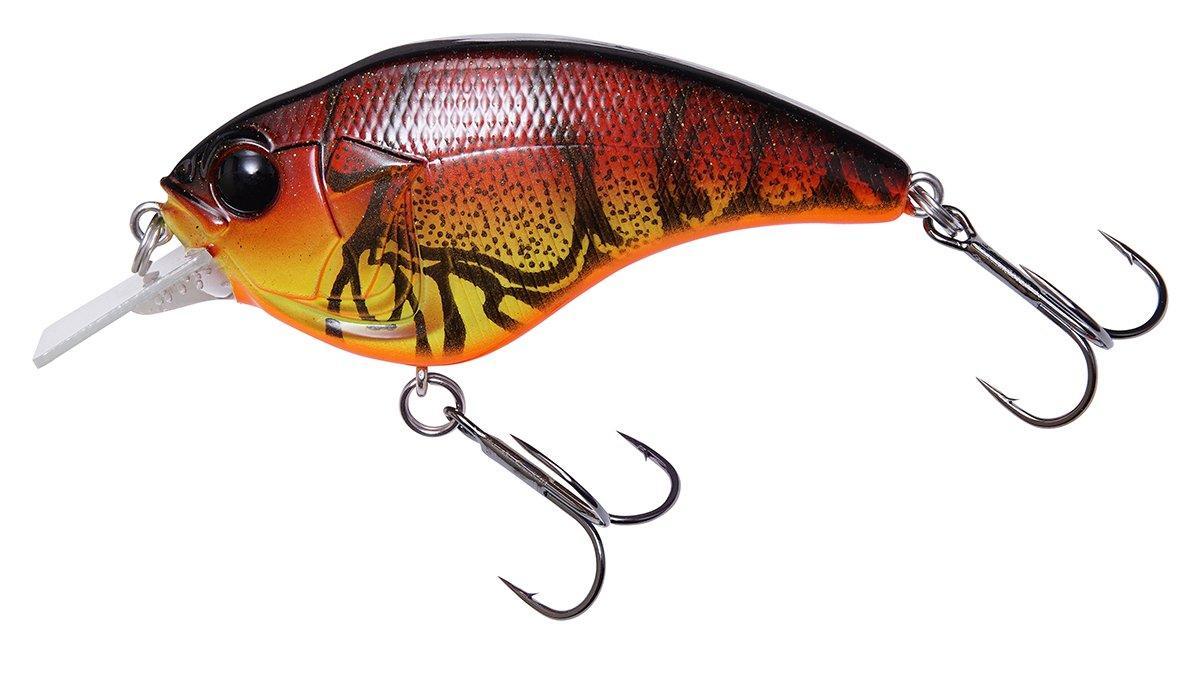 This competition ready flat-side crankbait was designed and built to the specifications of the competing national pro staff. It features a tight wiggle, high pitch action for colder water fishing. It's a 1/2 ounce crankbait featuring a circuit board lip with reinforced molded support for deflecting hard objects like rip rap and docks. Fixed internal weights provide stability at all speeds along with unmatched casting distance. The bait is 2 1/2 inches long and retails for $19.99.
(36 of 152)
Megabass Dark Sleeper 2.4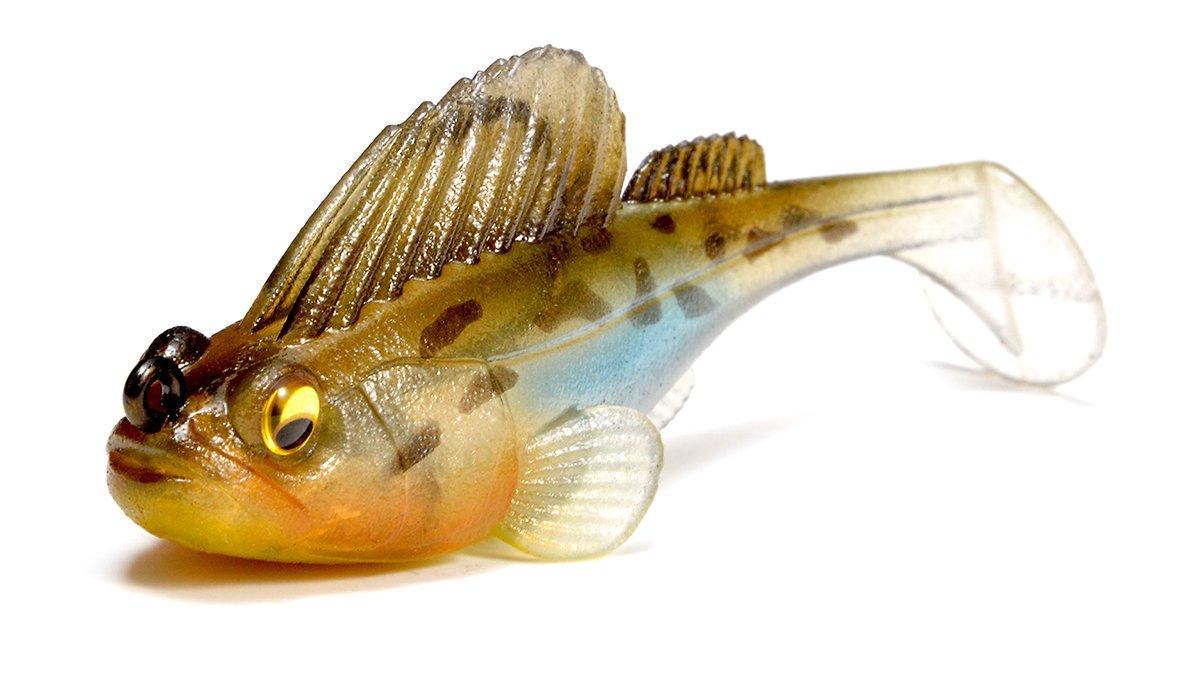 This new 1/4 ounce mini version of the popular Dark Sleeper jigging swimbait will be a real crowd pleaser as a snack sized finesse offering for all species of bass as well as many other species of freshwater fishing. Feature the same great weight system and hidden hook, the new 2.4 inch Dark Sleeper will be the perfect version for spinning anglers.
(37 of 152)
Megabass Kanata Colors Added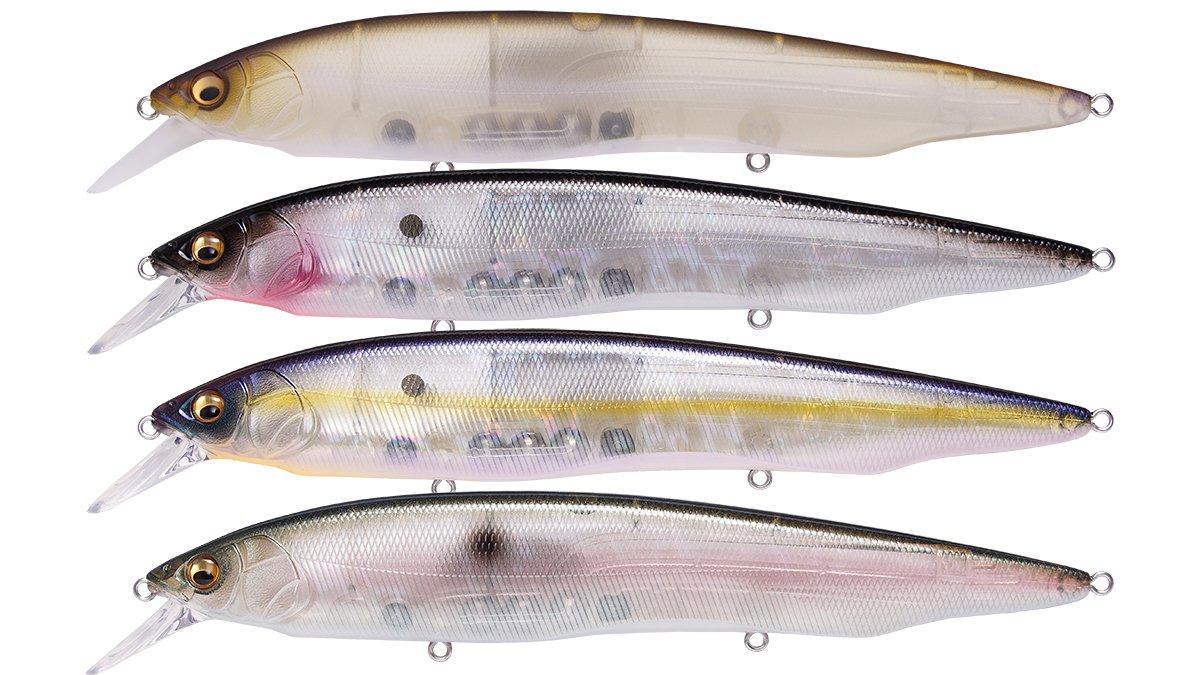 Adding more shad and large baitfish colors to the oversized Kanata jerkbait line, Megabass expands it's lineup to fit more big bait profiles anglers are mimicking. 
(38 of 152)
Jenko Fishing Off Spring Buzzbait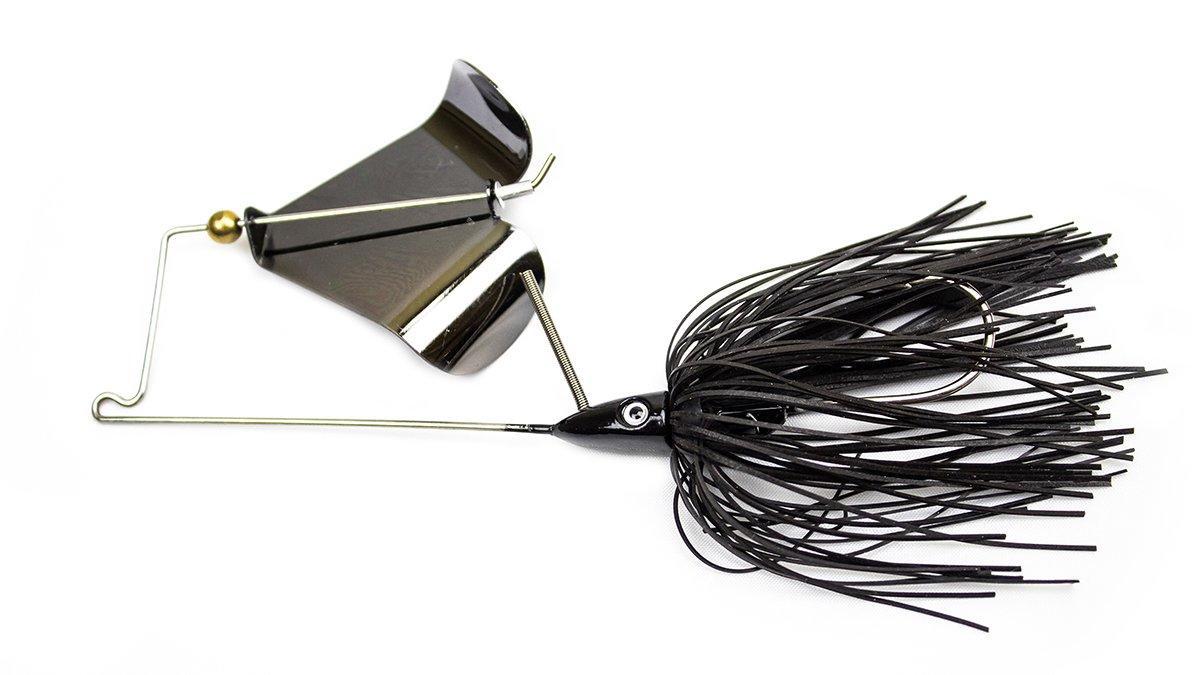 This unique take on a buzz bait features a spring knocker to give the buzz bait not only a clack but also a scratch and screech sound as it comes through the water. The buzz bait rides well with its keeled head and makes the perfect sound out of the package.
(39 of 152)
Jenko Fishing Big T Slasher Jighead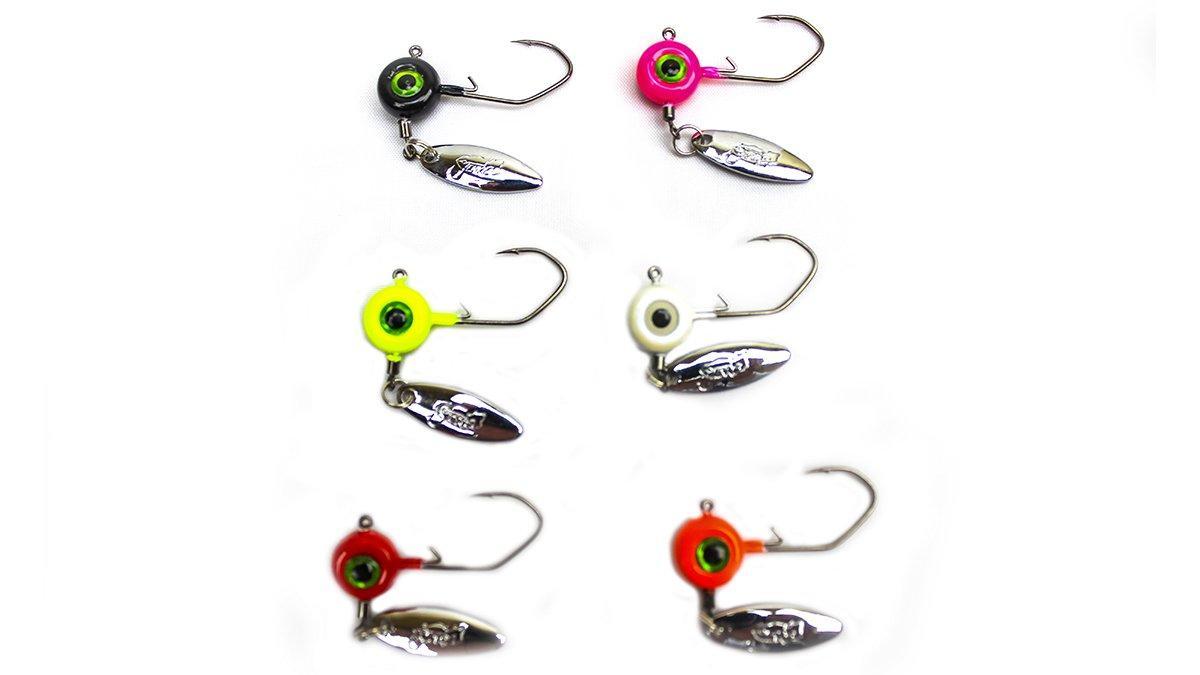 This underspin for crappie anglers features a pill shaped head, large molded eyes and a stick sharp hook perfect for all sorts of crappie plastics fished on a straight retrieve with a spinning blade for added flash and vibration.
(40 of 152)
Jenko Fishing Big T Fringe Fry and Curly Fry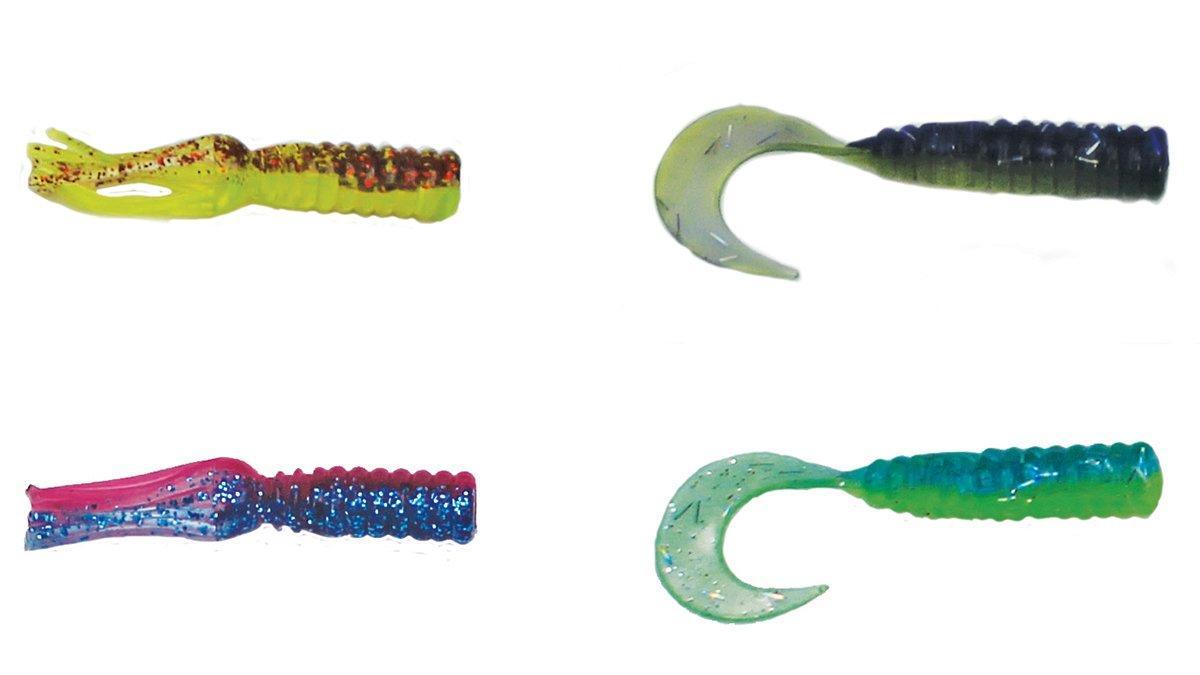 A new ribbed body and ring tailed curl tail grub of the Curly Fry give crappie anglers a plastic that will kick at ultra-slow retrieve speeds that are often necessary in crappie fishing, especially when fishing around deeper cover. The ribbed section between the body and tail give this plastic its perfect kick on the retrieve.
Crappie anglers were asking for a better solid body tube jig for vertical jigging and casting applications. The Big T Fringe Fry has a ton of action thanks to its reverse tube tail design that causes the tails to flare and move with the slightest twitch or movement by the angler or wave action giving it a lifelike appearance at all times in the water.
(41 of 152)
Carhartt Force Fishing Graphic Long-Sleeve T-Shirt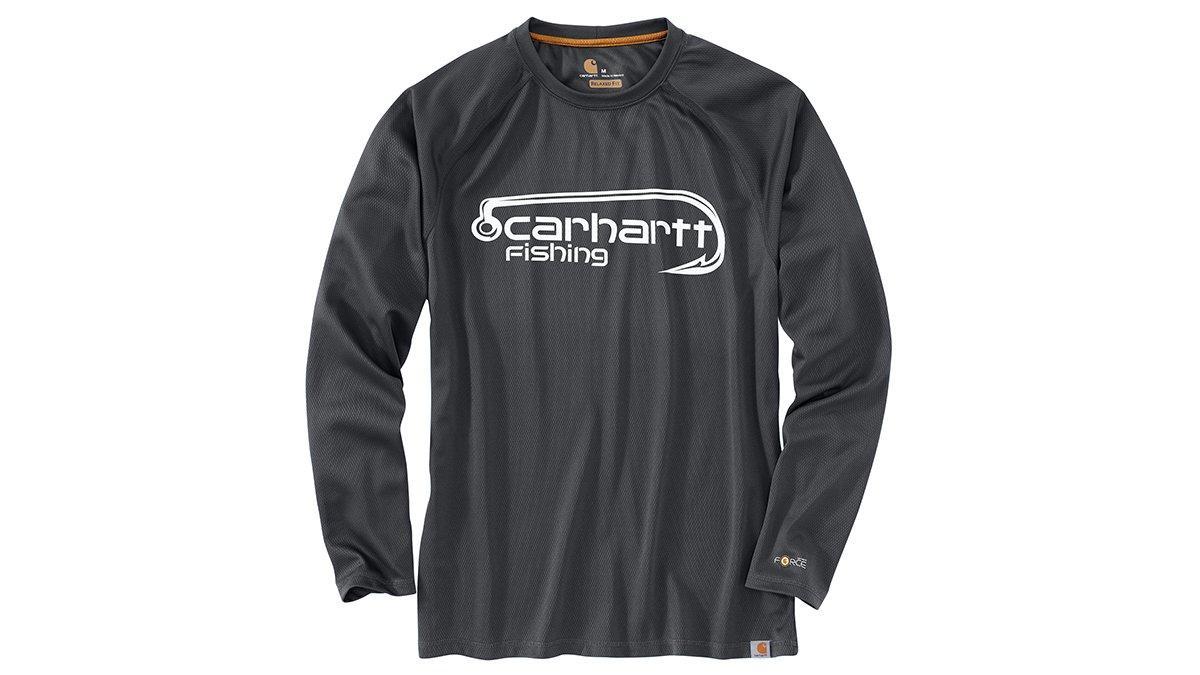 The 5.25 ounce bird's-eye knit FastDry shirt wicks away sweat as well as the Stain Breaker technology keeps the shirt from smelling on long hot days. The cut and side seamed construction minimizes twisting while increasing range of motion while offering UPF 25 protection. 
(42 of 152)
Carhartt Angler Jacket and Bibs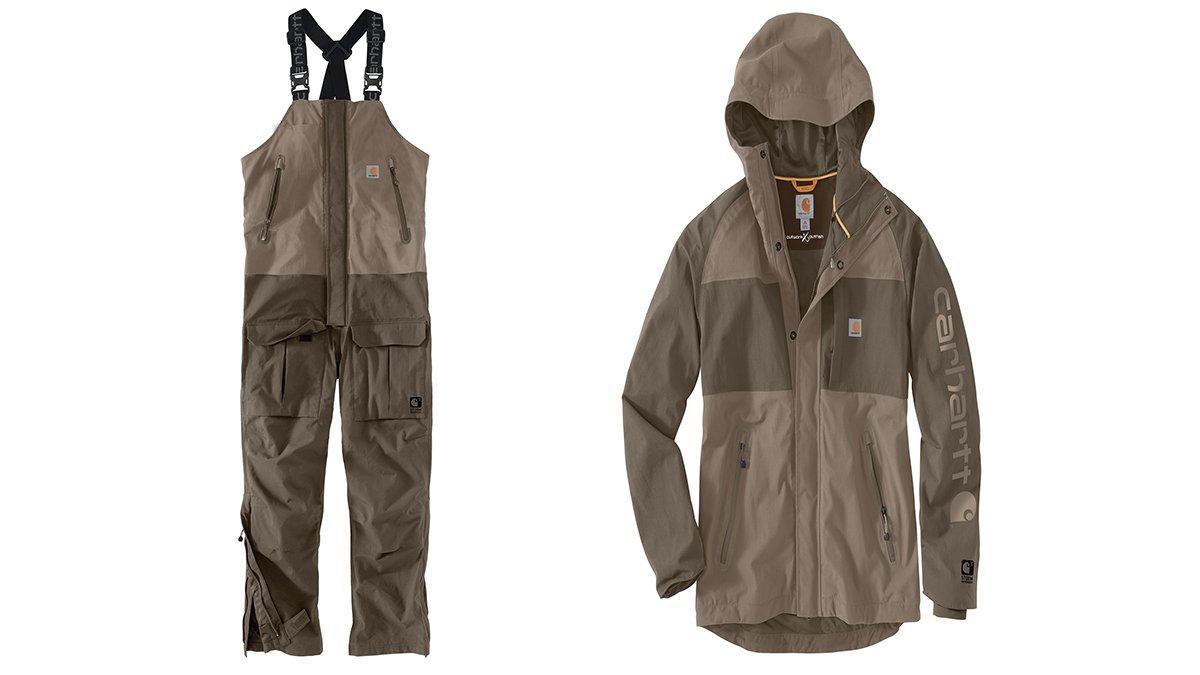 The 5-ounce, 100% nylon, 2-layer construction of the Storm Defender membrane and Rain Defender repellent give these rain jackets and bibs 10k/10K protection ratings for keeping you dry and insulated in the worst conditions. It's also the fastest drying construction ever in a Carhartt rainsuit which helps with odor elimination as well.The cuts and sealing on these jackets and bibs gives you free range of motion without bunching and pooling in wet weather to keep you dry and comfortable wearing raingear all day in tough fish conditions.
(43 of 152)
Carhartt Force Extremes Angler Woven Fishing Shirt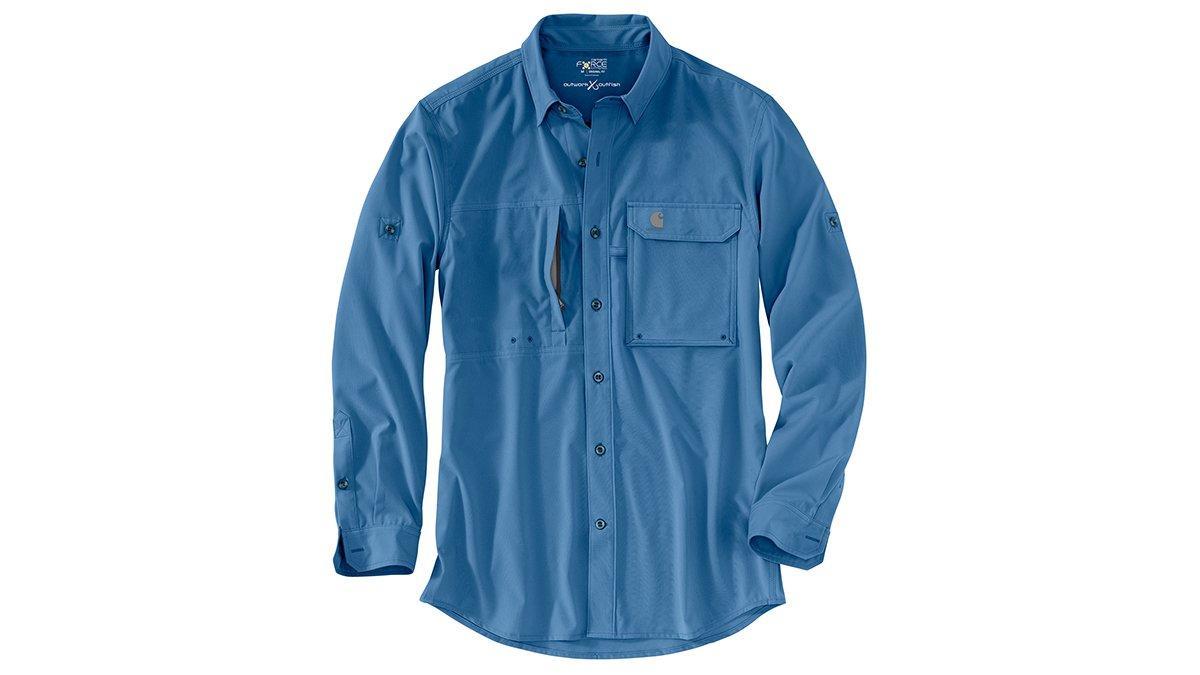 Made with 48% polyester and 38% Cocona materials, this FastDry shirt keeps your body at its ideal temperature while giving you a rugged and durable and great looking piece of fishing apparel for a multitude of fishing conditions. UPF 50+ rating to keep you protected and an easy flip up collar for added neck protection makes this a great fishing shirt for all anglers.
(44 of 152)
Frabill Bait Station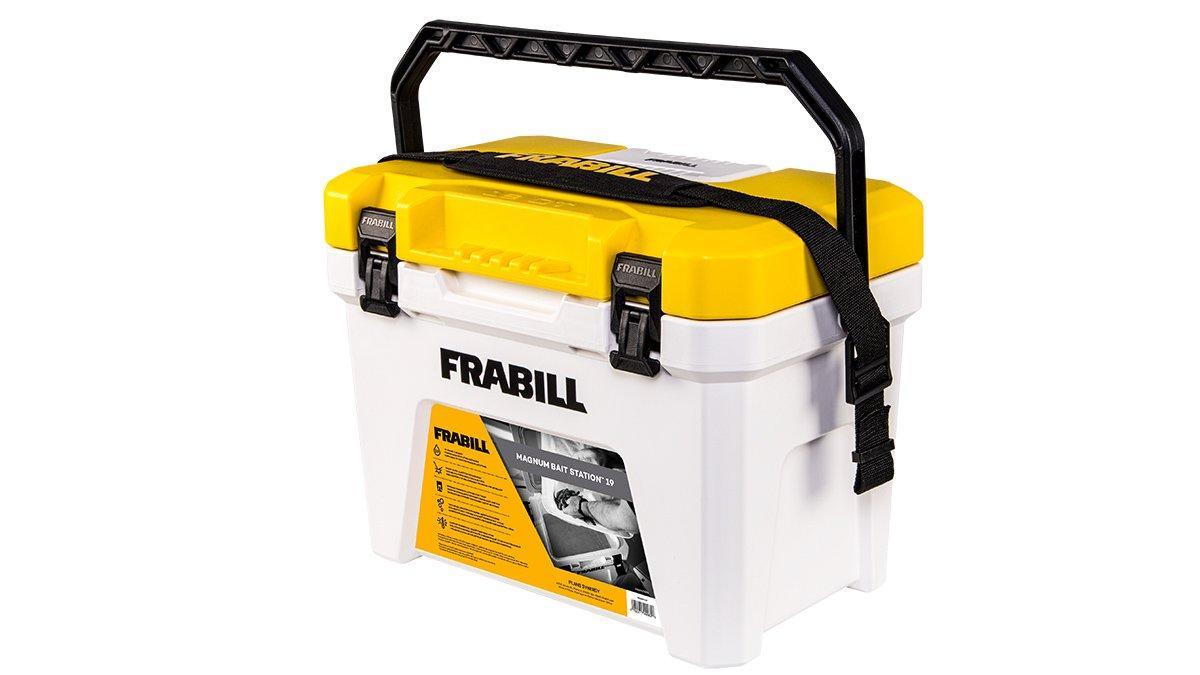 This high-end bait keeper is made of heavy-duty injection molding as well as 1-inch commercial grade foam insulation to keep your expensive live bait protected from the summer heat. It features a battery powered aerator to keep your fish lively. It comes in 13-quart and 19-quart options for $89.99 and $99.99 respectively.
(45 of 152)
Costa Untangled Collection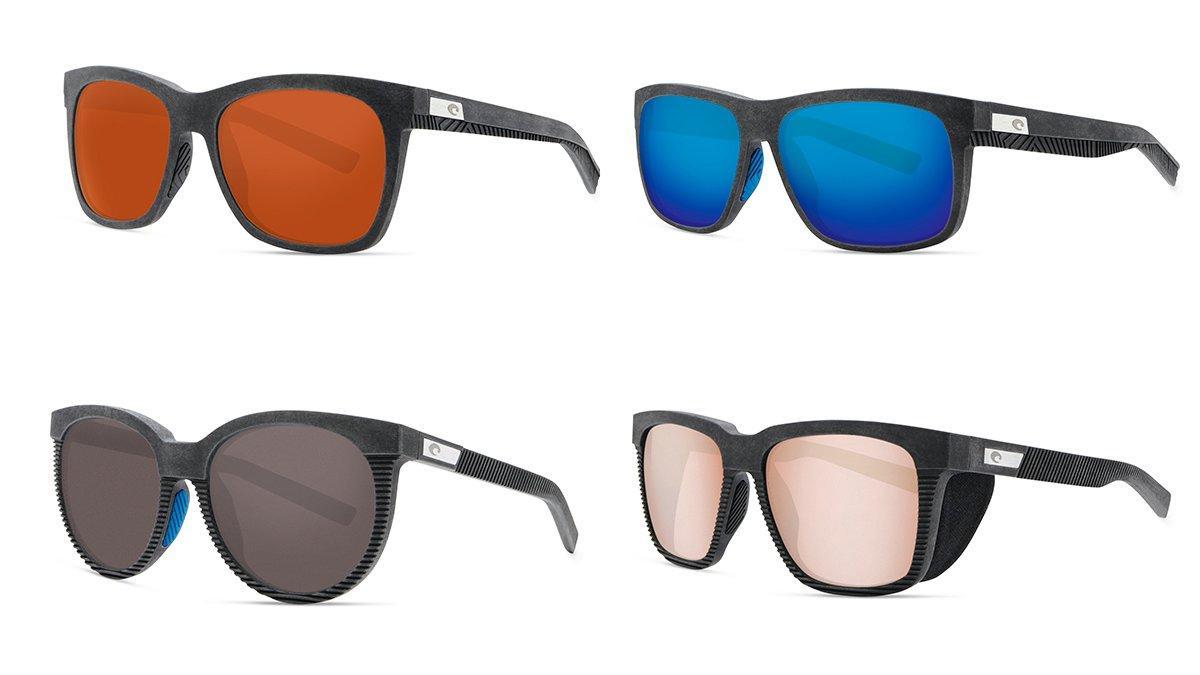 Costa teamed with Bureo, the pioneer in recycled fishnet products to launch a new line of Untangled Collection of sunglasses feature frames made from recycled fishnets. Two Men's/Unisex styles in Pescador and Baffin and two Women's frames in Caldera and Victoria. This collection will retail between $199 and $269 depending on the lenses choices. 
(46 of 152)
Humminbird AutoChart LiveShare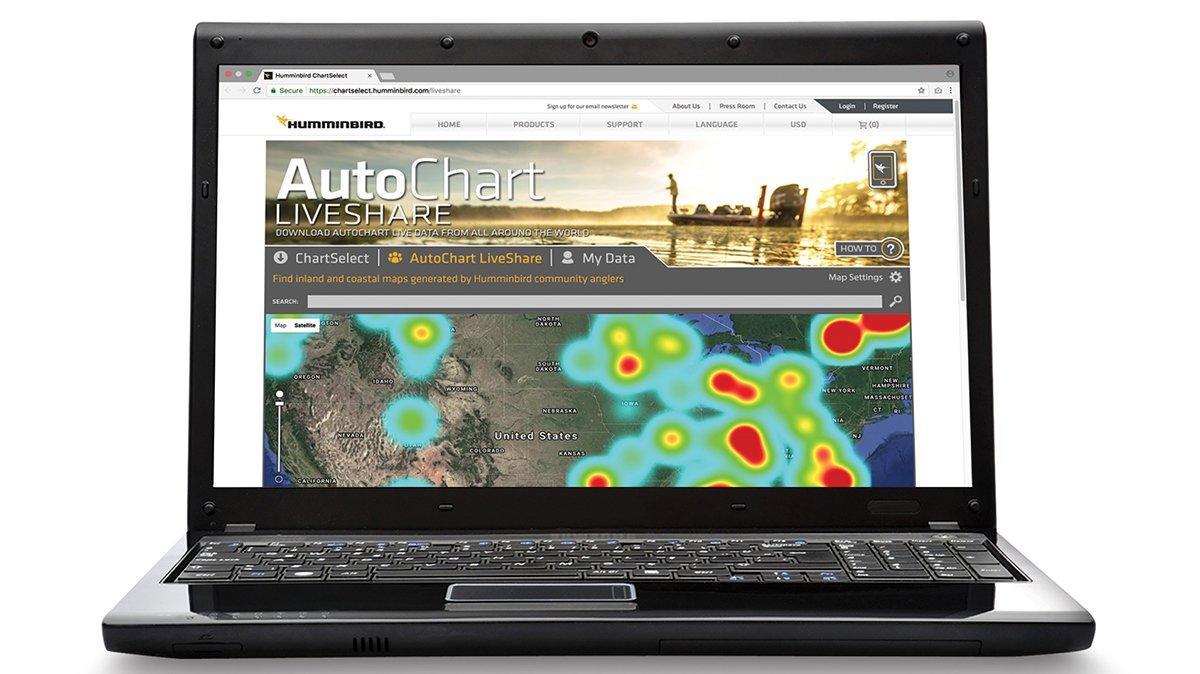 Humminbird has added the ability for users to share and download other users maps to their own devices via it's AutoChart LiveShare. So now if your buddy maps a small lake, you can get the data as well. You will also have the option to upload to a global community giving everyone the most robust maps available on various fisheries through its free online service.
(47 of 152)
Humminbird Solix 10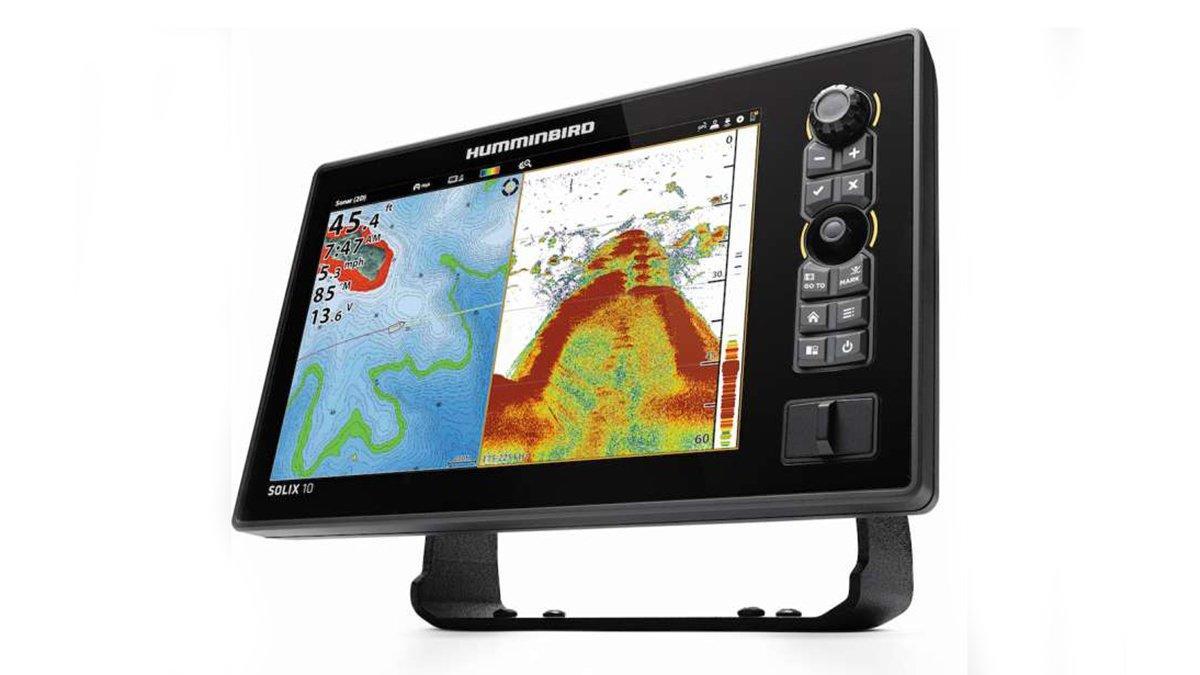 Featuring two models, the Solix 10 Mega SI CHIRP GPS ($2,299) and the Solix 10 CHIRP GPS ($1,199), anglers will now have high end choices for more affordable price points featuring Mega Imaging, Cross Touch Interface, CHIRP Digital Sonar, AutoChart Live, Bluetooth and i-Pilot Link. The Solix features ultra sharp clear pictures in all lighting conditions with Basemaps for 10,000 lakes.
(48 of 152)
Minn Kota Built-In Mega Imaging Trolling Motors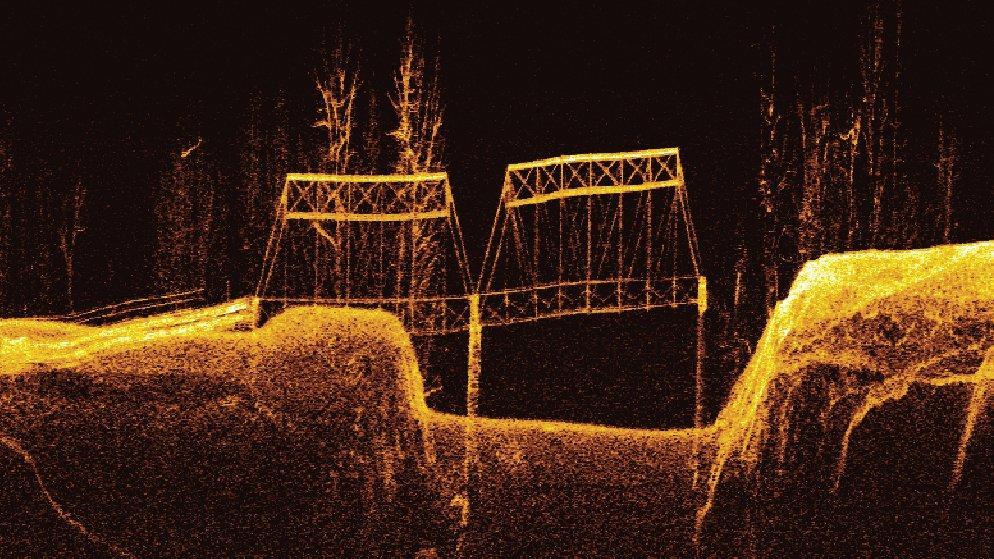 Anglers will now have the option to purchase trolling motors with built-in Mega Down Imaging transducers in the head of the TM, giving Humminbird users the total package in trolling motor technology. IT will be offered in Ulterra, Terrova, Ultrex and Fortrex trolling motors. 
(49 of 152)
Minn Kota Digital Portable Battery Charger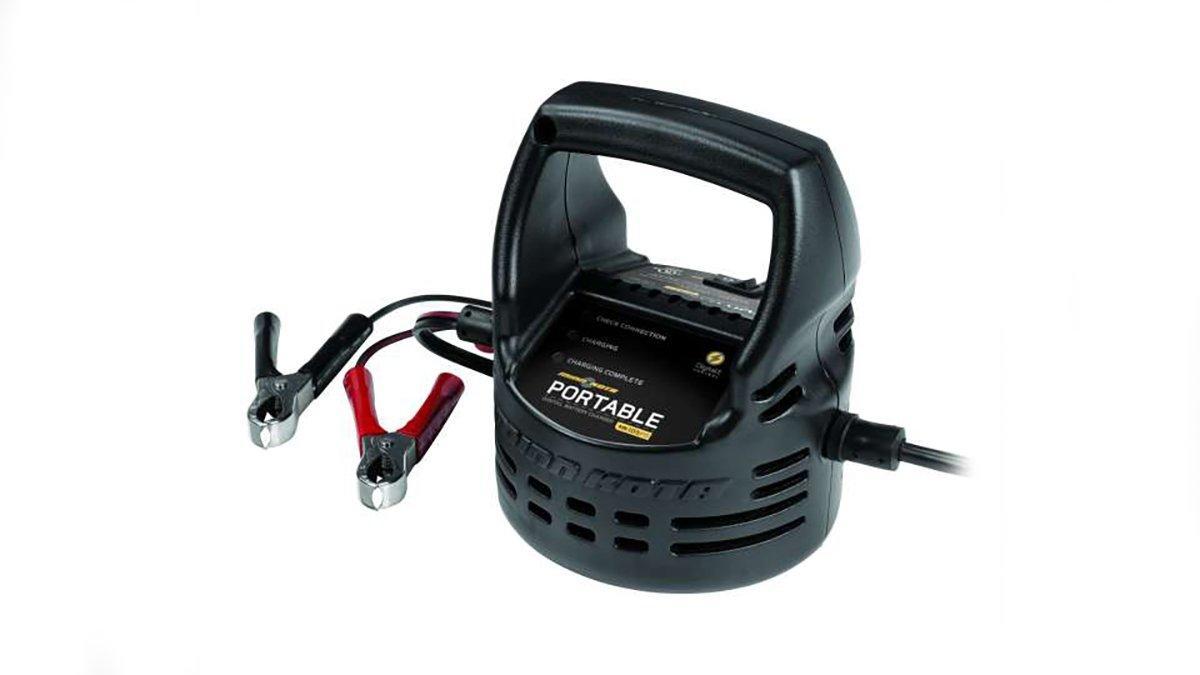 New 5- or 10-AMP portable chargers giving you charging power on the go with intelligence built in to sense outside temperature and adjust charging conditions on the fly for a more precise charge every time. These chargers will extend your battery life. Retails for $59 and $84.
(50 of 152)
Humminbird Minn Kota One-Boat Network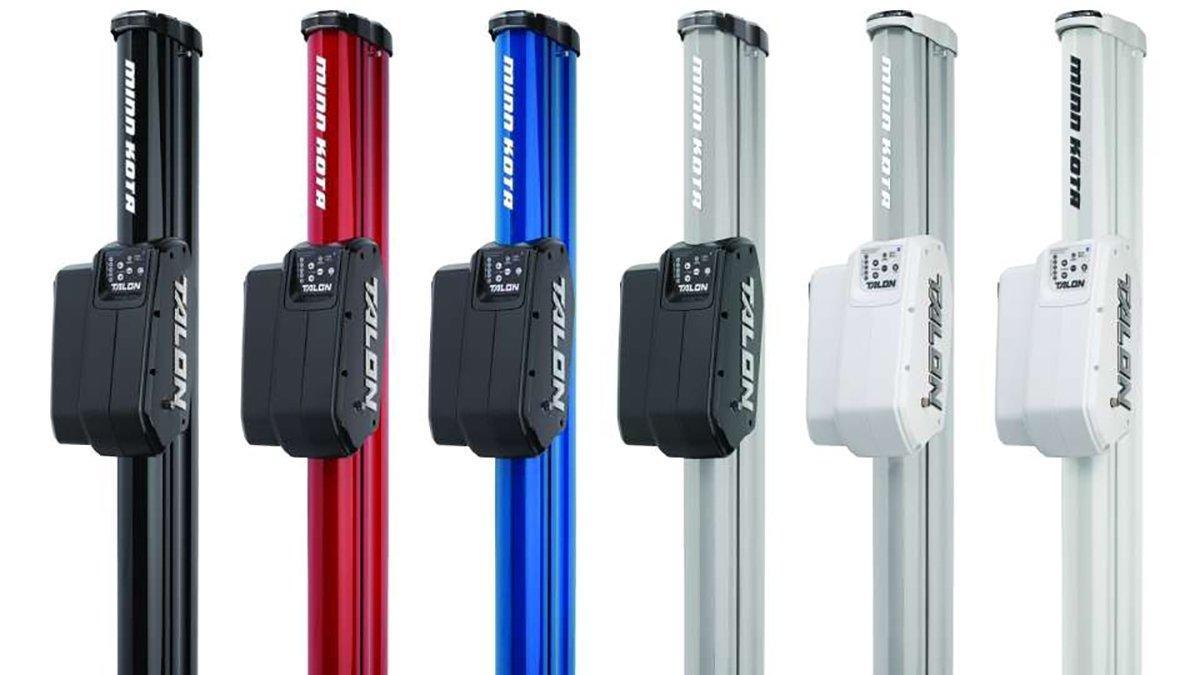 Now anglers can network their Talons, Minn Kota trolling motors and Humminbird units together in one ecosystem in their boat and more effectively utilize technology like i-Pilot link to take all the hassle and boat control frustrations out of your fishing. You will be able to deploy Talons and correct course on your Ultrex and Fortrex trolling motors from your graphs and much much more.
(51 of 152)
Humminbird ICE Helix G2N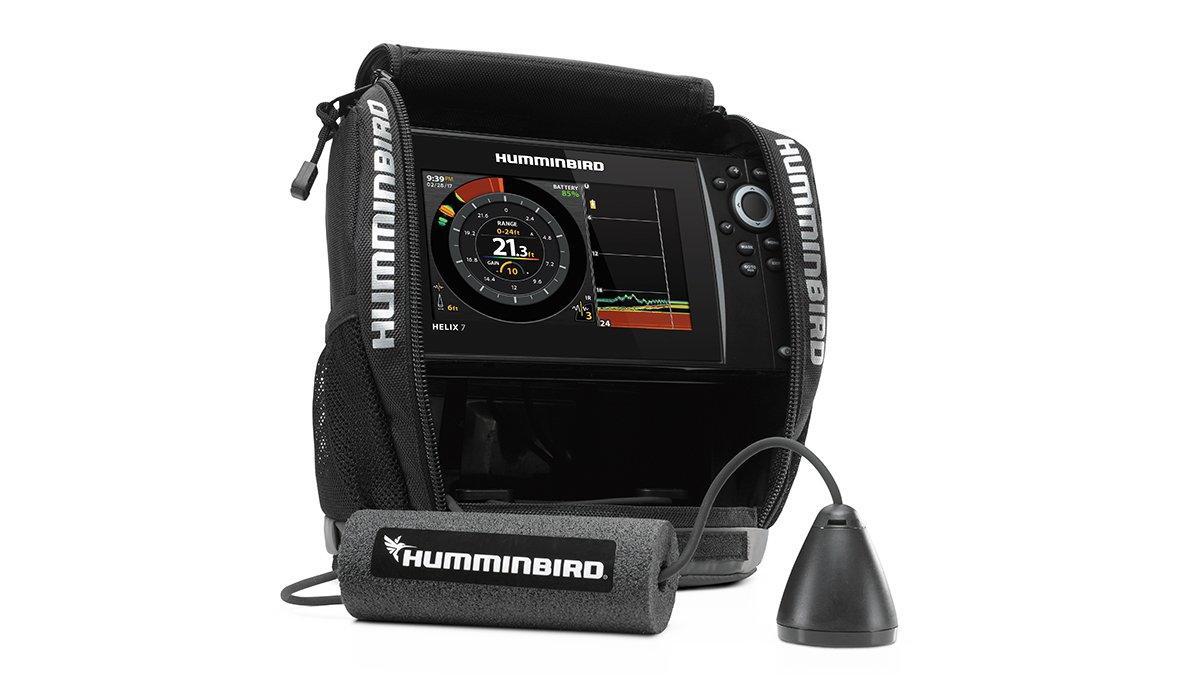 The Humminbird ICE HELIX Series has been a go-to choice for anglers looking to have an all-in-one ice unit with built-in GPS capability. Now, with the new ICE HELIX 7 CHIRP GPS G2N, anglers have access to leading fish finding and mapping technology year-round in oneunit. The new fish finder is networkable withother HELIX G2N models and features GPS, CHIRP Digital Sonar, Humminbird Basemap and AutoChart® Live.
(52 of 152)
Bobby Garland Slab Hunt'R Minnow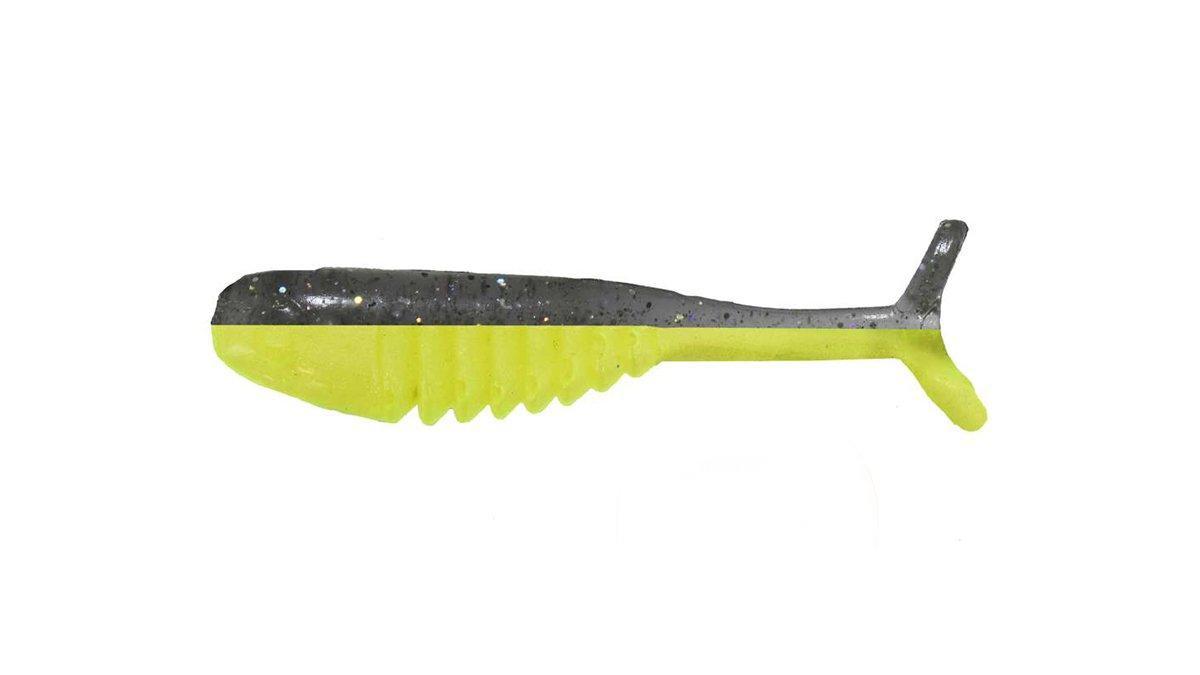 A new swimming bait that is sure to be a hit features a ribbed swimbait keeled body with a unique flutter tail design that will give crappie anglers another option for a drop bait, casting jig and dock shooting plastic for crappie on a variety of waters.
(53 of 152)
Livingston Slingshot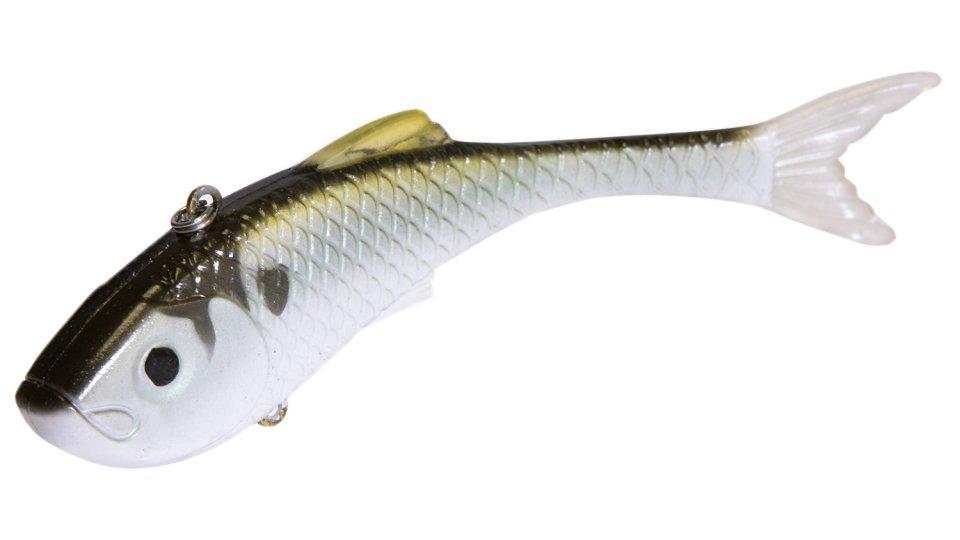 This shad imitator features a the fluttering tail action of a soft swimbait in a lift and drop bait. It mimics a lipless crankbait except with the accoustics of Livingston's EBSTM technology and natural look and feel of a soft plastic bait. Meant to be worked over deep schools of fish with a lift and drop retrieve, the SlingShot will be another shad option in the angler's deepwater arsenal. Retail is $7.99 each.
(54 of 152)
Lure Lock Lure Locker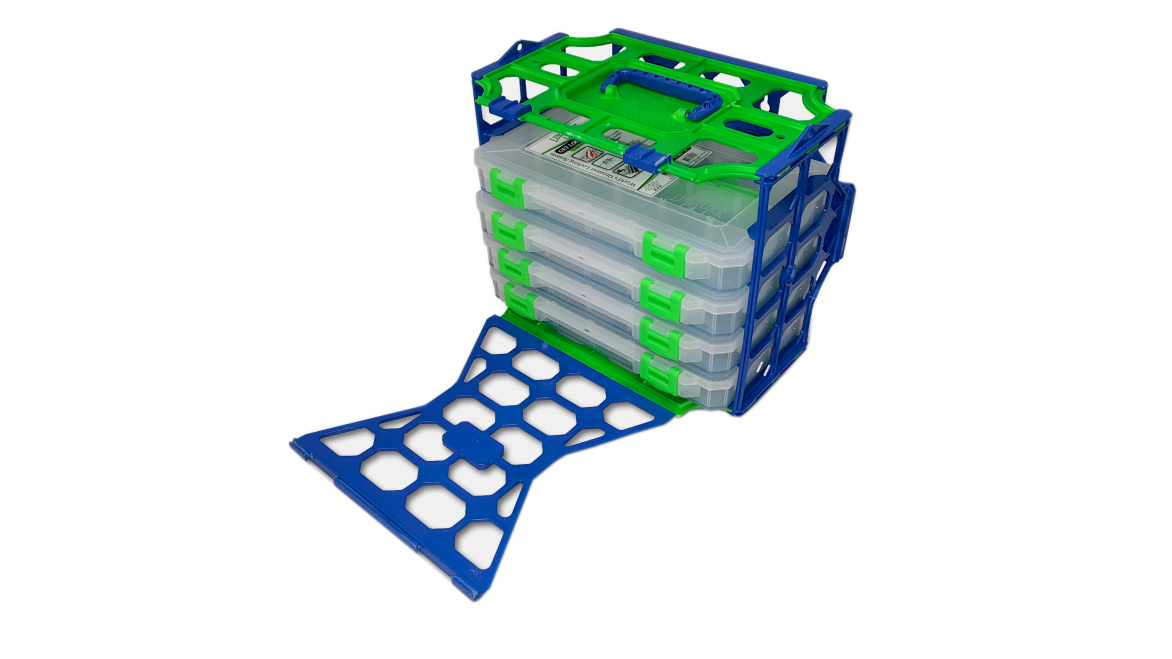 The Lure Locker provides a durable ABS plastic cage to hold 5 of your Lure Lock boxes and ready to go fishing. The unique Lockers will come in three models designed to hold each of the LL1, LL2 and LL3 cases. They can be hung on the wall or put on your pegboard to store your tackle orderly and out of the floor to quickly grab and go fishing at a moment's notice. Price ranges from $24 to $34. 
(55 of 152)
Plano E-Series Back Packs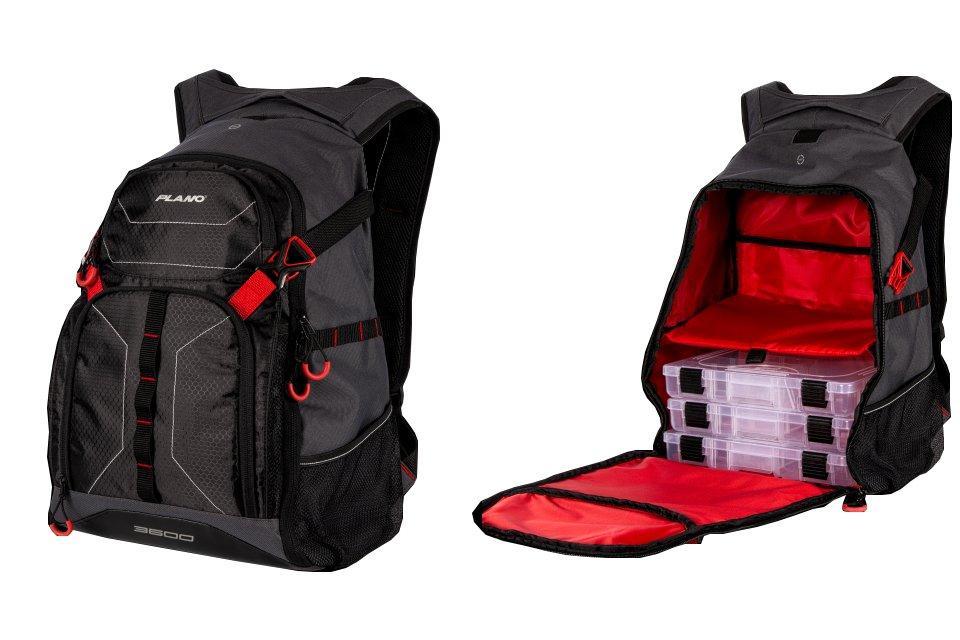 These new commuter style backpacks employ functional design for storing fishing tackle, refreshments, and other equipment and angler on the go might need for a day of trekking and fishing off the beaten path as well as being comfortable and durable with a lot of accessibility while fishing in close spaces. This pack retails for $59.99.
(56 of 152)
Batson ALPS Painted TexTouch Reel Seat and ForeCast Carbon Fiber Grips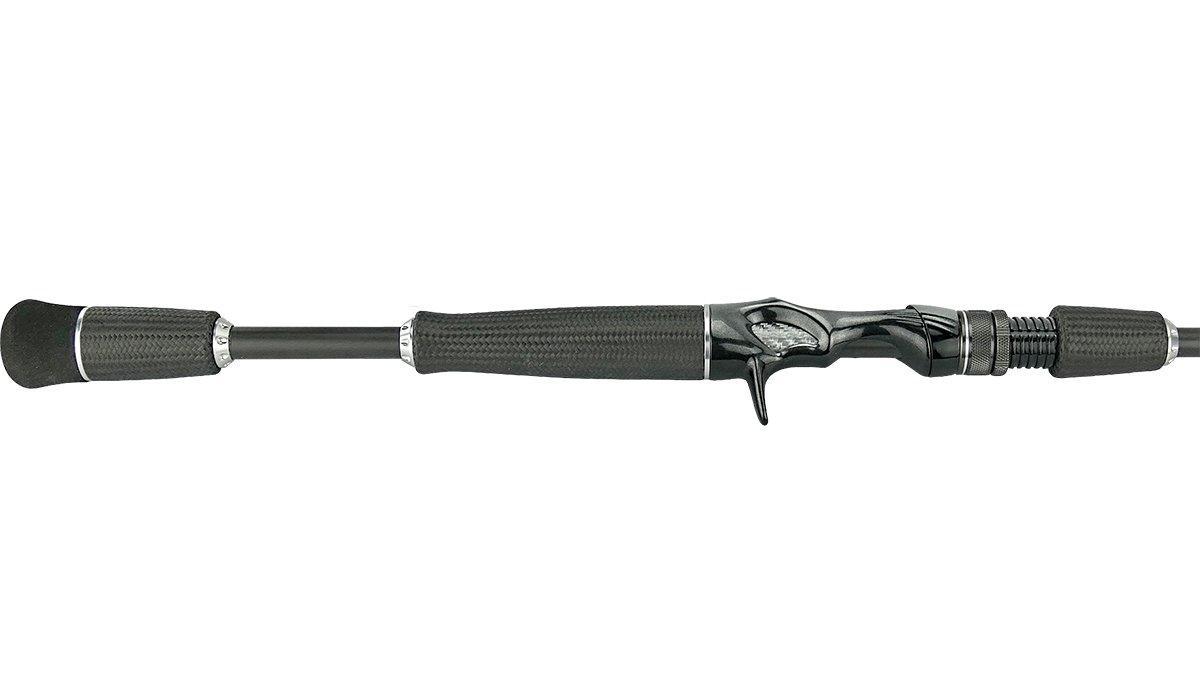 These new stylish painted versions of TexTouch reel seats features CNC machined 6061-T6 double locking nuts and a double keyed body to hold the reel in place and eliminate hood spin. A texalium woven insert adds a classy touch to a strong, sensitive and lightweight reel seat that is perfect for any angler's quest for the best components.
(57 of 152)
KastKing Speed Demon Bass Rods
Using a Dimensional 16 Graphite blank technology to keep the rods light while increasing sensitivity and strength at the same time. They feature 3A cork handles with matched Fuji reel seats and guides They will come in 9 casting and 2 spinning models and come with KastKing's Total Peace of Mind Warranty.
(58 of 152)
KastKing Speed Demon Pro Baitcaster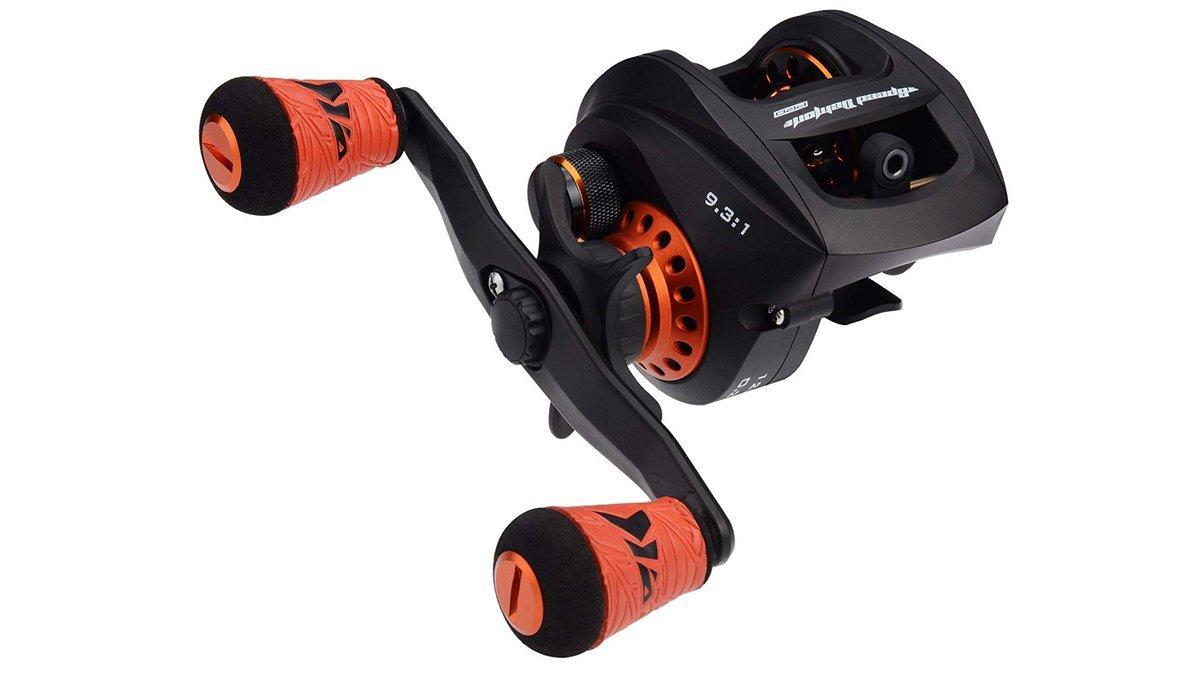 Enjoy the same high-speed 9.3:1 gear ratio as the original Speed Demon,with much less weight. Speed Demon Pro includes upgrades of a carbon infused nylon frame, side plates, star wheel, and handle, yet stronger manganese brass gears, and a T7075 hardened aluminum main gear shaft, all in the interest of weight reduction. The changes were effective and reduced the Speed Demon Pro to 6.5 ounces as compared to 8.3 ounces for the original. Retails for $89
(59 of 152)
KastKing Speed Demon Pro Tournament Rods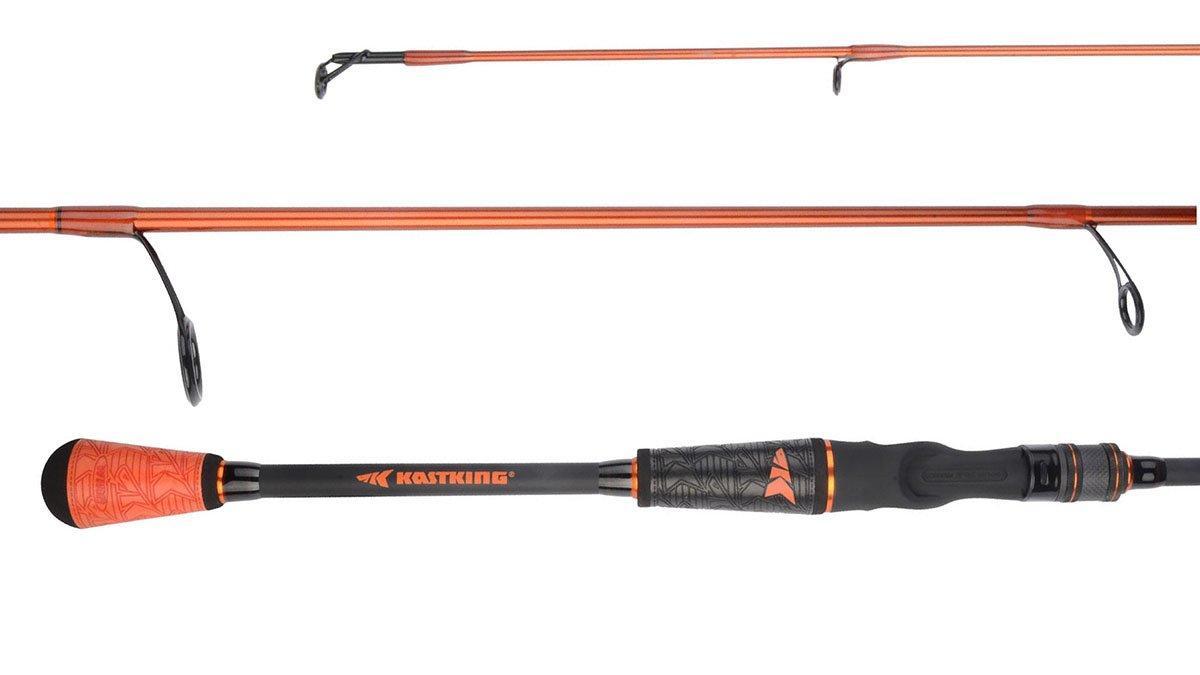 Featuring Elite Carbon Blanks and Nano Resin Technology these rods boast 30-percent more breaking strength and lifting power over traditional graphite rods. They use Fuji guides and reel seats with Winn Grips for a high performance rod at a lower price point. The rods come in 15 action/power combinations specific to most bass fishing tournament applications. They are the new flagship line in their bass fishing options.
(60 of 152)
KastKing KastPro Braided Line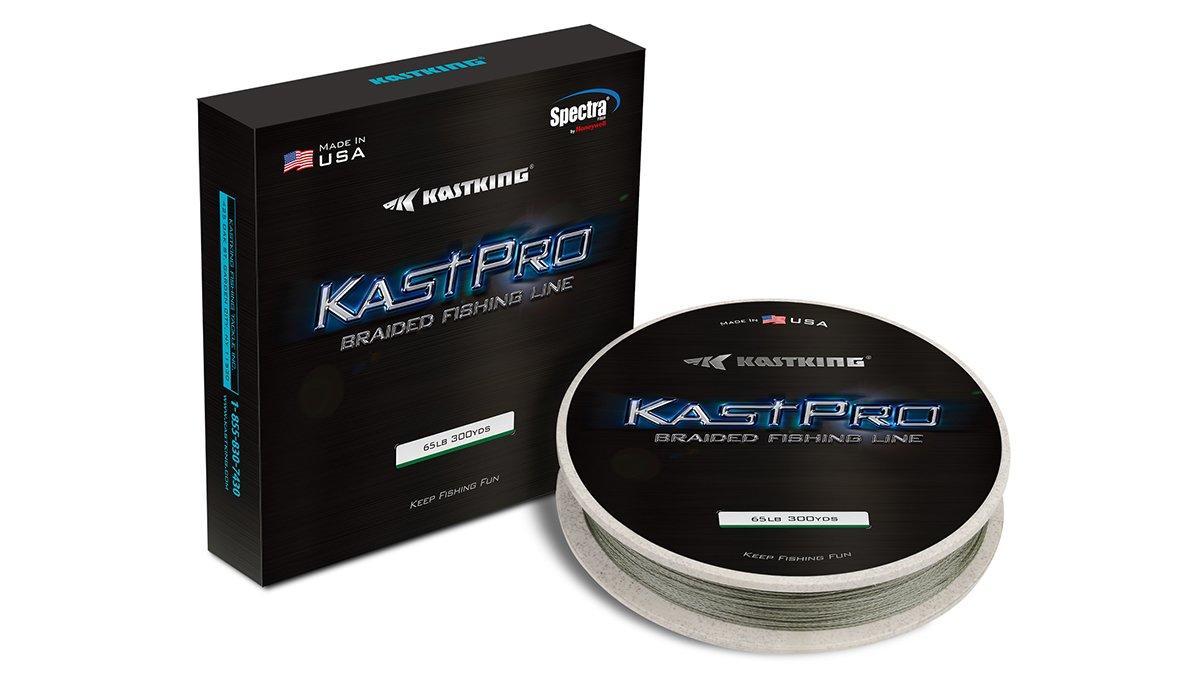 This 4 carrier Spectra braid features a diamond weave so that it is not only tough but abrasion resistant with a coating to give it better color fasting and better castability. The 4 carrier line is said to be more supple and manageable than 8-strand braids. The braid also comes on a Biospool made from wheat straw to be biodegradable. 
(61 of 152)
Big Bite Baits Suicide Buzz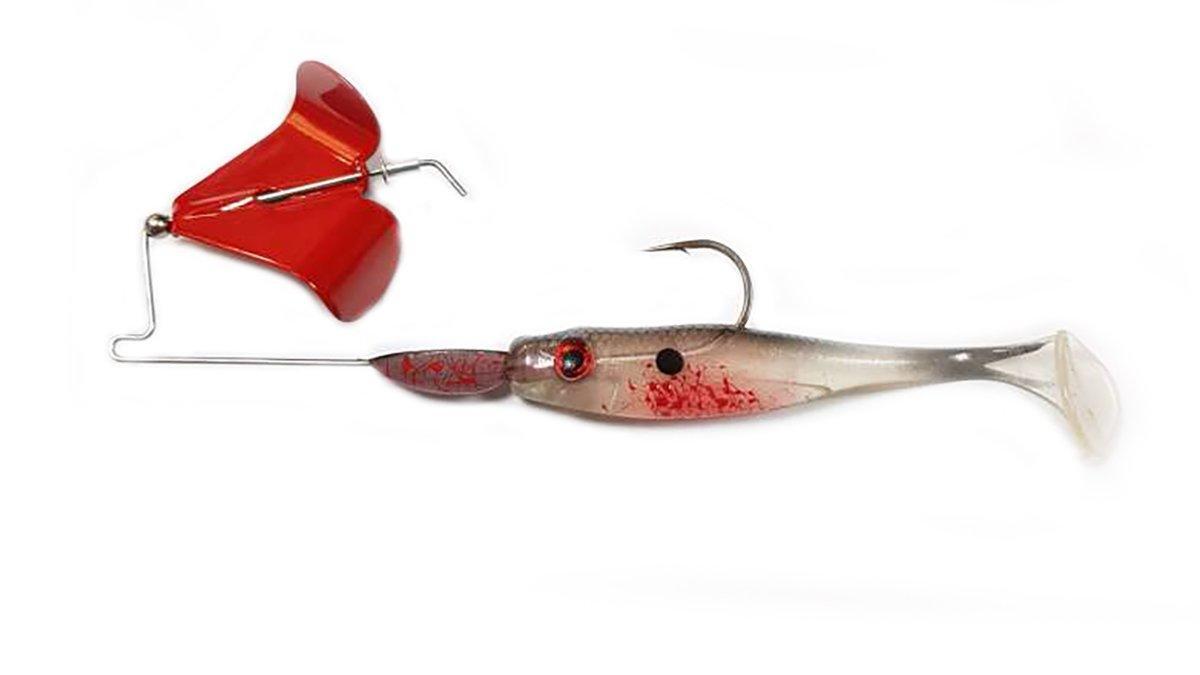 Building off the success of its Suicide Shad, the Suicide Buzz incorporates the Shad with a fast rising head design on a buzz bait that will come in 1/4 and 3/8 ounce options and 4 colors to give anglers a swimbait/buzzbait profile that will come with one rigged and one spare tail per package.
(62 of 152)
Culprit Water Dragon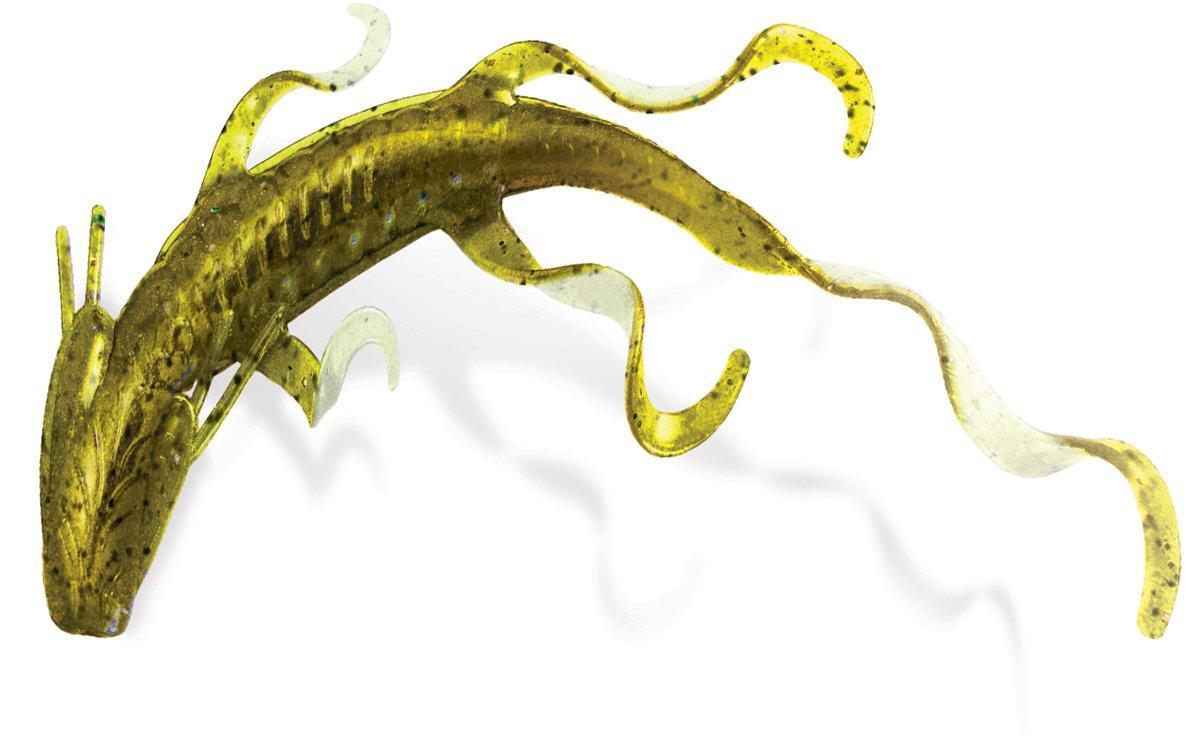 Designed with an oversized head, flared gills, larger back legs and tail, the 7-inch Culprit Water Dragon intends to give the angler more bait action on the back of a Carolina rig or pitched around cover on a Texas rig. Comes in 12 proven colors for $5.29 an 8-pack.
(63 of 152)
Gruv Launch Pads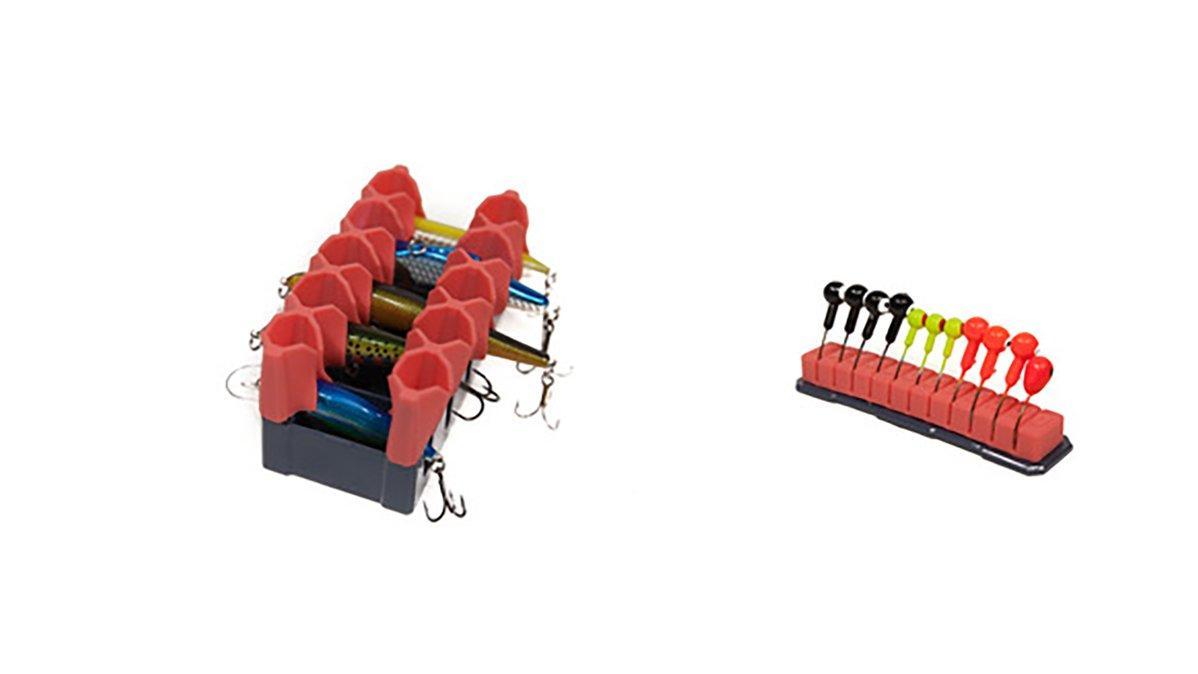 These unique stick in your boat tackle managers are unique and give anglers a great way to store baits they are swapping in and out while fishing at a hand's reach. We have them in our boats already and they hold hooks, jigheads, jigs, spinnerbaits in the one straight-line design and small crankbaits, topwater and jerk baits in the larger format. They install in seconds with strong holding 3M tape.
(64 of 152)
LiveTarget Hollow Body Craw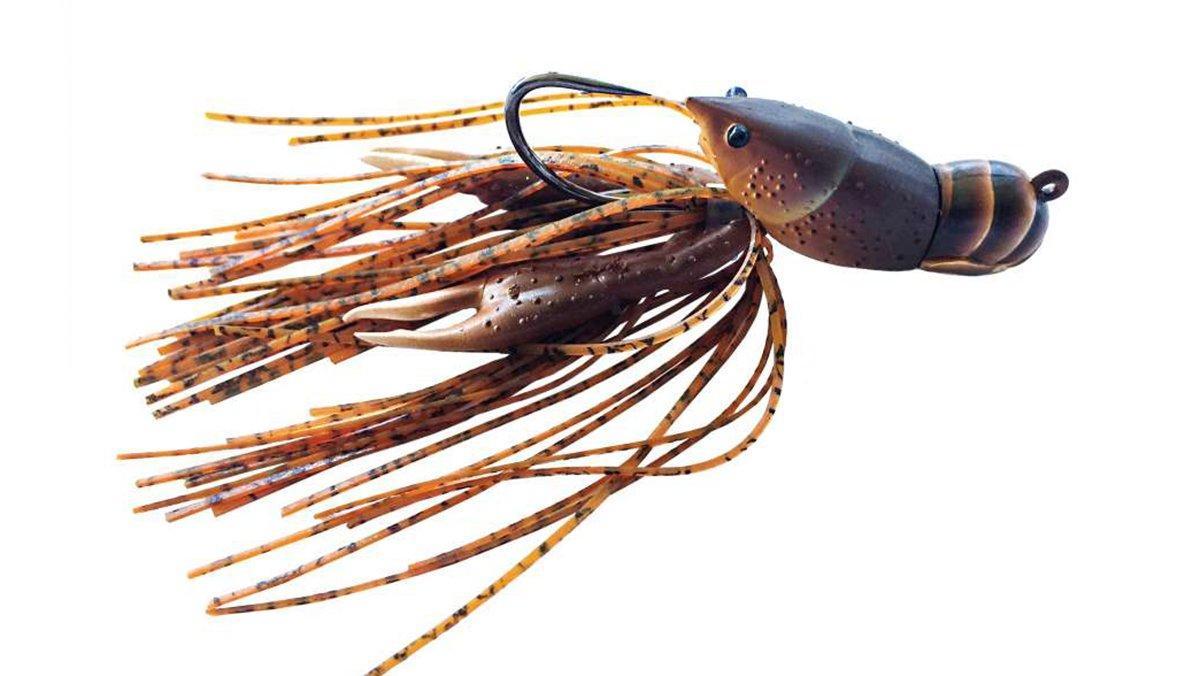 With lots of anatomically correct and lifelike appendages, the Hollow Body Craw gives anglers an ultra-realistic craw jig to be fished for finicky bass in clear waters and shallow cover alike. The buoyant material causes the claws to rise up when the jig is stopped not he bottom and collapsing again when lifted off the bottom for the most realistic crawfish presentation available. They will retail at $9.99.
(65 of 152)
LiveTarget Shad Commotion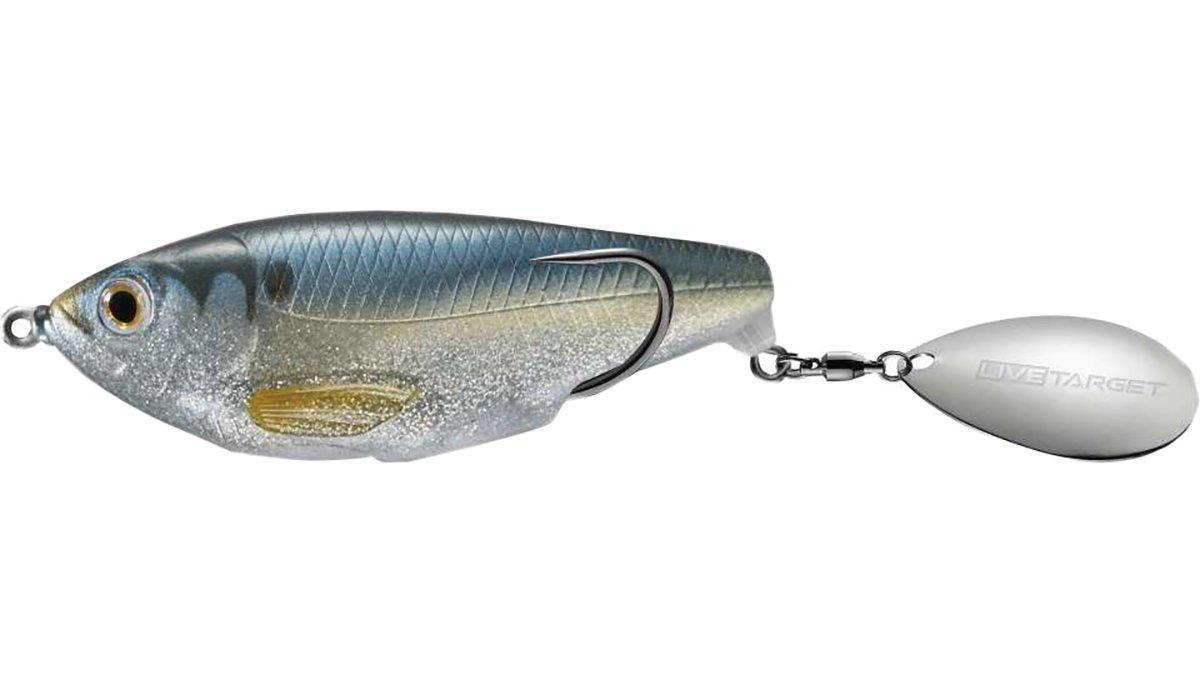 The LIveTarget Shad Commotion combines a shad profiled, hollow-bodied, soft-plastic topwater bait with the flash and thump of a spinner tail to give anglers a really nice looking shad imitation where frog imitators have been the only option. The more snagless and solid hooking option in a topwater can be fished through the gnarliest cover for the biggest bass. They will retail for $14.99.
(66 of 152)
Quantum Accurist Baitcaster Combo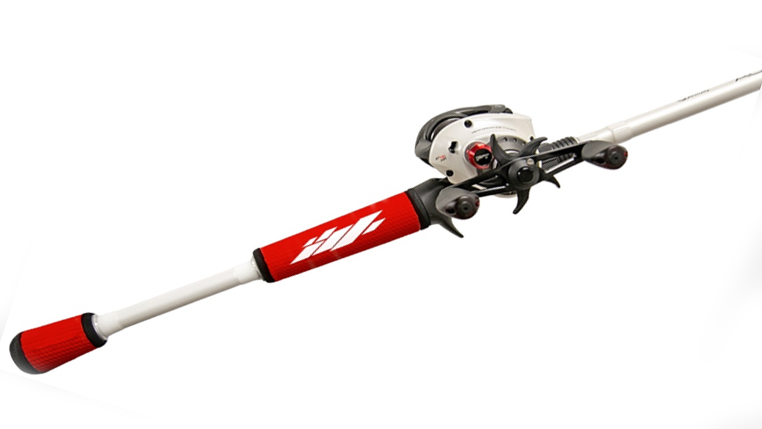 Feature an IM8 graphite rod and Accurist reel in a 7:1 gear ratio, these combos feature larger handles for more power, zero friction pinion design and unique SureGrip handles and grips for a comfortable and light combo at a $149 price point. 
(67 of 152)
Quantum J. Lee Bass Rods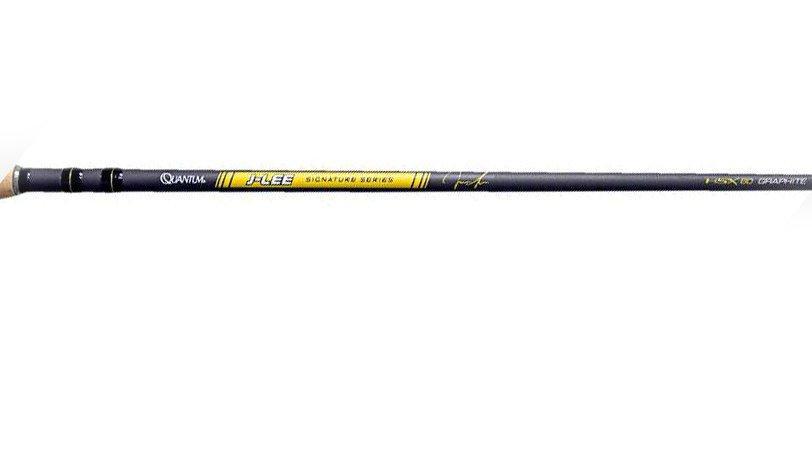 Back-to-back Classic champ Jordan Lee designed 8 rods with his favorite lengths, actions and tapers in HSX60 graphite blanks with ECS reel seats, Aluminum Oxide guides and cork handles for $99. 
(68 of 152)
Garmin Panoptix LiveScope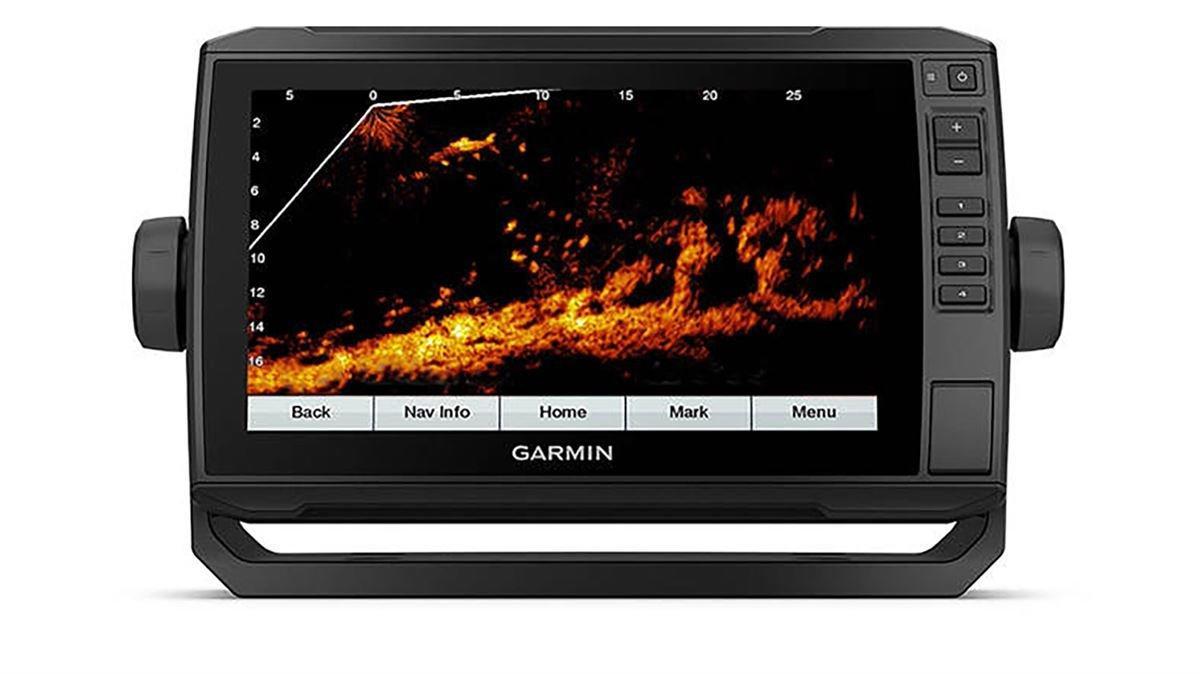 See highly detailed, easy-to-interpret live scanning sonar images of structure, bait and fish swimming below and around your boat in real time, even when your boat is stationary. Easily adjust the Panoptix LiveScope transducer to fit your fishing techniques; point forward to see around your boat, or point down to see directly below your boat – up to 200 feet.
(69 of 152)
SIMMS Challenger Ultra Tackle Bag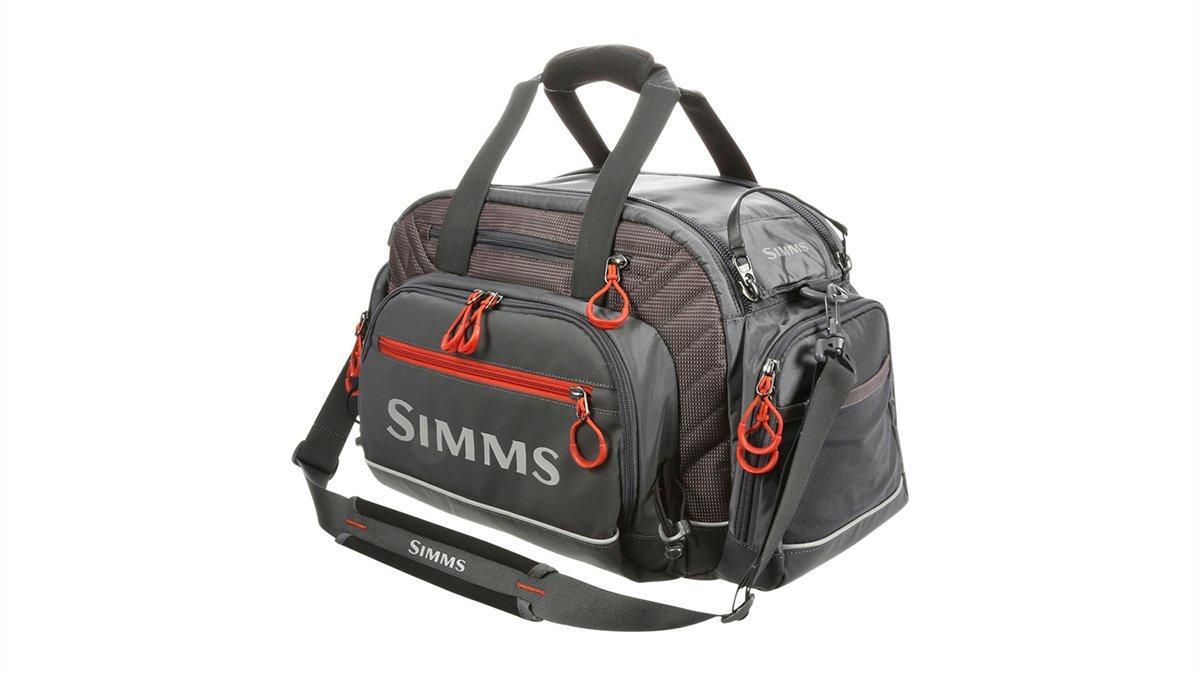 Fish more & search less with this 60L ultra-organized tackle storage ally. Anglers have easy-access to a main opening with a double zipper closure as well as multiple exterior zippered pockets to stash smaller essentials. To make it easy to carry from the dock to the boat, the bag comes equipped with a removable shoulder strap as well as tuck-away handles to make it easy to stow below deck. A water-resistant bottom coupled with an included rain cover keeps your gear protected from the elements. MSRP: $179.95
(70 of 152)
SIMMS Essential Gear Bag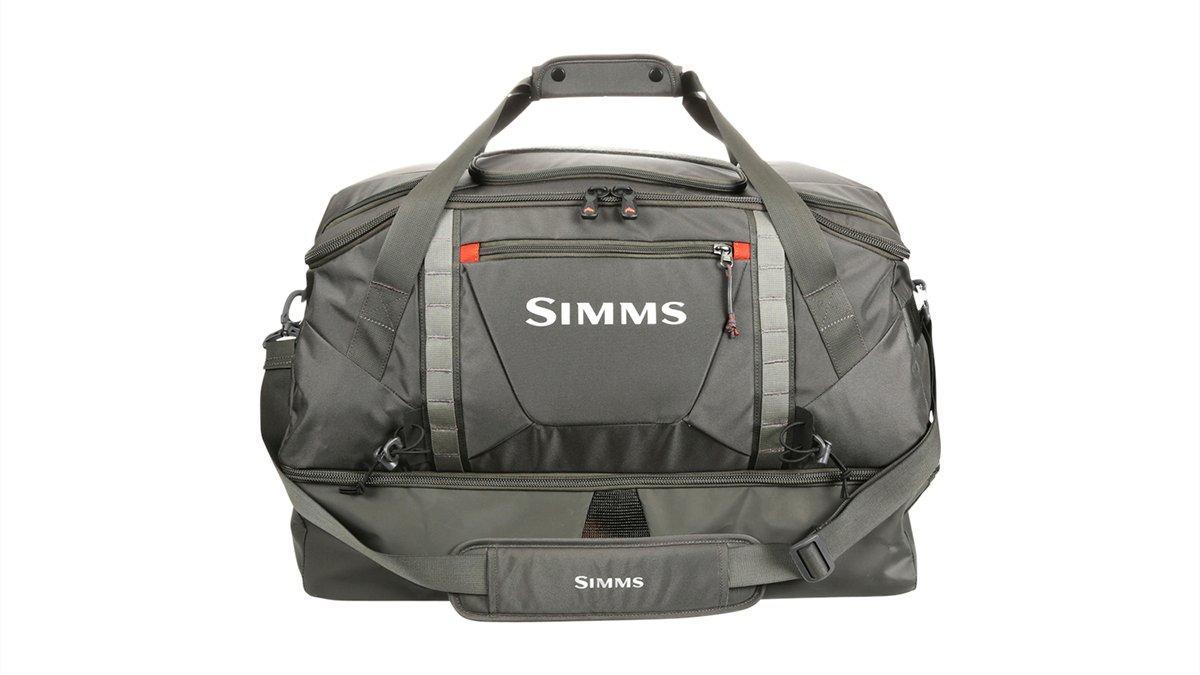 A gear bag equipped to carry everything an angler might need in a convenient and organized fashion. This is the grab-and-go bag that stores everything from essential tackle to extra just-in-case a hail storm breaks loose pairs of gloves. It even has a TPU coated bottom to store wet gear at the end of the day. This 90L DWR treated bag features an easy access main opening with a dual zipper closure, side exterior zippered pockets and tuck-away rod tube carriers with removable shoulder straps. MSRP: $199.95
(71 of 152)
SIMMS G3 Guide Pull-On Boot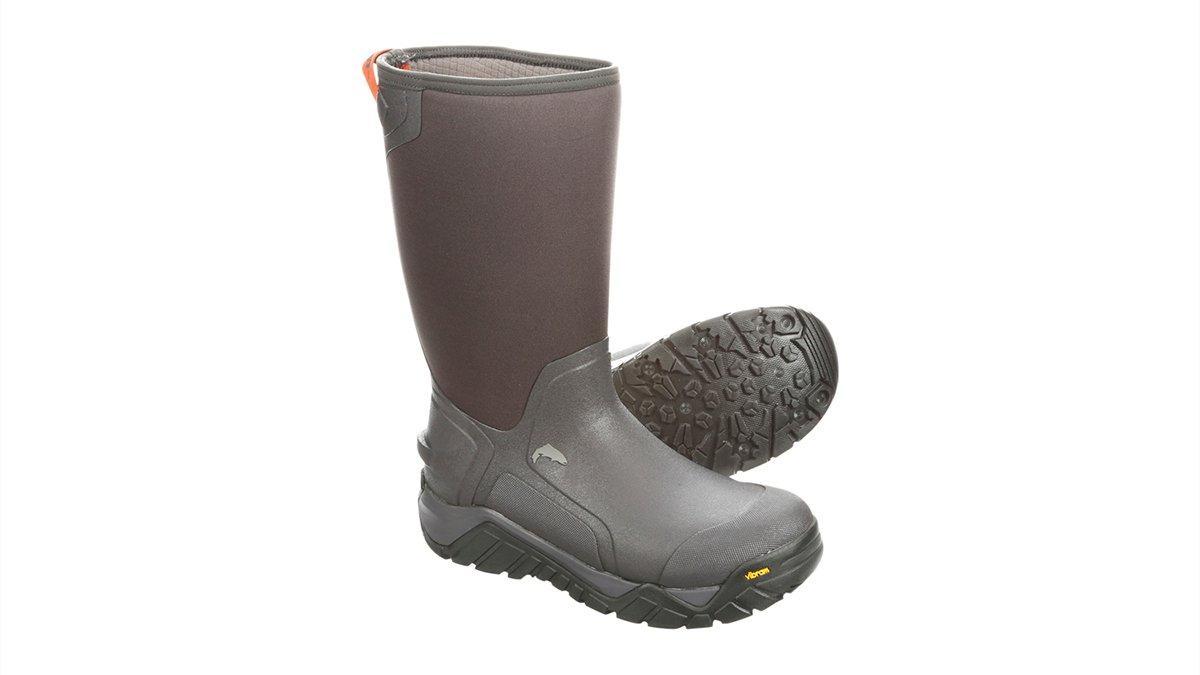 G3 Guide™ Pull-On Boot – 14"
Built for anglers who need a rugged pull-on to keep their feet protected from the elements while offering premium traction on land & in water. A 7mm neoprene upper backed with a grid fleece lining gives the boot a comfort test rating down to -40F. A non-marking Vibram® Idrogrip outsole provides maximum slip resistance while internal ESS plates deliver excellent cleat retention. Powered by a removable Right Angle® Footbed, this boot offers all day comfort, support, stability & functionality. MSRP $249.95
(72 of 152)
SIMMS Katafront Hoody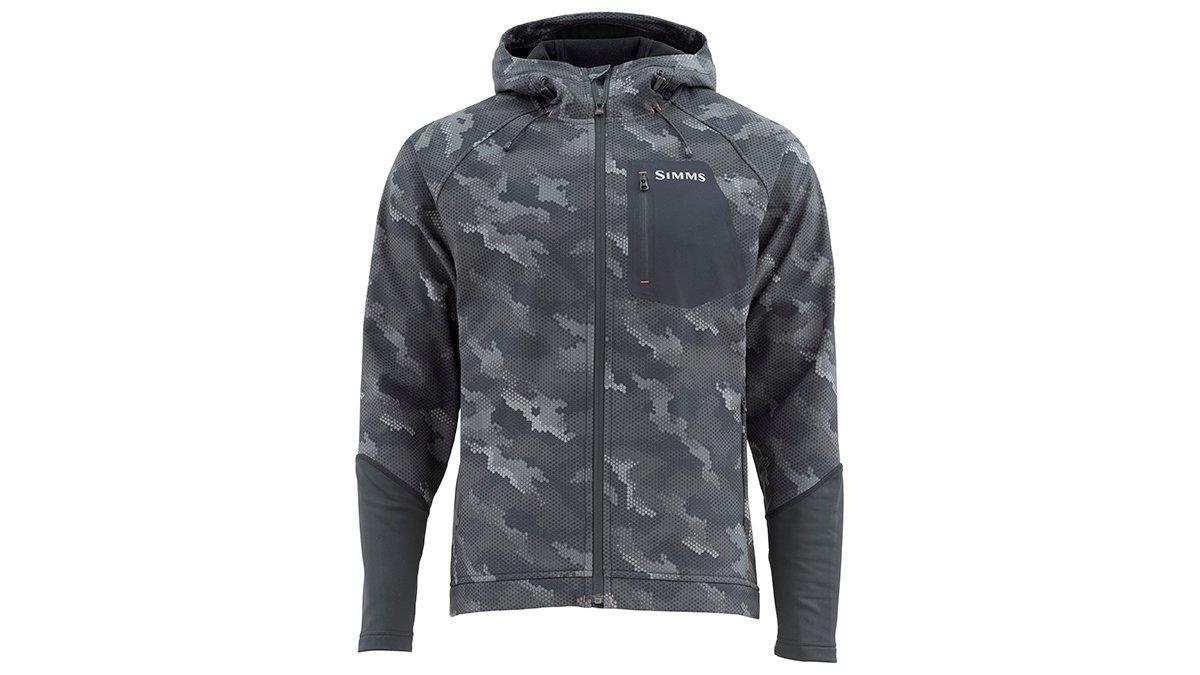 From clouds to sun to showers, it's no secret that the weather is fickle and on a good day on the water you can see it all. The search for the layer that bridges all conditions is over. Our men's Katafront Hoody is a technical fishing jacket that meets all conditions. Layer it under a rain shell or wear it on its own on drier days. Watershedding forearms move in and out of the water while keeping you dry, and an adjustable hood provides shelter and warmth as needed. It's cut for a full range of motion with just the right amount of stretch. MSRP: $129.95
(73 of 152)
SIMMS TriComp Cool LS Shirt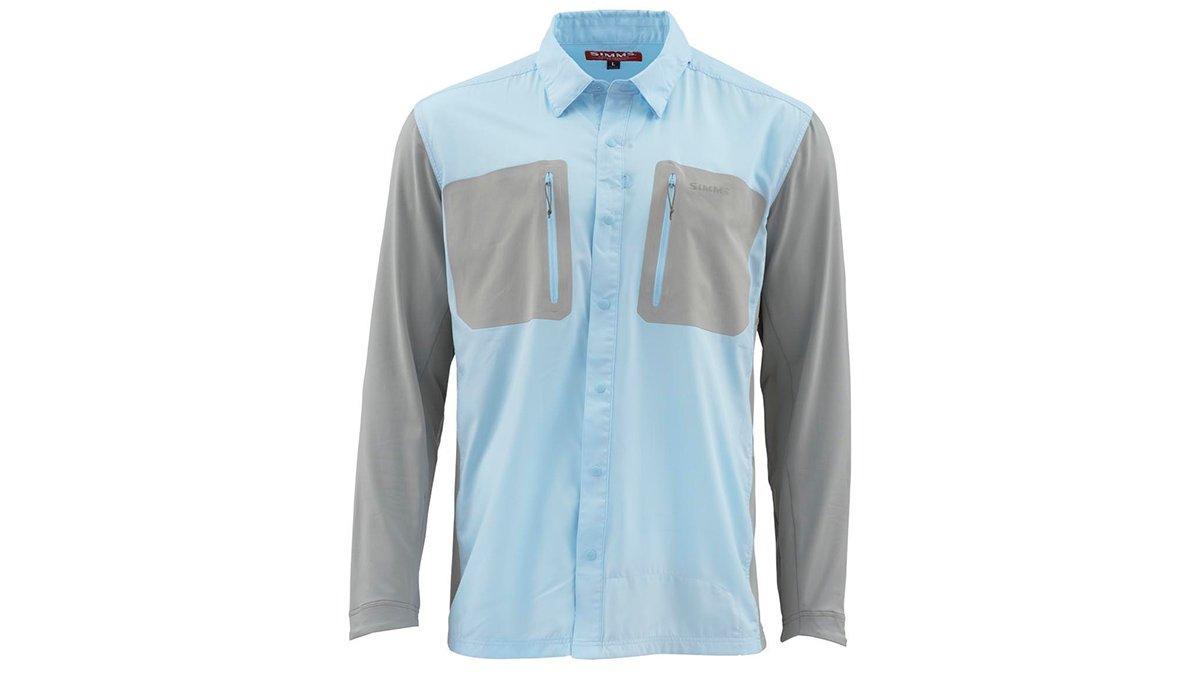 Award-winning design meets award winning technology in one of the most technologically advanced fishing shirts of all time. With 100% polyester in the body, a polyester/spandex blend in the sleeves, and a nylon/ spandex blend in the pockets, this shirt gives anglers maximum range of motion. Powered by Coolcore ®, a chemical-free fabric technology that when wet, lowers the surface temperature up to 30% keeps anglers cool and in the game. A sunglass chamois on the bottom hem rounds out the feature set. MSRP: $149.95
(74 of 152)
St. Croix Mojo Yak Rods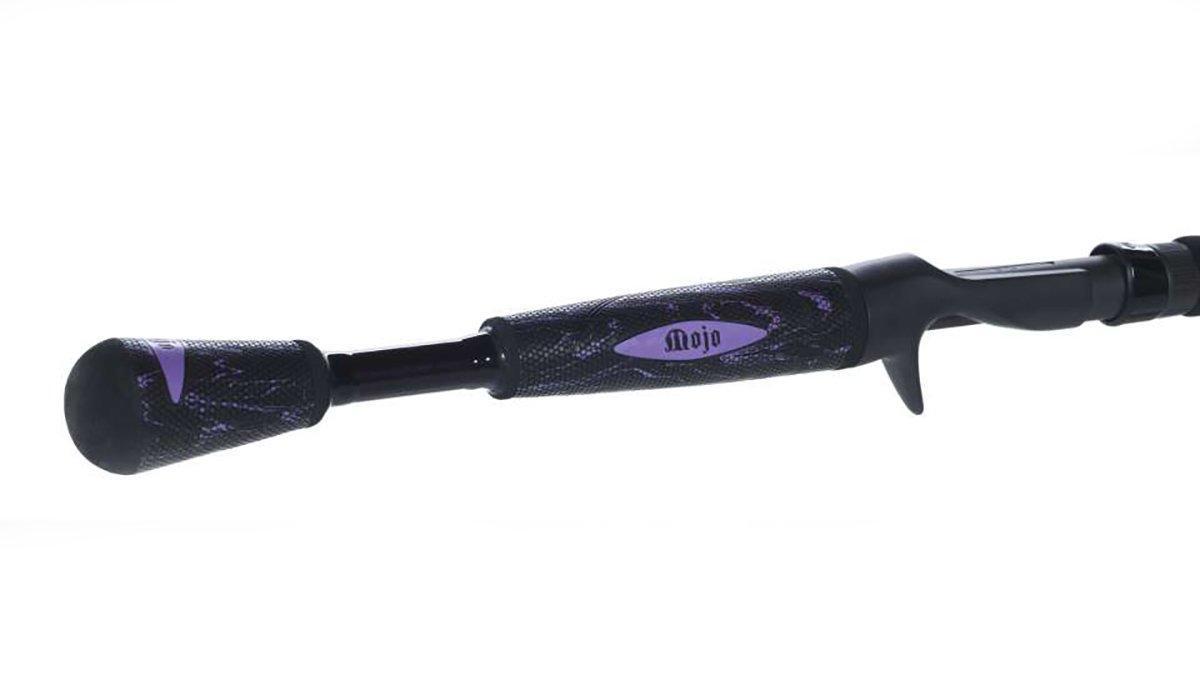 These new rods will come in 6 spinning options and 2 bait casting options ranging from 7 feet to 7 feet, 6 inches. Powers will range from medium light to medium heavy with a bit shorter handles for fishing from a sit down position in a kayak without sacrificing balance, sensitivity and lifting power in a $149 rod.
(75 of 152)
Bill Lewis MR-6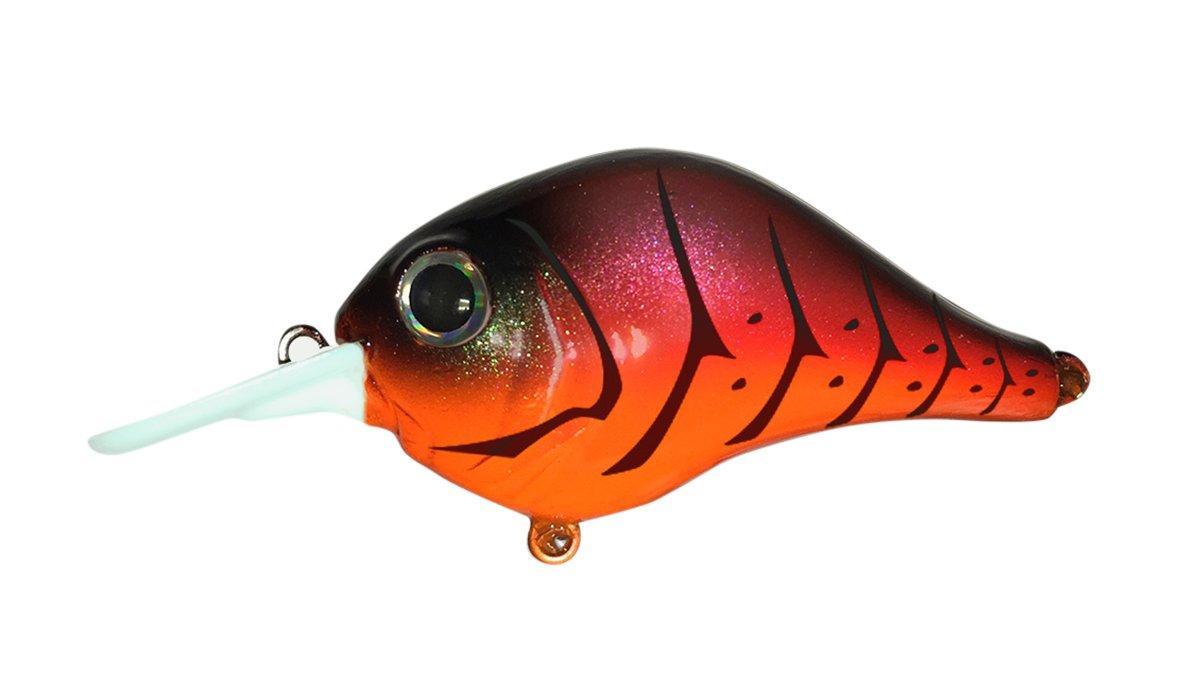 Bill Lewis designed the new MR-6 because their national pro staff was demanding a good 6-foot mid-range crankbait to fill the void in their product line. This crankbait features a weight transfer system, a 2 1/4-inch body, but a frame that can hold two strong Mustad No. 4 Triple Grip Hooks for better hooking and holding power while maintaining a strong wobble and dull knock from its flat sides and tapered tail. It's balanced to have a very slow rise on the stop which will make it a great cold water crankbait as well. It retails for $7.99.
(76 of 152)
Lew's Team Lew's Custom Black LFS Combo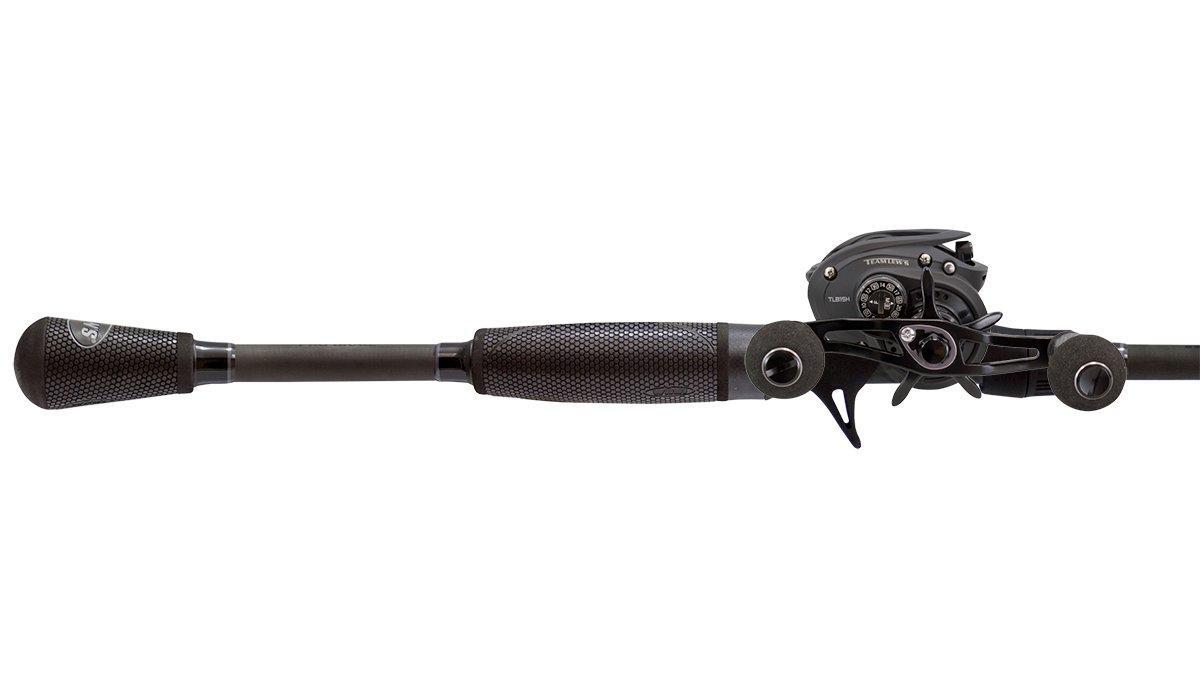 Answering the demand for high-end packaged combos, Lew's new Custom Black LFS reel is a 10-bearing reel with aluminum frame, 95mm Swept oversized handle, P2 Super Pinion Gear for longer gear life and smoother more solid operation. The rods feature HM50 blanks with with Nanotechnology which sports American Tackle Microwave guide with Nanolite inserts for less wind knots and longer casts. The combos will come in a 7-foot medium or 7-foot, 3-inch medium heavy with right or left hand 7.5:1 gear ratio reels. The only high-end combos on the market will retail for $279. 
(77 of 152)
Lew's Pro Ti Baitcaster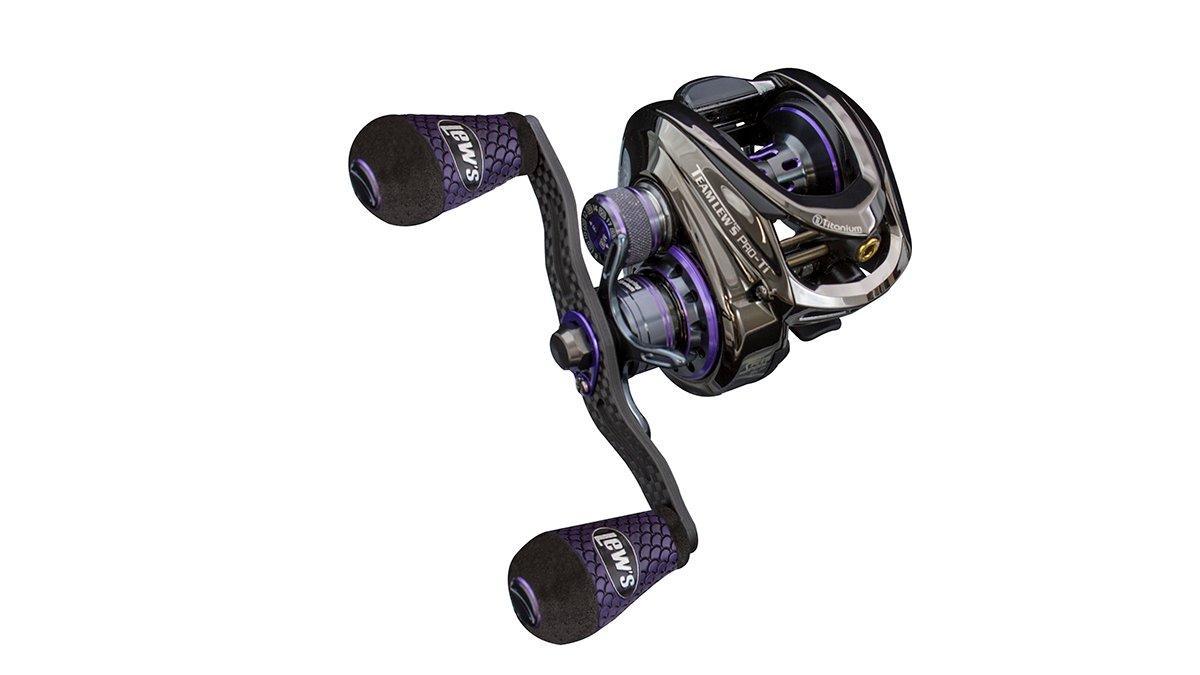 Combining a one-piece aluminum frame and aluminum side plates with Titanium composition, this reel is the lightest, toughest reel ever produced by the legendary Lew's brand to date. Hard aluminum alloy Speed Gears that have been cut on the finest Hamai CNC gear hobbing machine provide precision gear mesh that maximizes smoothness and durability. A premium 11 bearing system with double-shielded Stainless Steel ball bearings and a Zero Reverse one-way clutch bearing add to the smoothness and durability of this reel. The proprietary brake shoe geometry of the externally adjustable 6-pin, 27-position QuietCast Adjustable Centrifugal Braking System (ACB) means a quieter and smoother braking system. The new Lew's flagship reel will retail for $349.
(78 of 152)
Lew's Super Duty 300 Baitcaster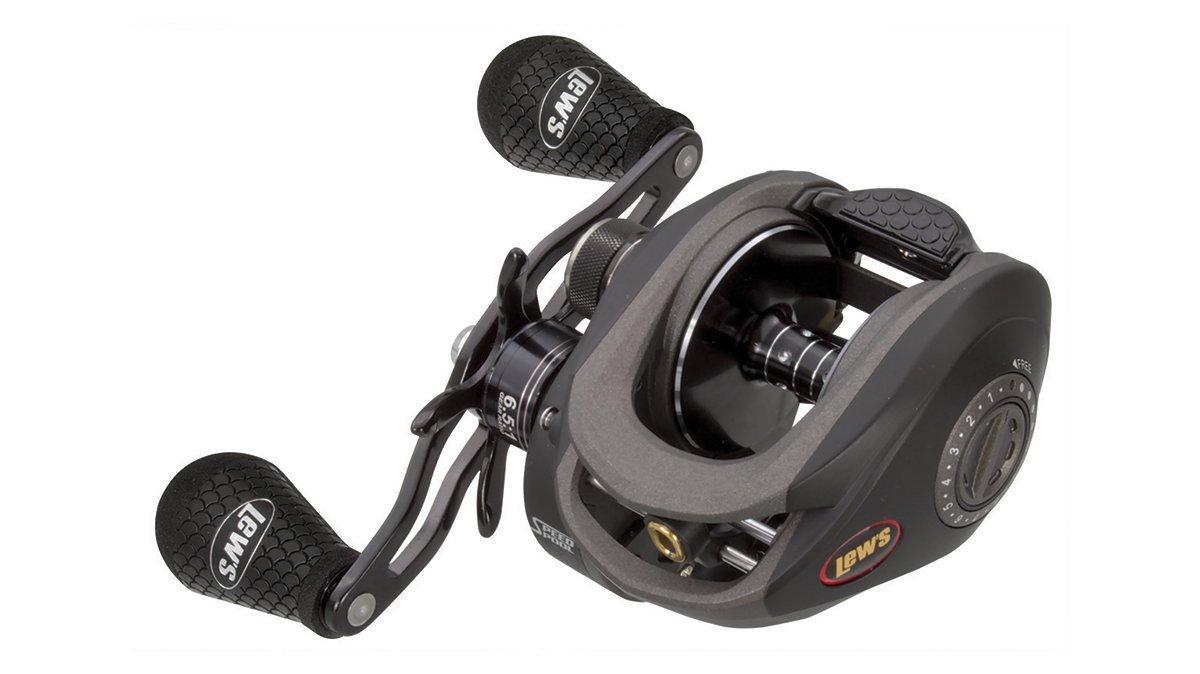 The Super Duty 300 is built on a one-piece aluminum frame and sideplate with a bowed, heavy duty 100mm aluminum reel handle which features Winn® Dri-Tac knobs. This reel is built with stopping power with 24lbs of drag along with a ZRXtra one-way clutch bearing. ZRXtra uses zero reverse with a backup multi-stop gear, which means extra power and backbone. High strength solid brass Speed Gears turn the braid-ready, forged, double anodized, deep capacity spool. 3 drain ports come in handy when used in saltwater. The Super Duty 300 is offered at an MSRP of $199.99
(79 of 152)
Lew's Super Grip Rods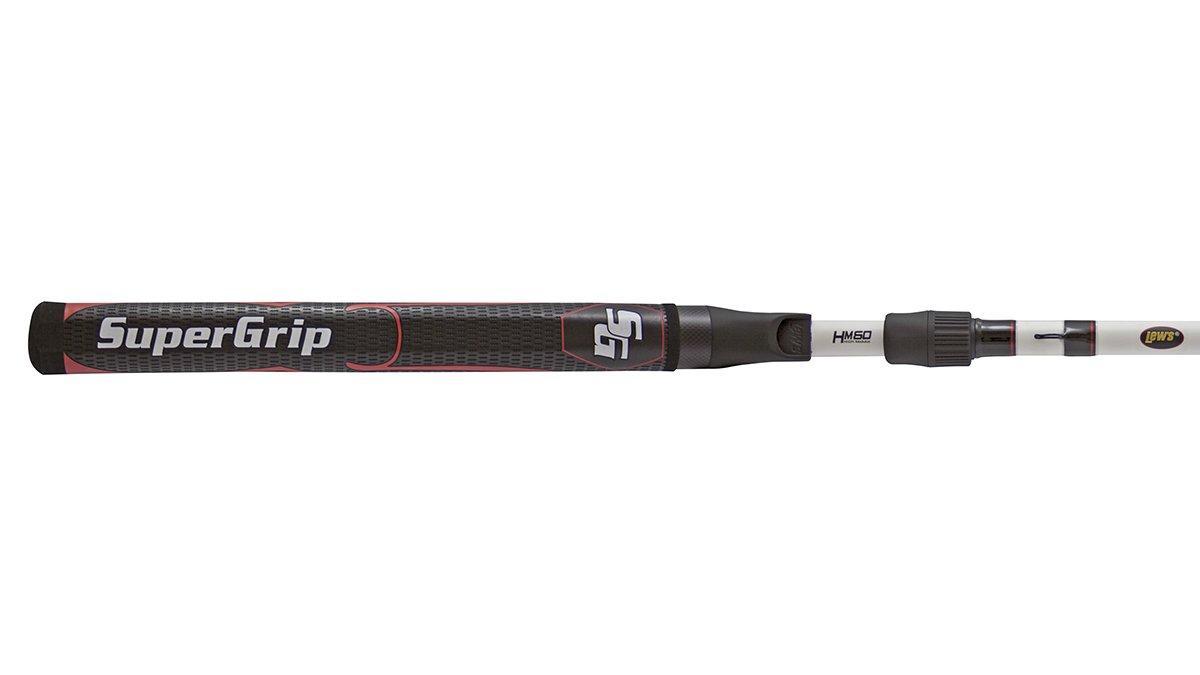 Like Winn® Grips themselves, the idea behind the Super Grip comes from the golf world. Just like on a putter, the flat top design with larger grip diameter prevents the rod from turning and torqueing in the angler's hand while casting, power fishing and fighting big fish. Just above the Winn® Dri-Tac Super Grip is the new Lew's exclusive VTR System (Vibration Transfer Ring), which provides direct contact with the rod blank to transfer vibration directly to the angler's hands.Above the business end of the rod, Custom Plus Speed Sticks feature lightweight, multilayered, multidirectional HM60 graphite blanks paired with stainless steel guide frame with titanium oxide inserts. The new Super Grip rods retail for $179.99.
(80 of 152)
Abu Garcia Elite Max Spinning Reel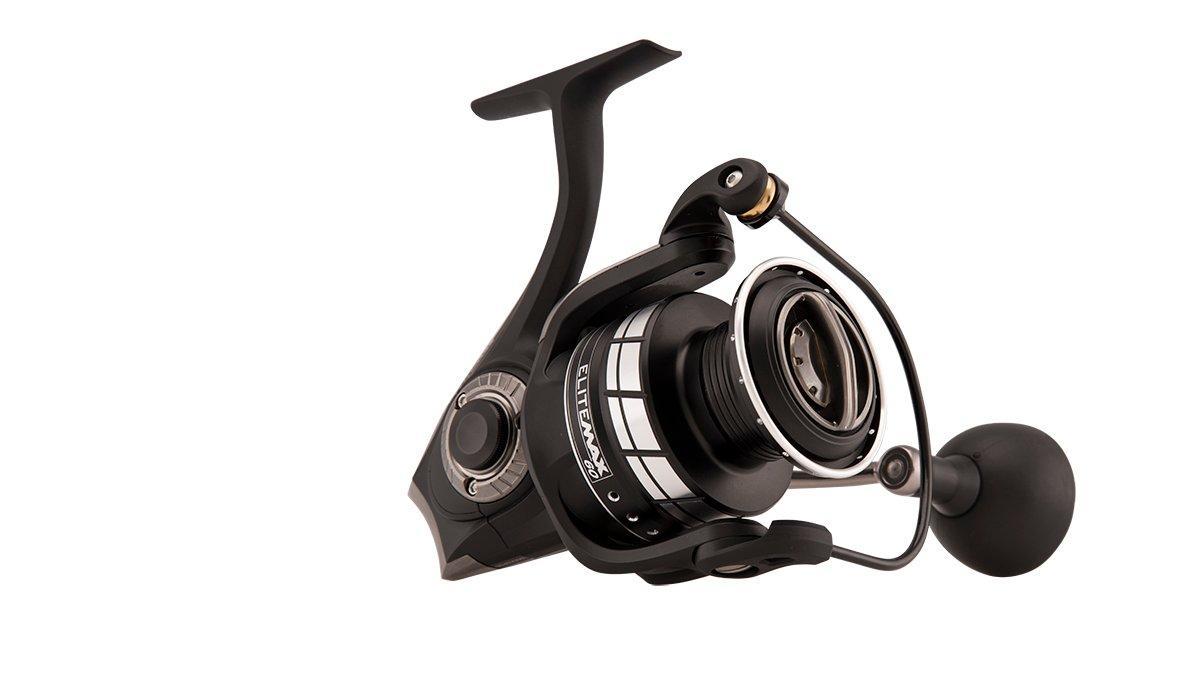 Abu Garcia Elite Max spinning reels feature 6 bearing systems, IM-C6 body, Rocket Line Management System, Slow Oscillation and Carbon Matrix drag system to provide increased line control to reduce tangles and improve casting distance at a price point of $119.
(81 of 152)
Abu Garcia Ike Series Delay Rods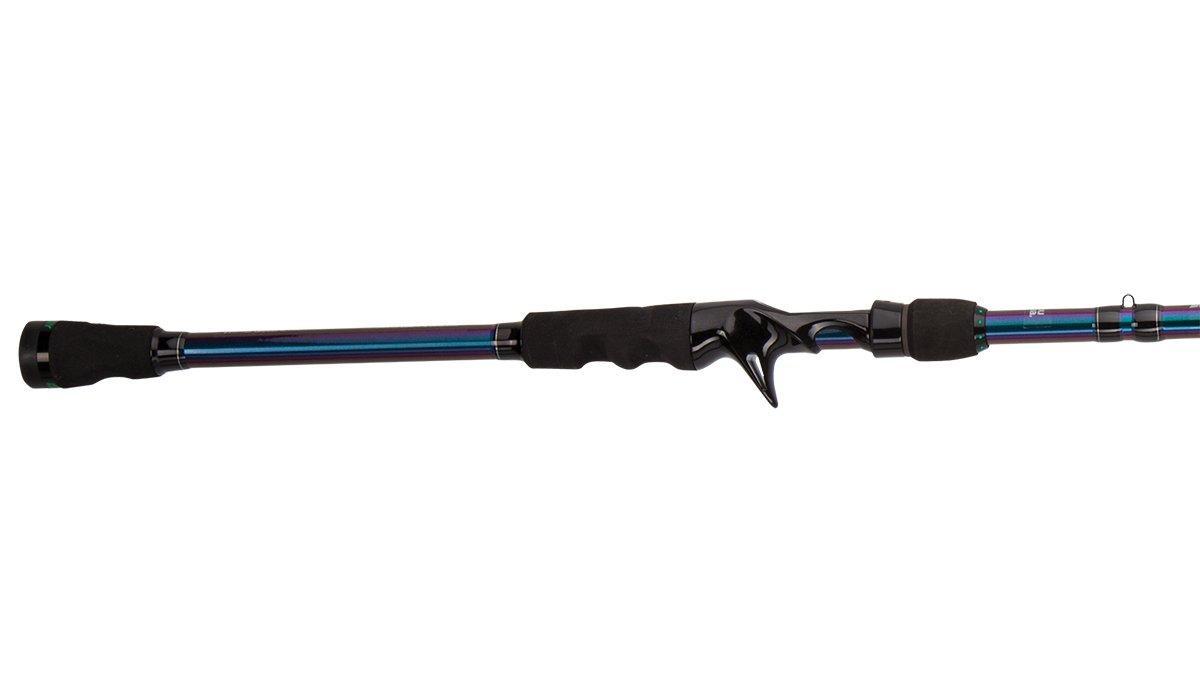 For the Power series of casting rods and the Finesse series of spinning rods, the blank construction consists of 36 ton high modulus graphite. For the Delay series of casting rods, the blank construction consists of unique high strain glass (HSG) ideal for crankbait fishing. Fuji reels seats, stainless steel guides and 21 different models designed specifically by Mike Iaconelli himself and a lot of action and powers you won't find anywhere else. The rods will retail for $149.
(82 of 152)
Abu Garcia Revo AL-F Baitcaster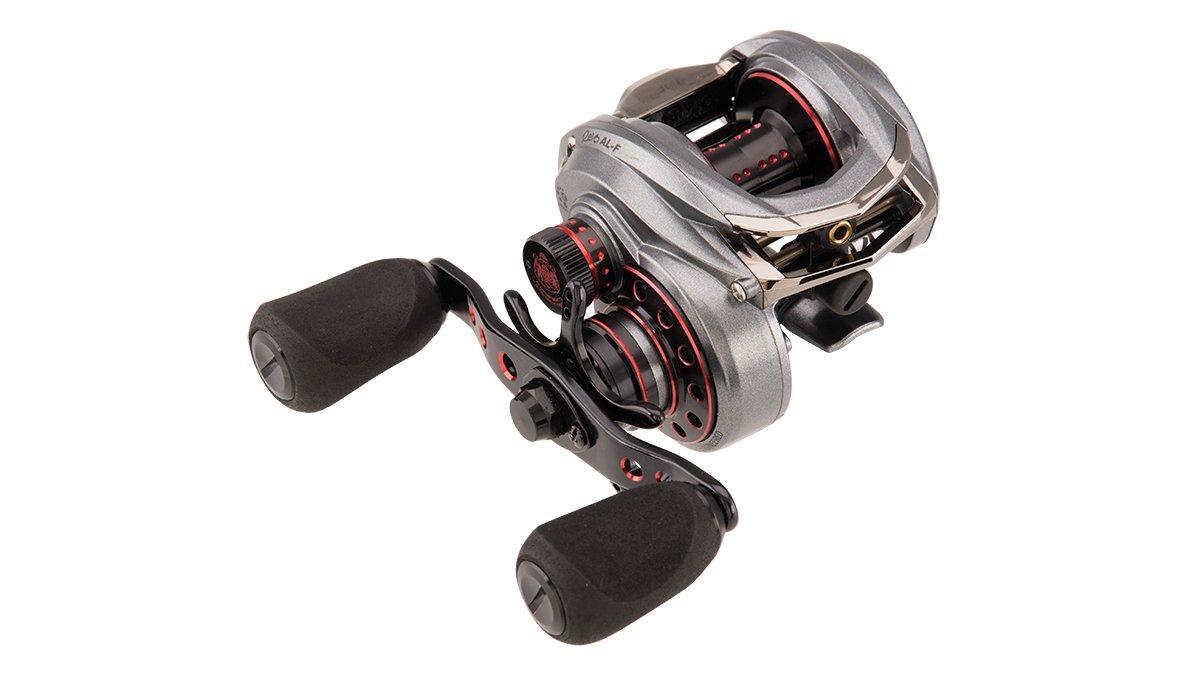 This 8-bearing reel features an Infini brake system, aluminum frame and C6 Carbon side plates and an aluminum main gear for max weight optimization and it allows for a wide range of adjustments for dialing in the casting of lightweight finesse baits up to heavy jigs. These reels will come in four options in both left and right hand models and retail for $249.
(83 of 152)
Abu Garcia Revo Beast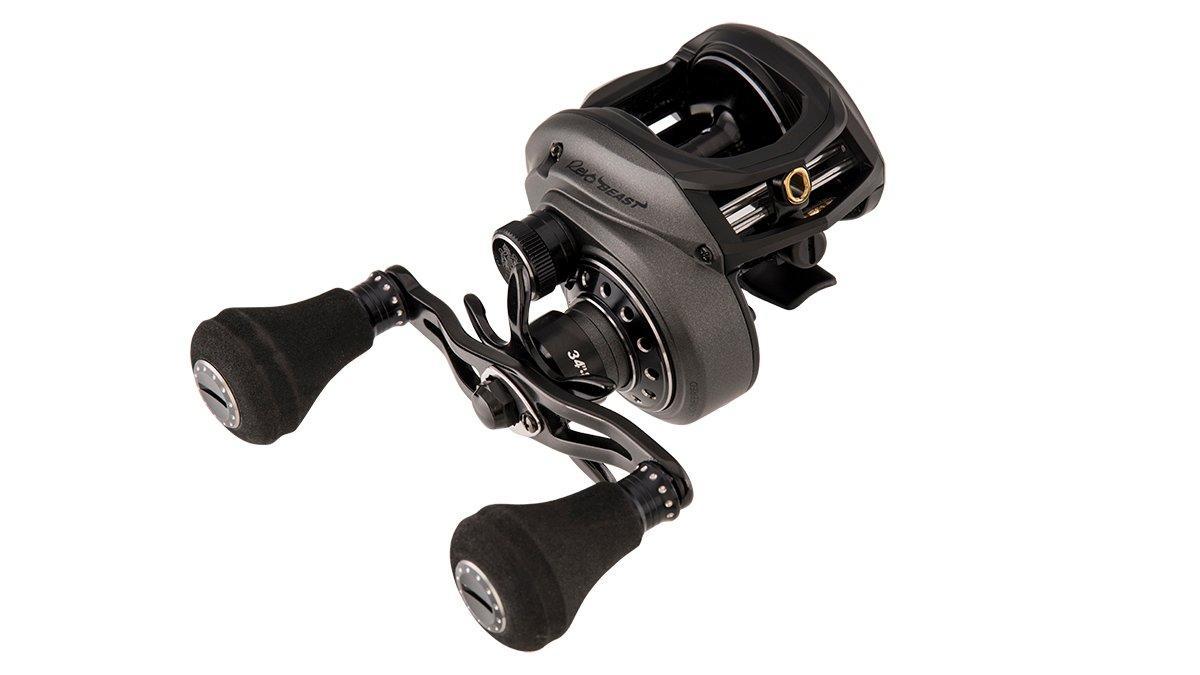 The 7-bearing Revo Beast boasts an impressive 30-pounds of drag as well as a max spool that holds 240 yards of 12 pound line. Comes in both 5.8:1 and 7.3:1 gear ratios in left and right hand models with a Duragear Brass Gear, and Duraclutch design. Oversized swept handles and larger knobs make this a beefy reel for heavy duty fishing of all sorts. The Revo Beast retails for $279.
(84 of 152)
Abu Garcia Revo Ike Baitcaster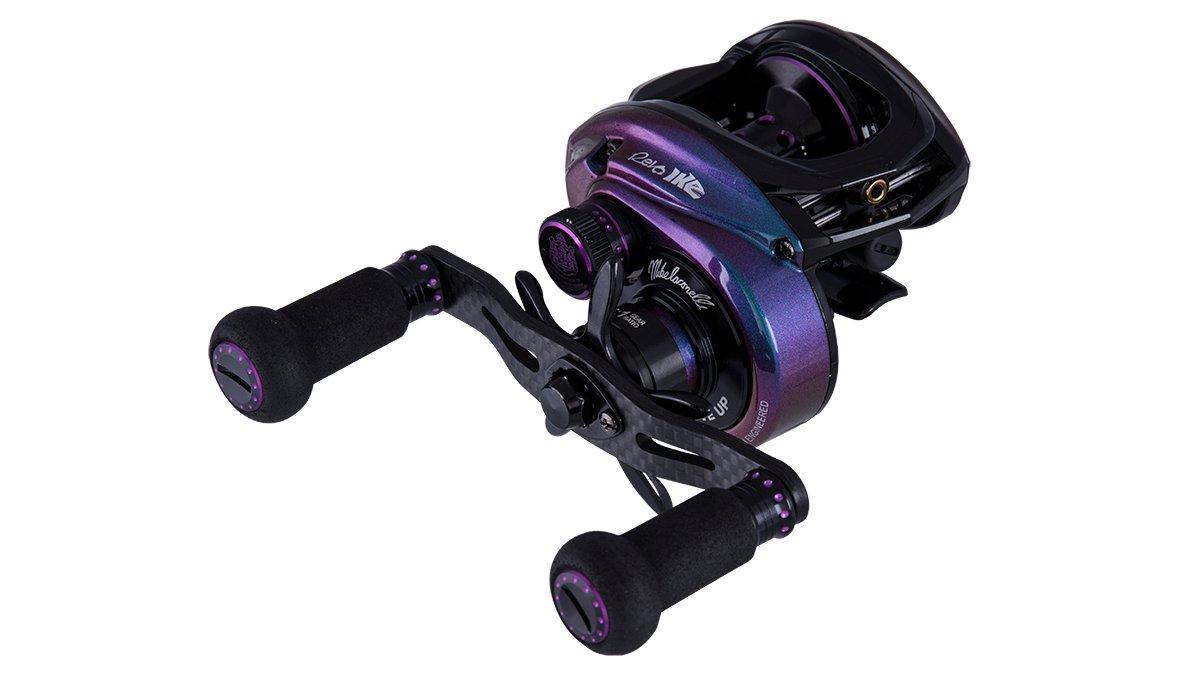 The new series of Ike Series bait casters will feature 10 bearings, aluminum frame, aluminum handle side plate, unique grips, Everslik coated pinion shaft and pawl, Gull Wing side plate design, IVCB-6L braking system and an Infini II spool. The reels hold 145 yards of 12 pound line and come in 6.6 and 8:1 gear ratios. They retail for $249.
(85 of 152)
Abu Garcia Revo Ike Series Spinning reel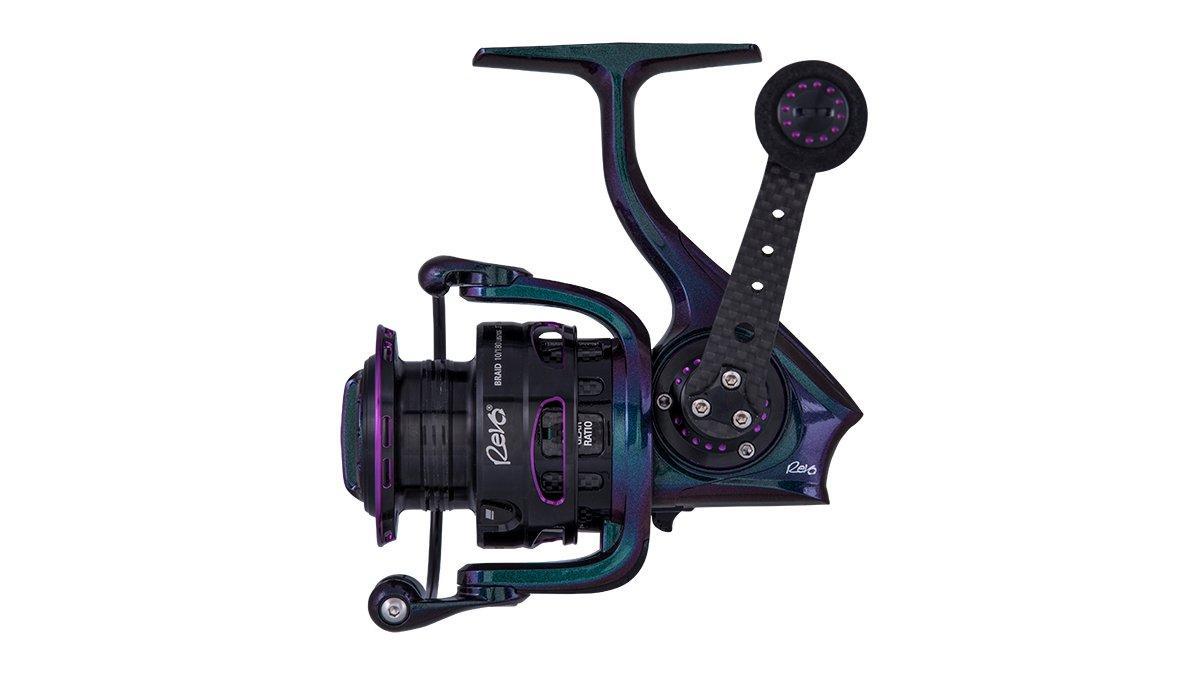 The Ike Series spinning reels feature 9 HPCR bearings, integrated drop shot keeper, AMGearing, Carbon Matrix silky smooth drag, C6 Carbon rotor, K Clutch anti reverse and Rocket line management. The lightweight reels have 11-pounds of drag and will come in 20 and 30 size offerings for $229.
(86 of 152)
Abu Garcia Revo MGXtreme Spinning reel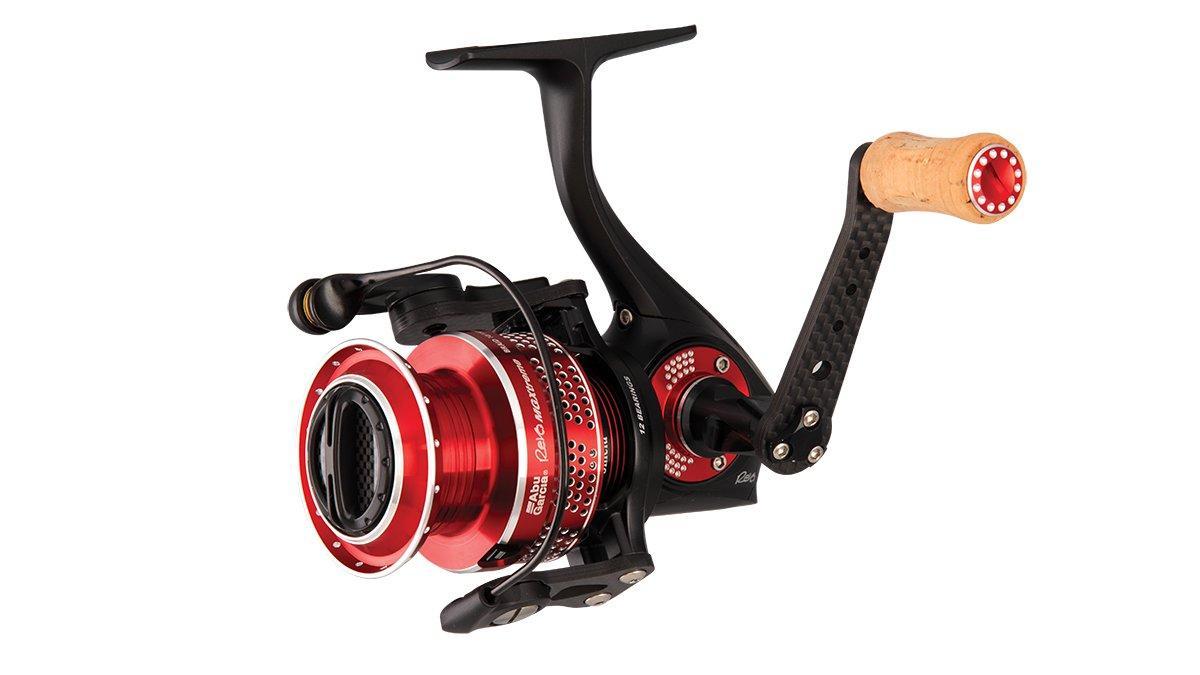 The lightest, most compact fishing reel Abu Garcia offers, this spinning reel features 11 bearings, CMg rotor, sinker keeper, AMGearing, Carbon Matrix drag, One piece X-Mag alloy gear box, C6 Carbon body all at an amazing 5.6 ounce spinning reel. Available in 20 and 30 sizes both with a 6.2:1 gear ratios. This the flagship reel in the Abu Garcia lineup at a price point of $399. 
(87 of 152)
Abu Garcia Revo Rocket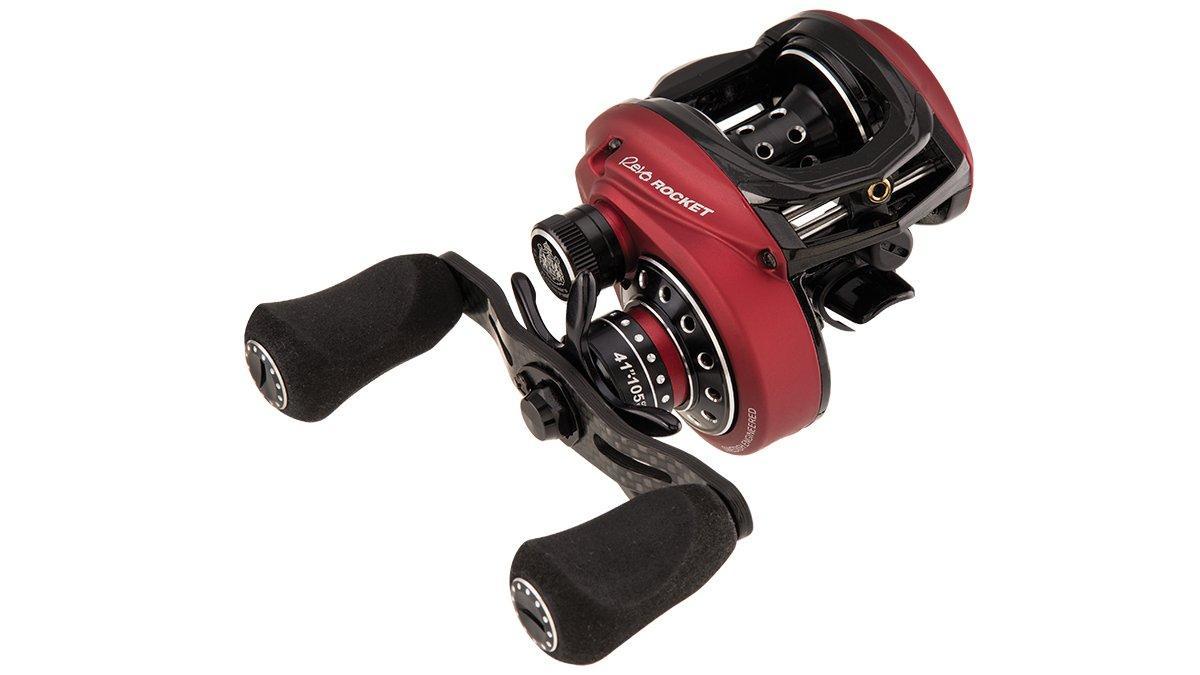 The fastest reel out there boasts a 10.1:1 gear ratio that takes up an amazing 41 inches of line with a single handle turn. Picking up nearly four feet of line can be a huge advantage with certain bass fishing techniques. The reel weighs 7.34 ounces and will come in both right and left hand models for $299.
(88 of 152)
Berkley Shock Rods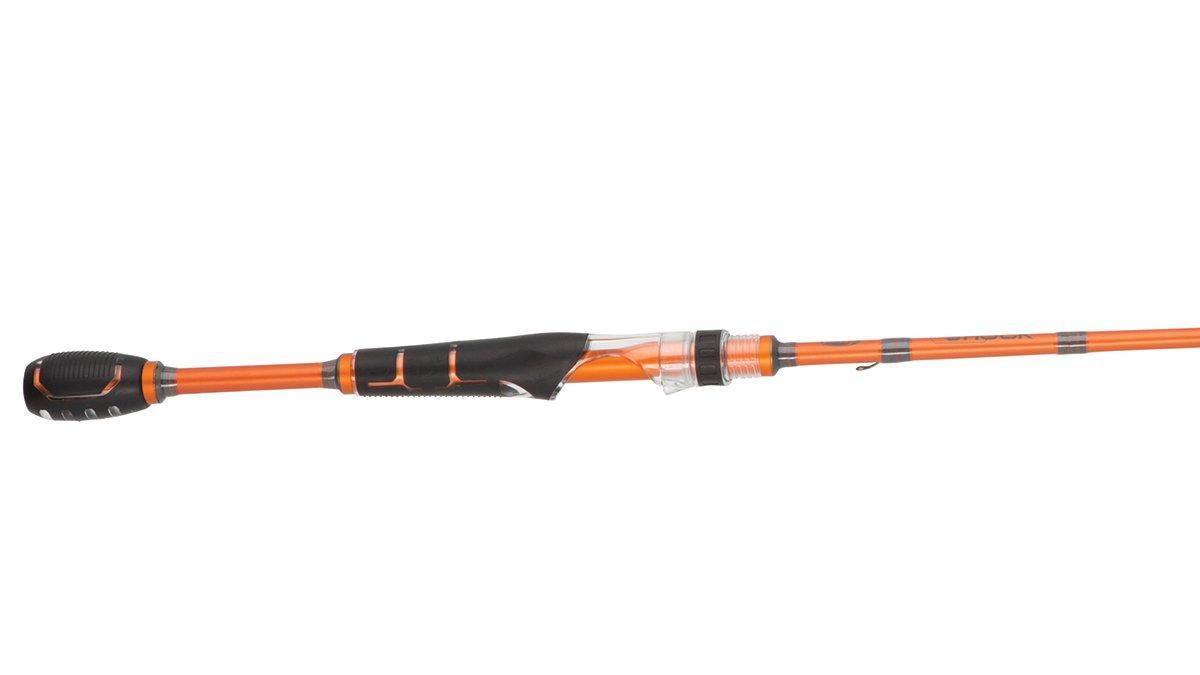 These 24 Ton multi-modulus carbon composite blanks feature shock absorbing tips to accommodate the lack of stretch when using braided line. Stainless steel guides Titanium Oxide inserts resist line grooving and cracking. But the integrated reel seat with ergonomic handle design and textured rubber is the stand out feature on these rods providing a comfortable fishing rod at an affordable $49 price point. 
(89 of 152)
Strike King Hack Attack Pad Perch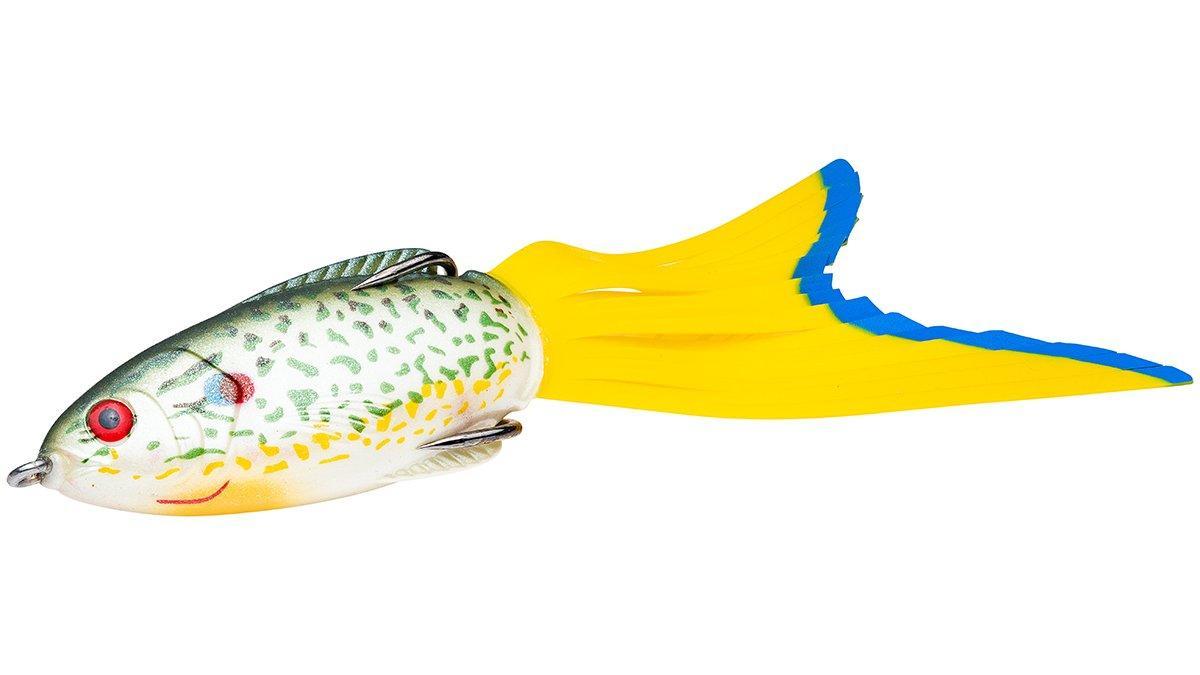 Designed specifically by Greg Hackney who wanted a hollow body bait that can walk in heavy cover. But more importantly he wanted a shape and provile that optimized hookups in cover. The 4-inch hollow body walking bait features a 4/0 premium hook and will come in 10 colors.
(90 of 152)
Strike King KVD 1.5 Deep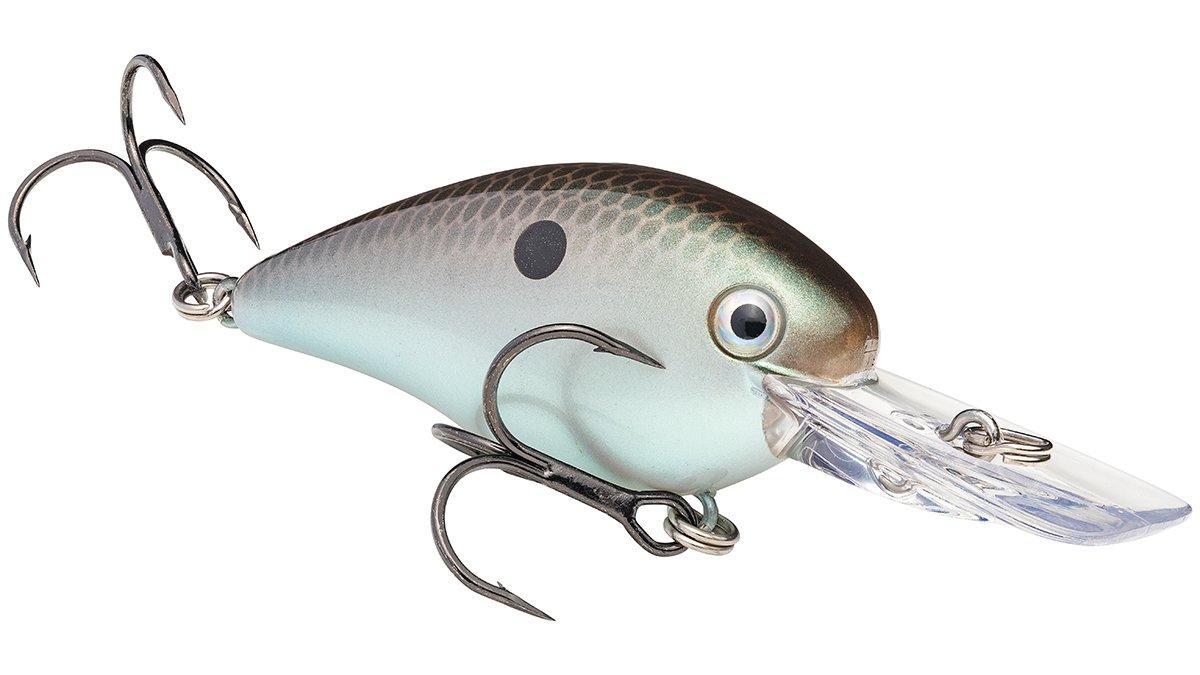 Building off one of the greatest shallow crankbaits ever made, the new KVD 1.5 Deep will give you the same great fish catching action for fish in that deeper mid-depth range of 10 feet. KVD worked for more than a year to get the bait to keep the same perfect action of the 1.5 square bill that has made it the top selling shallow crankbait in the world and got a bait that will reach those bass further off the bank and make them bite. It will be available in 25 colors for $7.49.
(91 of 152)
Strike King KVD Mega Dawg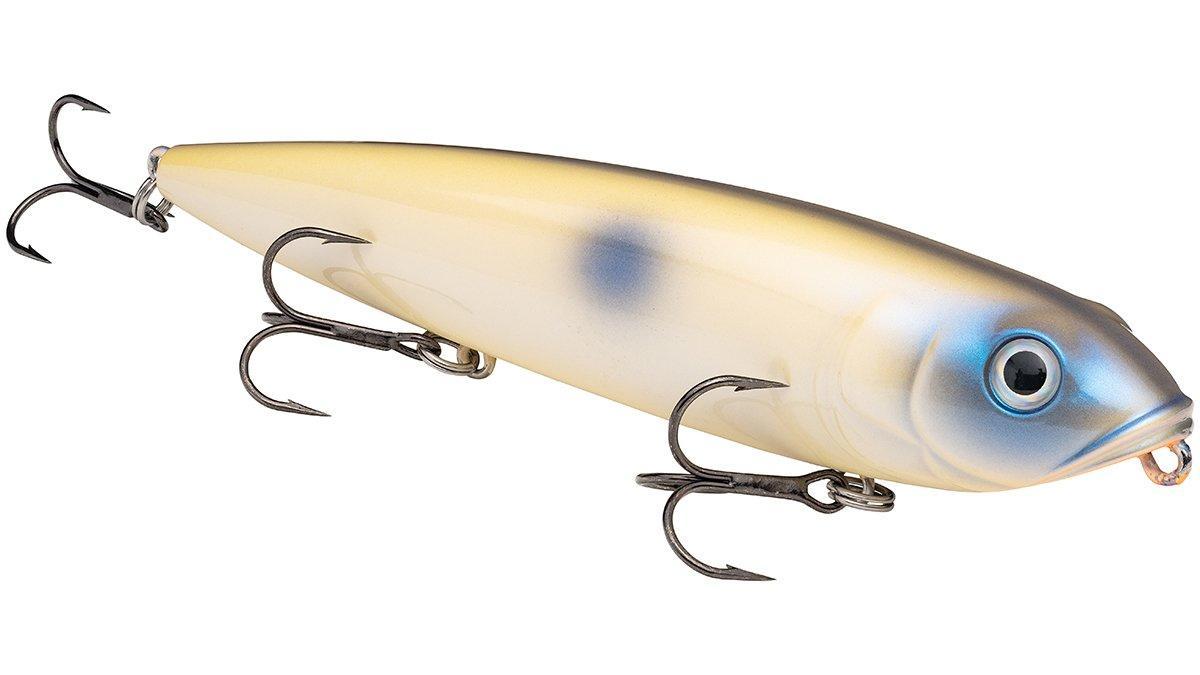 The Strike King Sexy Dawg has been a sleeper among guides and pro anglers. A lot of guys throw this topwater, especially on waters that have spots and smallmouth. This new Mega Dawg version fills out the line perfectly with a larger walking version that has been needed. Big topwaters are a staple from New York to California and this 6-inch topwater weighing 2 ounces and sporting 3 hooks will be a crowd favorite with it being built off of such a productive topwater sound and frame. They retail for $14.99.
(92 of 152)
Strike King KVD Pipsqueak Popping Perch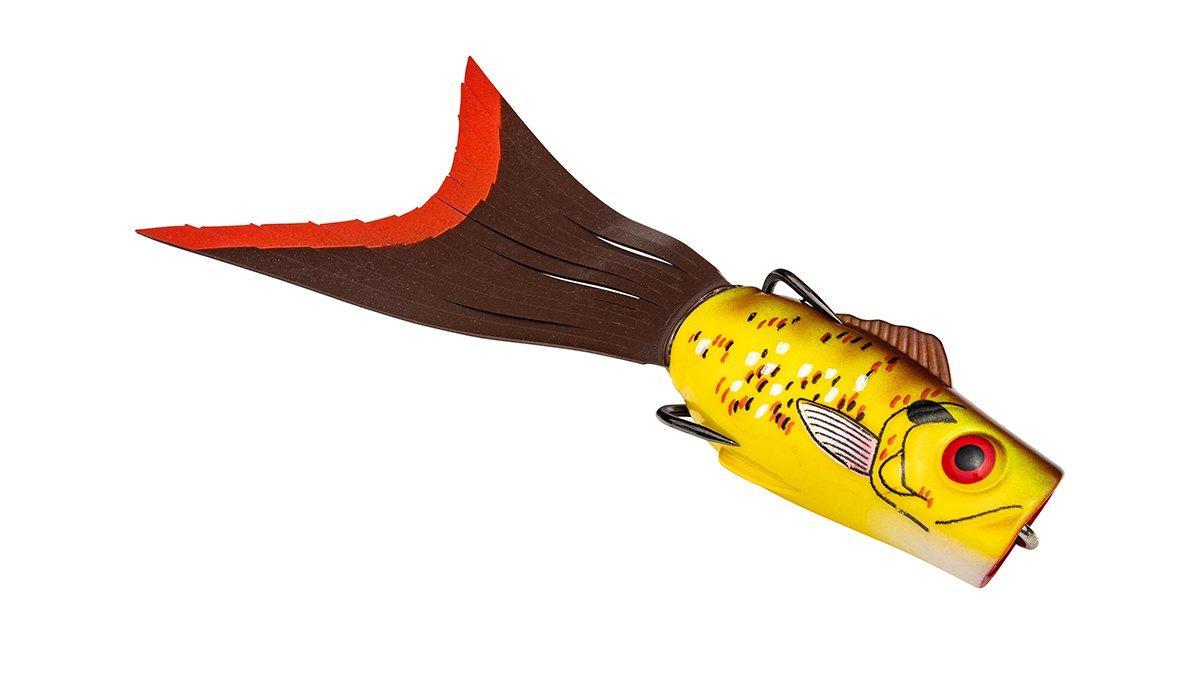 Building off one of the more popular hollow bodied bait introductions in recent years, the Pipsqueak is the littler 5-inch version of the Popping Perch. Todd Castledine and the designers at Strike King worked to take the profile and high hooking percentage of the original and scale it down for pressured fish. This is not a frog bait. It's a small bluegill imitator. That's what it's designed to do and mimic. So they worked to keep the same walking action and good hookups in a smaller frame with a 3/0 tacky sharp hook. 
(93 of 152)
Strike King KVD Toad Buzz and Gurgle Toad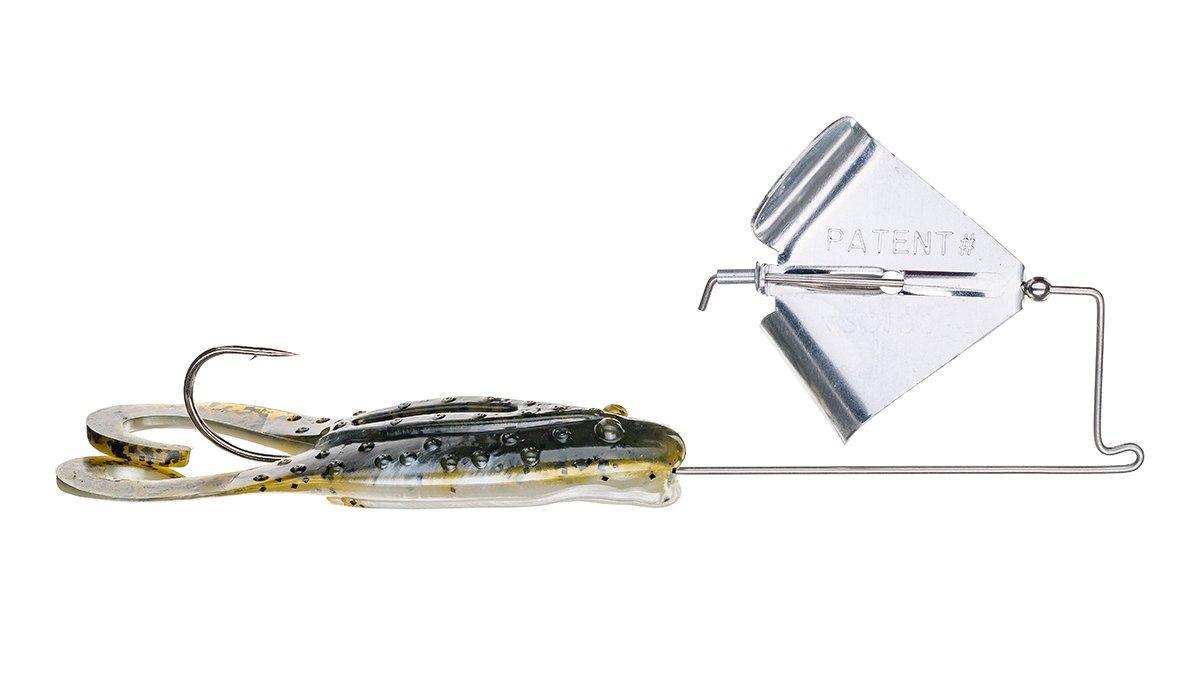 As buzz baits and soft plastic toads have evolved bass anglers have changed the way they fish buzz baits. KVD wanted a certain sound and commotion in his buzz bait but wanted it on a frame that could handle hooking and landing larger bass that often bite a buzz bait. So he not only made the new Toad Buzz but he also helped design the new Gurgle Toad to give him the exact right sound, look and commotion on a quality hook and wire frame. This is a more streamlined design that others on the market and one that will be a welcome addition for topwater fishermen. It comes in 7 colors at 3/8 ounce. 
(94 of 152)
Berkley PowerBait MaxScent Critter Hawg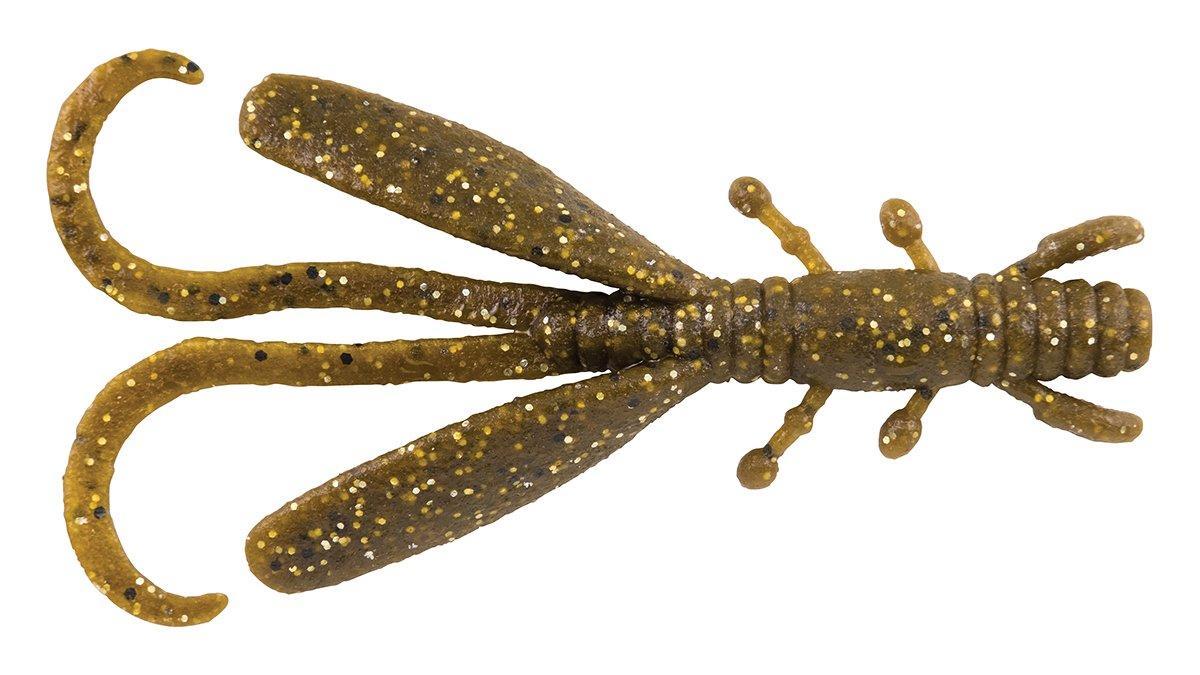 A new creature bait in the MaxScent line, the Critter Hawg is 4 inches and features appendages in all directions to constantly be moving no matter how it is fished. 
(95 of 152)
Berkley PowerBait MaxScent Flat Worm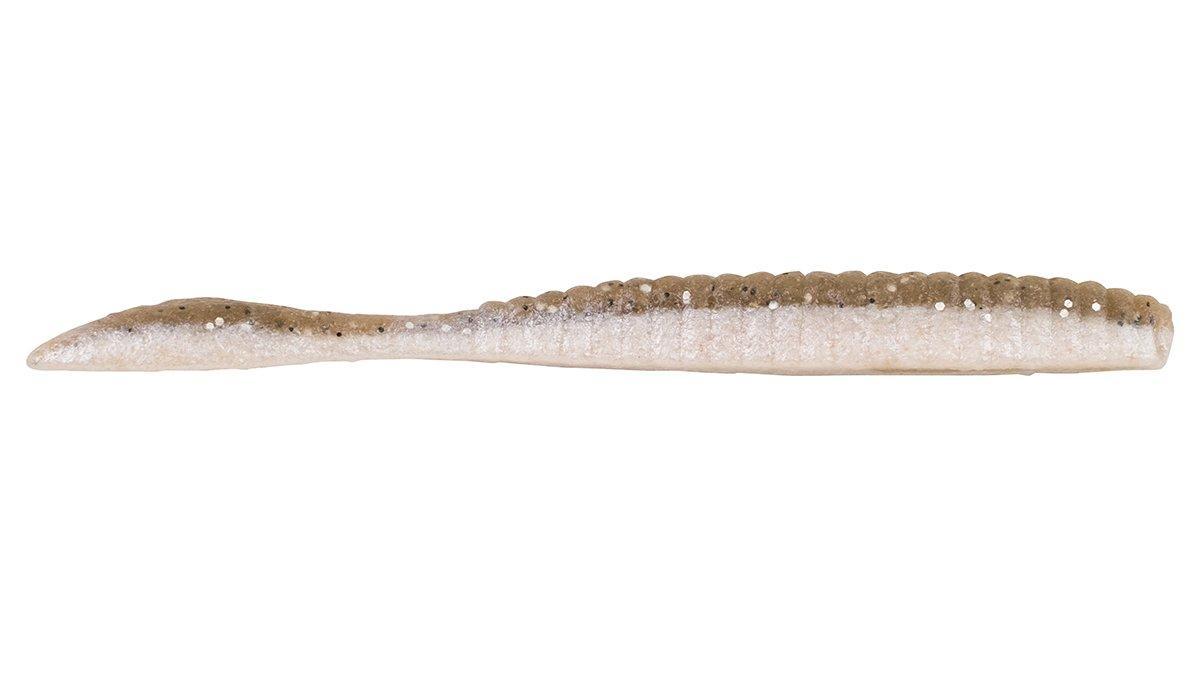 The new drop shot worm from the MaxScent line is 4 inches and will come in a multitude of proven baitfish colors. MaxScent soft baits are said to catch 45 percent more fish compared to original PowerBait® but be tough enough to hold up to multiple fish per bait with a maximum scent trail and more lively action in their new high-tech material. Retail for $6.99 a pack.
(96 of 152)
Berkley PowerBait MaxScent Hit Worm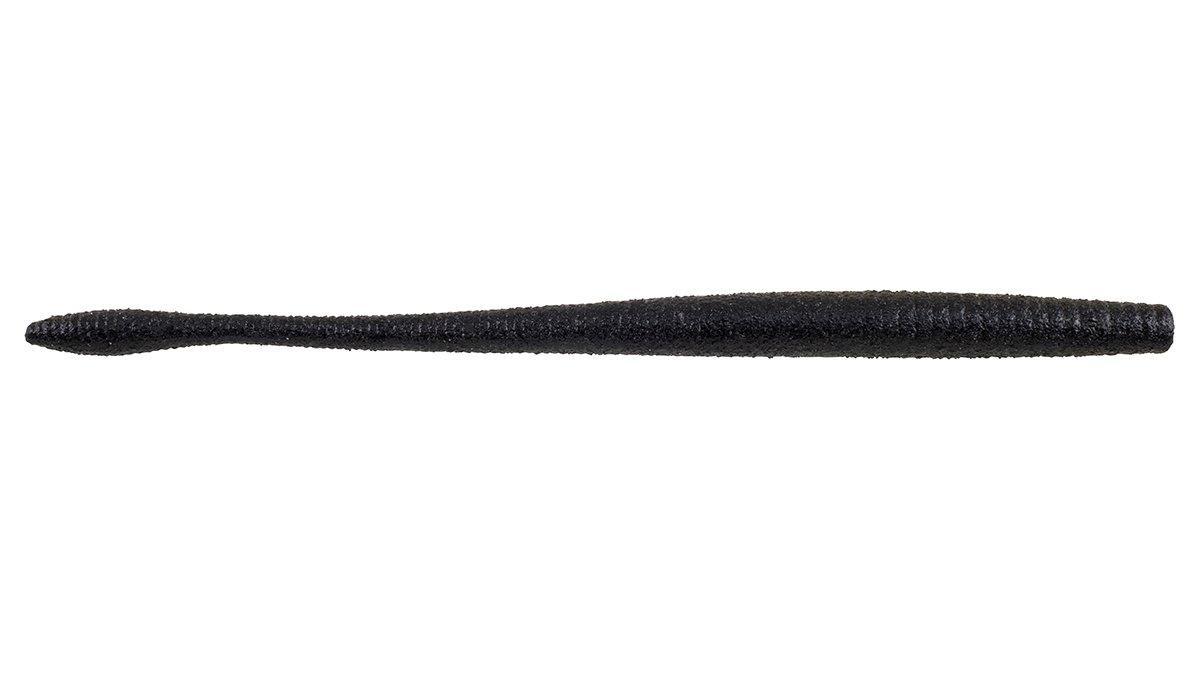 This new 7-inch worm was designed for magnum shaky heads and Texas rigs alike. MaxScent are said to catch 45 percent more fish compared to original PowerBait® but be tough enough to hold up to multiple fish per bait with a maximum scent trail and more lively action in their new high-tech material. Retail for $6.99 a pack.
(97 of 152)
Berkley PowerBait MaxScent Lizard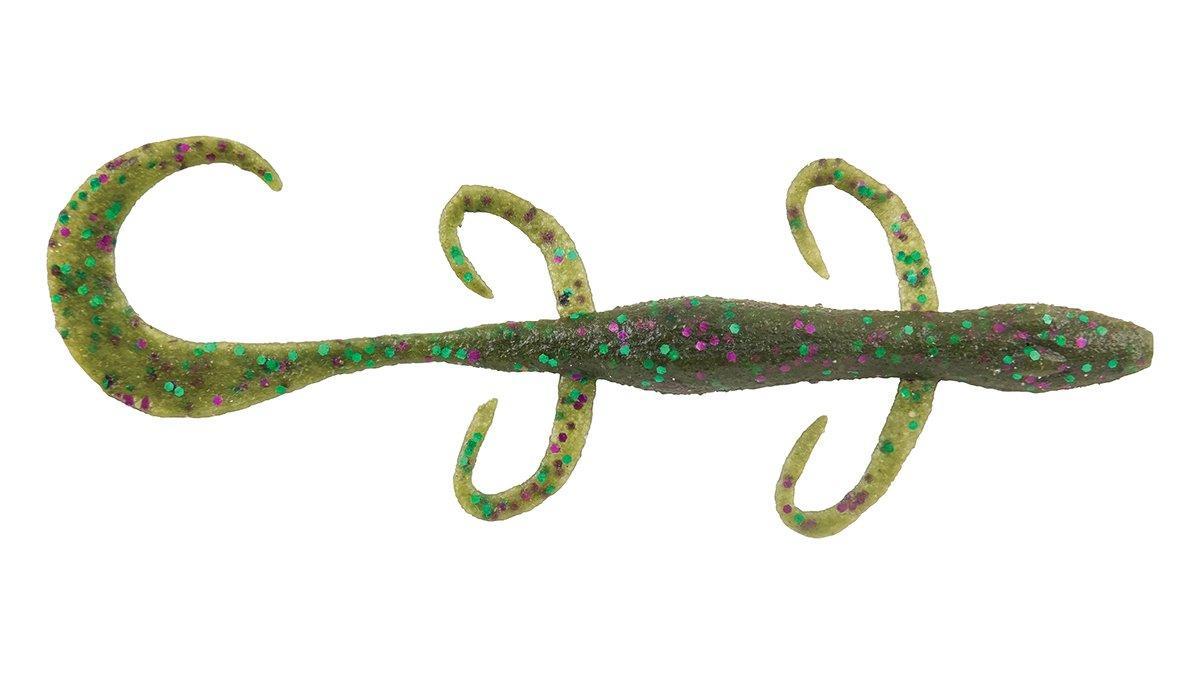 This 6 inch lizard is designed with light appendages and narrow sections to give it more movement in the water. MaxScent are said to catch 45 percent more fish compared to original PowerBait® but be tough enough to hold up to multiple fish per bait with a maximum scent trail and more lively action in their new high-tech material. Retail for $6.99 a pack.
(98 of 152)
Berkley PowerBait MaxScent Power Chunk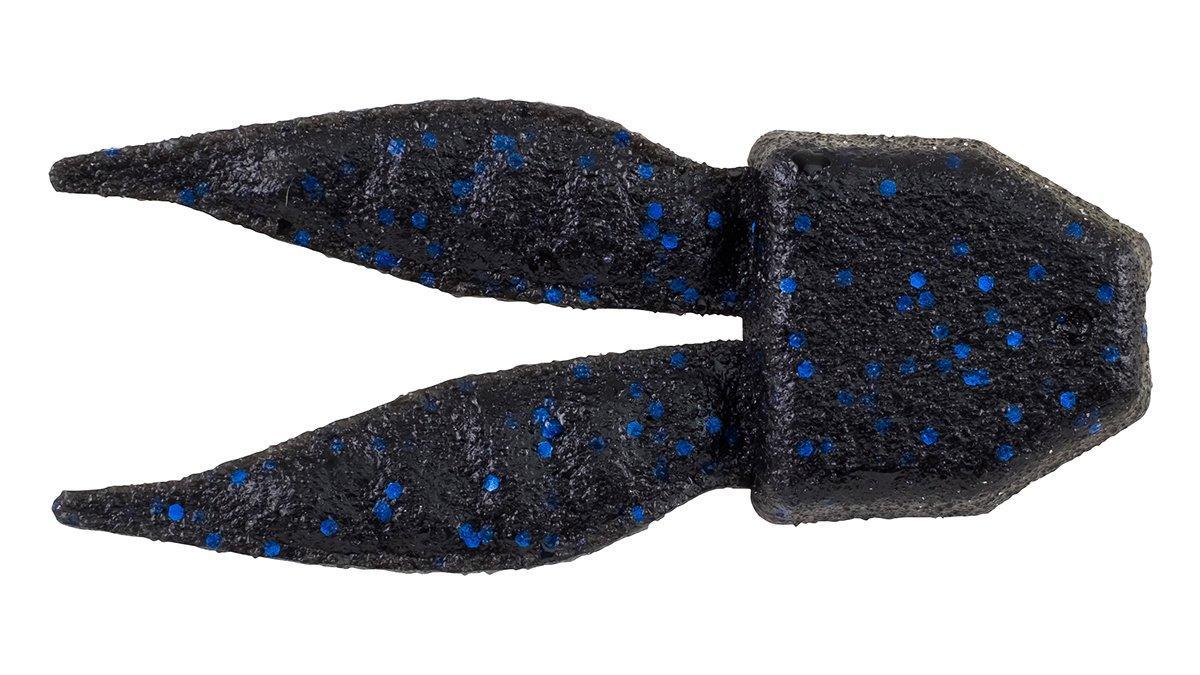 The new 3 1/4 inch chunk will give jig fishermen a lot of options without having to add scent to their jigs anymore. MaxScent are said to catch 45 percent more fish compared to original PowerBait® but be tough enough to hold up to multiple fish per bait with a maximum scent trail and more lively action in their new high-tech material. Retail for $6.99 a pack.
(99 of 152)
Berkley X5 and X9 Braided Line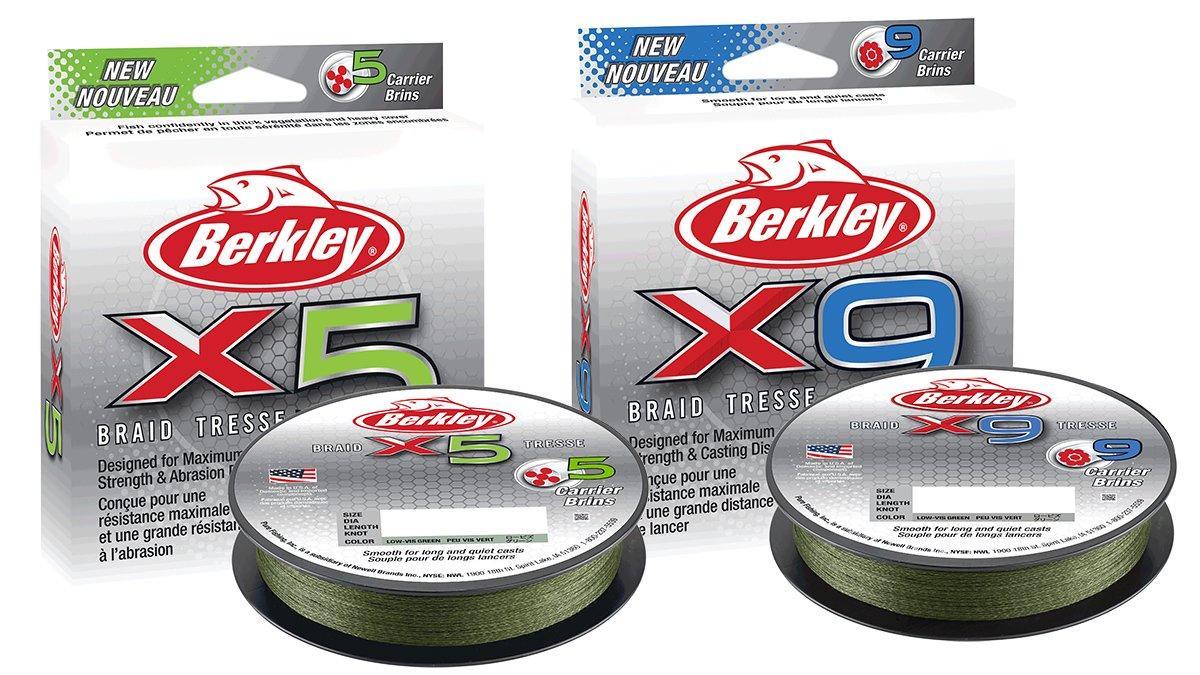 Berkley has taken normal 4 and 8 carrier braided lines and added an extra strand for improved strength and durability with the same diameter as traditional braided fishing lines. These new lines will come in 165 yard, 330 yard and 2188 yard spools. Prices range from $13.99 to $199.99 depending on carrier and size spool.
(100 of 152)
Berkley High Jacker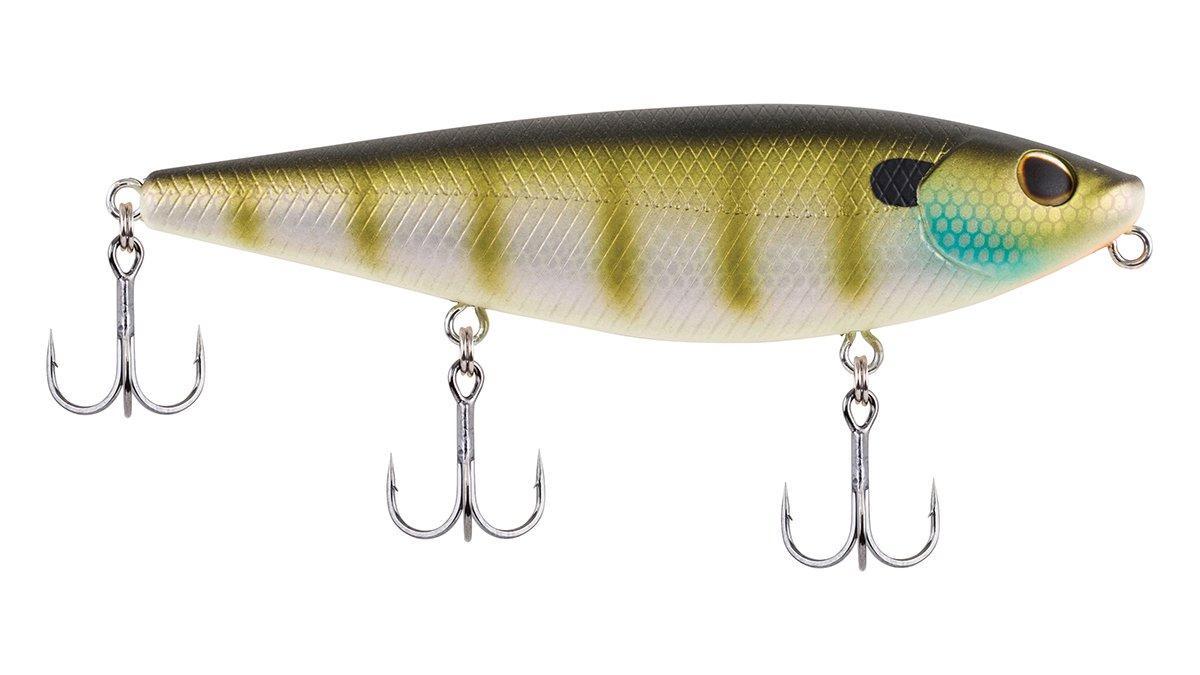 This 4-inch, 3/5-ounce topwater was designed specifically for schooling fish. It's made to cast really far while being small profile and having a lot of hook up potential with three hooks for fish slashing through schools of roaming bait in open water. It has a quick walking action at super high speeds which is often key for schooling fish. Retail is set at $7.99.
(101 of 152)
Berkley Bullet Pop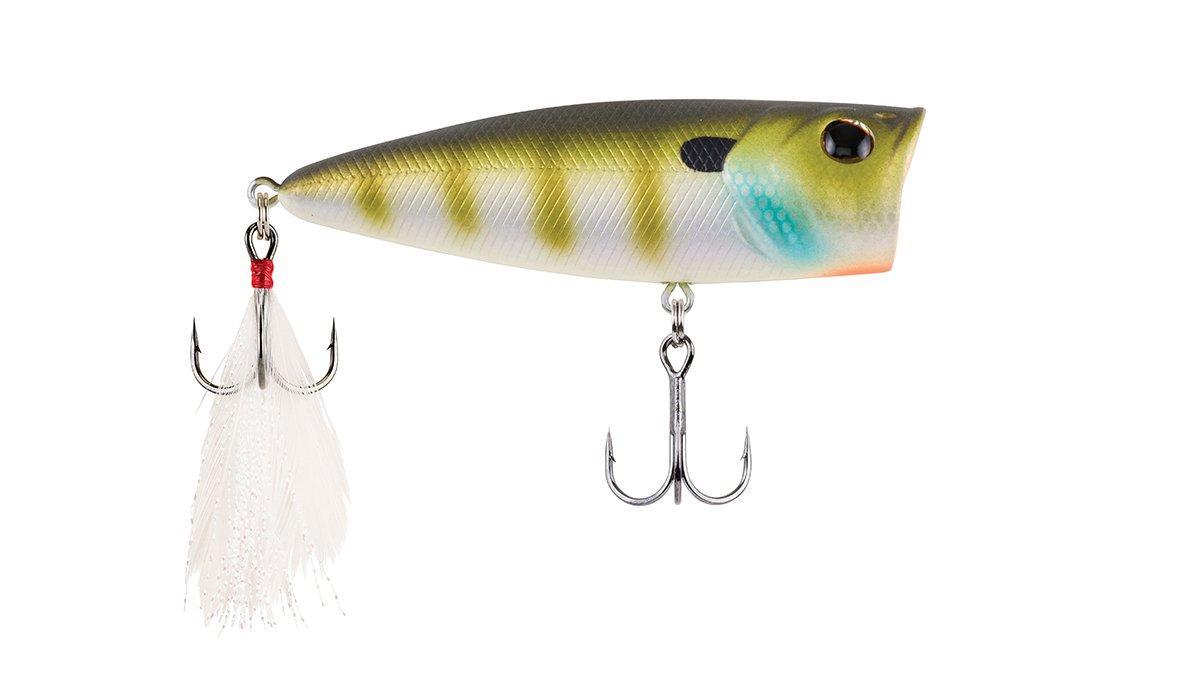 This tail-weighted popper was designed to be precision casted around shallow cover and have a full 180-degree side to side walk to keep the bait in place with a lot of action. It will come in 3 sizes from 2 1/4 to 3 1/4 inches. Retail is set for $6.99.
(102 of 152)
Berkley Cane Walker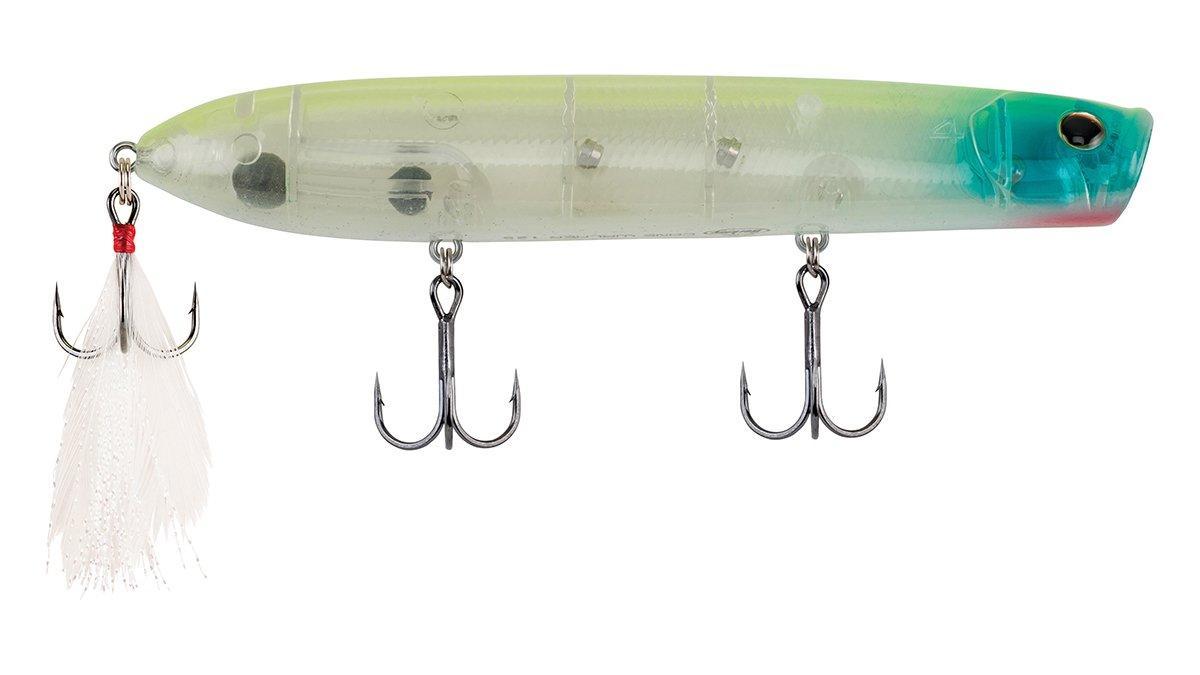 This pencil popper was designed to give a lot of commotion in rougher windier conditions and be fishable over larger areas to call fish out of brush. It is 5-inches long, has three Fusion19 trebles and weighs 5/6 ounce. Retail is $7.99. The colors look really good on this bait that we've seen. 
(103 of 152)
Berkley Choppo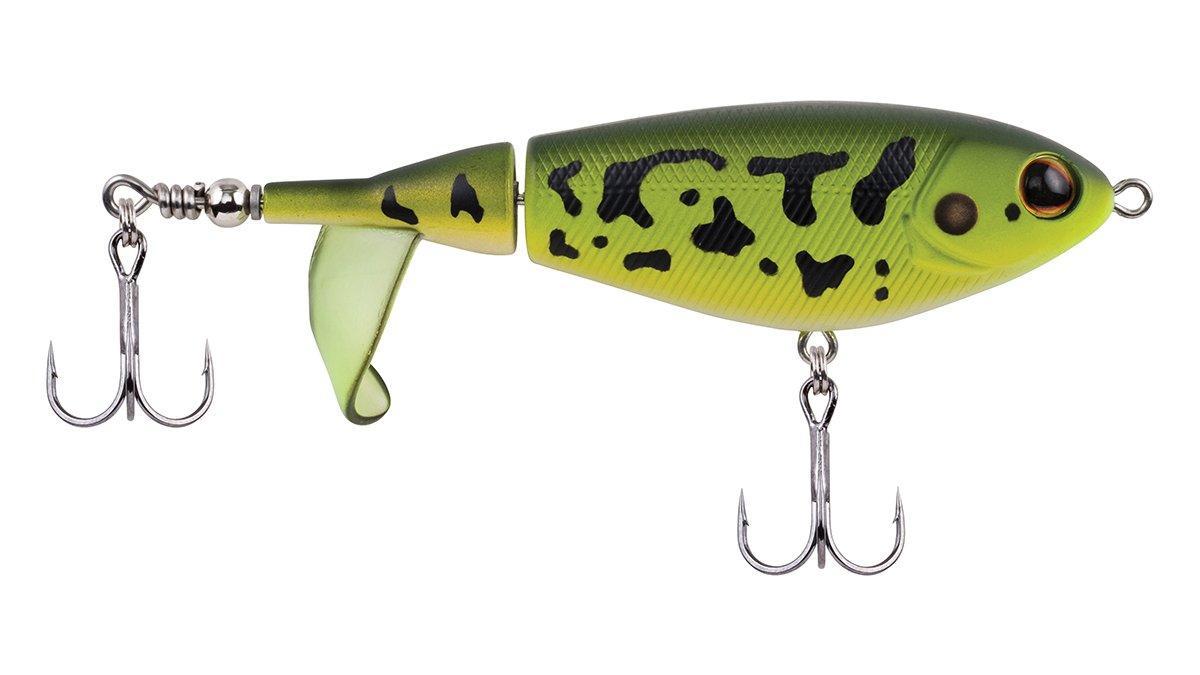 This easy to use topwater is as simple as cast and wind and it chops up the water all the way back to the boat. It comes in a 90 and 120 size. The 120 size weighs 1 ounce. Hard cupped tail gives enhanced prop surface area and good sound an commotion at all speeds. Retails for $7.99.
(104 of 152)
Berkley Drift Walker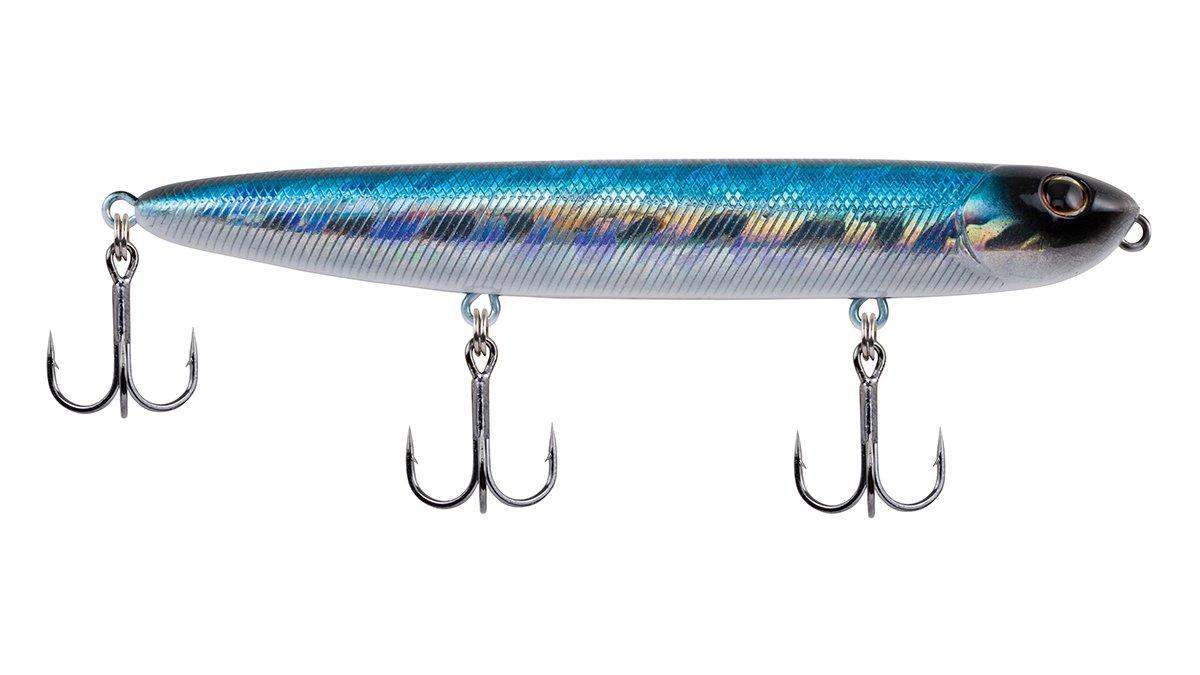 This finesse walking topwater bait is 4 1/4 inches long, weighs 1/2 ounce and features a tail weight for long casts and wide side to side drift for fishing on slick calm days when the fish are more pressured. Retails for $7.99.
(105 of 152)
Berkley J Walker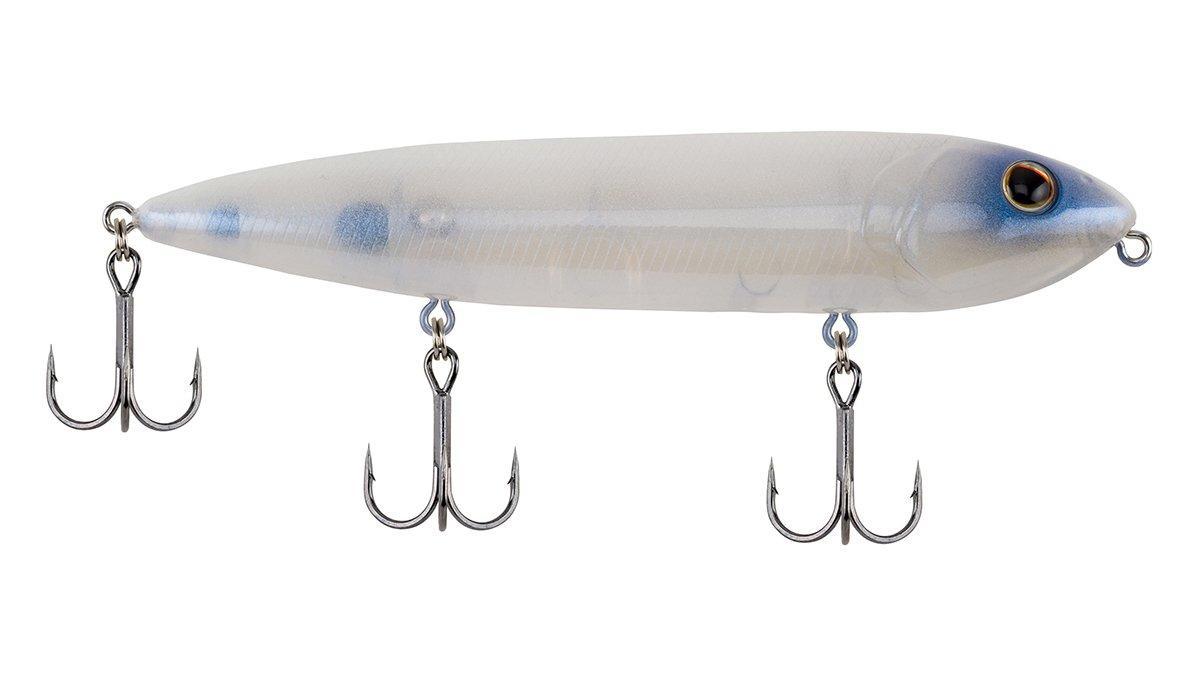 This is a classic design on a walking topwater bait with upgraded features like tail casting weight, 3 Fusion19 hooks, tapered back that provides easy walk the dog action for even beginner anglers. Will come in 4-inch and 4 3/4-inch sizes at $7.99. 
(106 of 152)
Berkley Spin Bomb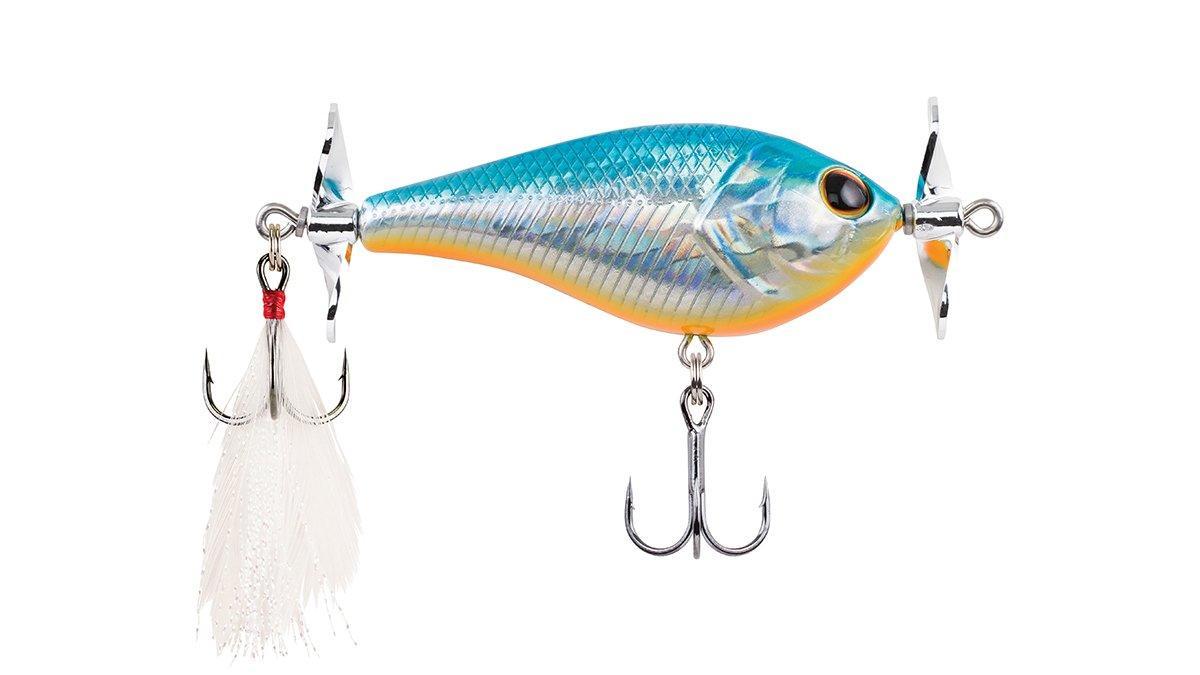 This prop bait is made to mimic a wounded baitfish or bluegill. Features clear plastic props with enhanced surface area for more chop. It's 2 2/5 inches long and weighs 2/5 ounce. Retail is $7.99.
(107 of 152)
Berkley Spin Rocket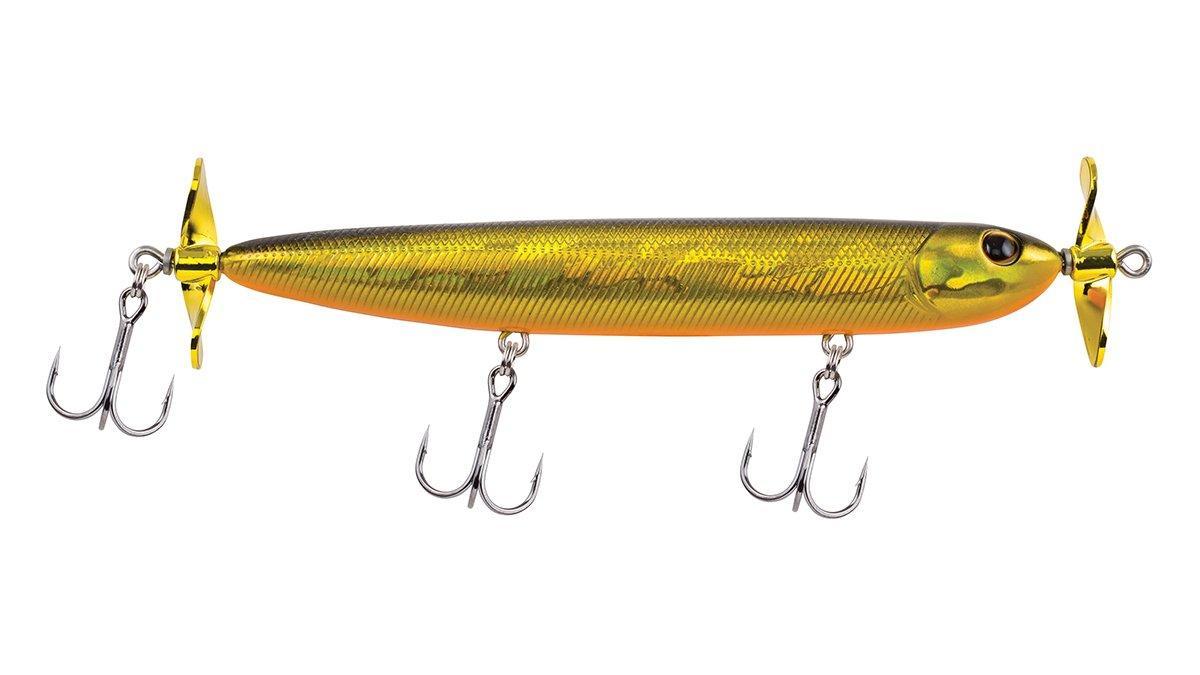 This 4 1/4 inch double prop pencil bait is designed to be fished around shallow cover, beds and anywhere bass are territorial in shallow water. Plastic props spin at slower speeds and give off maximum spray on a triple-hook bait.
(108 of 152)
Berkley Surge Shad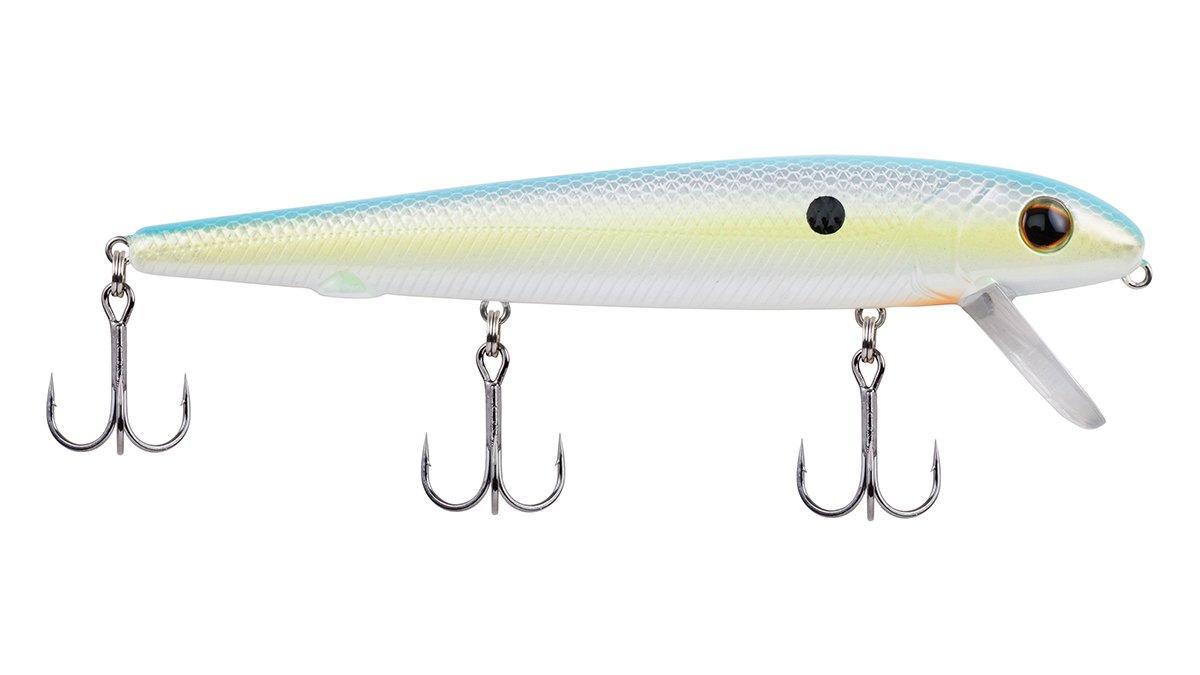 This long walking bait measures 5 1/5 inches and weighs 3/5 ounce. It has a perfected waking wobble to give you all the advantages of a balsa walker with the upgrades only available in plastic like FlashDisc for added flash in the belly on the roll, multipurpose bill, with silent sound with Fusion19 hooks on a 3-hook bait. Retails for $7.99.
(109 of 152)
Berkley Jointed Surge Shad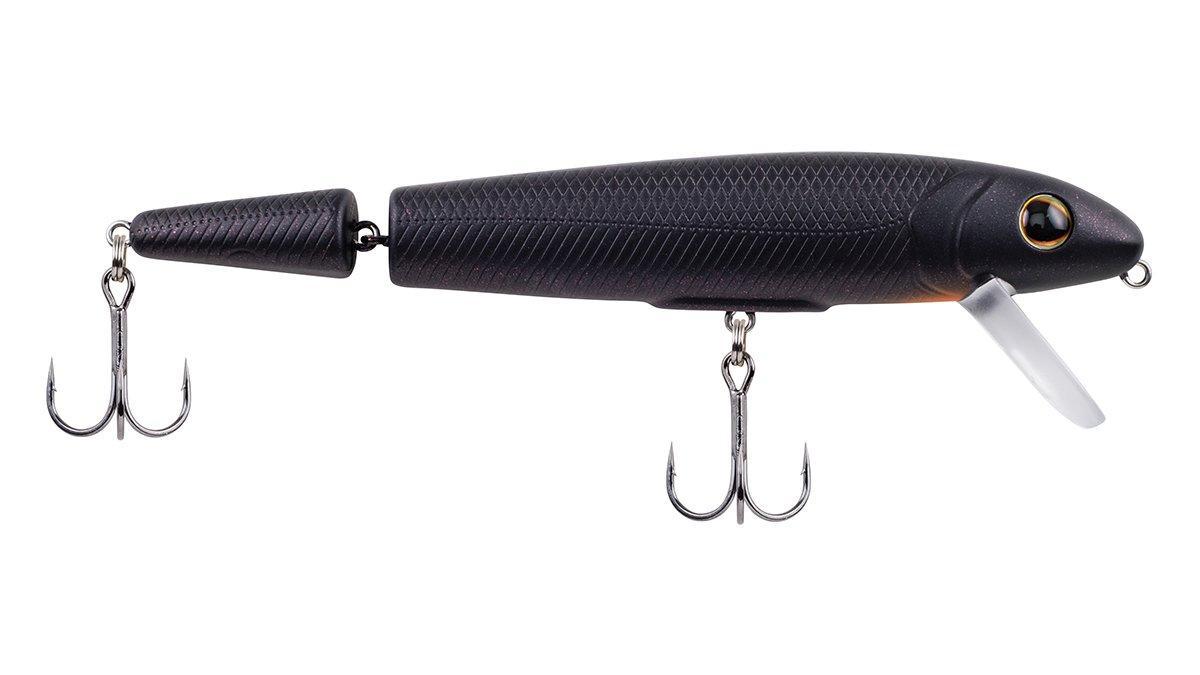 The jointed version will provide a more exaggerated wobble with a more aggressive sound. It weighs 2/3 ounce so it will cast really well which is often a problem with jointed wake baits. It's a 2-hook bait that will retail for $7.99.
(110 of 152)
Berkley WakeBull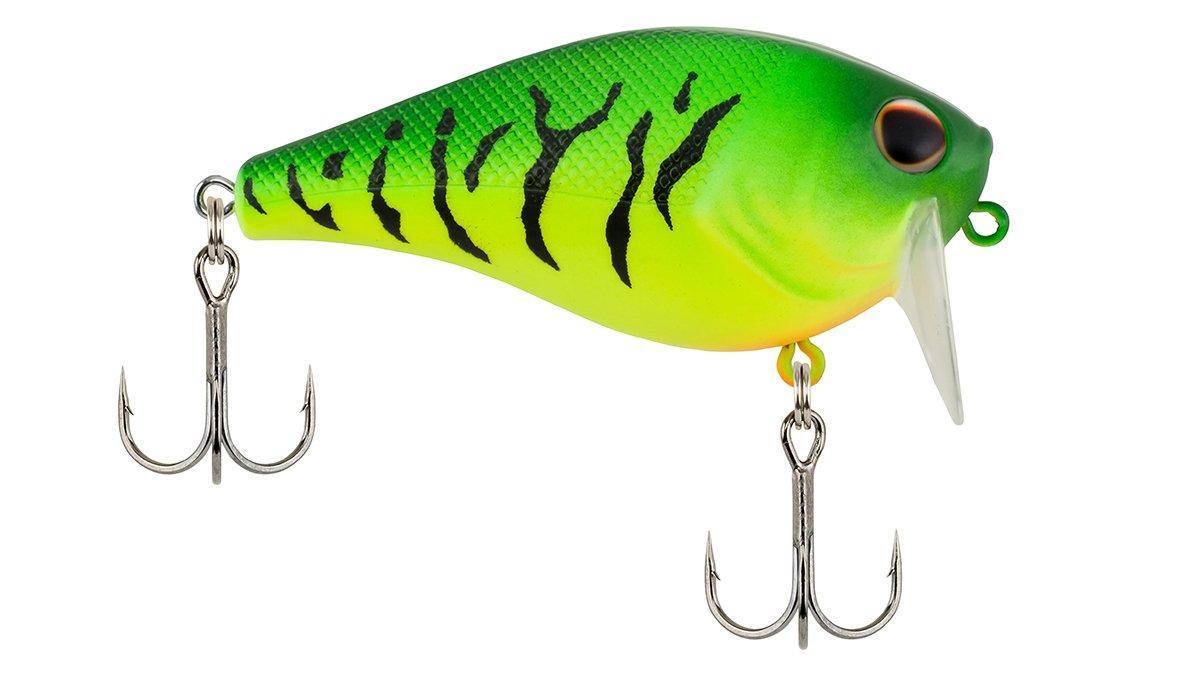 This waking square bill frame offers a tempting surface action at all speeds and is offered in 2 2/5 inch and 2 3/4 inch sizes for $6.99.
(111 of 152)
Berkley Line Stripper Max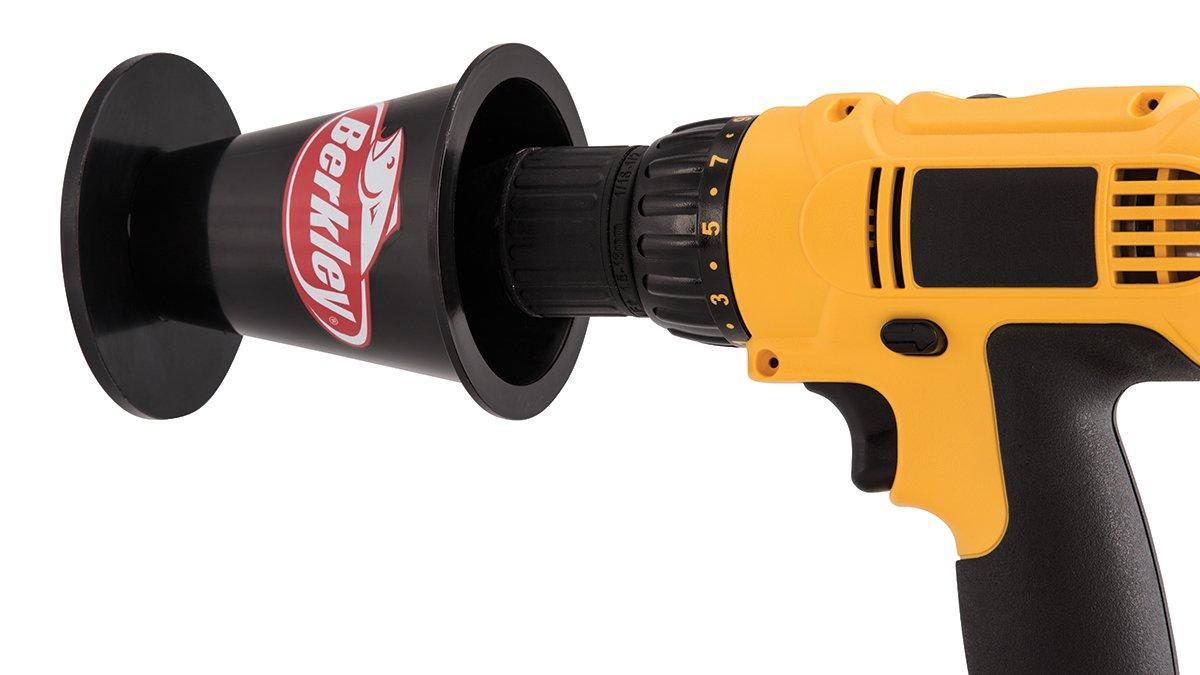 This drill attachment will make stripping the line off a reel a job that can be done in a matter of seconds. The attachment features an integrated clutch and you can hook up multiple reels and strip all your reels at once. Retails for $14.99.
(112 of 152)
Berkely Mobile Line Spooler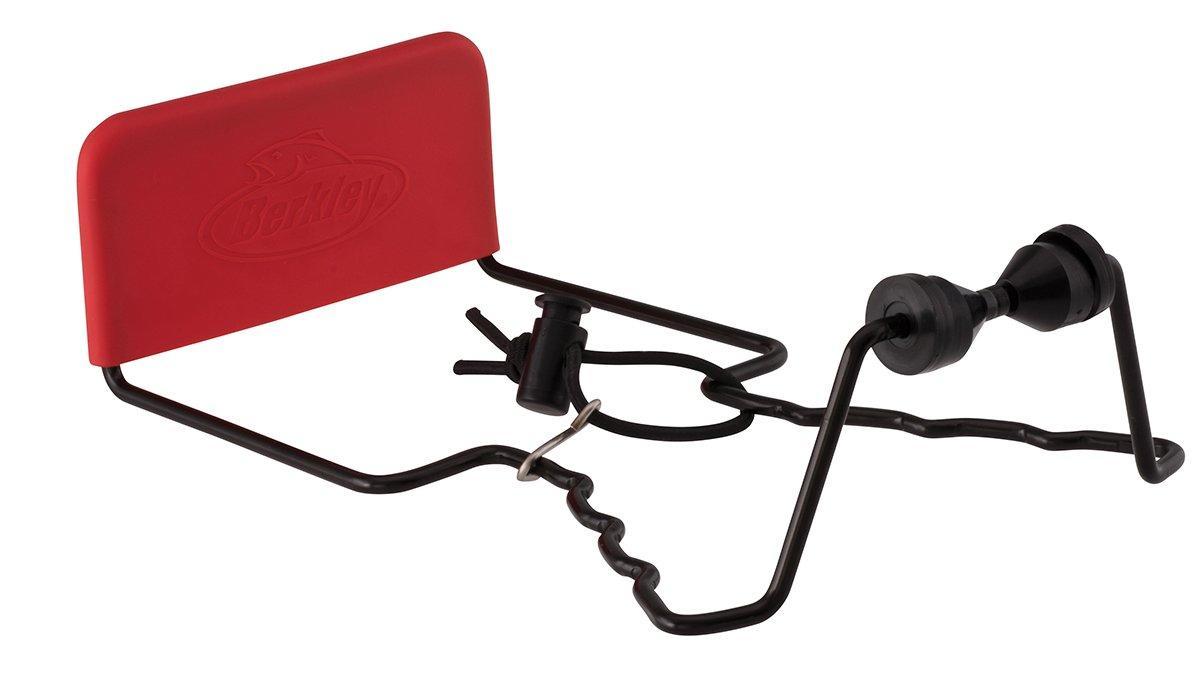 This under the door spooling station allows you to spool your reels quickly in any room by attaching it to the bottom of a door. I'm sure a foot will suffice in the boat. Should make spooling a snap. Retails for $9.99. 
(113 of 152)
Missile Baits Bomb Shot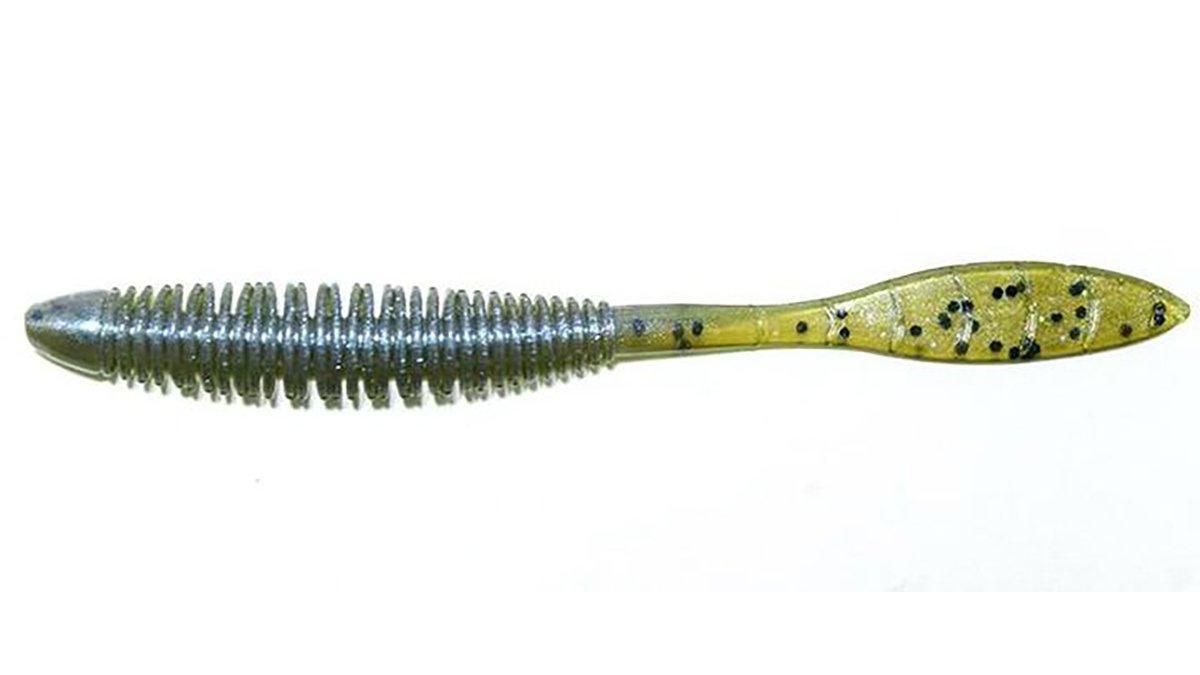 Missile Baits released a new 4-inch drop shot bait based off the very popular and effective D-Bomb flipping bait. This bait accounted for several top finishes at the recent Oahe Elite Series event will come in several already proven fish catching colors. The bait has a ton of action, movement, air bubble trapping and more in a very detailed plastic. A 15-pack will sell for $3.99. 
(114 of 152)
Fish Head Primal Vibe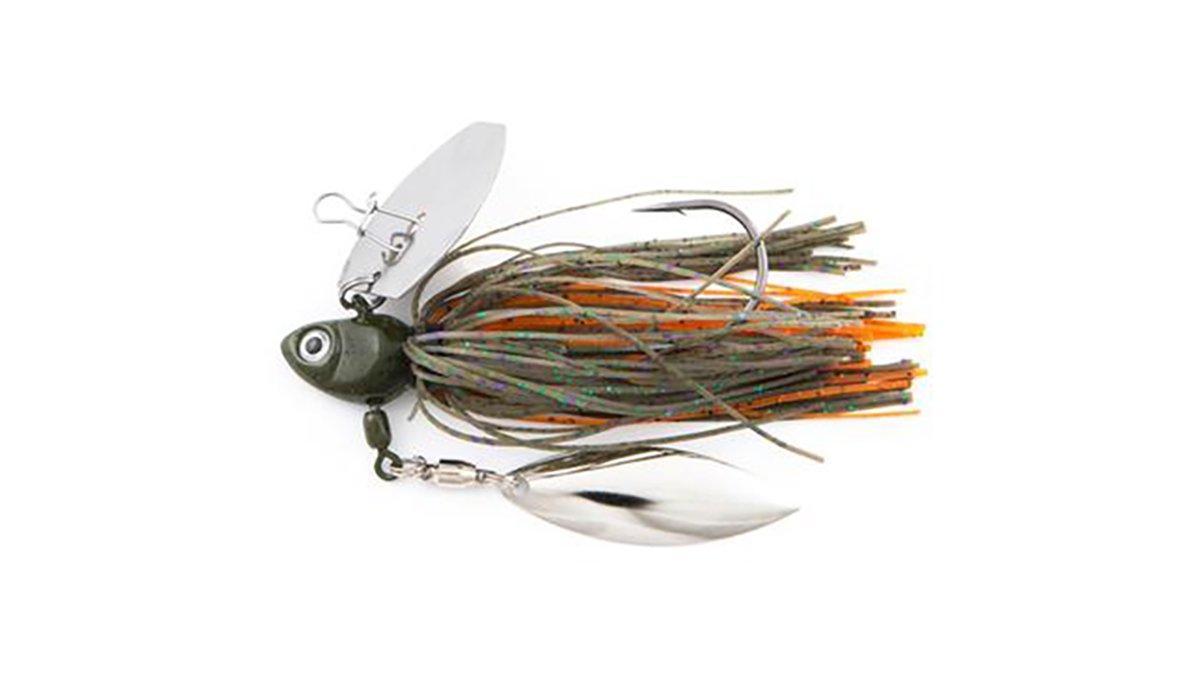 This combination under-spin and bladed swim jig gives you the best of all worlds. It has flash and vibration coupled with a sharp Mustad Ultra Point hook and Skirts Plus Bioflex Skirt. It comes in 1/4, 3/8 and 1/2 ounce sizes and retails for $7.99. 
(115 of 152)
AFTCO Hydronaut Bibs and Jacket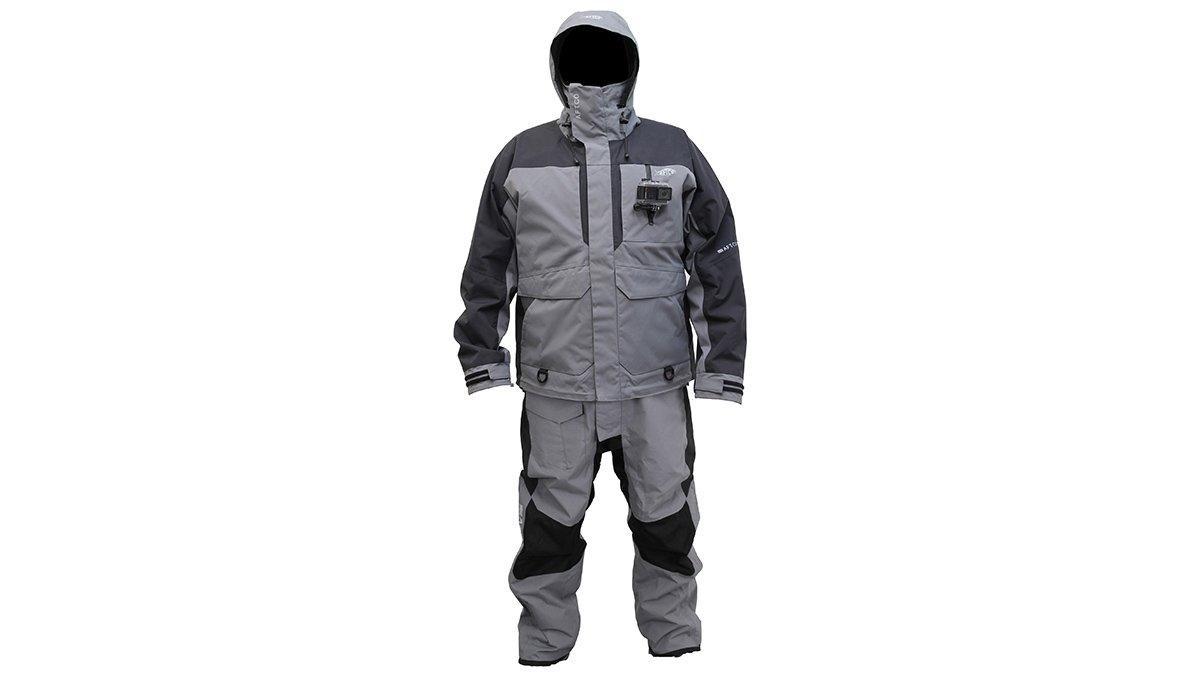 Hydronaut was meticulously designed based off the feedback from the AFTCO Freshwater Pro Team to handle extreme foul weather conditions when comfort, performance and focus is needed most. AFTCO took extensive measures to re-engineer rain gear as we know it with a 20K 100% waterproof 2layer nylon shell, SpeedVent™ airflow hood, Cyclops™ integrated camera mount pocket, Double Dry™ internal sleeve cuffs, ComfortFlex™ adjustable stretch shoulder system with mesh back, tricot hand warmer pockets, rubberized internal sleeve cuffs, CORDURA® reinforced pliers pocket and knees. Jacket retails for $249. Bibs retail for $229.
(116 of 152)
Raymarine Axiom UAV App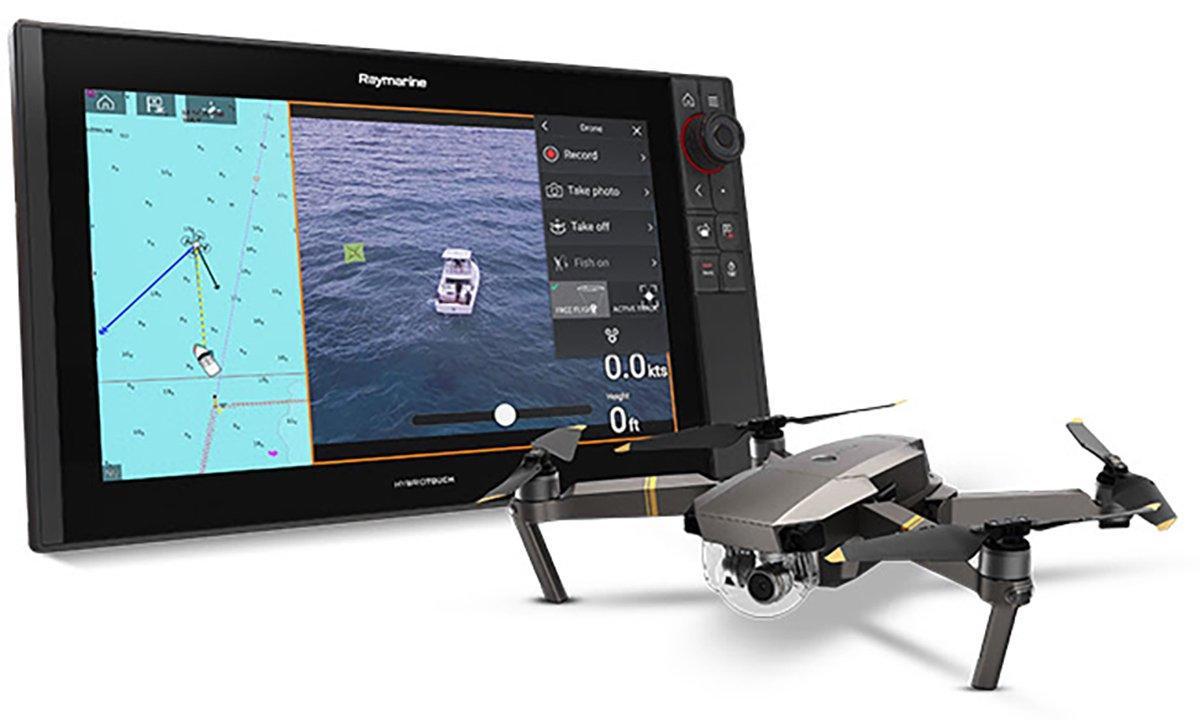 Raymarine's new Axiom UAV app integrates advanced marine electronics with Unmanned Aerial Vehicle (UAV) technology. Our powerful Axiom multifunction displays integrate seamlessly with the advanced DJI Mavic Pro drone to give anglers a bird's-eye view of fish, bait, reefs, and weedlines.
(117 of 152)
X Zone Lures 3-inch Ned Zone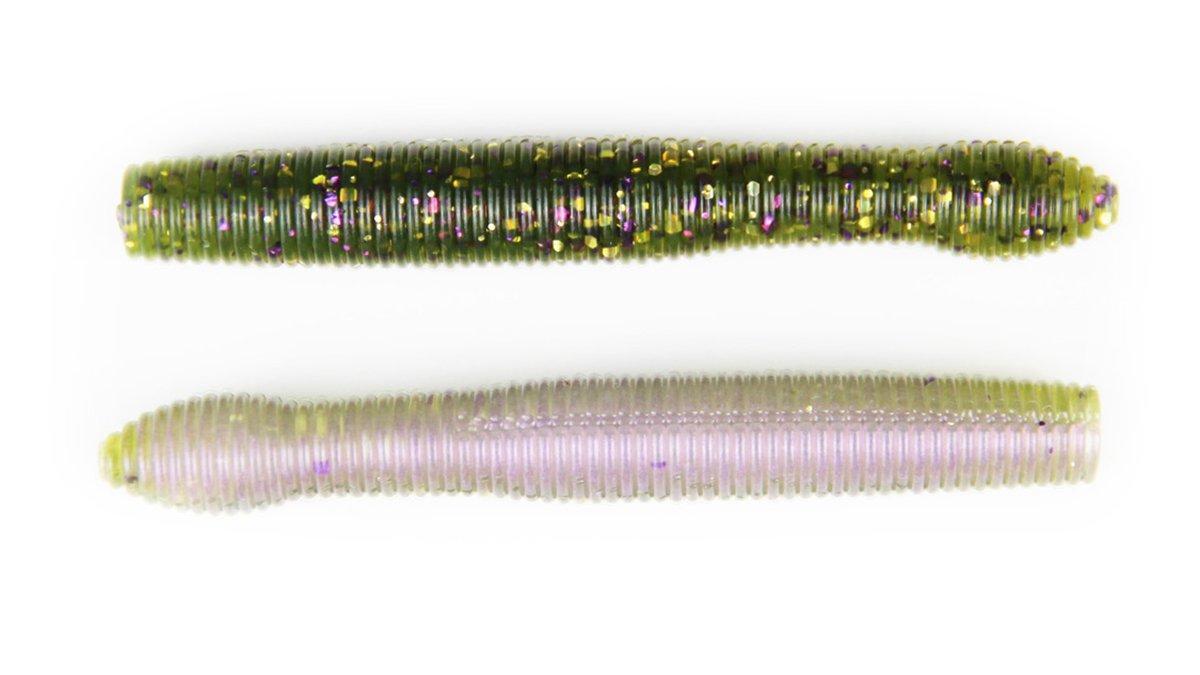 This soft, floating, ribbed, Ned rig bait is designed for the technique that continues to sweep the nation. It is also meant for use on wacky rigs, drop shot, shaky head and Carolina rigs.
The belly of the Ned Zone is unique as it comes with an alignment line so you can rig the Ned Zone easily every time. The unique tail design also creates an attractive, yet subtle action underwater.  The Ned Zone is made with X Zone Infused scent formula, making fish hold on longer and increasing hookup ratios. Available in 14 colors.
(118 of 152)
T-H Marine G-Force Troll Jacket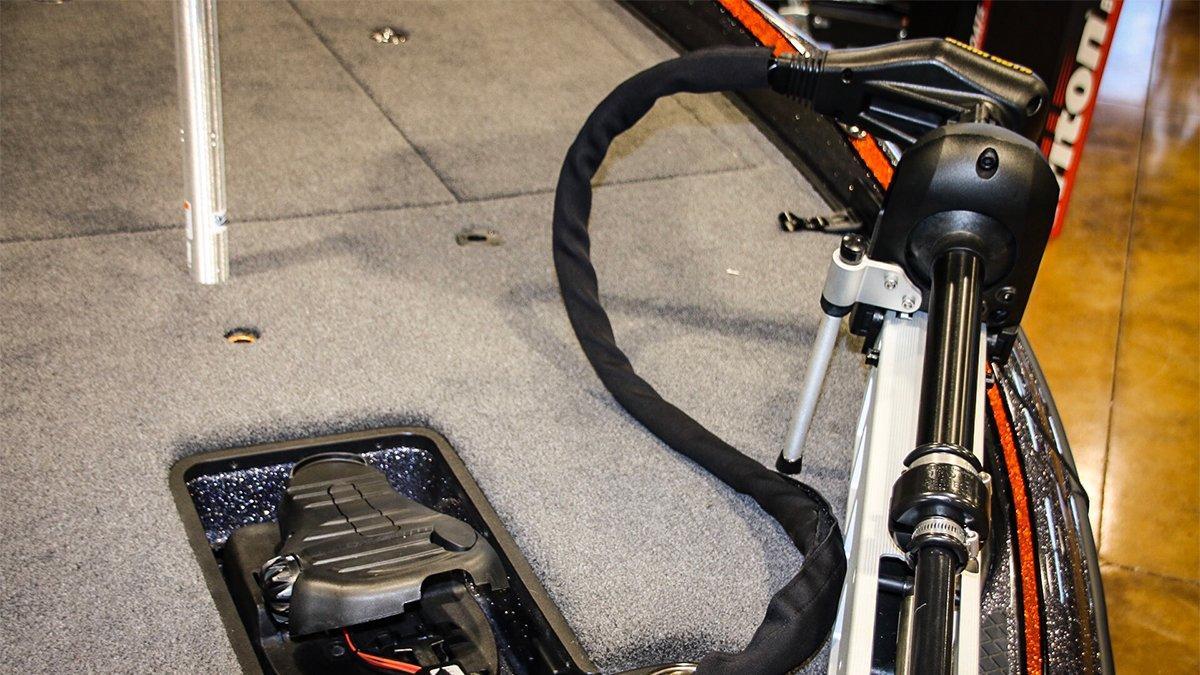 The G-Force Troll Jacket is a 2mm neoprene trolling motor wire and cable organizer. It measures 60 inches long and includes a velcro closure. While wrapped, the diameter is about 1.5 inches.
For maximum compatibility for your setup, you can cut and trim the sides where your cables need to come out. This eliminates the need for zip ties along the factory cable cover. It also helps you bundle and organize adjacent wires, like those for your depth finder and HydroWave. Beyond organization, the Troll Jacket prevents exposure of factory cables. If your cables have electrical tape repair, the Troll Jacket gives an additional layer of defense against the elements.
(119 of 152)
T-H Marine G-Force Troll Perfect Trolling Motor Control Enhancer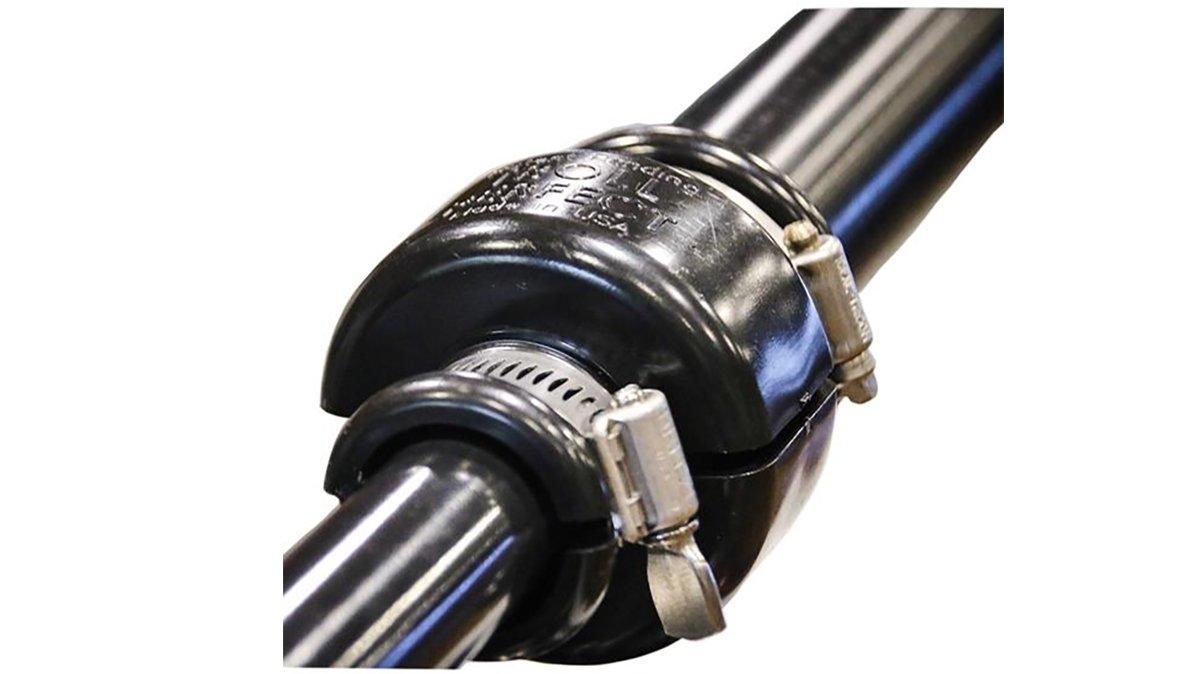 The Troll Perfect™ provides adjustable tension to control the effects of motor steering torque, high waves, heavy current, and excessive foot pedal play.
Get control of your trolling motor with the Troll Perfect™ Trolling Motor Tension Adjustment System. Whether fishing in wind, waves, current, or just whenever you need the high-speed settings, Troll Perfect™ will allow you to stop fighting the kick back, and side to side torque steer of your trolling motor. Now you can concentrate on fishing. Troll Perfect™ will also eliminate that "sloppy foot pedal" issue. With the Troll Perfect™, anglers can now comfortably fish in any condition without having to fight the trolling motor, worry about keeping a straight course, or losing balance and falling off the boat while trying to steer.
The patented Troll Perfect™ clamps over the motor shaft swivel bearing and allows you to easily adjust the tension on your cable steering. By allowing this precision control of your trolling motor, you can instantly adapt to any condition on the water. Having a Troll Perfect™ means less effort, less fatigue and better fishing.
Models available for MotorGuide, MotorGuide X3/X5, and Minn Kota trolling motors.
Product not available for Minn Kota Ultrex trolling motors.
(120 of 152)
T- H Marine G-Force Grass Goat Trolling Motor Weed Guard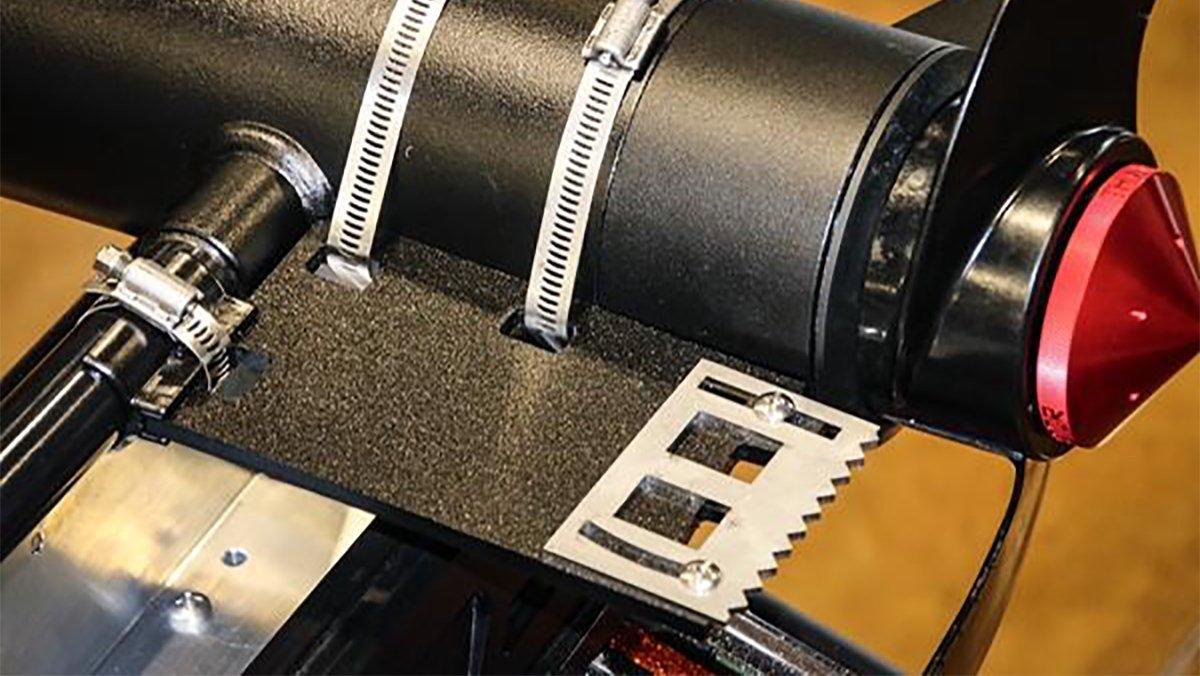 The R2 Marine Grass Goat is an aftermarket cutting-tool for your trolling motor that slices through vegetation and keeps your trolling motor clear of debris. Featuring a genuine marine grade starboard mounting plate, it also comes equipped with a 316 stainless steel cutting-blade to ensure years of use under the toughest conditions.
Incredibly easy to install, the Grass Goat comes with all of the necessary mounting hardware and easy-to-follow instructions that will have you fishing weedlessly in no time. Don't waste anymore time removing grass from your trolling motor when your fishing through your favorite honey hole, get the R2 Marine Grass Goat today.
(121 of 152)
Lunkerhunt Yappa Bug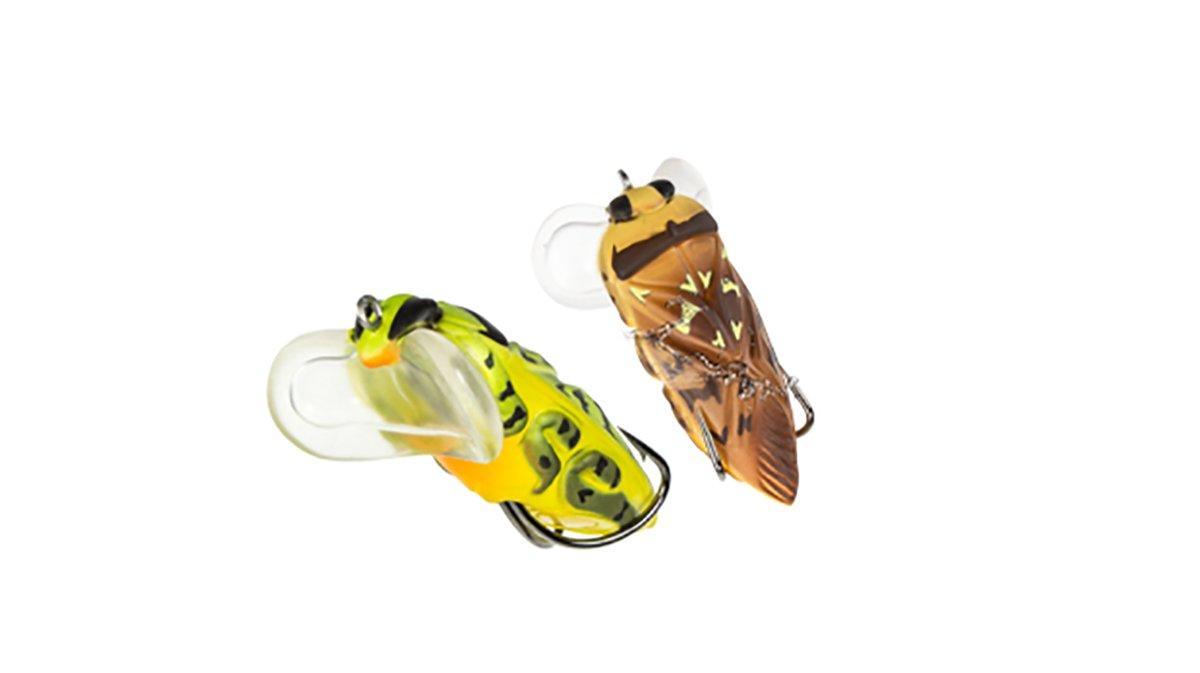 The Lunkerhunt Yappa Bug is a topwater lure that has been designed to disturb the water surface and mimic a North American Waterbug. Waterbugs are a common forage of bass and other gamefish species. The Yappa Bug is capable of generating several different topwater actions.
Straight retrieve it for a tight shimmy action or work it on slack line to create wide swings.
(122 of 152)
Lunkerhunt Yappa Frog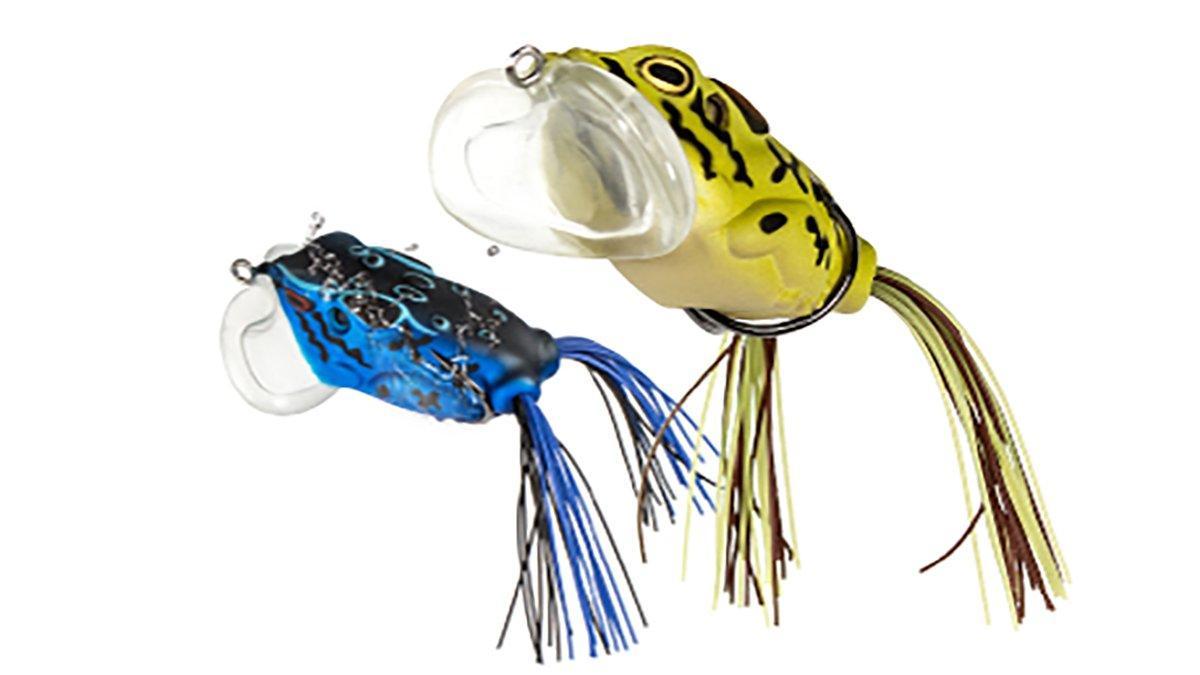 The Lunkerhunt Yappa Frog is a hollow bodied topwater frog that ploughs the water surface. The Yappa Frog mimics a frog swimming on the water surface and is capable of generating several different topwater actions.
On a straight retrieve, the Yappa Frog produces a tight shimmy action. Working it on slack line will generate wide swings.
(123 of 152)
Lunkerhunt Yappa Rat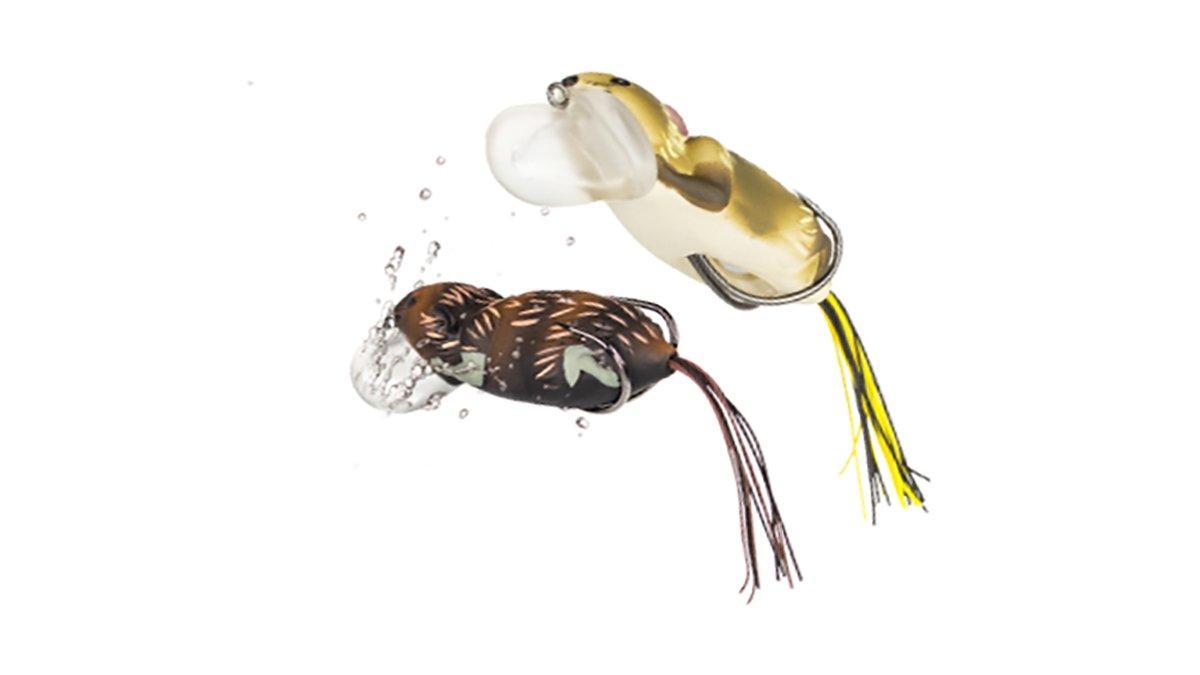 The Lunkerhunt Yappa Rat is a walking topwater lure that replicates the action of a rodent swimming or working its way across the water surface.
Straight retrieve the Yappa Rat for a tight shimmy action or work it on slack line to create wide swings.
(124 of 152)
Old Town Topwater PDL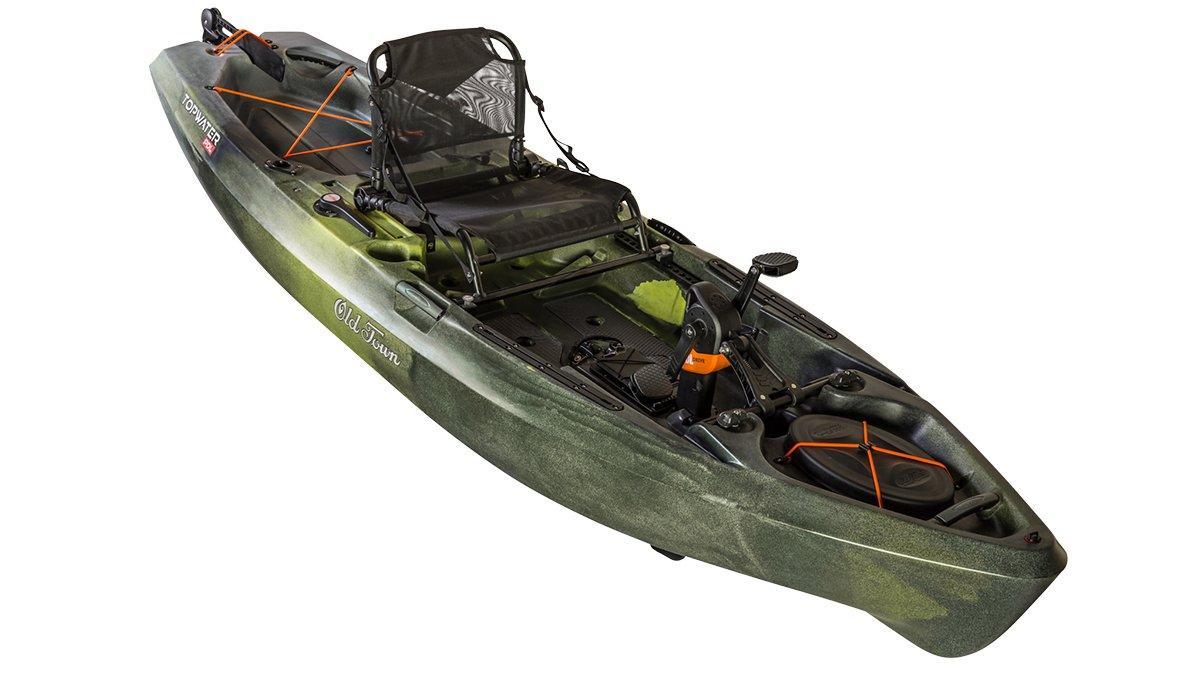 The all-new Topwater Series offers large fishing kayak performance, in a compact, nimble package. A marriage of stability and performance, the Topwater, with the all-new ultra-stable DoubleU™ Hull, quietly glides through any water condition while providing a stable, comfortable stand-up fishing platform. Equipped with thoughtful on-board tackle and rod management and a revolutionary universal transducer mount, even the saltiest of anglers will be impressed by the overall fishability of the new Topwater series. Old Town sacrificed nothing, delivering a series of innovative fishing kayaks that are easy to maneuver and even easier to transport all while boasting an impressive maximum capacity. Available in hands-free pedal or paddle versions.
Topwater PDL: $1,999.99
Free Huminbird Helix 5 Chirp GPS G2 with purchase of a Topwater PDL through September 28, 2018. 
(125 of 152)
Old Town Topwater 106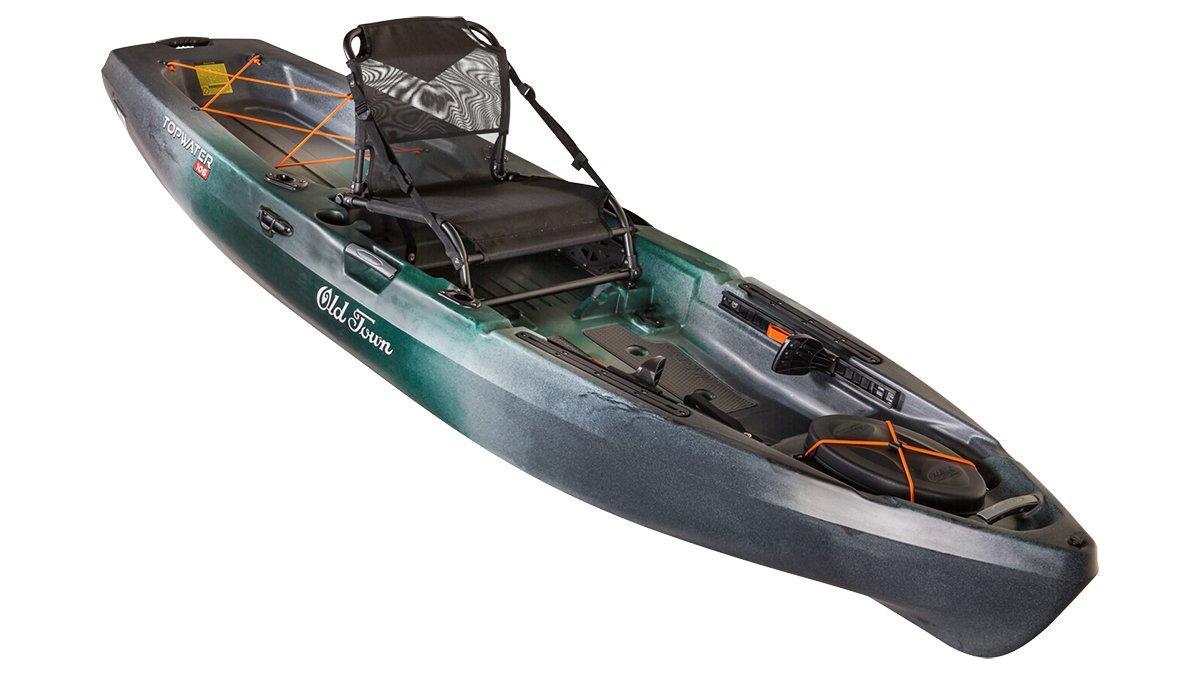 Topwater 106: $899.99
Free Humminbird Piranhamax 4 with purchase of Old Town Topwater 106 through September 28. 
(126 of 152)
Old Town Topwater 120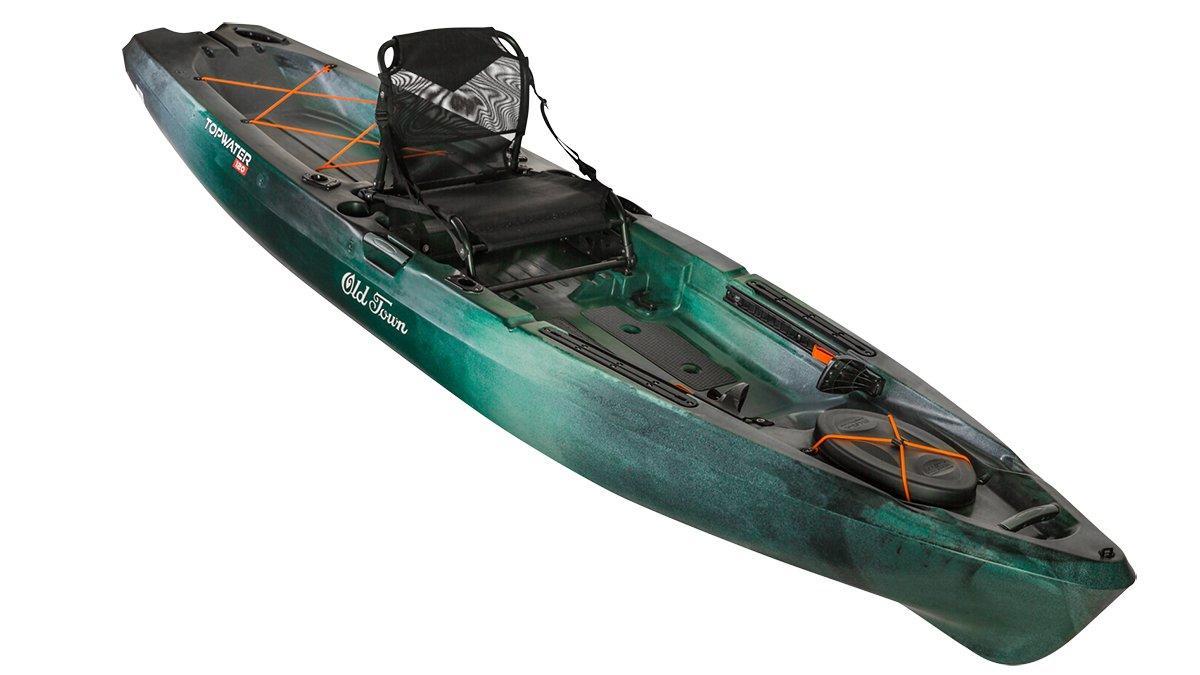 Topwater 120: $999.99
Free Humminbird Piranhamax 4 with purchase of Old Town Topwater 120 through September 28. 
(130 of 152)
DUO Realis Spin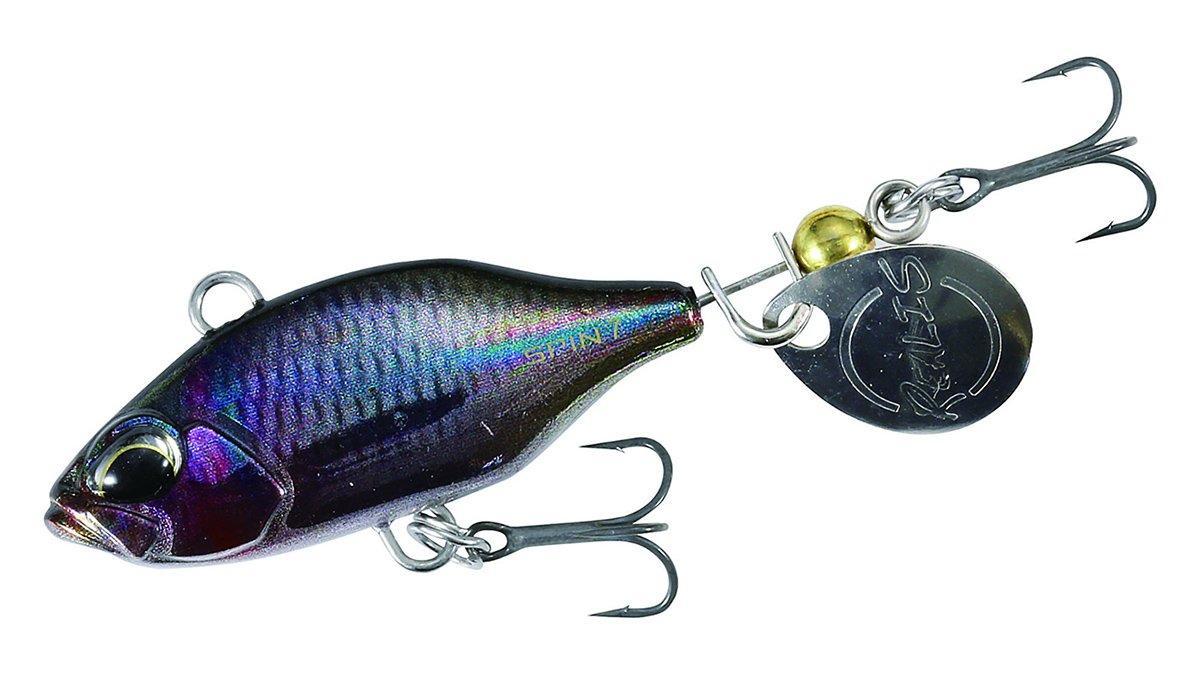 True Tail Spin performance with ultra realistic swim action, this ultra-realistic, ultra-finesse lure gives both the shore angler and the boater presentation advantages.  Its size and weight allow it to be fished shallow or deep. The rear blade is rotates smoothly and consistently allowing the lure to hold depth effectively. Its optional hook placements make it versatile.  The Realis Spin's 'weight to body size" ratio gives the compact bait the ability to travel great distances in a single cast. 
(131 of 152)
DUO Realis Dekashinmushi and Koshimushi
Are part of the Shinmushi beetle series.  Deka stands for extra large and Koshi means small. These bug wonders offer shore anglers a top water experience worth smiling about. These realistic beetles walk and vibrate on the surface in believable fashion.  Another special attribute is the ability to change our body halves and wings customizing your beetle for its special occasion. Since the introduction of the Shinmushi line hobbiest across the globe have started a fad of collector group.  So whether a collector or avid angler you will enjoy this topwater sensation.
(132 of 152)
DUO Realis Namazu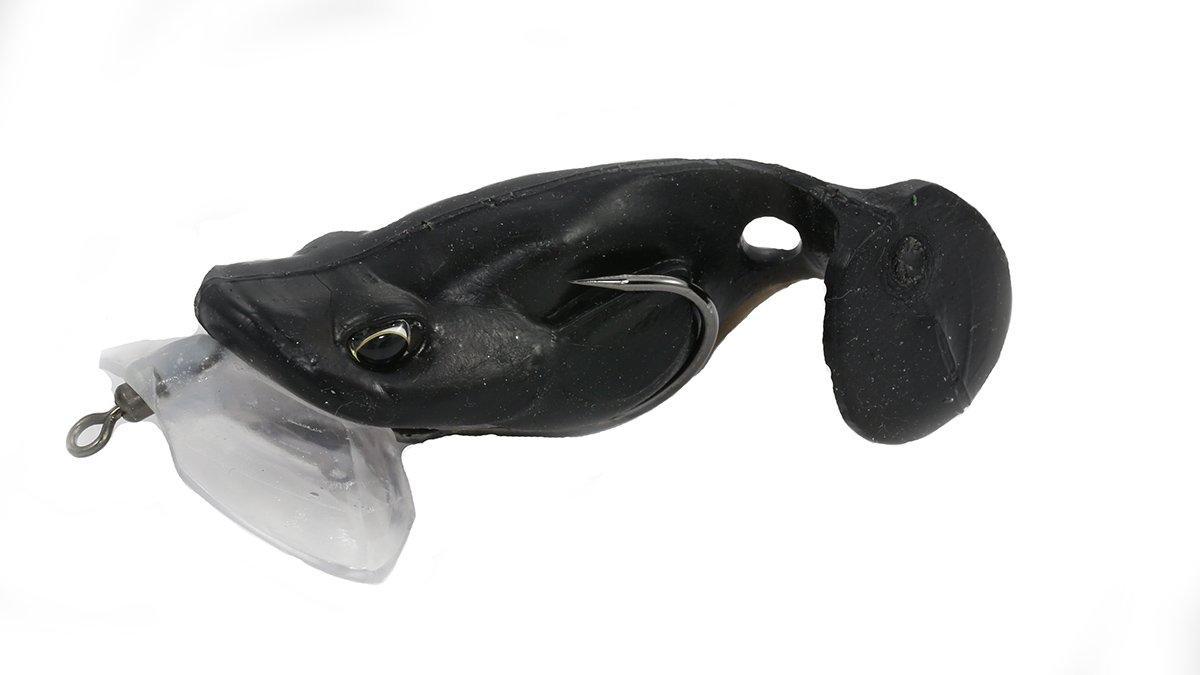 Another Adachi R&D concept, the Namazu uses dual opposing actions which create significant surface action. The crawler bill allows the lure to surface-walk and roll providing a wake that leaves the body. The rear region of the lure creates a faster turbulence as the lure moves forward by incorporating a thin perforated penny shape tail. The slower the lure is retrieved the more displacement. Unlike many top water lures, the Namazu utilizes a soft tapering body that works to hide the dual hooks from vegetation, Yet the body will compress once taken allowing the hooks to penetrate.  The unique and compact NAMAZU is like having the best of both worlds -- a grass or open water bait that will give top water anglers more in their arsenal. Retails for $11.99
(133 of 152)
DUO Realis Nomase Gill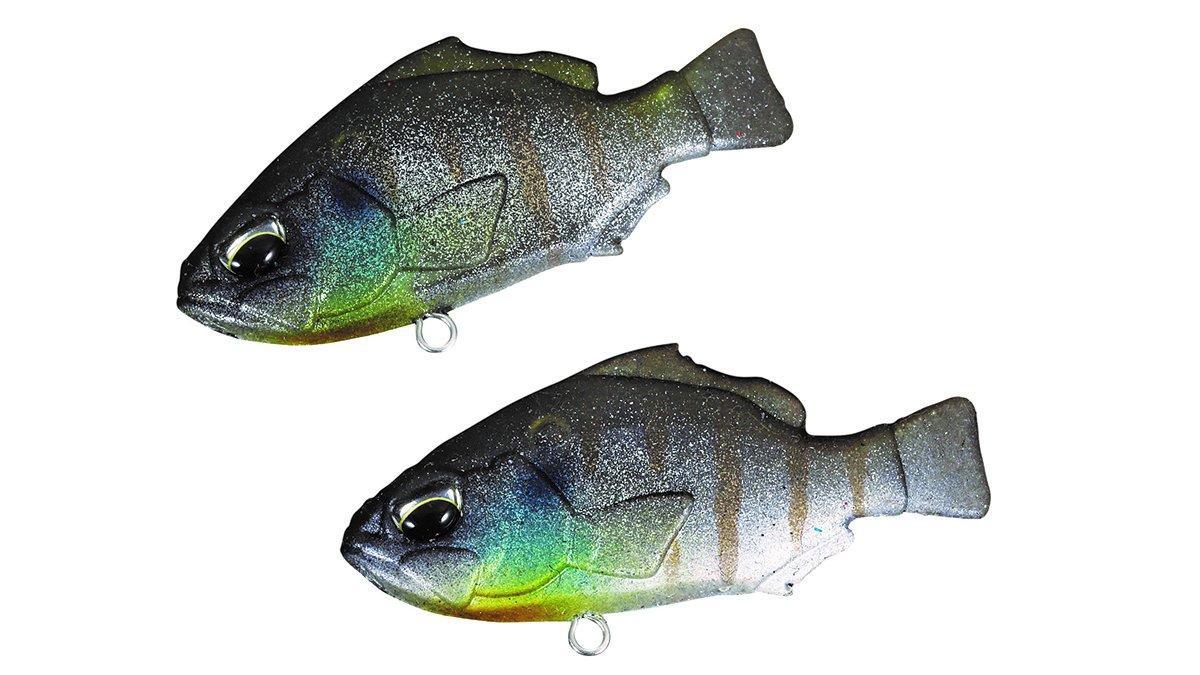 A soft body cross between a blade and lipless crank. The collapsable body houses multi hook retainment frame allowing the angler to position his hook in 3 different position. The lure has a  internal ballast system giving it a unique fall and vibration. The soft body is made of elastomer preserving the integrity longevity of the lure, by lessening tearing and deformation. 
(134 of 152)
DUO Alabama Topwater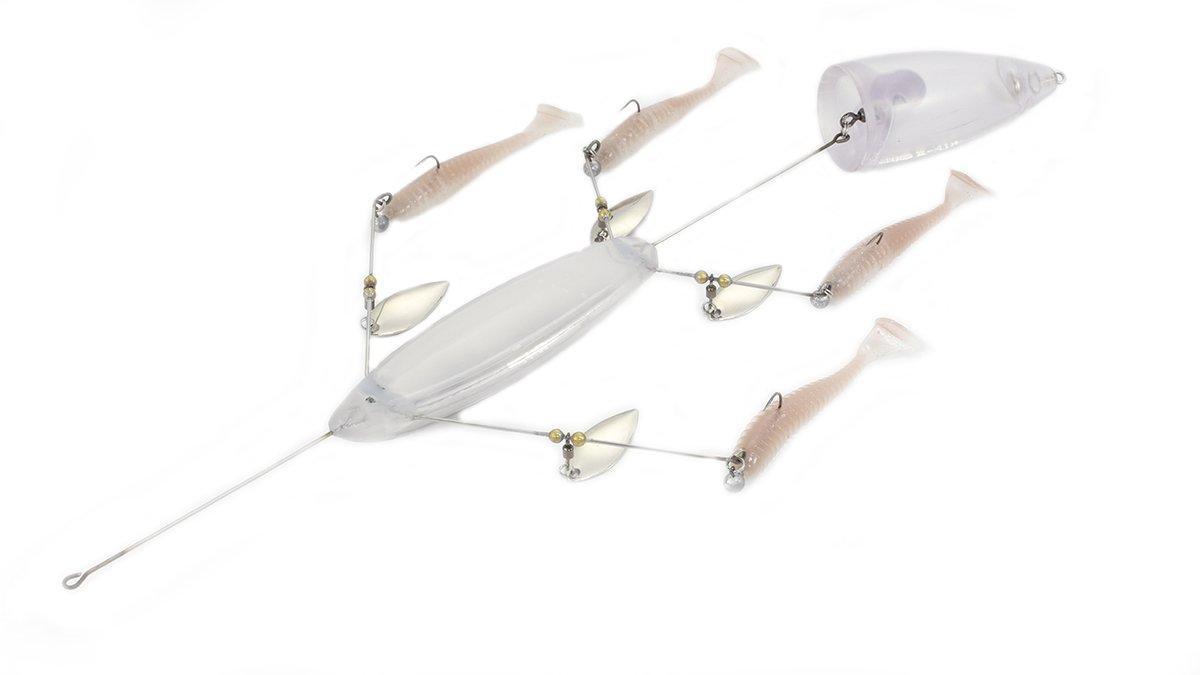 The Alabama Sub is designed to be retrieved at a variety of speeds on or near the surface. Its unique and a first from the R&D walls of DUO's new facility. This floating multi-bait rig is flanked by four jig heads for shad trailers. And four free hinged willow leaf blade added for reflection and flash. The ABS mid-section of the rig provides mobility and buoyancy. Bringing up the rear is a unique ABS popper to cause surface plunging,boiling and popping similar to pursuant predatory fish.  
(136 of 152)
WileyX WX Nash Sunglasses
This new-look WX Nash is available with a platinum flash mirror and smoke green lenses, which brings the eyewear alive and highlights the weed bed underneath you in the water, helping you catch more fish. The sunglasses 13% light transmission delivers maximum glare reduction without distorting colours, significally reducing eye fatigue. This model also features Wiley X's advanced Filter 8 polarization, for superior glare-cutting performance that helps anglers 'read' the water. The WX Nash also embodies a rugged, yet lightweight Kryptek® Altitude™ camouflage frame that wraps around the face for excellent coverage and optimal field of view, further enhancing its optical prowess.
(138 of 152)
13 Fishing Envy Black Rods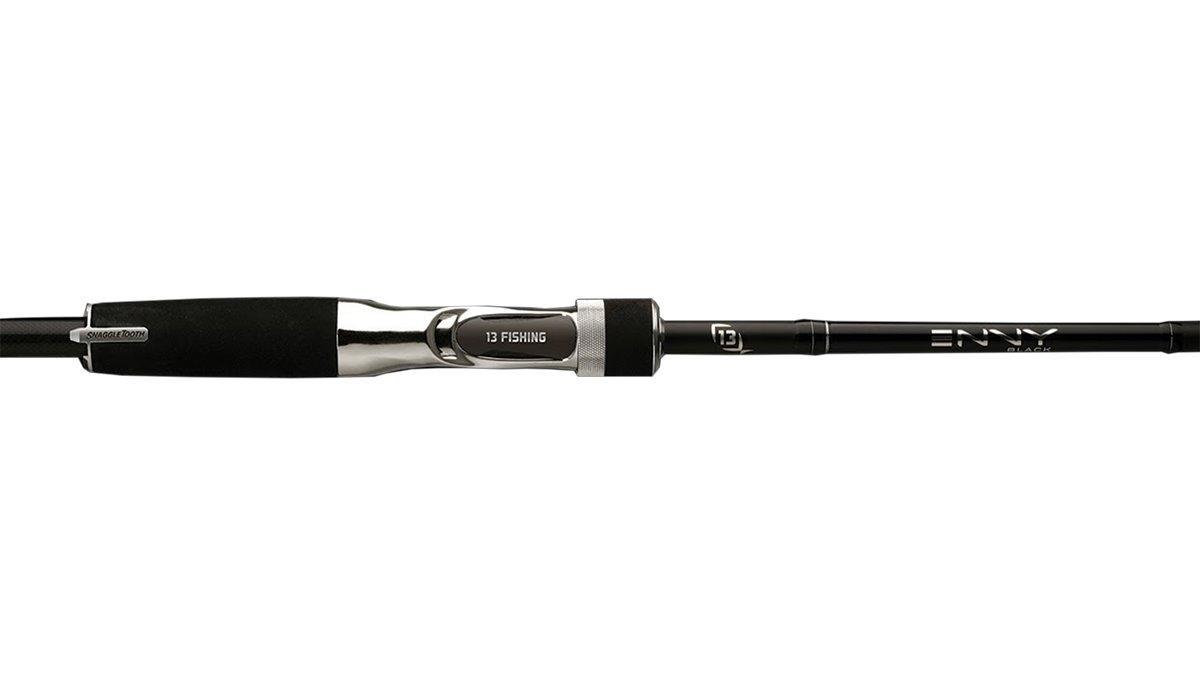 Powered by a 46-ton Poly-Vector Graphite (PVG46T) blank, the new Envy Black is sensitive and light weight. The Evolve Carbon Divide reel seat transmits kinetic energy directly to the palm of the angler from the blank while providing an excellent grip. Zonal Action Technology (ZAT2) delivers a full range of complex and dynamic tapers.
(139 of 152)
13 Fishing Concept Z3 Oversized Reels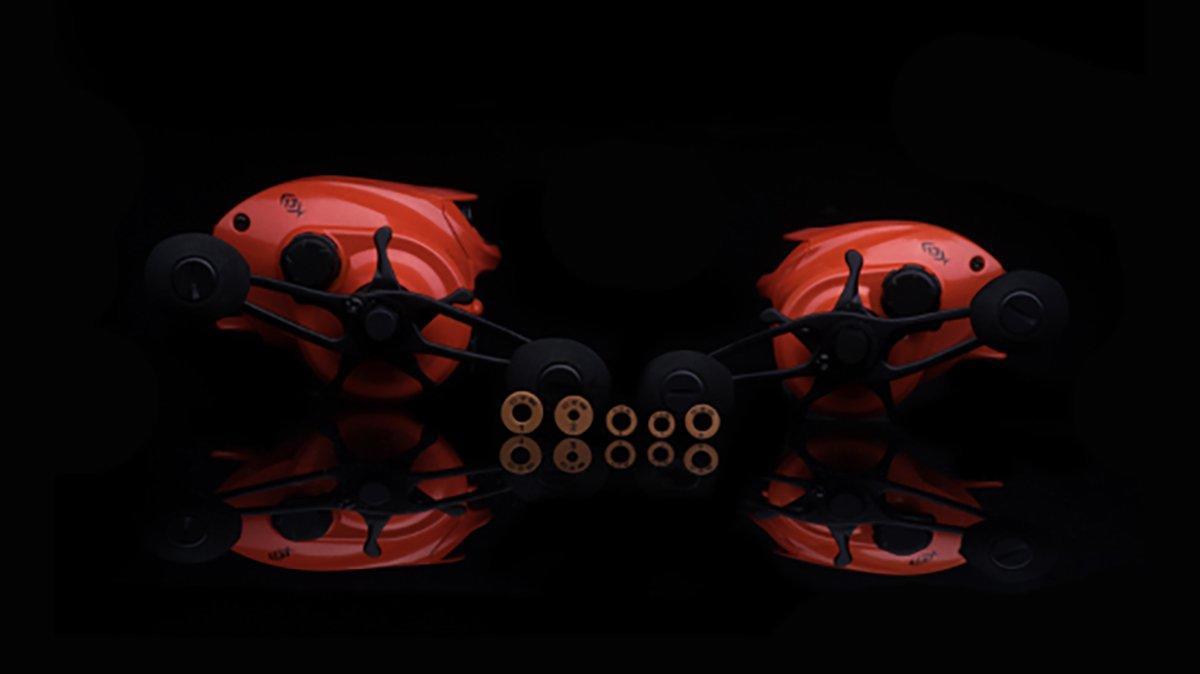 Make room for the Concept Z's big brother, the Concept Z3. Manufactured with American made CZB (Concept Zero Bearings) polymer technology bearings and built tough as nails, this is one of the lightest reels of its size on the market at 9.7 ounces. The Concept Z3 boasts an incredible 30-pound drag and HUGE Hamai-cut, hardened-brass H.A.M. gearing to handle the biggest fish.
(140 of 152)
13 Fishing Dual Pitch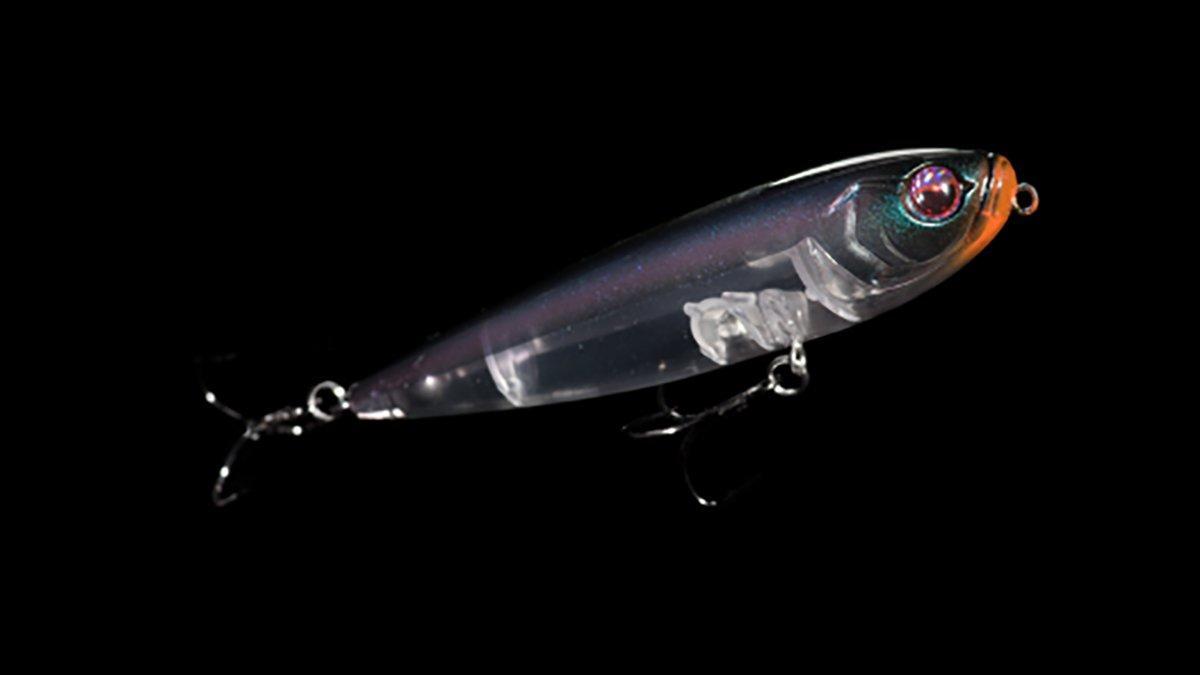 Two one-knocker mechanisms synchronize to generate tones of differing pitches. A large chamber in the head amplifies higher pitch sounds created with a stainless-steel bearing while a larger tungsten rattle in a smaller rear chamber generates a lower pitch. This also serves as a weight transfer system, enabling longer casts without tumbling which is a frequent flaw in other top waters resulting in more tangles and loss of casting distance. Two sizes at 94mm and 108mm for $9.99 and $11.99.
(141 of 152)
13 Fishing PRO V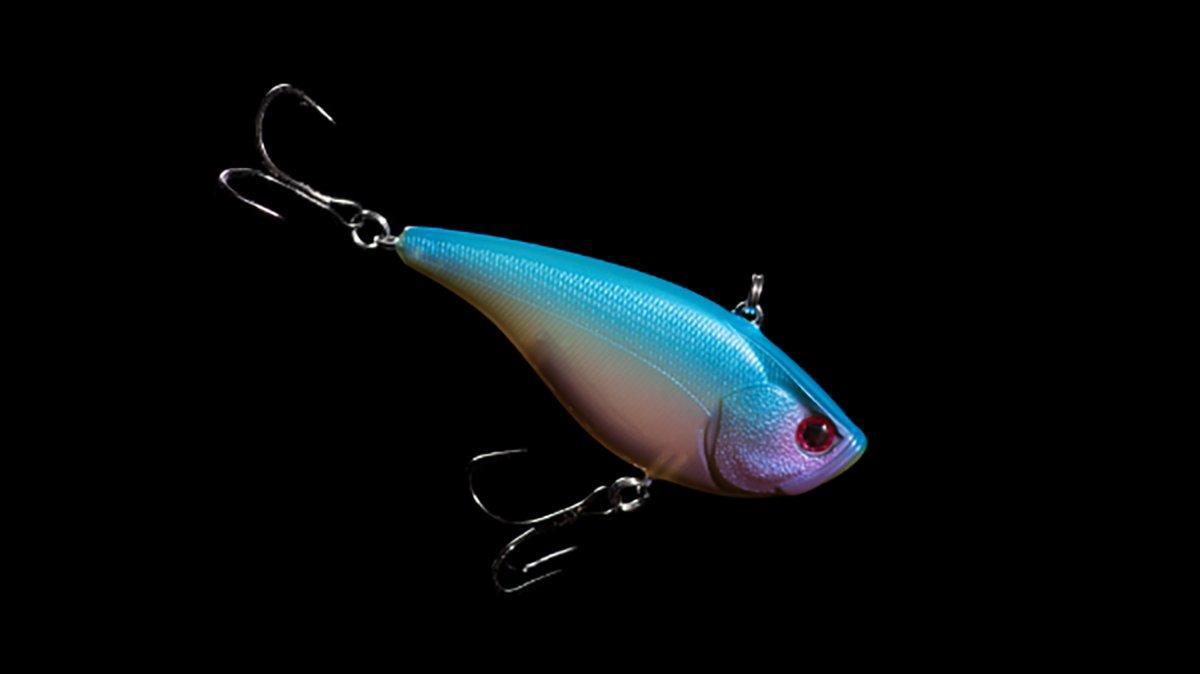 A lipless crankbait with superior sound and vibration, the PRO V is a very compact bait with vibration-delivering, tight wobbling action. When retrieved, a slightly nose down stance protects PRO V from snags allowing it to be burned or slowly crawled across cover. Falling nearly horizontally, this lure shimmies on the drop to further entice fish out of cover. This natural presentation is fine-tuned for balance and action, so it will cast a mile and swim without rolling. Retails for $11.99.
(142 of 152)
13 Fishing SCAMP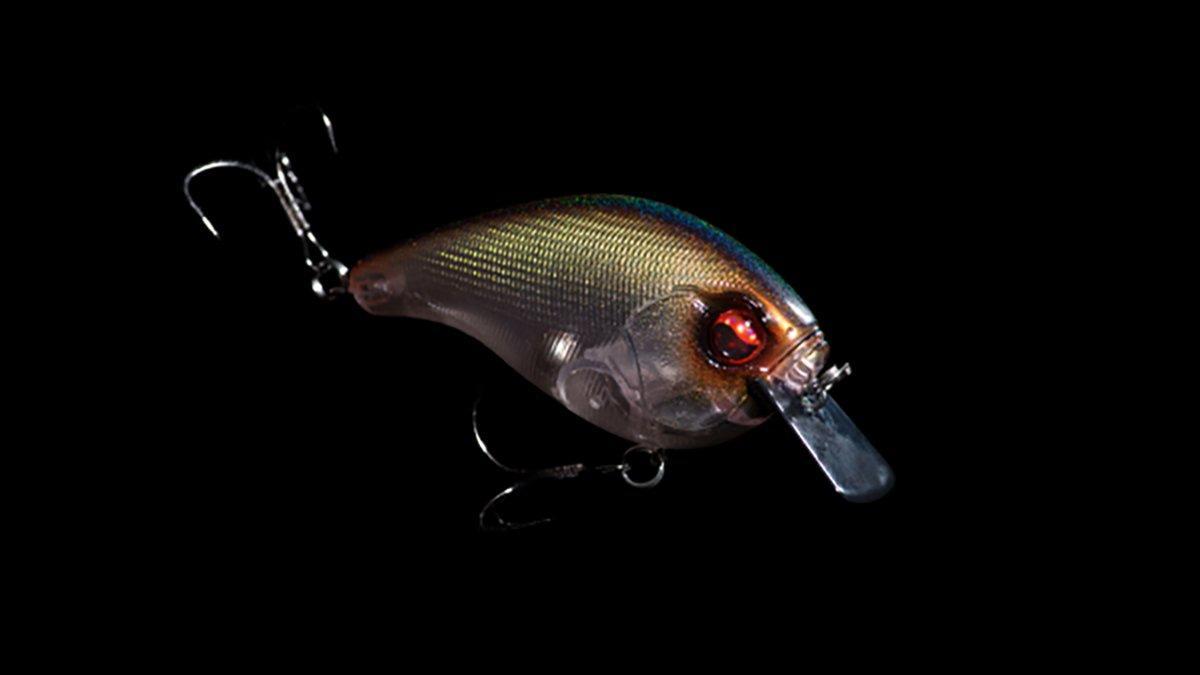 Featuring an Airfoil Carbon injected bill that is thinner, stronger, and more sensitive than any bill in its category, the tie-down is in direct contact with the bill, so the angler can feel everything the lure encounters. This bill also excels at deflection and produces an erratic hunting action that triggers strikes.
The SCAMP's high buoyancy design gives it the high float characteristics of balsa with the durability of injected plastic. High-buoyancy not only enhances deflection and hunting capabilities, but it delivers a fish attracting high rising retreat. Available in 1.5 and 2.5 sizes for $10.99 and $11.99.
(143 of 152)
KAESU MASAMUNE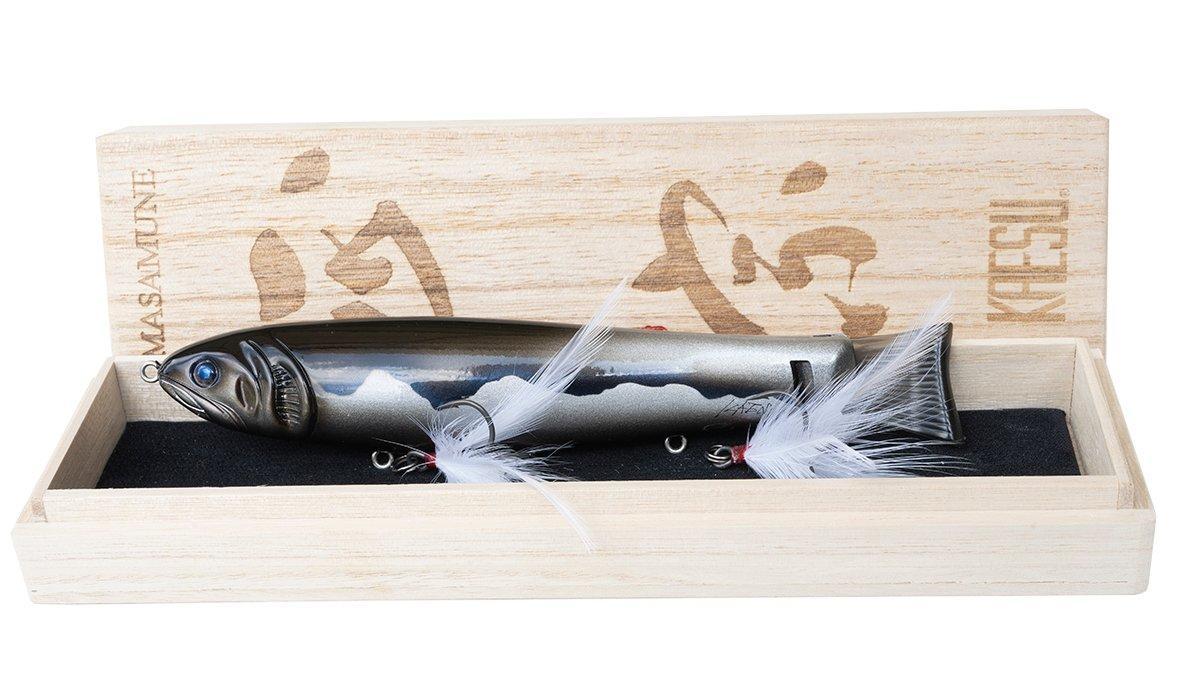 This oversized topwater might look like a giant walking bait, and it may walk the dog like other traditional topwaters. But it's actually meant to be straight reeled on the surface with just a super soft tail kick in the back, more natural to the way an escaping prey flees a predator. It features two large KYUGI feathered trebles that are sticky sharp and strong. It's 7.1 inches long and weighs 1.6 ounces. It retails for $169.
(144 of 152)
KAESU Konta Torn
Employing Kaesu's KAM (KAESU Accel Mover) technology, these swimbaits can be modified at two different sections to give the swimbait more roll and kick to your specifications. They are 6/1 inches long and come 5 to a pack but you can use the KAMs to create a joint in the soft plastic swimbait. The plastic is dense and scented and the ability to change the roll and kick on each bait gives them a more unique offering for soft swimbait anglers.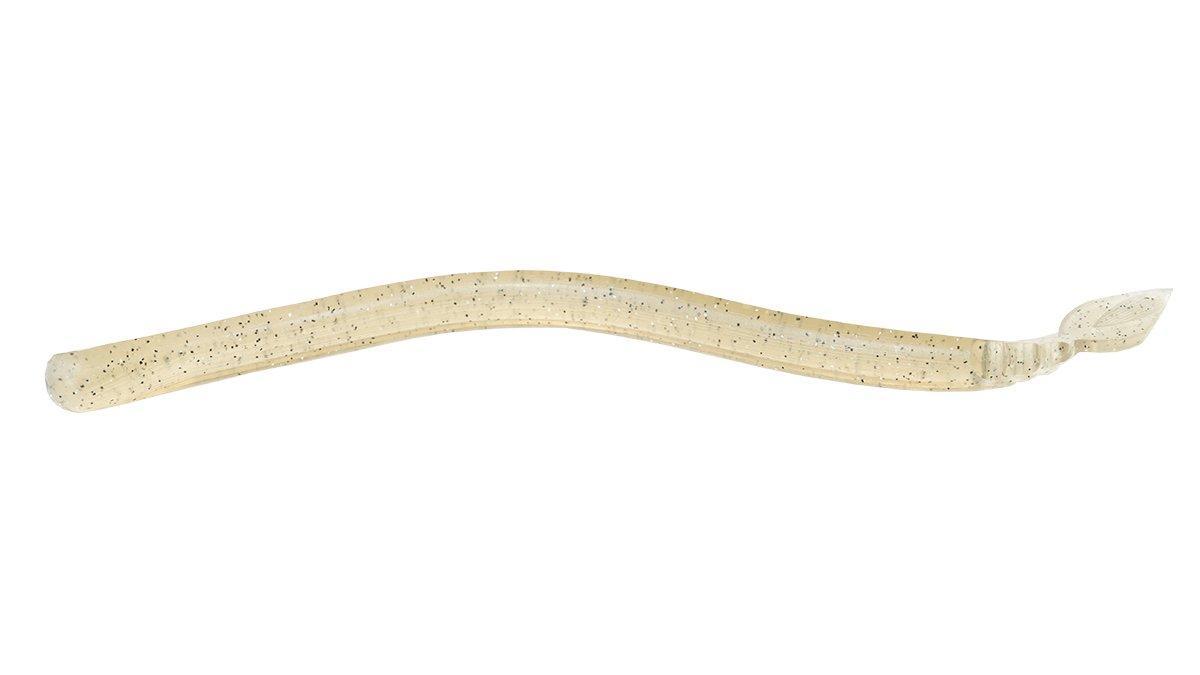 This 6 1/2 inch finesse worm features a flat bottom, ribbed neck section to catch water and make the spade tail flutter with the slightest movement or water displacement. They come 6 to a pack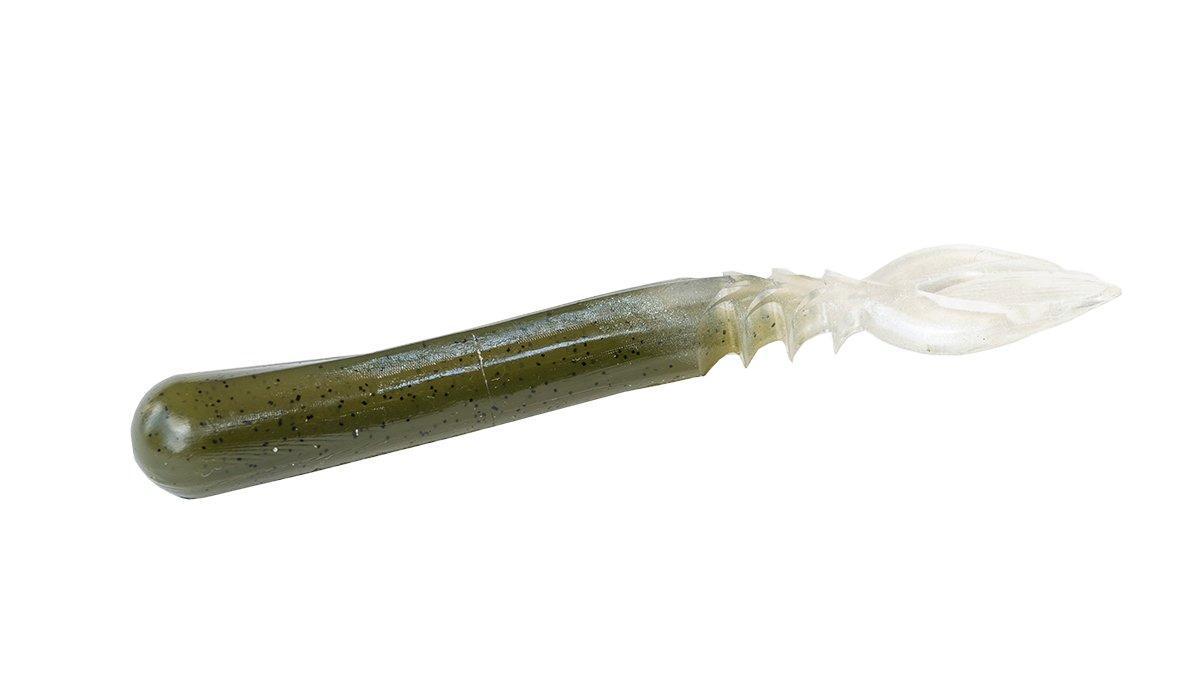 This 4-inch drop shot and finesse bait features a bit larger head, flat bottom and ribbed neck for catching water and forcing the spade tail movement with the subtlest of actions. 
(147 of 152)
Daiwa Tatula 150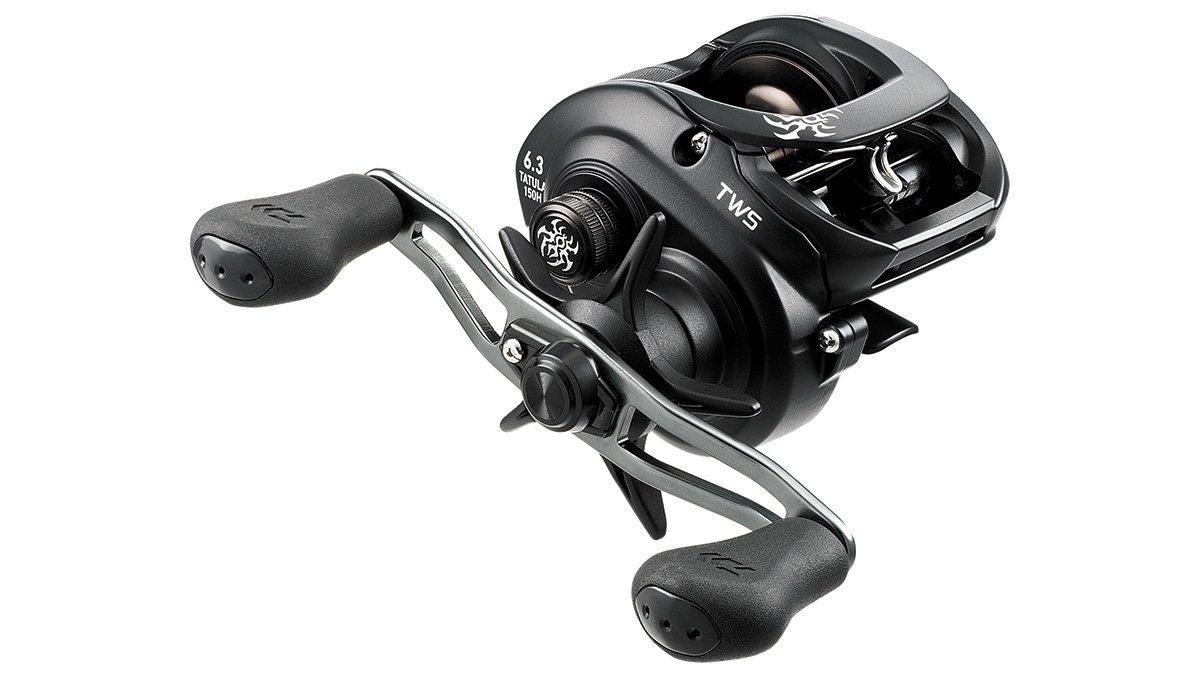 The new TATULA 150 T-WING BAITCASTING SERIES is designed for specific bass fishing tasks like deep cranking, punching or flipping, pulling chatter baits or swimbaits, and frogging. With an aluminum side plate and frame and reinforced brass gearing and a sturdy pinion gear, these reels are designed for the more rigorous demands of power bass fishing. The T-WING level wind system allows line to pay out freely on casts and flips increasing distance and accuracy. The reel is Cadillac smooth utilizing an astounding 7 ball bearings and 1 roller bearing. Designed for a variety of presentations, the TATULA 150 comes in three gear ratios, 5.4 to 1 (right hand only), 6.3 to 1 and 7.3 to 1. Retails for $159.
(148 of 152)
Daiwa Tatula 100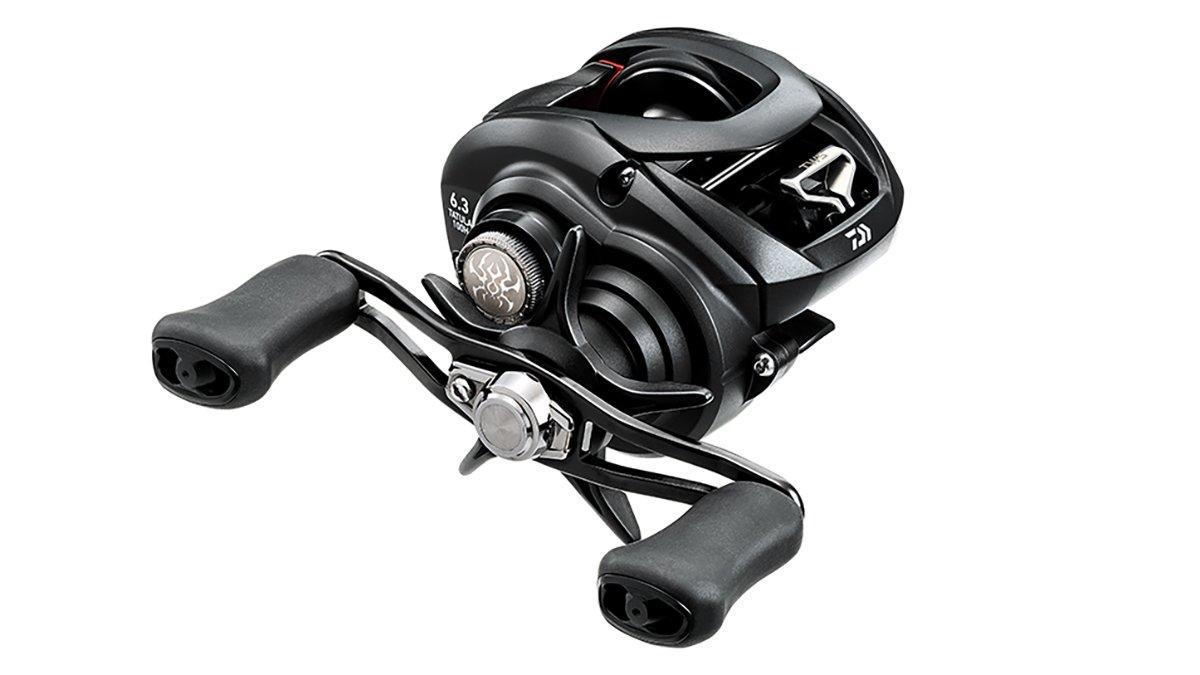 The TATULA 100 is the smallest and lightest Tatula ever in the series. It is the most comfortable and palmable reel seen in many years. And with a feather weight of 6.9 ounces it may be the lightest, most fatigue free, reel Daiwa has ever built.  The Zero Adjuster spool setting and T-Wing System level wind, casts longer and more accurately. The comfort is enhanced by redesigned Soft Touch Handle Knobs. The reel is also well suited for junior anglers with smaller hands. The bones of the reel are strong with an Aluminum Frame providing rigidity and a smooth performance.  A smart Matte Black Finish with Tatula Spider tatoo Graphics complete the look. Retails for $159.
(149 of 152)
Daiwa Tatula Bass Rods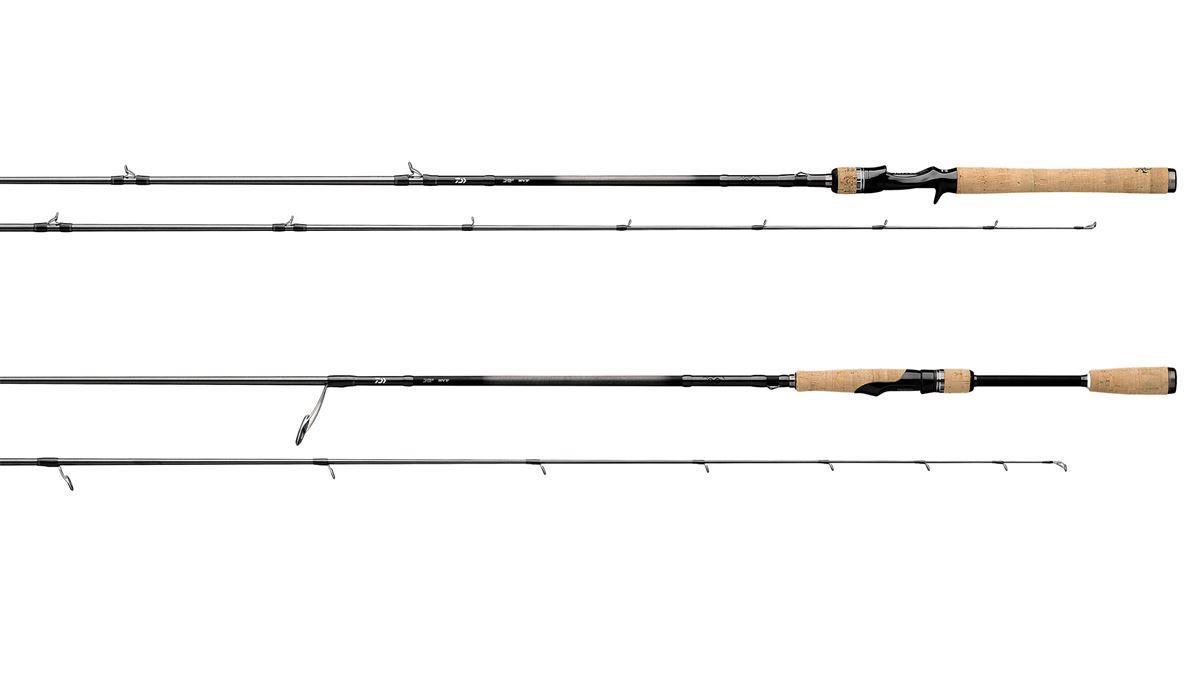 The brand new TATULA line of bass rods are Finely Crafted with State of the Art Components. With Seven Categories of Rods and 21 different Bends the TATULA collection is a most complete professional collection of bass rods. There are 7 spinning designs, 6 casting models, 2 flipping rods, 2 shallow crank/jerkbait rods, 3 glass cranking and spinnerbait rods and a frogging rod. The beautifuly Crafted Natural Cork Handles provide timeless functionality combined with a sure grip. A slick Tatula Spider Graphic adorns the classic formed handles. The lighter  X-45 concept blanks are rolled with Braiding-X Fiber Braiding Technology. The reduced weight blank resists ovalization alowing greater hoopstrength loads for a more precision load-up. The tangle free Fuji FazLite guides allow long accurate casts. Starting at $149.
(150 of 152)
Daiwa Exist Spinning Reel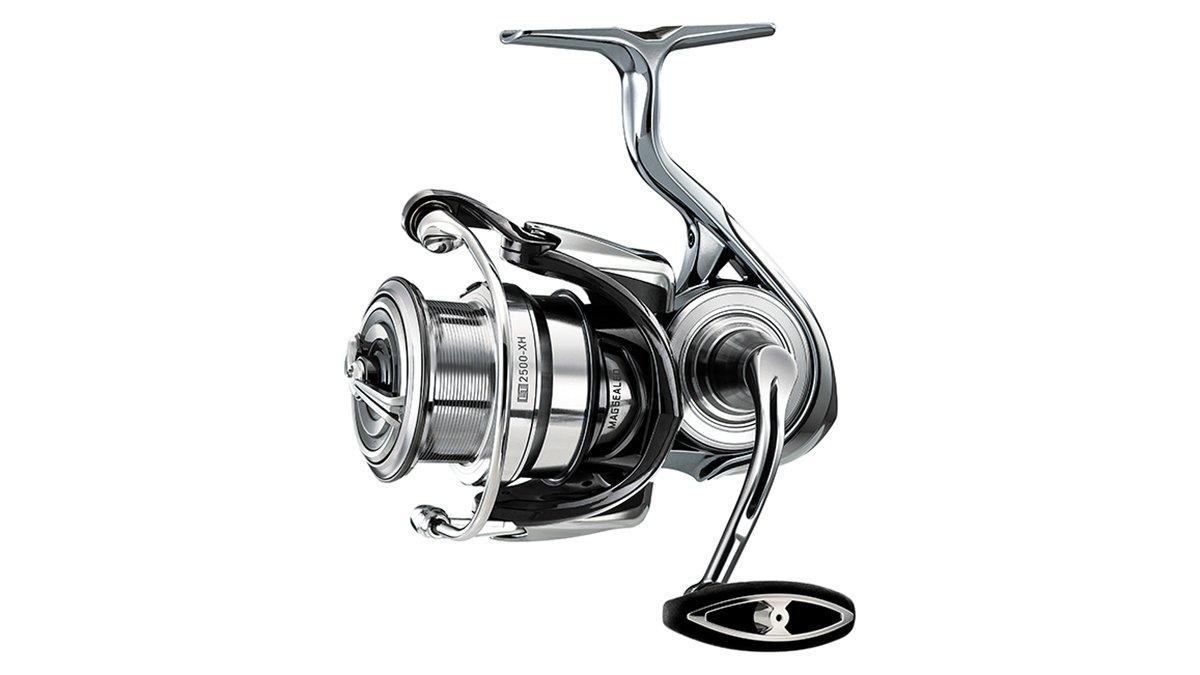 The  new  EXIST  spinning  reels  represent  60  years  of  Daiwa  innovation  and  the  long  range visionof  a  company  founded  in 1958.  Within  ten  years  of  the  companies  establishment,  in 1968,  Daiwareleased  the first  open-face  spinning  reel,  a  historic  achievement  in  the development  of  innovative  sportfishing  tackle.  The  flagship  line  of  Exist  spinning  reels  represents  a  perfection  in  design  and  the  natural  progression  of  the  company's  reel  building lineage. Retails for $799.
(151 of 152)
Daiwa Tactica Traveler Reel Case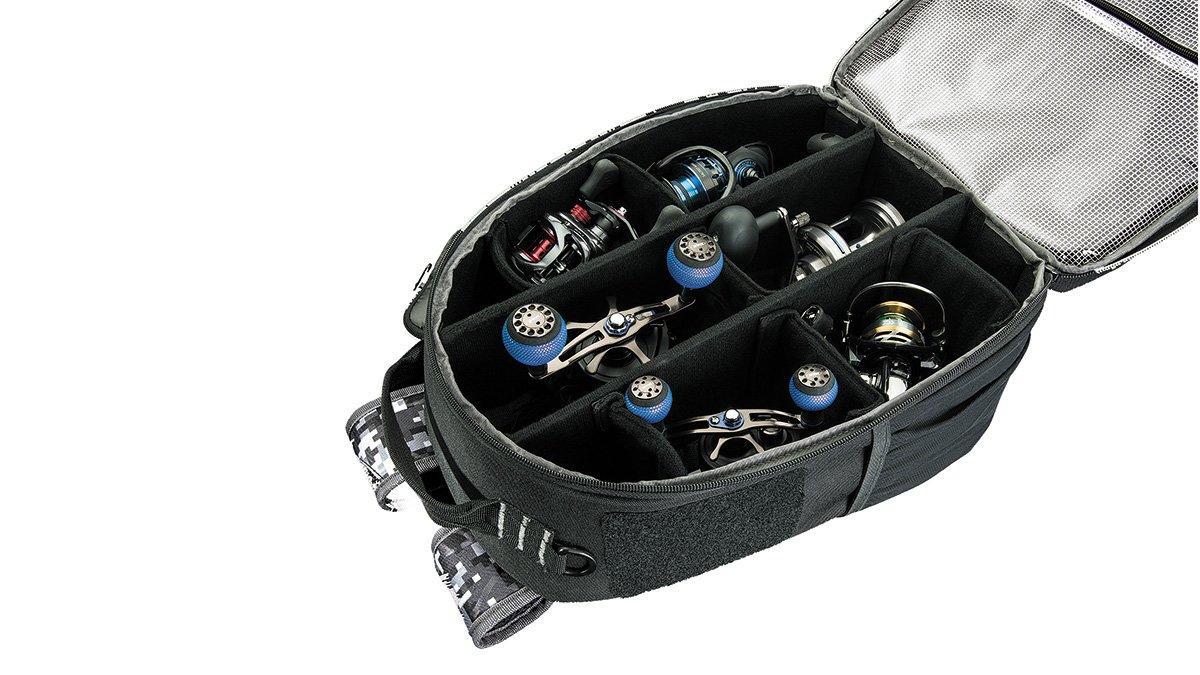 The Traveler Reel Case is rigged with shoulder straps ideal for transporting fishing reels on multi-day trips. The case can also be used at home, in the garage or on the boat for more long term storage. Nine Polycarbonate Honeycomb Dividers provide ridgid protection for your prized reels. Strong and sturdy Duckfoot Velcro make adjustments steadfast. Unique Nut Hut compartment keeps reel seat hardware in one place. Several outside compartments add additional storage space. Retails for $99.
(152 of 152)
Daiwa D-VEK Jig and Box Tote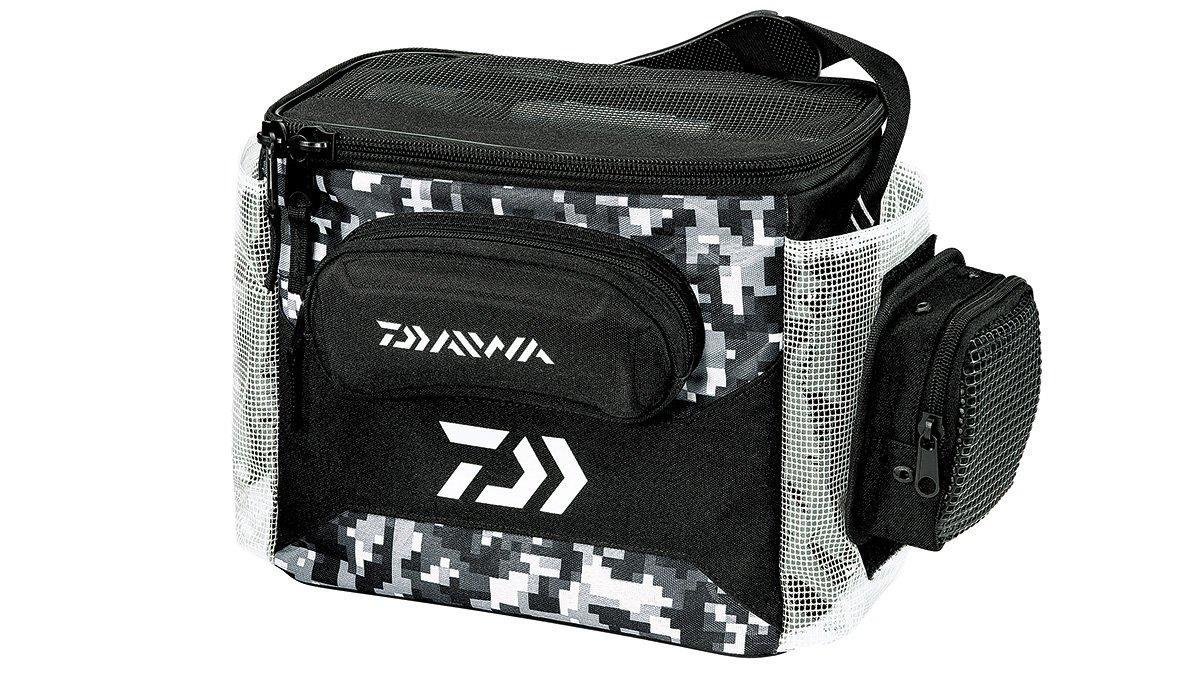 The 1-inch and 1 ½ -inch jig slots can hold a variety of jigs, spoons and hardbaits. The tote holds one 3600 Daiwa Box for additional hooks, terminal tackle and rigging. A handy Leader Wheel Holder is ideal for in-the-field rigging. Your sunglasses will stow clean and dry in the dedicated Sunglasses Holder. Additional gear can be stored in the roomy Side Compartments. A broad Shoulder Strap carries the load for easy transport. Retails for $89.