Jason Sealock
I had never heard of SteelShad until I moved to Kentucky Lake and a few guides were touting them as a Kentucky Lake staple. That's lamens terms for it will catch most every fish that swims so it's a good bait to give clients in the colder months when fishing is a little slower. But I was very familiar with blade baits as I had fished them all over. The SteelShad was a new twist on that old idea that has grown into a cult phenomenon in the midwest and beyond. I've fished it a bunch and thought I'd talk about how I fish it and what I found with these blade baits.
(1 of 7)
More than the basic blade bait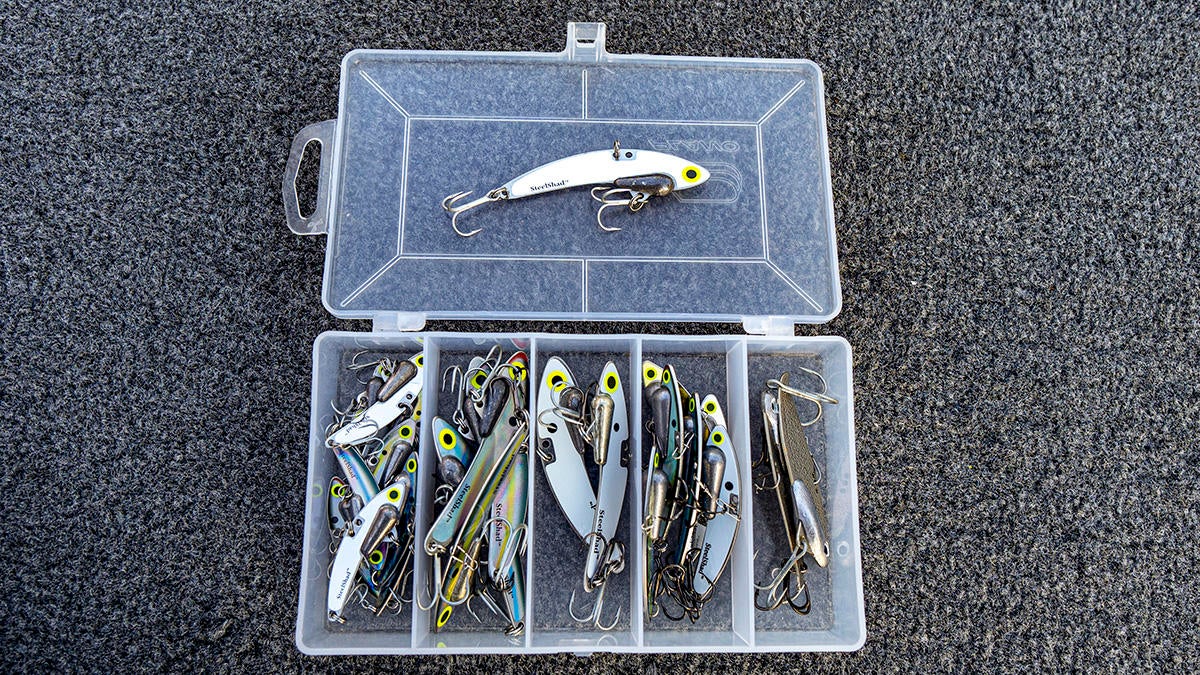 Jason Sealock
The Original SteelShad comes with a split ring line tie, two different angles to rig it, VMC Permasteal hooks, a big eye and a multitude of colors. Since the original was released they have now expanded the SteelShad into a variety of size and weight options as well as expanded the color range. 
The Original SteelShad is 3/8 ounce but you can now get 1/2 and 3/4 ounce options as well. I fish the 3/8-ounce 1/2-ounce HeavyWeight size most of the time. And I usually fish it on 12-pound fluorocarbon on a 6-foot, 6-inch to 7-foot medium casting rod and baitcaster. 
(2 of 7)
SteelShad sizes and colors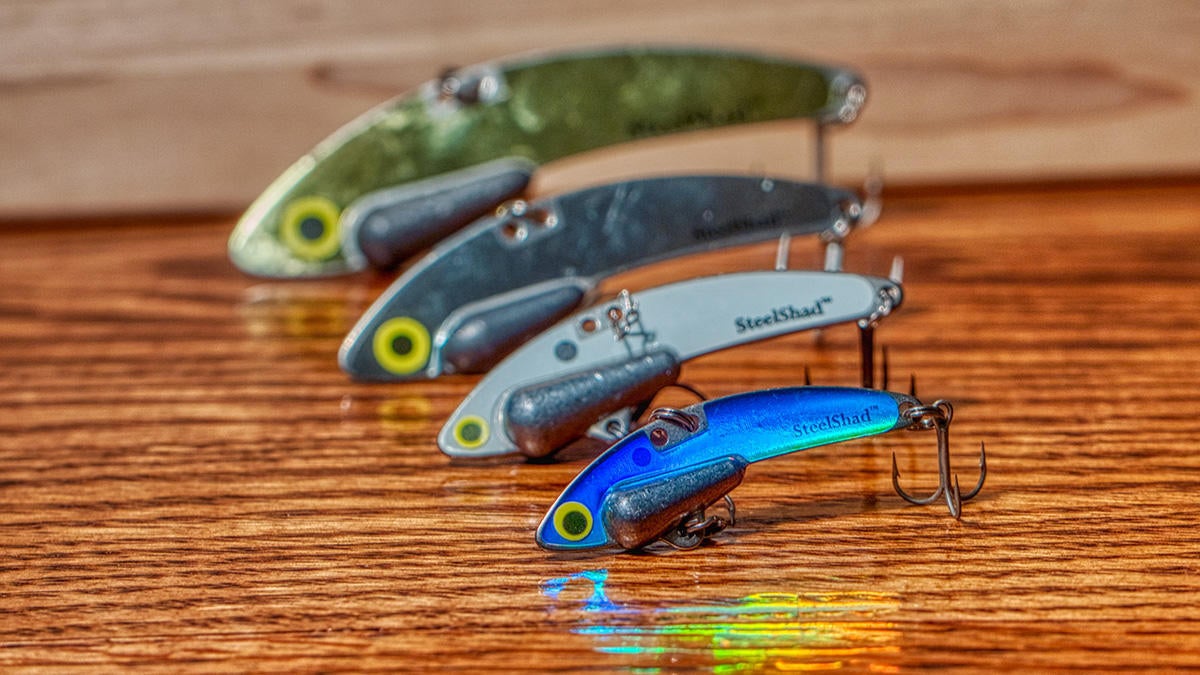 Jason Sealock
I have experimented with the SteelShad Mini, XL and Heavyweight options, but most of the time I just stick with the Original SteelShad. As far as colors, I will usually fish silver, gold or white depending on the water, skies, and bait I think the fish are eating. 
I like the size of the original which is 2 3/4 inches. I mostly fish it in the winter and you find a ton of shad that time of year that are around 3 inches. The HeavyWeight series is a bit shorter at 2 1/4 inches with a bigger weight at 1/2 ounce, so the bait drops a lot faster to get to depth quickly. The XL Series is bigger at 4 inches with a 3/4 ounce belly weight.
(3 of 7)
SteelShad catches / matching hatch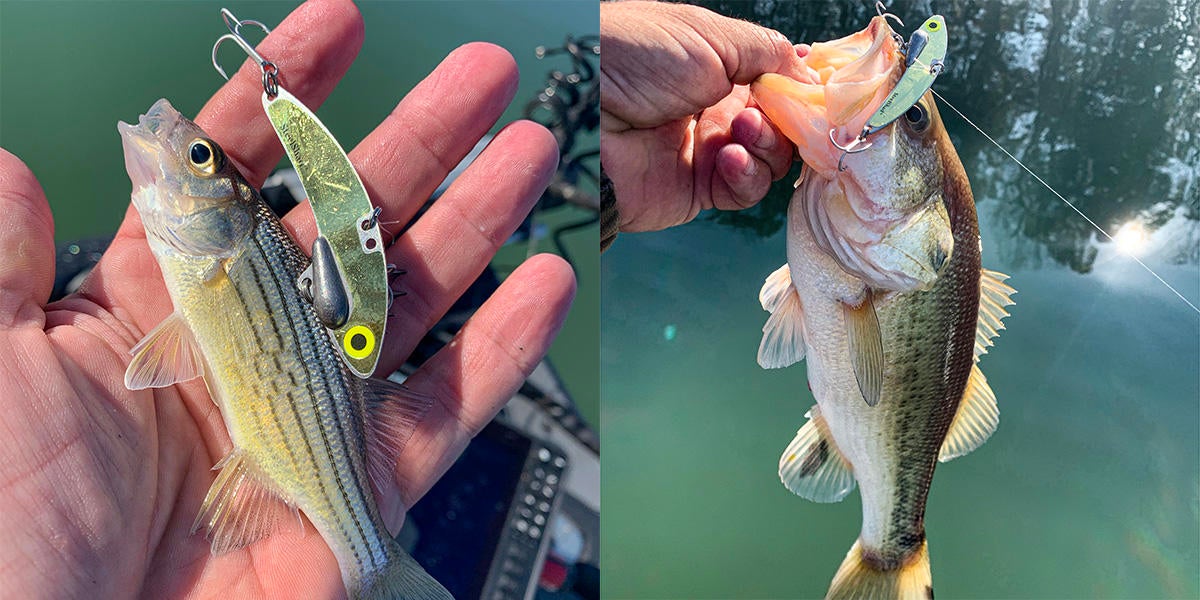 Jason Sealock
The biggest selling point to me on having a SteelShad is that it catches everything. I've caught crappie, catfish, yellow bass, white bass, stripers, largemouth, smallmouth, spots, and even a sauger or two as well as bluegills, shad and other small fish around bait and cover. 
It matches small forage options like shad, minnows, even small yellow bass, or bluegills. And I think that's where the colors come into play on the SteelShad that you don't find on a lot of other blade baits. On cloudy days, a white SteelShad is good. On sunny days where the bass are on shad, silver is good, while bass around schools of little yellow bass like the gold SteelShad.
(4 of 7)
SteelShad jigging on graph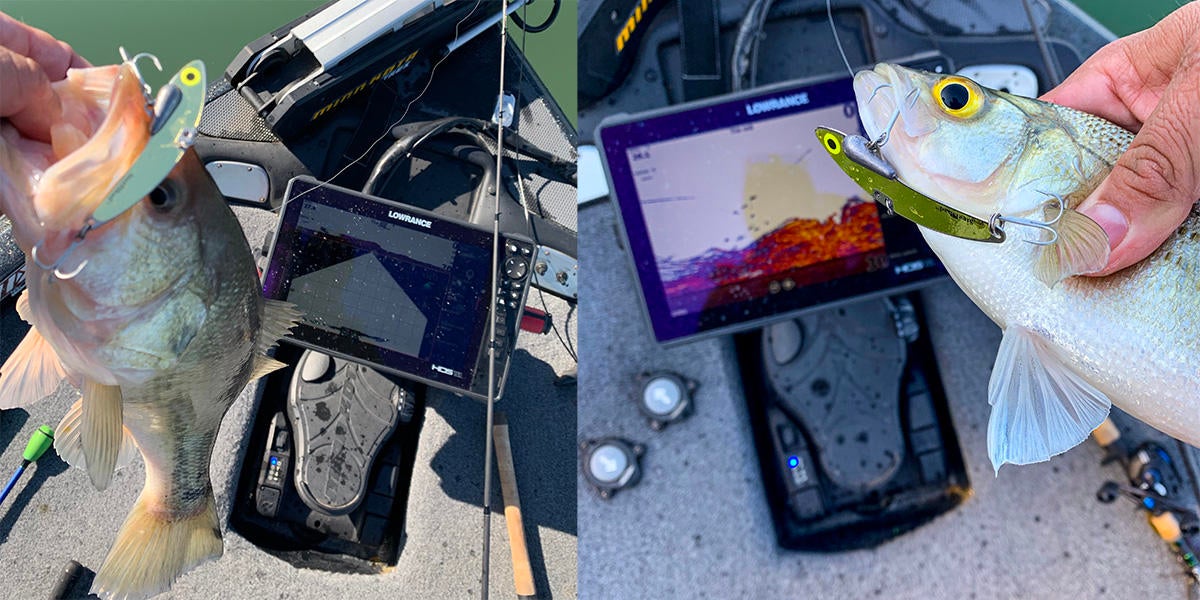 Jason Sealock
One the main ways I fish a SteelShad is vertical fishing deep fish in winter. I see schools of bait or small game fish like white bass on my electronics and jig around them. 
The SteelShad has a great vibration to it with a tapering lead weight just under its chin. It's heavier in the front than in the middle which gives it a nose down orientation with a great shimmy on a hop, hard pull, slow pull or straight crank. 
When I fish vertically, I'm usually dropping it to the fish and then hard pulling it and letting it flutter back. A lot of bites happen right before you go to pull it back up. You can catch them by just holding it in the fish on your screen and snapping it. If it's a big cloud of bait or a large school, I will pitch it out in front of the boat and lift and drop it back to the boat. I use my electronics and try to stay in and around the bait and fish.
(5 of 7)
Jigging up bass on the SteelShad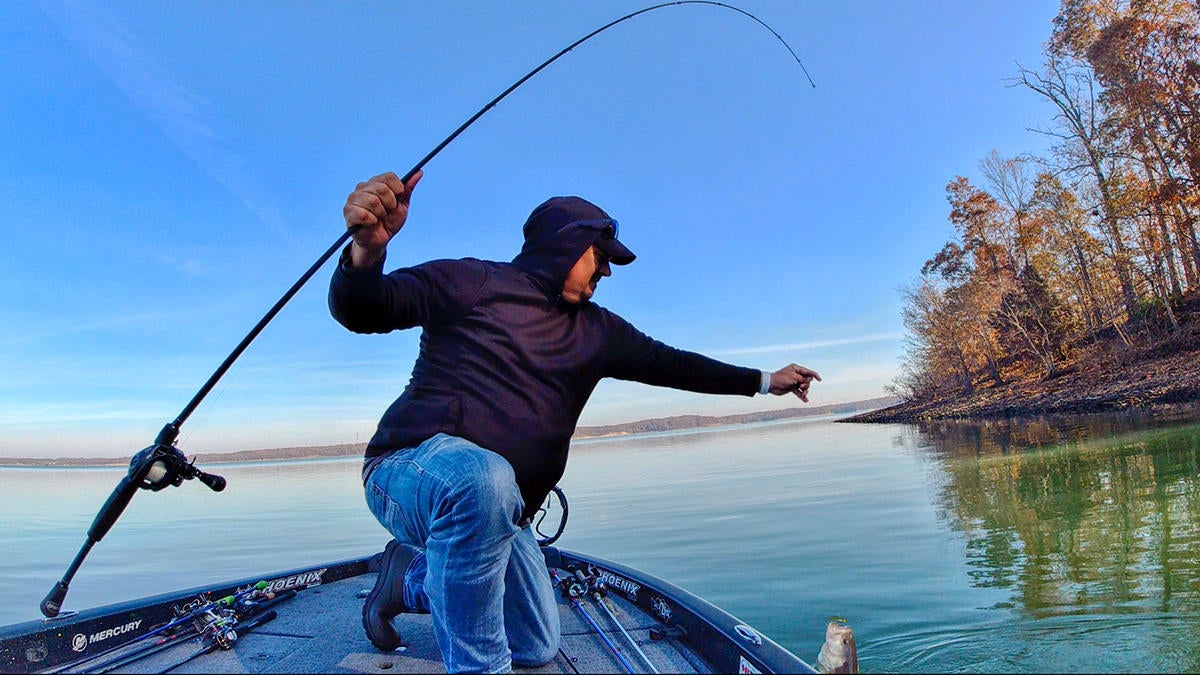 Jason Sealock
It's fast and furious a lot of times especially when you get on schools of whites, spots and other aggressive fish that gang up like cord wood in the winter. I was fishing a SteelShad some this weekend and had a few nice largemouth after catching several white bass and yellow bass in a row. 
Usually when you find whites and yellows, it means you've found the bait there will be black bass around somewhere.
I caught some bass yo-yoing it down the bank and some on a straight retrieve but most of my fish came on a lift and drop this weekend. That's the nice thing about the SteelShad. You can fish it like a crankbait. Or you can fish it where you would fish a jigging spoon. Or you can yo-yo it like a lipless crankbait. It has vibration and flash which makes it appealing in a lot of conditions while being a little more subtle than other options in clearer water.
(6 of 7)
Ryan with a SteelShad bass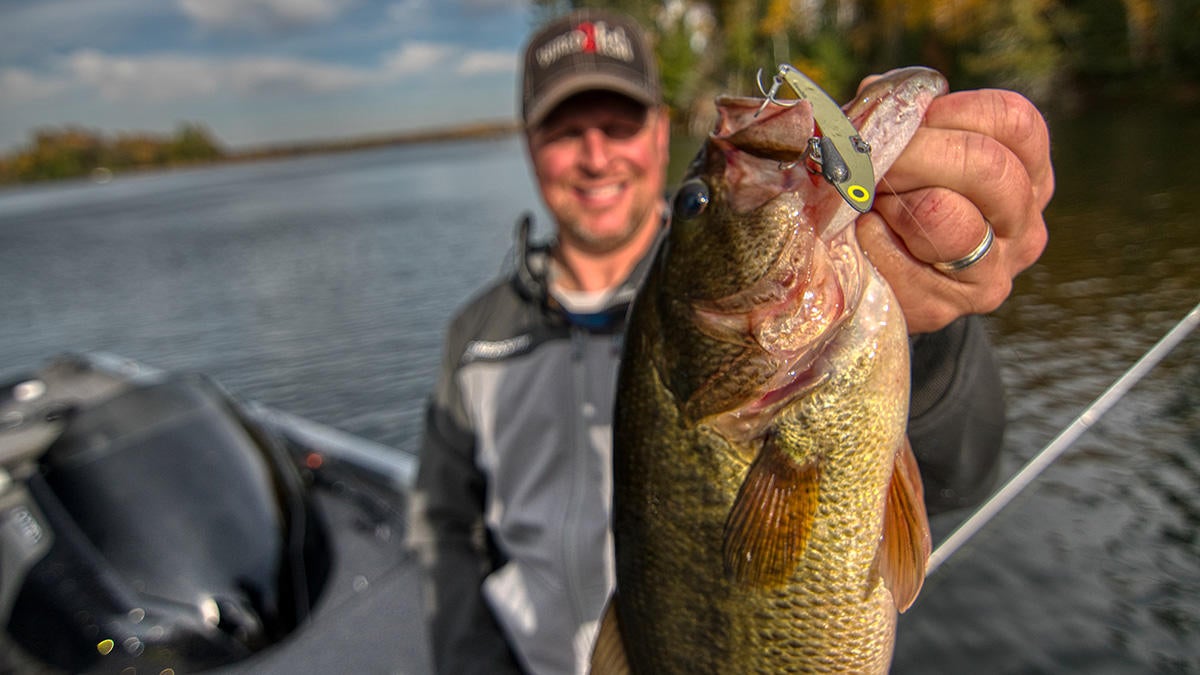 Jason Sealock
Ryan, Kyle, Mitch and Keys have been catching them all fall up in Minnesota on the SteelShad. They caught crappie, walleye, smallmouth and largemouth when the fish were grouping up before winter set in. 
Check out this video they shot of the SteelShad in action on a hot bite!
The SteelShad is a great bait for getting kids on fish. When the bass and other gamefish group up when the water cools, it's a great way to catch them fast and furious every cast. 
(7 of 7)
Great winter fishing lure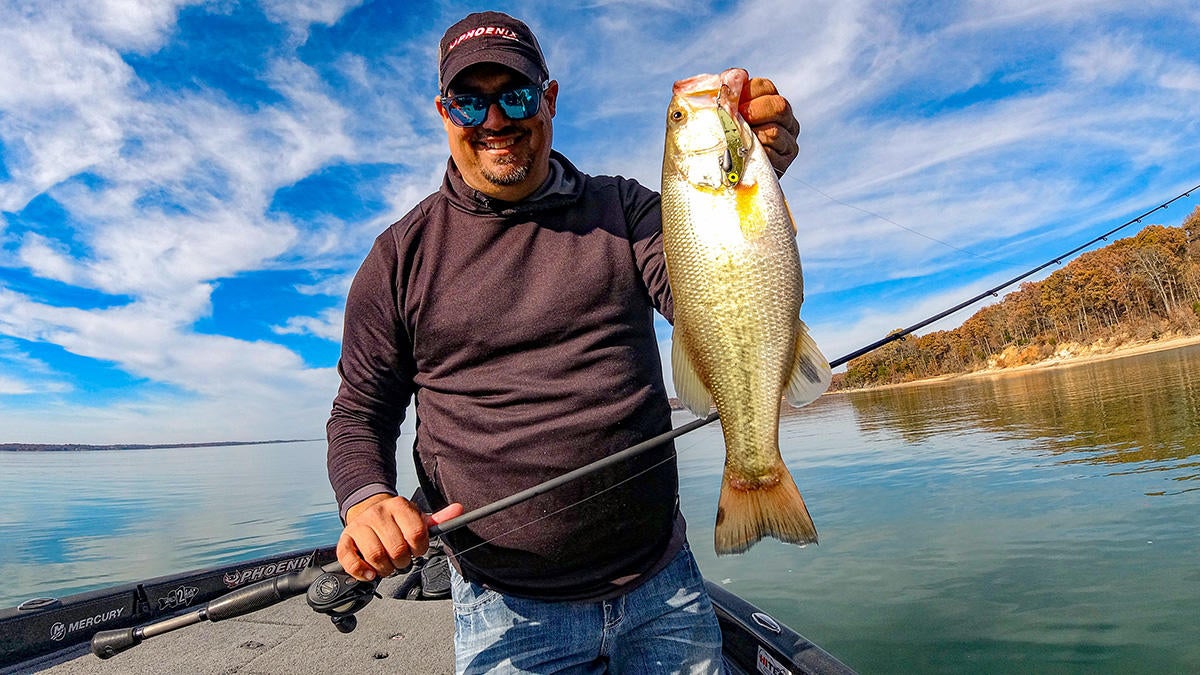 Jason Sealock
I will have a SteelShad tied on a rod or two for the rest of the winter. Probably until mid spring even. It's a fish catcher. If the bass quit cooperating in the super cold conditions, I can still usually drum up some whites, crappie and yellow bass on a SteelShad in the winter doldrums. 
You can find SteelShad lures at the following online retailers as well as various other tackle shops: